Seattle/West
West Seattle
is the most populous district of
Seattle
. Separated from the remainder of the city by the Duwamish River, much of it has a decidedly less urban character, and is a welcome change for tourists wanting to avoid the hassle of the
downtown
area. For those who do visit, West Seattle has worthwhile attractions of its own, including miles of
Puget Sound
shoreline offering the areas best beaches with unparalleled views of the city, a plethora of restaurants, and a thriving commercial district centered on Alaska Junction.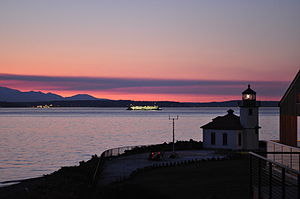 Get in
By car
Get on the West Seattle Bridge from either
Interstate 5
or from southbound Highway 99. Keep going uphill until you reach SW Alaska Street; turn right and continue to California Ave SW. You will be at Alaska Junction (the intersection of California Ave. SW and SW Alaska St.) where there are several shops, restaurants, etc. To reach Admiral Junction (more shops, restaurants, etc.) turn right (north) on California and continue past the high school.
To reach Alki Beach from the West Seattle Bridge, take the Harbor Ave. exit off the bridge and head north along the waterfront. You'll see the sandy beach when you get there.
By ferry
The ferry terminal at Fauntleroy at the southern end of West Seattle offers frequent service to
Southworth
and
Vashon Island
. This terminal is much less crowded than the ferry terminals downtown and offers a more relaxing launching point to explore Vashon Island and the
Kitsap Peninsula
and offers both drive on and walk on traffic. If you are thinking of leaving your car and walking on the ferry, be warned that parking near the terminal is extremely scarce.
By water taxi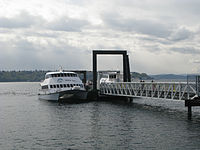 King County Water TaxiOffers service between Pier 50 on the downtown Seattle waterfront and Seacrest Park in West Seattle with amazing views of the city. Seacrest Park is along the bike trail and offers relaxing beaches and nearby shops and restaurants.
By bus
Ride the
RapidRide Line C
from South Lake Union and Downtown. The bus traverses the commercial area of California Ave SW and continues to Fauntleroy ferry terminal and onto Westwood Village. King County Metro's
route 50
runs to Alki Beach and California Ave SW from Othello Station in South Seattle.
By boat
phone: +1 206 684-7249

address: 1222 Harbor Ave SW, 98116

Don Armeni is the most popular of Seattle's saltwater boat ramps for both motorized and hand carried vessels. Don Armeni's close proximity to many favorite fishing spots on the south end of Marine Area 10 and the other south Marine Areas makes it a popular ramp for fishers during salmon season and offers a commanding view of downtown and Elliot Bay.
Get around


More so than the rest of the city, a car will prove useful. Bus service is no more than adequate; the lower density of the area and frequent traffic jams on the few bridges in and out lead to widely scattered routes on unpredictable schedules. Travel between Alaska/Admiral Junctions and downtown is never a problem, although there's no single bus route that runs the length of California Avenue. Trips to the outer reaches of the area will require some advance planning. Bicycle lanes exist, but the terrain is often hilly and steep. The exception being the north shore of West Seattle along Alki with its miles long perfectly flat bike and walking trail which is amazingly popular in the summer and bike rentals are available.
Locals often refer to areas in relation to their 'junction' with California Ave SW, the main north/south arterial through West Seattle. Restaurants, bars and shops tend to be focused around 3 main junctions. The Admiral Junction is to the north in the Admiral District. The Alaska Junction near the center of West Seattle has the highest concentration of shops and is often referred to simply as 'The Junction' and further to the south is the 'Fauntleroy Junction' or 'Morgan Junction' where Fauntleroy Way SW crosses California Ave SW.

See

Parks
Seattle's park system was designed by the Olmsted Brothers firm in Seattle's early days, park planners across the country celebrate Seattle's park system as one of the best designed and best preserved in the United States. While many other American cities have only one or two Olmsted-designed parks, Seattle has an extensive multi-park plan linked by boulevards including Alki Beach Park and Schmitz Park in West Seattle. It is this legacy that makes Seattle one of the most livable spots in the country.
phone: +1 206 233-1509

address: 1702 Alki Ave SW

Alki Beach Park is one of the best and biggest sandy beaches in Seattle. There's a rollerblade/bike/walking path along it for miles and the beach itself is always busy and fun. Great views of the city, the ferries and the Olympics. There are several great cafes and coffee shops right across the street. Good place for barbeque as well as many outdoor recreations. It has one of the best night view of Downtown Seattle and the city light.

Blake Island State ParkWest Seattle is a popular launch site to visit this island state park accessible only by boat that was the birthplace of Chief Seattle and still offers guests Native American style dinners and dancing.

Hamilton Viewpoint Park

address: 1531 California Way SW (between Atlantic St & S Ferry Ave)

Hamilton Viewpoint Park rests above the beaches of Alki facing downtown Seattle. Located adjacent to the Seacrest Ferry Dock.

phone: +1 206 684-4075

address: 8011 Fauntleroy Way SW

Lincoln Park is a big, wild park, next to the Fauntleroy Ferry Dock, serving Vashon Island and Southworth. Lincoln Park has lots of walking paths, picnic areas, beautiful trees, and beach. Unlike Alki Beach, it's quite pebbly and full of driftwood. To reach the park: come across the West Seattle Bridge into West Seattle, bear left at the "Y" intersection at Fauntleroy. Stay on Fauntleroy all the way to the park. Follow the signs to the ferries.

address: 5551 SW Admiral Way, 98116

53.1 acre Schmitz Preserve Park has old growth forest, walking paths and an urban stream.

The Viewpoint at Admiral

address: 3600 SW Admiral Way

Some of the best views of the Seattle skyline are from West Seattle and the Viewpoint at Admiral is the best of the best. You can't miss it as there are usually people there. Bring your camera.
Lighthouse
Alki Point Lighthouse

address: 3200 Point Pl SW

Historic Lighthouse on Alki Point a short walk from Alki Beach sometimes offers public tours but can at be at least partially seen from the road.
Public art
The small Statue of Liberty toward the west end of the beach area has just been restored and is much beloved in the neighborhood.
Do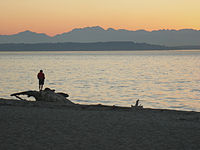 What Puget Sound beaches lack in white sand and warm water is more than made up for in the amazing scenery as state ferries pass under snow peaked mountains on the horizons. Alki Beach is an excellent place to start a beach combing adventure offering beaches from the rugged to the sandy smooth. Sea stars and Moon Snails are common sites in the tide pools to the south of Alki Point can offer hours of exploration.
Be warned that sea shells and driftwood are considered part of the natural environment and should not be removed, however the often rocky and wild shores are havens for creating and revealing beach glass and anything artificial found is fair game for removal. Be respectful of private property and gentle with sea creatures. Keep a wide distance away from nesting birds, seals and other shore animals and always put back anything removed from the shoreline.
Golf
phone: +1 206 935-5187

address: 4470 35th Ave SW

This golf course is one of the finest in the city with great views of Seattle. Fox Den Grille is the restaurant inside that offers breakfast, lunch, dinner, and beverages. Rates of the course are fair depending on the days you go, and the course is well maintained. There are many tournaments going on for golf lovers to participate.
Scuba diving
the cold waters of Puget Sound takes a bit more gear and training than other warm water locations, but the rewards are incredible. The area contains some of the best diving in the world and many areas are accessible from West Seattle. Many dive sites are completely covered with colorful sea creatures that defy description. Giant Pacific Octopus are common, along with friendly wolf eels. Colorful sponges, sea cucumbers, sea stars, soft corals, anemones and fish can be seen on nearly every dive. The state has offers a guide to parks with launch sites
HERE
address: 1660 Harbor Ave SW, 98126

Seacrest Cove 2 is a local dive site in West Seattle, Washington. The site is within Seacrest Park. Cove 2 is often used as a training site for Open Water, Navigation and other scuba classes. The site has a moderate slope leading down to depths greater than the recreational limit of 130 feet (40 meters). Because of the easily reached deep areas Technical Divers also use Cove 2 for training. The site has a silty bottom, but many submerged logs and pilings and sunken boats (the Honey Bear) that are well decorated with Pacific Northwest Marine Life. There are restrooms in the pier building and a great little Fish and Chips bar within easy walking distance. The site sports a nice view of the Seattle skyline across Elliot Bay. There is an exclusion zone of 150 feet around the walk-on ferry dock. Other sites (Coves 1 and 3!) are just to the north and south respectively. Most parking is curbside on the street.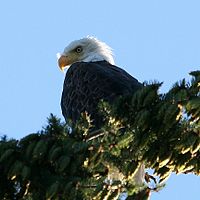 Sea kayaking can be a rewarding way to explore Elliot Bay allowing the paddler a closer and slower look at their surroundings and making West Seattle a popular area to kayak on Puget Sound with access to both wilderness and industrial areas. Harbor Seals, Otters, Sea Lions, Bald Eagles and Blue Herons are common sites while the occasional viewing of an Orca or Grey Whale is not out of the question.
Kayak tours
phone: +1 206-953-0237

address: 1660 Harbor Avenue SW

seasonal guided sea kayak tours for beginners and experts exploring the natural & human history of Elliot Bay and Puget Sound. They also offer a range of rentals along Alki beach – including stand up paddle boards, quad and inline skates, bicycles and fishing boats.
Kayak trails
Organized trails offer overnight camping options and maps of appropriate and scenic travel destinations.
Cascadia Marine TrailThis inland sea trail is a National Recreation Trail and designated one of only 16 National Millennium Trails by the White House. Suitable for day or multi-day trips, the Cascadia Marine Trail has over 50 campsites to visit. People can boat to the campsites from many public and private launch sites or shoreline trailheads including Mid Puget Sound.
Eat
Because of its nature as one of the priciest neighborhoods in the Seattle area, the price for most options are between the mid-range and splurge. Generally the price for a plate of main course meal is between $10 and $15. The area also hosts a few of Seattle's famous seafood restaurants.
Budget
phone: +1 206 913-0041

address: 6400 California Ave SW

Great things come from the tiny kitchen in this neighborhood gem. The lamb souvlaki is tender and delicious. The gyro platter is piled high and a great value. Entrees come with salad and choice of Greek fries or, a truly unique, rice pilaf. Trust in the daily specials featuring regional Greek cooking at its best.
Mid-range
phone: +1 206 923-6470

address: 3529 SW Genesee St

Away from the busy Junction area, just west of the West Seattle Bridge entrance to West Seattle. Superb Thai cuisine in an elegant setting. The crispy garlic chicken is a favorite.

Circa

phone: +1 206 923-1102

address: 2605 California Ave SW

Small but good neighborhood restaurant on California Ave a couple doors south of Admiral. Steak salad is the house favorite. Beer and wine.

Chelan Cafe

phone: +1 206 932-7383

address: 3527 Chelan Ave SW

Famous for their rib-sticking breakfasts, the Chelan is your basic family diner with legions of fans. Their Eggs Benedict is very popular and they have great pancakes, too.

phone: +1 206 937-6310

address: 9261 45th Ave SW

A culinary oasis located in the bedroom community near beautiful Lincoln Park and the Fauntleroy Ferry Terminal. Very popular with locals, Joe's has a rotating menu that focuses on a specific region and its cuisine. Volunteer artists change the decor accordingly. Full bar.

phone: +1 206 935-1075

address: 4437 California Ave SW

Tiny, noisy place just north of the Alaska Junction, serving local Pacific Northwest dishes. Spring Hill was named one of 2009's Best New Restaurants in America by Bon Appetit magazine. It's not cheap, but it manages to be both experimental and down-to-earth. If you're a foodie, this comes highly recommended.

phone: +1 206 935-4339

address: 4725 California Ave SW

One of the best sushi restaurants in Seattle is this tiny, always-packed place on California Ave. Traditional sushi and some very creative stuff, too.

phone: +1 206 932-4849

address: 2770 Alki Ave SW

An institution for many West Seattlelites, Pegasus specializes in deep-dish, Chicago-style pizzas, including the Tom's Special: mushrooms, green peppers, onions, olives, feta and mozzarella cheese, fresh garlic, diced tomatoes, spinach, sunflower seeds, topped with shredded pepperoni ($22 for a large). There is also a variety of pasta dishes and salads. The white spaghetti is not to be missed. Beer and a limited wine selection, no hard alcohol.

phone: +1 206 285-8646

address: 6459 California Ave SW

Yes, it's just a pizza place, but it's a welcome addition to the cluster of shops and bars around Morgan Junction. If you're next door at Beveridge Place bar, you can grab a slice to have with your beer.
Splurge
Drink
Sleep
There are few hotels in West Seattle, and fewer still worth considering. In a pinch, most chain motels and hotels have branches a few miles south in
Tukwila
or
SeaTac
near Sea-Tac Airport; otherwise, look closer to
downtown
.
Bed and Breakfast
phone: +1 206-935-0407

address: 5649 47th Ave SW

One of the only B&B choices in West Seattle. Comfortable, but the decoration (including floral pattern wallpaper on the ceilings) is either funkily Victorian or overwhelmingly noisy, depending on your taste.

phone: +1 206 937-9920

address: 3512 Southwest Alaska St

One of the only hotels in West Seattle. Located just a few block east of the Alaksa Junction in the West Seattle Triangle neighborhood.
Camping
phone: +1 206 684-7434

address: 5200 35th Ave. SW

A rare urban treat, Camp William G. Long has a charming 70-year-old stone and wood lodge surrounded by lovely 68 acre forest and features 10 rustic outdoor cabins that each has six double beds. They also offer two separate covered shelter areas with picnic tables that are perfect for group events.