Seoul/East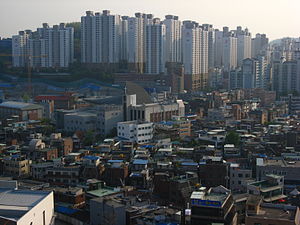 The districts of
Dongdaemun
(동대문),
Jungnang
(중랑),
Gwangjin
(광진) and
Seongdong
(성동) are in the east of the city of
Seoul
.
Understand
Hanyang University

phone: +82 2-2220-0114

address: Wangsibri-ro 222, Seongdong-gu, Seoul

Hanyang University is one of the famous universities in Korea. Also you can enjoy delicious foods and a lively atmosphere. And the Seoul Forest is near here, so you can visit there so easily.
Get in
By train
Several lines of the city's massive subway and commuter rail systems go to the eastern parts of the city including 1, 2, 5, 7 and the Gyeongui–Jungang and Gyeongchun lines.
Konguk University station

phone: +82 2 6110-2121

address: Achasan-ro 243, Gwangjin-gu, Seoul

Konguk University Station is a transfer station between line no.2 and no.7. Also you can go to the Konguk University as well, you can enjoy the beautiful lake(Ilgam-ho.) at there.
By bus
There are lots of buses which go to the east of the city of Seoul, (Dongdaemun, Jungnang, Gwangjin, and Seongdong).
You can easily visit and enjoy these areas.
Also there is a Dongseoul Bus Terminal(gangbyeonyeok-ro 50, Gwangin-gu, Seoul, call 1688-5979), so you can go to the other cities as well. (This is a intercity Bus Terminal, not a downtown Bus Terminal.)
By taxi
From the centre of Seoul to eastern Seoul can cost any where from ₩8,000 to ₩15,000 (2018). Prices late at night can be cheaper as there are fewer cars on the road.
See
BonghwasanA 160 m high mountain from where there are good views over the city. The mountain together with the surrounding park is popular place for short hikes. Also worth seeing is the Sasingak Shrine at the southern side of the mountain.

Seoul ForestSeoul's own Central Park, at the northern bank of Han. It's composed of five smaller parks, the culture & art park, the natural ecology forest, the natural hands-on experience learning garden, the ecological wetland garden and the Han river waterfront park as well as an outdoor stage and a big playground.

address: 93, Hwayang-dong

A museum with Korean historical artifacts. The main attraction here is the Donggukjeongun, a set of six books from the 15th century describing how Chinese characters should be pronounced. These were the first such teaching books in Korea.

address: 56, Hoegi-ro

Memorial hall dedicated to the culturally most important king in Korean history.

Ilgam-ho

phone: +82 2-450-3114

address: Neungdong-ro 120, Gwangjin-gu

You can enjoy this beautiful lake, Ilgam-ho Mon-Fri only 05:00- 08:00, because of the Students' security. But you can visit here at 05:00-17:00 every weekends.

Seoul Pungmul Market

address: Cheonho-daero 4 gil 21, Dongdaemun-gu, Seoul

Seoul Pungmul Market is a traditional market which is originated from Hwanghakdong market famous for flea market. You can buy and enjoy the traditional and also modern items at here.
Do
phone: +82 2-450-9311

Neung-dong, Gwangjin-gu. The park was constructed after the decision of the City Planning Facility in 1971 and was opened on May 5, 1973. The park has a zoo, amusement facilities and restaurants. To get there, simply take the subway to Children's Grand Park on line 7. Avoid the weekends as it can get very crowded.,
Buy
DongdaemunAn enormous fashion shopping district comprised of not one, not two, not ten, but no less than twenty four large department store-like buildings such as Doota, Migliore, and APM, each with anywhere from two to seventeen stories of trendy shops and stalls grouped together so customers can shop efficiently and save time. This market is of equal historical significance to Namdaemun market, with the obvious difference being Dongdaemun's modernity. Historically, Dongdaemun was a nightmarket, open from 1 am to 1 pm the following day; now it opens midday, but still remains active well into the early morning, with many shops finally closing around 08:00. Some stores are actually open for 24 hours. Come on Friday or Saturday night to see Dongdaemun at its most hectic, with huge crowds of thousands flooding the streets hunting for their next bargain. The energy is almost palpable.

Techno Mart (Gangbyeon)

address: 546-4 Guui 3(sam)-dong, Gwangjin-gu, Seoul

There are two Techno Marts in Seoul: the original at Gangbyeon station, and the new store at Sindorim station. Both complexes house over 2,000 stores across eight floors that sell a variety of high-tech products. From electrical appliances to computers, you will find everything you need. The first floor has cosmetics, accessories, and stationeries. The second and third floors comprise Korean-made electrical goods, while the fourth and fifth floors sell foreign-made electrical appliances. The sixth floor sells cell phones and their accessories. Computers are sold on the seventh, and on the eighth music and DVDs. Aside from all the high-tech gadgetry, there are over a dozen restaurants on the 9th floor, and a cineplex and arcade on the 10th.
Eat
Pizza Hill

phone: +82 2-450-4699

An excellent pizzeria . As its name implies, the restaurant has a lovely view of Seoul on top of a hill and prices higher than the hill it sits on. Worth a visit if you hit it big at the nearby casino.
Sleep
Sheraton Walker Hill HotelLuxury hotel famous for its casino, swimming pool and seasonal dance parties. Populated with a lively crowd of regular expats.

phone: +82 2-465-2222

address: 177 Walkerhill-ro Gwangjin-Gu

Trendy boutique hotel in Seoul. Has a good Sunday brunch buffet with two seatings at 11:00 and 13:30.