Seoul/Gangnam-Seocho
Gangnam
(강남) is the central district of the southern half of
Seoul
. Though
Jongno
and
Jung
to the north may claim to be the center of Seoul, in many ways Gangnam is the true center, of both Seoul and the entire country. Believe it or not, fifty years ago this entire area was rice paddies and pear farms. Everything you see here has been built since then, the construction mirroring South Korea's rapid economic rise. This district has become famous worldwide due to South Korean singer Psy's hit song "Gangnam Style".
This area was formerly spelled as
Kangnam
and this may still be seen in many addresses.
The other half of the Greater Gangnam Area is
Seocho
(서초), which is an upscale residential area and home to the headquarters of the electronics giant Samsung.
Understand
Gangnam in and of itself is large enough to split into two main districts, Apgujeongdong and Cheongdamdong to the north, and Gangnam/Tehranro/Samseongdong to the south.
Apgujeongdong and Cheongdamdong are both by the Han River, and earn the distinction of being perhaps the richest neighborhoods in all of Korea. Posh cafes, brand name handbags, Mercedes and Porsches, ritzy department stores, and rows upon rows of luxury brand clothing stores characterize this neighborhood. Unsurprisingly, many of Korea's movie stars and singers make their home here, and are occasionally spotted enjoying some Patbingsu or sporting new sunglasses. There is also a sizable nightlife scene here, though it is relatively laid back compare to the chaos that is Hongdae and Sinchon. Most of it caters to upper-class Korean teenagers and young adults. Strangely enough, the apartment buildings here look no different from the rest of the city; if anything, the apartment buildings here are some of the oldest and shabbiest looking. This can be explained by the fact that the upper-class elite who reside here are fiercely opposed to new renovations and expansions, as they fear an influx of new residents will drive housing prices down and make the area unbearably crowded.
Tehranro, in stark contrast, is a long avenue with many glass skyscrapers running along both sides. Nicknamed "Tehranro Valley", after Silicon Valley, most of Korea's hi-tech companies are headquartered here, such as Naver and Samsung. The east end of Tehranro is Samseong Station, which has COEX and Bongeun Temple. Seolleung Station, in the center, has a park with some ancient royal tombs. The west end of Tehranro is Gangnam Station, the busiest subway station in the country. The station opens onto Gangnamro, a futuristic avenue that is bursting with modern skyscrapers, high-end shopping (though not quite as high-end as Apgujeongdong), cafes, bars, restaurants, huge television screens, neon advertisements, and thousands of pedestrians drinking it all in. Strangely overlooked by many tourists and the Seoul Government as a tourist attraction, Gangnamro truly epitomizes the modern, hi-tech country Korea has become in the past 60 years.

Get in
By bus
There is a under the JW Marriott hotel in Seocho.

By metro
Both Gangnam Station and Seocho Station can be reached via Line 2.

By train
You can use , which has SRT (high speed rail) service.

See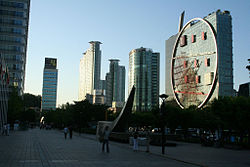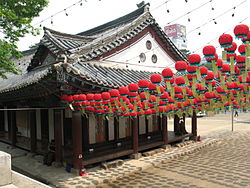 address: 73 Samseong-dong, Gangnam-gu

Traditionally an important Buddhist temple with rich history in a rural outskirt of old Seoul, the temple is now the biggest, richest, and the most visited temple in Seoul as the area near the temple, Gangnam, transformed from rice field backwater in 80s to the most ritzy and opulent borough in South Korea. The temple has an impressive array of Buddhist buildings and sculptures, and it provides a quiet resting and pray place to tourists and locals alike in middle of skyscrapers and shopping miles. You can get off at Bongeunsa Station using Line 9 and if you use Line 2, you can get there by walking about 5 minutes from Samsung Station.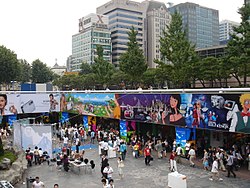 COEXThis very large mall is in Samsung-dong. This state-of-the-art complex was designed for international conferences, and holds 150 specialized exhibitions and 15,000 conventions/events a year. The centre also plays a role in promoting international trade by connecting international buyers with local businesses. A variety of stores and attractions can be found in the COEX including: the COEX Aquarium; a large Western-style "luxury" cinema; a traditional video game arcade; a PC Lounge; hair and nail salons; a large bookstore with many Korean, English, and Japanese publications; and a pharmacy. There are also shopping options in COEX and include men's and women's clothing, jewellery, sportswear, souvenirs, shoes, and electronics. As far as food options, there is a large food court serving several types of contemporary and traditional food cafeteria-style, and Western chains such as TGI Friday's, as well as restaurants, hofs, and cafes all throughout the interior and exterior of the COEX. The COEX is also directly connected to the COEX Intercontinental Hotel and the City Air Terminal. Yearly conventions at the COEX include online gaming conventions (such as the popular Korean-originated MMORPG Lineage), anime conventions, and auto shows. It is possible to spend the entire day in this covered mall without setting foot outside, which can be a blessing if very bad weather hits outside.

The name of cinema is 'Megabox' which is a large Western-style luxury cinema. There is a also Megabox in Gangnam-station, Metro Line No.2, but Megbox at Coex is better than one at Gangnam-station.

phone: +82 2 2005 0114

address: 679 Yeoksam, 1 Dong

Modern, multi-purpose performing arts auditorium opened in 2000, features live musical, theatre and dance performances from Korea and worldwide. Visit website for performance schedule and ticket information. Underground parking is available. You can arrive right in front of Seoul Arts Center via Bus No. 406, or get off at Bangbae Station and take a walk.

Seoul Art Center700 Seocho-dong, Gangnam-gu, (line 3 Nambu Bus Terminal stn). Another great place for performing arts and Korean traditional art.

Yangjae Citizen's ForestYou will find a forest on your right if you drive through Gangnam Street. It's a park with streams and a clear view of the sky. There are over 106,600 trees planted in it, and it's a very popular picnic spot for young students. A little out of the way, but accessible by commuter rail, and it's a nice way to escape the hustle and bustle of Gangnam.

address: 1, Seolleung-ro 100-gil, 특별시 강남구 선릉로100길 1 (삼성동)

Tranquil park in the middle of Gangnam with the burial mounds of two kings and a queen from the Joseon dynasty.You can reach the Seonjeongneung Station via Line 9 and Bundang Line.
Do
Park Club Spa & Fitness Centre

phone: +82 2 2016 1234

address: Park Hyatt Seoul Hotel, 995-14 Daechi 3 - dong Gangnam - gu

Seven Luck CasinoThis branch is attached to the COEX shopping complex. The casinos are only accessible to foreigners (it is illegal for Korean citizens to gamble), so remember to bring your passport. Various card tables and slots are available to play. There is a bar and cafe that serve food and drinks, although expensive.

phone: +82 2 562 6829

Son's Home specializes in teaching kimchi preparation.

World Comic ConventionTwice a month the SETEC convention center hosts Seoul's World Comic con Festival. Admission is 4,000₩ but the inside is rather bland unless you are extremely familiar with Japanese and Korean anime. Your best bet is to go during convention hours and mingle with the crowds of Korean teenagers in elaborate cosplay costumes dressed as their favorite anime characters. Most are excited to see foreigners and very glad to have their pictures taken. As mentioned, this convention only takes place twice a month, so check the website (Korean only) to make sure it will be in session while you are in Seoul.

World Gym

address: 765-2 Yeosam-Dong, Kangnam-Gu

The gym is OK, equipment is very 80s but has dumbbells which go up to 50 kg, two smith machines and a couple of benches among other machines.
Buy
Apgujeong
(압구정), widely known as "The Beverly Hills of Seoul" is the land of luxury, brand name goods. International brands like Chanel, Louis Vuitton, Dior, Gucci and Prada sit alongside Korean designer brands.
phone: +82 2 547-2233

address: 429 Apgujeong-dong, Gangnam-gu

Main store of well-known department store chain.

address: 515 Apgujeong-dong, Gangnam-gu

A very popular upscale department store. Just several blocks away from Hyundai Department Store. Also has a branch in Seoul Station.
Near the lies the heart of the Korean shoe scene. Cutting edge shoe shops include
Sue Comma Bonnie
,
Hyaang
,
Heels
and
Namuhana
.
Famous for its designer clothing boutiques and unique galleries, (가로수 길) is definitely worth a visit. As the main street is adorned by ginkgo trees, the meaning of its name,
tree-lined street
, is quite literal. Stores of international clothing brands, Korean designers, ateliers, cafés, and restaurants co-exist in this about 750m long street in Sinsa-dong. The easiest way to get to Garuso-gil is by taking the subway to (Exit 8) or (Exit 5), both being stations of Line 3.
Eat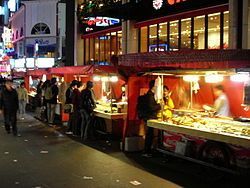 address: 304, Dosan-daero, Gangnam-gu 특별시 강남구 도산대로 304 (논현동)

An upper-end Korean restaurant that specializes in the Korean version of Shabu-shabu, which is a boiling pot to which you throw in vegetables and very thin slices of meat. Their menu is extensive and while their atmosphere may not be cutting-edge, it is classy and clean.

Le Pied de Cochon

phone: +82 2 577-8503, +82 10 6336-8724

address: Dogok-dong 419 Gangnam-gu

A French restaurant specialised in pastas, pork meat and Rosé wine. Come here to try the "Pied" with a glass of wine.

phone: +82 2-548-3030

address: 623-5 Sinsa-dong, Gangnam-gu

One of the best places in Seoul for Korean-style grilled meat. Lunch menus are recommended for those meat lovers on budget. For dinners, make reservations to avoid disappointment.

Brick Oven New York Pizza

phone: +82 2-508-1325

address: 617-4, 2nd Floor, Yeoksam-Dong, Gangnam-gu

One of the best if not the best place pizza place in Seoul. On the way up the hill you will see some Chicago-style places as well.

Jacoby's Burger

phone: +82 2-548-0433

address: 643-28, Sinsa-Dong, Gangnam-gu

Probably the best $25 cheeseburgers in Seoul, one of the last trendy places in this part of Apgujeong.

Coreanos Kitchen

phone: +82 2-547-4427

address: 강남구 신사동 657-11 B1 (657-11 B1 Sinsa-dong, Gangnam-gu)

Korean-Mexican fusion. Kimchi burritos, Kimcheese Nachos, Galbi Tacos. The guys who run this place have created some interesting and delicious food, and you'll pay for it.
Drink
Apgujeong
Apgujeong (압구정) is the upmarket area of Seoul. Walk around the streets and you'll see teenagers valet parking their new Benz or Audi, strutting their new designer threads, and looking generally, well, rich. That said, a lot of people who party here aren't necessarily rich and live far away. Apgujeong is rather subdued when it comes to nightlife though it has a few posh clubs and bars. Places where valet is unavailable are unlikely to be great hits traditionally. There are, however, a few small clubs in the area. Expect English to be more commonly spoken in this area, too, due many Koreans in the area having studied abroad or received a lot of private tutoring. This has also meant, however, a certain desensitization to foreigners, so don't expect people to stare or approach you as much as they would in other parts of Seoul. Consider Apgujeong a great place to hang out, not party. If you want to impress a date for example, this is a great place to go to. The backstreets of Apgujeong tend to sprout and lose new clubs seemingly at random throughout the year, so getting off the main drag from time to time can yield a new "hot club of the month."
Superclub CircleUsually playing house music, sometimes hip hop (only available for private parties as of July, 2009)

Club AirHouse/Techno club.

Once in a Blue Moon

phone: +82 2-549-5490

address: 824, Seolleung-ro, Gangnam-gu, Seoul 서울특별시 강남구 선릉로 824 (청담동)

The trendiest jazz club in Korea, often shown in television dramas. The most popular jazz musicians in Korea play here regularly. Unfortunately, the clientele are here to be seen and often talk during the music, so if you're here for the music, sit close to the stage.

address: 546-6 Sinsa-dong, Gangnam-gu (신사동 546-6 B1

One of the best jazz clubs in Korea if music is the thing you care about. On a weeknight, you might have the band all to yourself. The musicians range from "new to jazz" to "almost famous."
Gangnam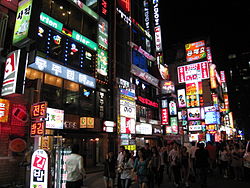 Gangnam station (강남) is probably the No. 2 club area in Seoul. Also set up in a grid structure, clubs, bars, restaurants and other entertainment venues decorate this upmarket location. While not as upmarket as Apgujeong, it definitely is busy and lively. If Apgujeong is the place for rich kids to hang out and look cool, Gangnam is the place for those rich kids to party and look sexy. The station is a transit hub and a ton of buses run through the heart of the entertainment area, so finding your way there is extremely easy.
NBHip hop. Full of clubbers pretty much every night of the week.

HarlemNext to NB...guess what music they play?

EdenElectronic house/techno club.

Club Answer

phone: +82 2-5114-4311

address: Cheongdam-dong 125-16, Cheongdam

House music club with regular events and famous Djs.

Club NakedPlays house music and also serves as an after hours club.

Club Mass

address: 1306-8 Seocho-dong, Gangnam-gu , Gangnam-gu, 137-855

Large house music club that occasionally brings in famous DJs

phone: +82 2-556-9774

address: 817-22 Yeoksam-dong, Gangnam-gu Seoul, Korea

Woodstock Gangnam is a Korean-style music pub (i.e. offering music selection by customers) that specializes in 60s & 70s rock and blues. It's a nice bar, unchanged for ages, with huge Vinyl and drink selection, laid back and down to earth, unlike any other place in the area. But it's a hidden gem, a bit hard to find - try their facebook page for directions: www.facebook.com/Woodstock.Music.Bar.Gangnam

Tokyo Jazz

phone: +82 11 365-1770

address: 153-44 Samseong-dong, Gangnam-gu

A cozy jazz club on the second floor with live piano and vocal music every night and a jazz combo Thursday and Friday nights 9-12 or later if the club is full. Famous for staying open until the last customer leaves.

JJ Bear

phone: +82 2-553-5390

address: Teheranro 84-gil 18, Gangnam-gu, Seoul

KATHYBAR

address: Bongeunsa-ro 2-gil 10, Gangnam-gu, Seoul

You can enjoy various kinds of cocktail for reasonable price.
Hanti
Jeon-Ga (전가)A decent makgeolli bar, with about 8 kinds of makgeolli and very good anju (side dishes for alcohol drinking), including tofu kimchi (dubu kimchi) and "Korean pancake" (전). Very good prices. You can't find it on Google maps, but it's there, next to "Hair Story."
Sleep
Mid-range
Ibis Hotel AmbassadorConvenient for international travellers as it is very close to the check-in and limousine server at KCAT, Korea Air City Terminal, next to the COEX. Free shuttle to KCAT and free wired Internet.

Renaissance Hotel

Novotel Ambassador
Splurge
address: 248-7, Nonhyun-dong, Gangnam-gu

Luxury hotel in Gangnam. Shuttle buses from and to Incheon international airport. Very nice spa. A local favourite.

phone: +82 2 62826262

address: 19-3 Banpo-dong, Seocho-gu

Rooms are stylish and fully-equipped. Spa, gym, sauna, indoor running track complex covers 2 floors in the basement. Olympic-size pool, climbing wall and golf driving range and Maska's cigar shop selling Cubans.

phone: +82 2 2016 1234

address: 995-14 Daechi 3 - dong Gangnam - gu

Upscale hotel that is right across from the COEX shopping complex and host to The Timber House featuring live jazz music.

Grand IntercontinentalAttached directly to the COEX mall
Connect

PC Rooms are available everywhere.