Seoul/Jung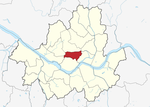 Jung
(중, 中, which means
central
) is in
Seoul
, constituting the southern half of the historic core of Seoul, along with
Jongno
. Jung is busier than its tranquil neighbor, with hundreds of offices buildings and endless streets of frantic shopping, but scattered among the hustle and bustle are more historic gems. To begin with, Jung has some of the only remaining European-style buildings left over from the Japanese Colonial period, the
City Hall
, the
Bank of Korea
, and the old
Seoul Station
. Next to the City Hall is the only one of the Five Grand Palaces outside of Jongno,
Deoksu-gung
. South and southeast of the City Hall are the famed shopping districts
Myeongdong
(명동) and
Namdaemum Market
. Further to the east is the largest fashion shopping district in Korea,
Dongdaemun
, with dozens of huge department store style fashion complexes.. If the shopping ever gets too much for you, retreat to
Namsan
Mountain, which has a pleasant park, library, hiking trails, and the
N. Seoul Tower
, which offers panoramic views of the city from the summit.
Get in
By train
See also: South Korea#Get around#By train, High-speed rail in South Korea
Jung hosts , which is the hub for all high-speed KTX trains in the country, and formany destinations via regular rail. The AREX train from this station will also take you directly to
Seoul
's
Incheon International Airport
. The station also has shopping mall, and the site is close to Culture Station 284 and Seoullo 7017. There are many protests, demonstrations, and beggars at the Seoul station plaza.
By Metro
The southern part of Myeong-dong is served by Myeong-dong Station on Line 4 of the Seoul Metropolitan Subway, while the northern area is closer to Euljiro 1-ga Station on Line 2. Many inner and outer city bus lines pass through the district for easy access.
See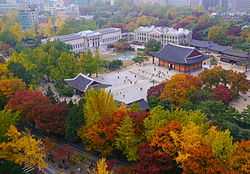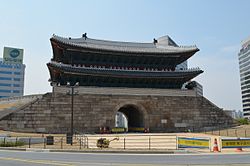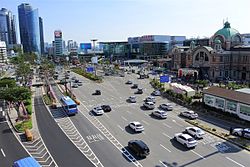 address: 1 Tongil-ro, Jung-gu, Seoul, Korea, 04509

A culture center at the old Seoul Station. It was built in 1925 during the Japanese Colonial period, and the center of the Korean railway until 2004 when the current building for KTX opened. It reopened in 2011 as a culture center, and it hosts many exhibitions. The pre-modern architecture inspired by the Lucerene station (which has burnt down) offers unique sight among the glassy buildings of Seoul.

phone: +82-2-313-7017

A former motorway turned into pedestrian walkway. Opened in 2017, it offers a unique view above the cars and rails, with gardens and cafes along the path. Night view with car lights and neon signs is especially beautiful.
Do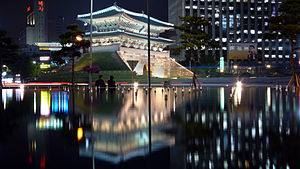 Seven Luck CasinoThe casino is only accessible to foreigners (it is illegal for Korean citizens to gamble), so remember to bring your passport. Various card tables and slots are available to play. There is a bar and cafe that serve food and drinks, although expensive.
Buy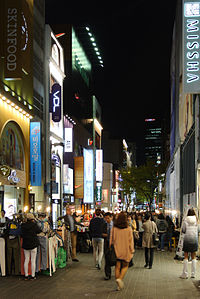 Myeong-dongProbably the best-known shopping area. It is definitely the most tourist-friendly fashion area. In spring and summer, fashion models/sidewalk promoters can be seen strolling the streets of Myeongdong promoting various cosmetics, stores or other fashion-related products. Many regular people also tend to catwalk their newest outfit on these streets. Rows of stores are available to look for that perfect accessory, and most of Korea's major brands can be found here: mVIO, Caspi Conus, WhoAU California, AHM, So.Basic, Noxon, Basic House, UGIZ, 1492, nipper, hang ten, A6, Bean Pole, Jambangee, Giordano as well as a few international brands such as Lacoste, Land Rover, Adidas, Gap, Zara, Koolhaas, Uniqlo, Anna Sui, and Forever 21. Nearby are the Lotte and Shinsegae department stores. Excellent street food carts are all around from around 5pm.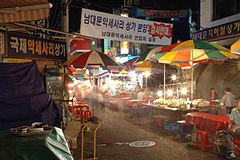 Namdaemun MarketThe largest traditional street market in Korea. This market is in the center of Seoul and is a famous shopping place for tourists. Clothing for children and accessories are the most-commonly sold goods in this market, but there's lots of food as well and many outdoor eating options, especially in the evening. There is also a huge digital camera market in this area.
Department stores
address: 81, Namdaemun-ro

Just across the street from Avatar department store, this department store is oriented towards a younger, upscale clientele, and in addition to the usual Korean brands and international brands, the top floor of the space features an assortment of quality eating establishments to replenish your shopping energy. The wine bar is recommended. Sometimes art installations can be found on the top floor. Credit cards accepted.

address: 263 Jangchungdan-ro, Jung-gu, Seoul

One of the biggest fashion buildings in Seoul. It has 17 floors above ground and 7 basement floors. Information boards in Migliore are written in Korean as well as English, Japanese and Chinese for foreign tourists. US credit cards are often accepted, but ask before haggling if you aren't sure. The outside stage features a "talent show" of local dance groups (mostly high school or college student groups) most nights until about 21:00; typically they are wearing many of the local fashions, and some of the dancers can be located in the various department stores working as employees.

phone: +82 2 1588-1234

address: 2-5 Chungmuro 1-Ga, Jung-gu, Seoul

The oldest department store on the Korean peninsula. The original building was refurbished in 2008 and became a high-street boutique. Accepts major credit cards, including Amex and JCB.
Eat
Gogung

phone: +82 2-736-3211

address: 37, Myeongdong 8ga-gil, Jung-gu

Specialty restaurant for bibimbab at a moderate price.

Jeonju Jungang Hoegwan

phone: +82 2 776-3400

address: Myeong-dong

This Korean restaurant specializes in the Jeonju variety of bibimbap, which features different ingredients and spices than other bibimbap dishes. Delicious and healthy.

HONOGI

address: Myeong-dong

Japanese restaurant sells really good beer called Ah-Sa-Hee(아사히)

Touch of SpiceAsian dining and bar. Clean & modern interior design and the foods look amazing.

SamarkandIn the heart of "Central Asian Town", which has Russian, Mongolian, Uzbek, and Central Asian restaurants. Wander around and discover the area a bit - you'll be rewarded with delicious food and an exotic experience.

phone: +82 2-776-5348

address: 25-2 2-ga, Myeong-dong

Beef gyoza soup, unique dish but tasty.
Drink
address: 동대문구

Foreign-owned bar in front of Hankook University of Foreign Studies known for a varied clientele, great pool table, and affordable prices. Has Red Rock and Hoegaarden on tap.

Ban-Ji-Reum

Mezz BarBar known for cocktails

LevenbroeeKnown for beer but also due to the view from the bar which is amazing
Sleep
Budget
Love hotels
, are also a great option. They are usually in pretty good condition and they sometimes have a PC in the room. Love hotels are mainly visited by couples who want some private places during day or night, most of the love hotels (especially those in Gangnam district) are exceptionally clean and usually have widescreen TVs, PCs and so forth. Don't let the name fool you... some of these are the best bets for budget travelers! Be aware that some love hotels discourage stays of more than one night. Main love hotel districts in Seoul include Teheran Street near Yeoksam station in the Gangnam district, Nambu Terminal in Seocho-dong, Bangi station in Jamsil and the area near the Nakwon market in Jongno. ₩25,000-80,000 a night, more on Saturday nights and holidays.
Alternatively, try a
jjimjilbang
. You don't get a room of your own, but you can store your luggage into one of the small lockers and you can live quite cheaply for a long time, sleeping in the public sleeping rooms and enjoying the hot-tub and steam room facilities (sometimes a gym is available, also movies and TV shows often play until 23:00 or so). To find a jjimjilbang keep an eye out for the words jjimjilbang (찜질방) or 24 hr sauna (24시 사우나) in Korean. Not all saunas have jjimjilbang stay-over facilities, so watch out for that. ₩4,000-12,000/night.
Mid-range
phone: +82 2 6361 8888

address: 59-5 Myeong-dong 1Ga, Jung-gu

Very central, free internet access.
Splurge
Connect

PC Rooms are readily available in this area, with high speed access and fairly new machines.