Seoul/Songpa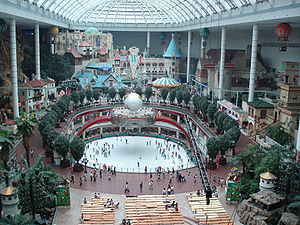 Songpa
(송파) and
Gangdong
(강동) are in the eastern part of
Seoul
, along the Han River. Quieter and more residential then its hectic neighbor,
Gangnam
, Songpa nonetheless offers a fair number of attractions. The world's largest indoor theme park,
Lotte World
, is here, as is the
Olympic Park
and many of the facilities that were used the 1988 Seoul Olympics. And for fans of baseball and/or Korean Pop Culture, the
Jamsil Sports Complex
frequently hosts baseball games and K-pop concerts.
Get in
See
Olympic ParkBuilt for the 1986 Asian Games and the 1988 Seoul Olympics. A lake, a large field covered with the grass, and a square with sculptures are very popular among visitors. It is frequently visited by brides and grooms to take their wedding pictures. There are a couple of courses that are ideal for jogging or walking. In addition, the outdoor stage and the six stadiums are often used for concerts and other special events. Also a well known modern art museum named SOMA Museum is in the park. It features modern artworks by both Korean and international artists.
Hanseong Baekje Cultural Festival is a festival which reenacts Hanseong Baekje's traditions and culture. Baekje is one of Korea ancient nation (B.C. 18 – A.D. 660). The capital of Baekje had been located in Seoul for about 470 years (B.C. 1 – AD. 476). Historical sites and antiquities of Baekje were discovered in Seoul. To remember the history of Baekje, Hanseong Baekje Cultural Festival is held every year (September) in Olympic Park, Songpa-Gu, Seoul Korea. You can experience Holography, Riders ' equation, Ancient Tomb of Baekje, Baekje Experience Village, and Historical cultural distance matrix. In 2017, the festival was held during September 21st-24th in Olympic Park.
Iljasan ParkPark with sports facilities, many herb gardens and an astronomical observatory.
Seoul Baekje Museum. Admissio fee is free
Seokchon LakeActually two lakes divided by a road, surrounded by park with several playgrounds. This park is something of an oasis in the middle of the skyscraper landscape.
Lotte World Tower (Seoul Sky)Enjoy the view from the fifth tallest building in the world. Be sure to check the weather before entry.
Do
Jamsil Sports ComplexThis large sports complex centered around Jamsil Olympic Stadium was built in 1976 and played host to most of the competitions in the 1988 Seoul Olympics. Though its heady Olympic heydays are long past, this sports complex is still very much active and frequently hosts various cultural and sporting events, most frequently concerts and baseball games. At Jamsil Baseball Stadium, Doosan Bears and LG Twins are home to this arena. Baseball here is very popular. It is, in fact, probably the most popular team sport in the entire country. You can feel the craze during the match. Booking tickets is tricky for non-Korean speakers. It's probably best to book tickets through an agency or third party instead of directly online.

Lotte WorldThis complex has a Lotte Department Store, a theatre which hosts the show Ballerina Who Loves a B-Boy, a Lotte luxury hotel, a large indoor ice skating rick, and a traditional Korean folk museum. However, what it is most famous for is one of the world's largest indoor theme park. Lots of rides, and reopened in the summer of 2007 after a massive reconstruction. Though it may seem attractive on a rainy day, remember that others will have the same idea. Especially on the weekends and on holidays, if it's raining, watch out for mind-numbing lines.
*
Buy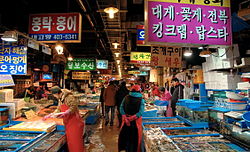 Garak Market

address: 298 Garak-dong, Songpa-gu

This is an enormous farmer's and fish market.

Garden5This is a large, very new mall and shopping complex that is part of the district government's efforts to make Songpa more of a center of culture and commerce. This complex is somewhat of a hybrid, selling both consumer goods and acting as a distribution center for manufacturers and wholesalers.

Lotte Department StorePart of the above-mentioned complex that includes Lotte World, the Lotte Department Store here is your standard Korean Department Store - except, of course, all the other attractions attached to it.

Olympic-roThe stretch of road from the sports complex to Lotte World has a fair number of stores and cafes here, and they're open quite late because of the nearby Sincheon nightlife area (see below). Nothing special, you'll find the typical clothing and gadget stores you find everywhere else.
Drink
SincheonSongpa is home to Sincheon (신천), a large nightlife district one street back from Olympic-ro. Note that this is not Sinchon (신촌), another nightlife district that is frequently mixed up because of the name - Sinchon is located in Seodaemun/Mapo, which is the opposite side of the city and mainly caters to university students. Sincheon, on the other hand, is populated more by local businessmen, as in Korea, getting drunk together with co-workers is seen as essential to building working relationships, which is one of the reasons why Korea has such a high rate of drinking. If you are a foreigner working in a Korean office or visiting Korea for a business trip, you may find yourself visiting this neighbourhood.
Sleep
Sincheon has a number of love motels. There is one particular area where a few dozen are clustered together.