Seoul/South
Dongjak
(동작),
Gwanak
(관악) and
Geumcheon
(금천) are districts of
Seoul
south of the Han river.
Get in
Noryangjin metro station will get you in on both Lines 1 and 9.
GwanakYou can reach most parts of Gwanak-gu by subway line 2. Travelers departing from Yongsan Station can reach Dongjak-gu and Gwanak-gu using Shin Yong-san Station.
Get around
There are several ways to get around Gwanak. most of the signs are marked in Roman letters for the benefit of travelers.
By subway
There is one line that connects Gwanak with other cities. The subway system shuts down around 12:00 am, and opens again around 5:30 am. This is the average time of each of endpoint.
Shindaebang (신대방)

address: Sindaebang-dong, Dongjak-gu, Seoul

Sillim Station

address: Seoul Sillimdong

Bongcheon (봉천)

address: Bongcheon-dong, Gwanak-gu, Seoul

Seoul National University Station(서울대입구역)

address: Bongcheon-dong, Seoul

Nakseongdae Station

address: Bongcheon-dong, Seoul
See
Boramae Park

address: 395, Sindaebang2-dong, Dongjak-gu

This former site of the Korean Air Force Academy was, in 1986, turned into a park. Boramae, or hawk in English, symbolizes the Air Force. The size of the park is about 360,000 m², and its sports facilities, a small zoo, a pond, and walking paths are well designed. The huge pond, which is 9,000 m², is surrounded by willow trees and benches, and people love to come. The pond is full of cool shades during the summer, and is spectacular when snow falls in the winter.

Nakseongdae ParkThe park surrounding the Seoul National University, continuing on outside the city borders. Interesting points here include the Anguksa Shrine built in honor of the 10th-century general Gang Gam-chan

Seoul National University Museum of Art

phone: +82 02-880-9504

Contemporary art gallery on the premises of the university. Museum's main gate was designed by Rem Koolhaas who is the famous architecture of Netherlands. Since its reconstruction in 2005, it has been opened with the goal of communication between the university and the community. 3 floors above ground and 3 floors below ground with total floor area of 4,486 m², there are no entrance between the spaces so spaces are connected organically. It is rare open culture space in korea. There are 250 pieces of artworks and it held various exhibitions.

phone: +82 2 598-6247

address: 1059-13 in Namhyeon-dong, Gwanak-gu

Seoul Museum of Art is an artistic space where classical architecture and contemporary art communicate with each other in a variety of colorful and quality exhibitions and downtown areas that are free of charge for the year. It is near Sadang Station on Line 4.

Gwaneumsa-Temple

phone: +82 2 582-8609

address: San 58, Namhyeon-dong, Gwanak-gu, Seoul

This an old temple on Gwanaksan Mountain that has been around since the Silla Dynasty. It has a quiet atmosphere. Founded in 895 (Queen Jinsung 9) by the monk Dosun Guksa in the late Silla era. The present Buddhist temple was reconstructed by the main stone in 1924.

Located at the foot of the last peak extending northeast from the main peak of Gwanaksan. It was completed in 1977 as one of the Vibo temples established by Dosun Ambassador, 9 years (895). The name Gwaneumsa-sa Temple means that if you pray to the Guaneum Bodhisattva, the Gwaneum Bodhisattva will receive the Gwaneum Bodhisattva to relieve the rebirth and help the rehabilitation of the Buddha.

address: 1 Gwanak-ro, Gwanak-gu, Seoul

Seoul National University is the most representative national university in South Korea. It's under Gwan-ak mountain. Attending Seoul National University is a dream for Korean middle and high school students. There are many students who went to university by campus tour. The university offers various campus tour programs like university student's mentor program and campus guide tour. Seoul National University has a very large site. So the campus tour will not be boring. Souvenirs are sold in the campus's souvenirs shop, such as t-shirts, tumblers, watches, notebooks, mugs.

phone: +82 02-879-5602

address: Nambu sunhwan-ro 152street 53, Gwanak-gu

The Horim Museum was opened in Daechi-dong, Gangnam-gu, Seoul, based on the relics and funds presented by Horim Yoon Jang-seop. Then, in March 1996, the museum was expanded and built in Sillim-dong, Gwanak-gu, Seoul, and reopened in May 1999. There are more than 15,000 relics, 60 of which are designated as national cultural assets (8 national treasures and 52 treasures). It is recognized for its excellence in the variety and quality of its collection
Do
GwanaksanGwanaksan (Korean for Mt. Gwanak; 632 m) is a small mountain in southern Seoul, South Korea. Portions lie in the Gwanak-gu and Geumcheon-gu districts of Seoul; other portions lie in the neighboring cities of Anyang and Gwacheon.

address: Nakseongdae Park

Gwanak Ganggamchan Festival is a representative historical and cultural festival held in Seoul to honor the national pride and feats of General Kang Gam-chan, the hero of the Battle of Guju, in "Gang Gam-chan City Gwanak."
Buy
NoryangjinPlenty of stalls selling fruit, vegetables, meat, fish, squid, clams, and other seafood straight from the farm/trawler. Not exactly tourist friendly, this market is definitely targeted towards a local audience, but if you're interested in seeing an off-the-beaten-track destination and really exploring the nitty-gritty of Korean daily life, definitely worth a look.
Eat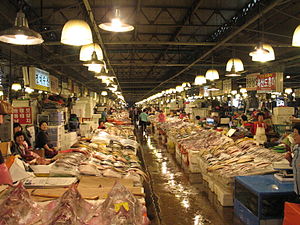 Noryangjin Fish Market

address: 13-8 Noryangjin-dong, Dongjak-gu

The floors may be dank and wet, but this is undoubtedly the freshest seafood in Seoul, with live octopuses, spiky sea urchins, giant king crabs swimming about in water tanks, buckets and bags. Buy some fresh fish (try bargaining if you can), and head to the restaurants in the back row, where they'll prepare your food as requested. There's a wholesale auction at 02:00, where fishmongers bid for produce and it can get frantic.

phone: +82 2 855-1994

address: Sillim-Dong 494-7, Gwanak

It is a traditional market near Sindaebang Station. It is a market for working-class people selling various products as well as food.

Yangji Sundae Town

phone: +82 2 876-5665

address: Sillim-ro 59-gil, Shinlim-dong, Gwanak-gu, 12

It is a restaurant located near Sinlim Station. Sundae is a Korean traditional food. The price is generally low, and it's perfect for drinking.
Naksung Butcher's

phone: +82-02-887-9233

address: 1850 Southern Circulation Route in Bongcheon-dong, Gwanak-gu, Seoul
Drink
Cocktail&Dream

phone: +82 02-873-7475

address: 329 Sinrim-ro,Gwanak-gu

You can enjoy various cocktails like mojito, gin and tonic, martini. Also You can enjoy the price from 8,000 won to 14,000 won. There are not only cocktail but also many wines. It also offers snacks for wine and cocktails.

Doritori

phone: 02-882-9252

Although the price is not cheap, it is a place where you can have a glass of wine at night and have a comfortable meal.

Kim's real beer

phone: 1588-3948

address: 309 Sillim-ro Seowon-dong, Gwanak-gu, Seoul

You can enjoy a variety of beer and snacks at a low price. It's signatu Because it is near from station, it is easy to access re beer is Kim's draft beer which is 60 hours low-temperature aged beer. And also you can enjoy several snacks like chicken, tteokbokki.
Sleep
Novotel Ambassador Seoul Doksan

phone: +82 2-838-1101

address: 378, Siheungdae-ro, Doksan 4(sa)-dong,

phone: +82 2 6746-8007

address: Sillim-ro 349, Gwanak-gu

It is a pleasant environment compared to the price range. Breakfast is served.

phone: 02-889-8000

address: 52-1 Sillim-dong 7-gil, Shinlim-dong, Gwanak-gu, Seoul

Sillim Hotel Urban

phone: 02-862-6664

address: Gwanak-gu nangongno Seoul Sillim 5

phone: 02-2660-7300

address: 1458 Seoul Gwanak-gu, Seoul

Jjak Hotel

phone: 02-888-1781

address: 13-gil Shinlim-ro 66-gil, Gwanak-gu, Seoul

address: 1422-8 in Sinlim-dong, Gwanak-gu, Seoul