Singapore/Chinatown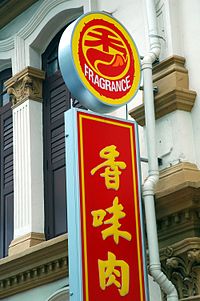 Singapore's
Chinatown
is the traditional Chinese quarters of town, and while the entire city is largely Chinese these days, the area does retain some of its own charm. The area is also known as
Niu Che Shui
(牛车水) in Chinese and
Kreta Ayer
in Malay, both names meaning "bullock cart water", a reference to the carts that used to haul in drinking water. Unlike most of predominantly Hokkien Singapore, the dominant Chinese dialect in Chinatown is Cantonese.
The area between
Pagoda Street
and
Smith Street
has been tarted up considerably for tourists, but workaday Chinatown continues south and east, merging seamlessly into the Central Business District.
Tanjong Pagar
is the unofficial home of Singapore's
gay community
, with many watering holes in restored shophouses, while
Club Street
and
Ann Siang Hill
caters more to the expat, yuppie and hipster crowd with small, intimate eateries offering excellent (if pricey) Western and modern Singaporean fare. Hence Chinatown is quite the paradox — simultaneously the gaudiest and trendiest district in Singapore.
Get in
There are several MRT stations around this area. Exit A (Pagoda Street)
Chinatown
station (North East and Downtown lines) will deposit you right in the heart of the action.
Outram Park
(North East line),
Tanjong Pagar
and
Raffles Place
(East West and North South lines) as well as
Telok Ayer
(Downtown line) are also all within walking distance, as is
Clarke Quay
(North East line) and the
Singapore River
to the north.
See
Chinatown's primary attraction is the town itself, composed as it is of restored shophouses full of strange little shops selling everything from plastic Buddhas to dried seahorses. Wander at random and see what you can find!
Chinatown is at its busiest and most colourful in the month preceding the
Chinese New Year
(Jan-Feb), when the streets are decked with festive decorations. Street markets are thronged with people, shows entertain the crowds and the drums of lion dances echo into the night. The festivities in a 24:00 countdown and a roar of firecrackers atop People's Park Complex, showering flaming confetti down below (steer clear!) — and for the two following days virtually everything is closed.
Temples and mosques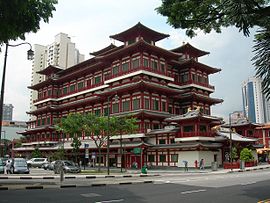 Held up as a shining example of racial and religious tolerance in "National Education" classes, Buddhist, Hindu and Muslim places of worship can all be found within a few hundred metres of each other in Chinatown.
address: 288 South Bridge Rd

Towering above southern Chinatown, this four-storey temple was completed only in 2007. The imposing main hall hosts a 27-foot statue of Maitreya Buddha, and the sacred relic itself, reputedly one of Buddha Shakyamuni's teeth, can be found on the fourth floor (visible only during daily ceremonies at 09:00-11:00, 14:00-15:30, 18:30-20:00). On the roof is the 10,000 Buddhas Pagoda, hosting a large Tibetan-style prayer wheel.

Jamae Mosque

address: 218 South Bridge Rd

One of Singapore's oldest mosques, built in the 1830s by Tamil Muslims in an Indian style. Note the stepped minarets outside.

address: 244 South Bridge Rd

Singapore's oldest and most important Hindu temple and worth a visit for the intricately carved gopuram (statuary above the entrance), which gave adjacent "Pagoda Street" its name. This is an active temple, so take off your shoes and don't disturb the worshippers. The Thimithi fire-walking festival is held here one week before Deepavali, usually Oct-Nov.

phone: +65 6423 4616

address: 158 Telok Ayer St

The oldest Hokkien temple in Singapore, dating back to 1821, although the structure was thoroughly refurbished in 2000. The brightly colored, elaborate facade was constructed with ironwork from Scotland, tiles from England and the Netherlands, and dragon-ornamented granite pillars from China. The temple's main claim to fame is the presence of a plaque inscribed with the Chinese characters "波靖南溟" (lit. Gentle Waves over the South Seas), which was presented by to the temple by Emperor Guangxu of China in 1907.
Museums and galleries
phone: +65 6321 8321

address: 45 Maxwell Rd

3-storey visitor gallery with large scaled models of the entire country (ground floor) as well as the city centre (incredibly life-like), which provide good orientation of the country for first-timers. The gallery tells the history of Singapore's urban planning, various planning, design, and conservation strategies adopted to create a good living environment, sustainable development, and many others. Learn the story of Singapore's transformation from 3rd to 1st world, play games on land planning, and the expanse of land reclamation done on the island country. There are also wonderful images of old-new Singapore to browse, free walking maps to unique districts like Joo Chiat to pick up. It is in an office building. Just walk in and take the escalator up to 2nd floor for permanent exhibits.

address: 48 Pagoda St

An excellent museum chronicling how Chinatown came to be and the privation suffered by early migrants. The centre is on the left if you walk straight from the Pagoda St exit of Chinatown MRT station.
Parks and gardens
Ann Siang Hill ParkA nice hidden park with few visitors, connecting Telok Ayer and Ann Siang Hill. Hard to brave the heat and climb the multiple stairways though, to one of the highest geographical points in Chinatown.
Viewing deck
address: 1G Cantonment Rd

Singapore's tallest public housing project has a 50th-storey viewing deck that offers some of the best city views around at a fraction of the cost of the Singapore Flyer. $5, but payment must be made by ez-link card; enter via Block 1G, Level 1 (next to bus stop). As of 2016 the EZ-link self-service kiosk is not working and the entry fee has to be paid at a counter at level 3 of block 1G.
Do
Probably the most strenuous activity in Chinatown is avoiding touting tailors — which, incidentally, is illegal and can be reported to the police.
phone: +65 6226 6289

address: 59 Temple St

A massage parlour focused on foot massages. Uses traditional techniques and herbal remedies with natural ingredients and plays oriental music during the massage.

Toy Factory Theatre EnsembleA theater group that constantly pushes the limits of free expression in Singapore. Performances at the Attic (21 Tanjong Pagar Rd, 4F) and the Theatrette (17A Smith St).
Buy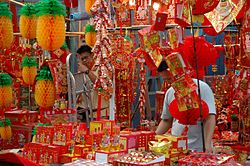 The central streets of Chinatown around the pagoda are packed with near-identical stalls selling all sorts of
Chinese trinkets
aimed squarely at tourists. There is also a cluster of (expensive)
antique
shops on South Bridge Rd. For Chinese handicrafts, antiques, fashion items, home accessories and Chinese medicine aimed more at the locals, poke into any of the numerous shopping malls.
Chinatown is made up of pre-war shophouses, home to merchants who have been hawking the same wares for years – bales of fine silk, traditional handicrafts, and gold and jade jewellery. At the junction of Eu Tong Sen Street and Upper Cross Street, a large Chinese emporium Yue Hwa stocks an array of Chinese products such as tea, medicinal herbs, food, household items, antiques and traditional Chinese clothes such as the cheongsam.
During Chinese New Year, the Chinatown Food Market buzzes with activities like lion dances and other street performances. A large variety of stalls are set up on Pagoda, Smith, Trengganu and Sago Streets during the festive season, selling traditional snacks and customary decorations.
In shophouses on Ann Siang Road and Club Street, local designer boutiques such as Asylum and Style:Nordic can be found amidst traditional Chinese clan associations. A popular haunt for today's hipsters, this area of Chinatown blends traditional Chinese heritage with contemporary threads, quirky cafes and chic restaurants.
Shops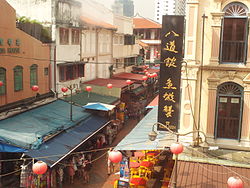 Among the Chinese, the obligatory souvenir is some sweet red
bak kwa
(barbequed pork), available both fresh off the grill and in convenient vacuum packs.
Boutiques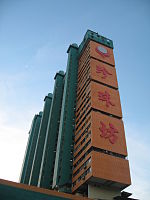 Malls
Eat
In Chinatown there is, needless to say, plenty of
Chinese food
to go around! But if you hanker for something different, Tanjong Pagar is also Singapore's unofficial Korean district and there are a large number of very good Korean restaurants too, plus a sprinkling of European fine dining establishments around Club St and Duxton Hill.
Budget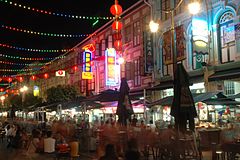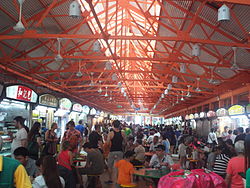 Smith Street
is a single row of fancy stalls with the nicest ambience of the lot and quite decent food too, although open for dinner only. Connoisseurs may also wish to check out the 2nd floor of the newly renovated
Chinatown Complex
, which hosts one of Singapore's largest hawker centres with over 200 stalls, but this labyrinthine warren of concrete and fluorescent lighting is both hard to navigate and not exactly a treat to the eyes.
Ah Balling Peanut Soup

address: Smith St

Top off your meal with a bowl of Chinese peanut soup and rice balls, filled with your choice of peanut, sesame, yam or red bean paste.

Akbar Restaurant

address: 2 Lim Teck Kim Rd

At the southernmost tip of Tanjong Pagar, this busy but friendly 24-hour coffee shop (don't be fooled by the name) serves up a wide variety of Malay and Muslim Indian food, with the roti prata being the star of the menu.

Da Dong

address: 39 Smith St

The dim sum in the restaurant inside are only mediocre, but the best eats here are the steamed buns (bao) from the stall outside. Most bao are 60-80 cents, but the aptly named Big Bao ($2.50) stuffed with chicken, mushrooms, sausage and more is a meal in itself.

Mei Hong Yuen

address: 67 Temple St

Specializes in Chinese desserts, notable for a whole range of soups and puddings. Try the mango pudding ($3), which comes with chunks of fresh mango plus sprinkles of pomelo, tapioca, and ice.

address: 285 South Bridge Rd

Chinese bakery famed for its freshly-baked egg tarts ($1.90), best washed down with a bottle of water chestnut juice. Tong Heng now has many other outlets, including one at Changi Airport, but this is the original.

Liao Fan Hong Kong Soya Sauce Chicken Rice & Noodle

address: 78 Smith St

Renowned as the world's first hawker stall to earn a Michelin star. Chef and owner Chan Hong Meng makes incredible tender chicken rice. Expect long queues.
One of Singapore's best food hawker centres,
Maxwell Food Centre
at 2 Murray St, is just across the road and a few minutes walk from Tanjong Pagar MRT. It is open 24 hours. Most dishes are less than $5, although seafood can get considerably more expensive.
Day & Night Herbal Soup

address: Maxwell Food Centre #01-12

This is the place to try out the Chinese herbs sold by medicine shops nearby. If pig brain soup ($5) is too Fear Factor-y, try the milder six flavour chicken ($6), good for whatever ails you.

Tian Tian Hainanese Chicken Rice

address: Maxwell Food Centre #01-10

Described by the New York Times as a "chicken rice shrine", this humble stall is considered by many as the best in Singapore and is easily distinguished from its many imitators by the long queue snaking in front. The chicken is meltingly smooth, and don't forget to try their trademark chili sauce.

Zhen Zhen Porridge

address: Maxwell Food Centre #01-54

Famous not so much for their rice porridge (from $2.20) as for their raw fish salad (from $2), served up with spring onion, sesame, ginger, garlic, and a drizzle of lime. Prepare to queue.
Mid-range
Han Kook Gwan

phone: +65 6224 2881

address: 26 Tanjong Pagar Rd

Swish-looking two-floor Korean eatery that offers both expensive bulgogi barbeques and more reasonably priced rice and noodle dishes. Try the dolsot bibimbap (rice with toppings in a sizzling stone bowl), $9/14 lunch/dinner.

Hometown Restaurant

phone: +65 6372 1602

address: 9 Smith St

Serves up authentic Sichuan food, meaning fearsome quantities of dried chili, tingly Sichuan pepper, salt and oil. The tea-smoked duck ($10) and mapo doufu ($6) are both excellent, while bowls of dan dan noodles go for just $5.

phone: +65 6221 3060

address: 21 Neil Rd

Well known for its dumplings, above all the Beijing-style jiaozi, but the Shanghai-style xiao long bao aren't bad either.

phone: +65 6532 3319

address: 2 New Market Road

It began as a dumpling shop from northern China, but this low-key eatery at the corner of the massive People's Park hawker center has developed, in a very Singaporean way, into the favorite hangout of sailors and their Filipina/Thai girlfriends from the nearby KTV lounges, drinking San Miguel until early morning and ordering off their extensive second menu of Filipino food. Chinese eats are cheap ($5-10), Filipino dishes far more expensive ($25+), but they're huge and meant to be shared. Fun people watching.

Tiong Shian Porridge Centre

phone: +65 6221 1596

address: 265 New Bridge Rd

Always-packed eatery in the heart of Chinatown, specializing in rice porridge and claypots, with a sideline in seafood dishes. Try their famous frog claypot (from $8), but the squeamish may want to avoid the hoon chang — large intestine — dishes. Note your table number, then order and pay at cashier; there's more seating on the 2nd floor if the street level is full.
Splurge
phone: +65 6222 3928

address: 97 Tanjong Pagar Rd

Possibly Singapore's best-known (and most expensive) restaurant for very authentic Peranakan food. One of the most popular dishes is ayam buah keluak, a chicken curry dish made with candlenuts.

phone: +65 6222 1616

address: 16 Jiak Chuan Rd

A tapas bar set up by Jason Atherton (of Pollen Street Social), with purposefully rundown decor to give an edgy underground atmosphere. There's spectacular food like the Iberico pork and foie gras burgers and sangria ice cream for dessert.

Da Paolo

phone: +65 6224 7081

address: 80 Club St

An authentic and popular Italian restaurant known for its home-made pasta. Open daily for lunch and dinner, reservations recommended on weekends.

Korea Garden

phone: +65 6221 7153

address: 34 Tanjong Pagar Rd

The decor is grungy, staff are harried and prices are steep, but the place is often packed with Korean expats hankering for authentic home cooking.
Drink
Chinatown and Tanjong Pagar have a vibrant nightlife. As you'd expect,
karaoke boxes
and their dodgier cousin the
KTV lounge
predominate, but the area around
Club St
and
Ann Siang Hill
has many upmarket wine bars catering to expats and moneyed locals. Many of the second-floor bars and clubs in the area cater to Singapore's gay community, so look out for the rainbow flags.
Bars and pubs
Beaujolais Wine Bar

phone: +65 6224 2227

address: 1 Ann Siang Rd

Cozy, romantic yet unpretentious shophouse with friendly staff, a huge wine list and generously sized eats ranging from cheese platters ($10-16) to chili con carne ($14). Wine by the glass from $10.

Breeze

address: 33 Erskine Rd

True to its name, this outdoor bar atop the Scarlet offers cool breezes and is an oasis of lush foliage, only with peeping skyscrapers to remind you that you're in the heart of Singapore. Remarkably long drink list and the self-proclaimed best mojitos in town.

Club Street Social

phone: +65 6225 5043

address: 5 Gemmill Ln

Cosy bar that serves coffee, cocktails and sandwiches. The drinks are pricey but the food, decor, and service are impeccable. Also good for an all-day breakfast and free Wi-Fi.

Cow & Coolies Pub

address: 30 Mosque St

One of the very few drinking holes in the area that's neither posh yuppie hangout nor dodgy hostess lounge, this low-key pub draws an eclectic crowd of both gay and straight locals and backpackers, especially those hankering to sing a song or two on the heavily-used karaoke machine. The pub also has basic backpacker accommodation upstairs, from $25/night.

Jess Pub

address: 58 Temple St

One of many hostess pubs where the girls will be waiting for you and ask you to buy them a drink. They aren't too pushy though, which is nice. They have karaoke if you want to sing. The drinks are average price. Around $12 for cocktail and $10+ for a ladies drink.

The Toucan

phone: +65 6223 5950

address: 15 Duxton Hill

Archetypal Irish pub complete with garden teleported straight out of Ireland, including even a wishing well. The $7.50 lunch deal (11:00-15:00 daily) is great value: try their famous fish & chips or lamb shank. Pint of Guinness from $11.10.
Tea
address: 9 Neil Rd

Try this excellent tea house and shop for a spot of tea drinking Chinese style. A basic pot of tea and an introduction on how to brew it right starts at $8, although some of the fancier brands (how about some Phoenix's Shrubbery?) cost much more. Plain seats on the open 3rd floor are free, raised and partitioned seats on the 2nd cost an additional $5 per head. Be warned, although the setting is gorgeous, the tea is mediocre.

address: 30/32 Tanjong Pagar Rd

The shop is divided into two: there is a dining area set up like a simple Chinese restaurant, and a separate area where lessons on tea are held, and tea leaves and paraphernalia are sold. The ambience is not really there, but the tea is of the very highest quality. Ask to try the house tea, Beauty of the East.
Sleep
While there are a few ordinary hotels, the most interesting accommodation options in Chinatown and Tanjong Pagar are in
renovated shophouses
.
Budget
phone: +65 6222 4955

address: 66A/B Pagoda St

An airy hostel in a renovated shophouse.

phone: +65 6222 4955

address: 46B Smith St

Sister hostel to the popular A Beary Good Hostel. Friendly and very nice.

phone: +65 6222 2940

address: 8A Mosque St

High style and high tech converge at Wink Hostel, the flashpackers' travel accommodation of choice. Featuring "pod" style custom-designed beds, Wink's designer concept indulges guests with their private sleeping sanctums, while allowing for socialising as well. 3-min walk to the train station.
Mid-range
Keong Saik Road
, at the western edge of town, is a former red-light district which still retains more than its fair share of dodgy karaoke lounges — as well as a number of cheap, largely identical shophouse hotels, which look rather attractive from the outside but are all quite cramped, stuffy and dingy inside.
Splurge
Go next
For more culture, head to
Little India
or
Kampong Glam
. Chinatown lost a bit of its soul after receiving various makeovers, with some local activity shifting over to the Bencoolen area centred around Kwan Im Thong Hood Cho Temple in
Bugis
. Recent Chinese immigrants have gravitated towards
Geylang
in the east. The nearby
Riverside
is an easy walk north, while neighbouring Tiong Bahru, the very first Singaporean public housing estate, has also undergone a similar revitalisation, spurring the opening of boutique eateries and shops.