Singapore/East Coast
The
East Coast
of
Singapore
is largely residential and offers few sights as such; most visitors just cross it on their way from and to
Changi Airport
. For Singaporeans, on the other hand, the main attractions are
20 kilometres of white sandy beach
and the
food
: this is the home of many of Singapore's culinary icons. The true home of Singapore's Malay community is in
Geylang Serai
, traces of Peranakan and Eurasian culture still linger in
Katong
, the fleshpots of
Geylang
offer cheap lodging and late-night food, and the East Coast also offers Singapore's solitary flashback to the past, the rustic little island of
Pulau Ubin
.
Get in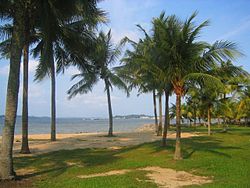 The
East-West MRT Line
runs the length of the east coast all the way from the centre to Pasir Ris and Changi Airport. The
North East MRT Line
travels up to Sengkang and Punggol in the island's northeast, but not to very many places of interest for even the most determined of travellers. The transport enthusiast might like the
Sengkang & Punggol LRT Lines
, a small light rail network that traverses row upon row of apartment blocks.
If you're only heading to Katong or the East Coast Park,
Bus 36
may offer a faster and more direct route as it uses the expressways. It travels from Changi Airport to City Hall and Orchard Road and back again. Get off at Parkway Parade and use the overhead bridge to walk to Katong or stop at certain bus stops (Mandarin Gardens or Lagoon View for example) along Marine Parade Road and take one of the underground walkways under the ECP to get to East Coast Park. Check
gothere.sg
for detailed directions.
If you've got one day to spare, consider taking in the Changi Chapel and Pulau Ubin, with a lunch break at Changi Village and a seafood spread for dinner.
See
Tourist literature usually hawks the restored (and, in the daytime, near-empty) Arab Street near
Bugis
, but
Geylang Serai
is the true home of Singapore's Malay community. Especially during the Islamic month of
Ramadan
leading up to
Hari Raya Puasa
(Eid ul-Fitr), the entire area lights up in celebration as people eat and shop in the
pasar malam
(night markets) in the evenings after the sun goes down.
The quiet Changi area has been left relatively untouched by redevelopment and hence retains a lot of significance for its World War II history. The rather serene Changi Beach was once a site of the
Sook Ching
massacre, which saw the occupying Japanese "cleanse" the local Chinese population by executing anywhere from 50,000 to 100,000 young men suspected of having anti-Japanese tendencies. The now-abandoned Old Changi Hospital is reputed to be one of the eeriest buildings in Singapore, while the Selarang Barracks and Roberts Barracks which hold the
Changi Murals
are off-limits to the public.
address: 1000 Upper Changi Rd North

Singapore's memorial to the notorious WW2 Japanese POW camp, the setting of James Clavell's King Rat. The current site is a reconstruction and in a different location, but contains a replica of the original chapel and informative exhibits about the squalid conditions of the prison.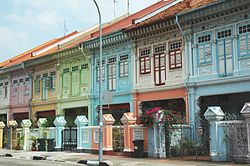 The East Coast's second area of historical interest is
Katong
and
Joo Chiat
, which retain a smattering of traditional shophouses and shops specializing in
Peranakan
crafts and food. Another important community in Katong is the
Eurasian
community, who as the name suggests, are people of mixed European and Asian descent. Joo Chiat Road has in recent times grown into the favourite hangout spot of the
Vietnamese
community, and thus has several Vietnamese restaurants to cater to that crowd. The area is a fairly lengthy hike from Eunos, the nearest MRT station, but can be reached by e.g. Bus 12 from Bugis. There is also plenty of great food in the area.
Koon Seng RoadA section of this short street, between Joo Chiat and Still Rds, has what are probably Singapore's prettiest shophouses. Houses on one side of the street are multicoloured, while the other has more soberly decorated shophouses with elaborate flower-themed curlicues.
Do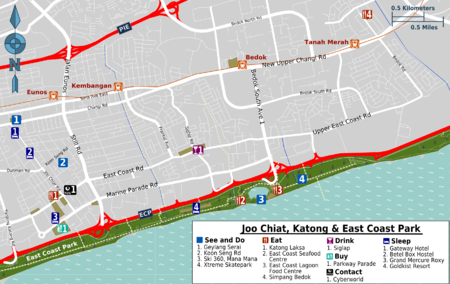 The best bits of eastern Singapore are its
beaches
. In addition to the ones below, try Pasir Ris or Punggol to really get off the tourist trail. Camping and barbecue permits for all parks are available at
AXS
.
East Coast Park
East Coast ParkThe largest park in Singapore and a highly popular hangout for couples, groups of friends and families. You can take Bus 401 there (only operates on Saturdays from 2.00pm to 10.00pm and Sundays from 10.00am to 8.00pm). It goes past East Coast Park Service Road. The water's on the murky side, but the (imported) white sand, palm trees, and rollerbladers zooming past on the promenade make up for it. Water Venture rents watersports gear (kayak $5/hr, windsurfing, etc), while Ski 360 offers cable-towed wakeboarding (from $32/h). Bicycle rental is available. There are other interesting things to do like prawning over at Carpark C3 near Burger King, and you get to grill your fresh prawns (if you catch any in the first place). People watch or try some fishing at Bedok Jetty or shoot the breeze with your buddies over a nice cold beer at Harrys. For travellers who want a taste of extreme sports, remember to check out the huge Xtreme Skatepark at F1 carpark or spend an afternoon learning to rollerblade from professional instructors at Inline Fitness. You can walk over to East Coast Lagoon Food Village for a nice plate of satay or yummy stingray after all that workout!
Changi
Pulau UbinSingapore's flashback to yesteryear, a little island off the northern coast where people still live in fishing villages in houses on stilts. The island is covered in biking trails and is an excellent spot for a little steamy jungle offroading. The 45 hectare Ketam Mountain Bike Park has a good 10 km trail. Bike rentals go for as low as $2 a day, up to $15 or more. Make sure to test out your bike thoroughly before renting it - don't assume that you're getting what you pay for. The bike rental vendors are very competitive, and cheaper bikes can sometimes be better than more expensive ones. At the east end of the island, reachable by bike or shuttle bus from the jetty, are the Chek Jawa Wetlands, with a mangrove boardwalk, an observation tower and a visitor centre. Access to the island requires a bit of effort though: take the MRT to Tanah Merah, then ride Bus 2 to the bus terminal in Changi Village (alternatively MRT to Simei, then Bus 9 that passes Changi Village or Bus 29 that loops at Changi Village Bus Terminal from Tampines Bus Interchange), find the jetty, and hop on a bumboat ($2.50 each way) for the 10 min ride to the island.

address: near Changi Village

Right next to Changi Airport, you can watch (and hear) the neverending parade of airplanes from here. You can take Bus 9 from Bedok or Simei MRT, Bus 19 from Tampines Bus Interchange or Bus 89 from Hougang Bus Interchange. All 3 buses pass by Nicole Drive, which is adjacent to Changi Beach. Usually full of local picnickers, but not too many sunbathers or swimmers around. If you walk along the beach to the southeast, you will eventually pass by Bedok Jetty and arrive at East Coast Park.

address: near Changi Village

A boardwalk that hugs the scenic Changi coastline from Changi Beach Club to Changi Sailing Club.
Other
phone: +65 6583 9665

address: 61 Pasir Ris Green

Singapore's first public riding school. Ponies only, maximum weight for riders, 70 kg.

phone: +65 8100 7420

address: 825 Bedok Reservoir Rd

Live out your Tarzan in the jungle fantasies by completing this two-hour obstacle course: swing from trees to trees, climb rope ladders and finally, abseil down across the reservoir. Kids Course minimum age/height 5 years/1.1 m, Grand Course 10 years/1.4 m (under-18s must be accompanied by adult). Advance booking required.

Mangrove Boardwalk at Pasir Ris Park

address: 60 Pasir Ris Drive 3

One of the few remaining stretches of mangroves in Singapore. You can spot mudskippers, fiddler crabs, and a wide variety of butterflies.
Buy
Geylang Serai Market

address: 1 Geylang Serai

The heart of Singapore's Muslim community and long one of the most atmospheric markets in Singapore, the original dense warren was unceremoniously demolished in 2006. The new version, opened in 2009, is a bland, vaguely Malay-styled two-story building, but it still has a wide array of Malay and Middle Eastern goods and gets positively packed around Ramadan.
There's a mall or shopping area at every MRT stop.
Parkway Parade and I12 Katong are the main shopping centres in the Marine Parade area. Parkway Parade has a cluster of money changers on the first level in its forecourt. They generally give the best exchange rates in Singapore.
Tampines is a shopping hub. There are three malls (Century Square, Tampines Mall, and Tampines 1) near the MRT station.
Serangoon also has a huge mall, Nex, with the standard shops and food on every floor. The roof garden has a dog park if you get tired of humans.
Eat
The East Coast is home to many of
Singapore
's best-known dishes, including
chilli crab
,
Katong laksa
and
roti prata
. The stretch of
Geylang Road
between
Paya Lebar
and
Kallang
MRT stations is arguably the most vibrant part of Singapore. Despite being famous for its red light district and abundance of sleazy karaoke bars, the area is also home to some of Singapore's best kept culinary secrets, and is a favourite for locals heading out for supper with friends. Don't expect air conditioning, white tablecloths, and sommeliers though. Most budget and mid-range eateries here are in grungy but occasionally atmospheric 19th-century shophouses. You'll find quite a few fruit stalls open as well, selling durians, mangosteens, rambutans and other Southeast Asian fruits. If you're game for it, buy some and eat them right there at the roadside tables.
Joo Chiat Road
is Singapore's unofficial Vietnamese street, and thus home to numerous eateries serving the most affordable and authentic Vietnamese food in Singapore.
Budget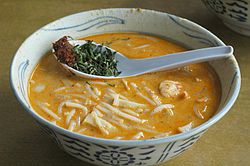 Katong
is the undisputed home of
laksa
, the coconutty noodle soup that's one of Singapore's national dishes, but there's still plenty of dispute about who came up with it first and who does it best. Famous 49 Katong Laksa had a claim as the very first and has since moved to the west side of Singapore, perhaps finally marking an end to the Katong
laksa
wars.
328 Katong Laksa

address: 51 East Coast Rd

This was one of the combatants of the "laksa wars" of yore. Now franchised all over Singapore, but this is the original, still supervised by the owner. Do try the otah (spicy fish paste).

Marine Parade Laksa

address: 59 East Coast Rd #01-57/59

Run by the people who originally ran #49, although some think the quality has gone down (see Zhen Shan Mei in Jurong for the competition).
Gluttons Bay, Lau Pa Sat, and Newton? Forget about those and go to , possibly the best collection of hawker food in Singapore, and now even easier to reach using the Circle Line (it's a short walk from Dakota MRT station). From noodles to satay to seafood, the food here is widely acclaimed and Singaporeans come from all around for dinner — which unfortunately means a crowded car park and even more crowded tables. Just follow the queues and you won't go wrong.
Chuan Kee Satay

address: Old Airport Road Food Centre #01-85

Satay freshly grilled and served with peanut sauce. Extremely long wait, so order the pork satay first and then look for other things to eat.

Mattar Road Seafood BBQ

address: Old Airport Road Food Centre #01-63

One of the few places where you can order crab and still have money to spend elsewhere. They're famous for their chilli crabs, but the white pepper crab is something different to try.

Whitley Road Big Prawn Noodle

address: Old Airport Road Food Centre #01-98

Exactly as it says, big prawn noodles, although the number of prawns depends on the size of the bowl ordered. All that flavoursome soup comes from prawn heads.
For a nicer seaside atmosphere,
East Coast Lagoon Food Village
in East Coast Park is a popular food destination. There are even tables with the occasional sea breeze and sand under your feet. If you're savvy, the seafood here is a much better choice than the pricier restaurants in the nearby East Coast Seafood Centre. Get here by cab (or by bus as noted in
#Get in
).
Kampong Rojak

address: Stall 9 East Coast Lagoon FC

Rojak with sweet dark sauce, quality prawn paste and generous portions of cucumber, pineapple and you tiao (dough fritters).

Leng Heng BBQ Seafood & Claypot Deluxe

address: Stall 6 East Coast Lagoon FC

A Makansutra legend, their black pepper crabs are fiery and not for the faint hearted. They have giant prawns fresh from the sea and the BBQ stingray is yummy as well.

Musa Ikan Bakar Stall

address: Stall 51 East Coast Lagoon FC

There are at least ten satay stalls here with not much difference between them. Musa's thick and chunky peanut satay sauce stands out though, cooked by the owners themselves.
There are plenty of other famous yet cheap eats in the neighbourhoods of the East Coast. You might have heard of the original Jalan Kayu
roti prata
, but it has long passed its prime.
Simpang Bedok
(near Tanah Merah MRT) has grown in popularity for its cluster of late night prata shops, and while the food is not particularly outstanding, the wide range of open air eateries make it a great place to eat late suppers, drink beer, and watch football on giant TV screens. Some well-known but more difficult to reach hawker centres are
Chomp Chomp
at Serangoon and the
Changi Village Food Centre
.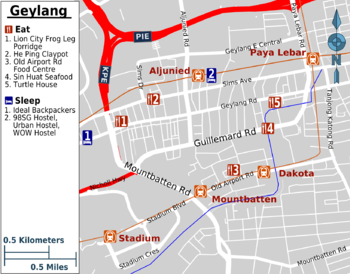 Mid-range
The red-light district of Geylang is also known for its culinary delights. Shops here tend to be no-frills affairs, but the food can be great and prices are reasonable. Katong and Siglap are other two main areas of mid-range eateries on East Coast Road.
He Ping Restaurant

phone: +65 6748 9495

address: 148 Sims Ave

Serves excellent claypot chicken rice, cooked over a charcoal fire. All freshly made to order, this can cause lengthy queues during the busy weekends.

Lion City Frog Leg Porridge

address: 235 Geylang Rd

Famous for their (spicy) Gong Bao frog leg porridge. You can also order some of the beef kway teow from the stall on the opposite side of the street and they'll bring it to your table. Quality may have dipped in recent years.
Splurge
Above all, the East Coast is associated with
fresh seafood
, which is often excellent, but always rather pricey; check prices before you order! The two primary clusters are in and near
East Coast Seafood Centre
on the
East Coast Parkway
further out, and
Kallang Oasis
nearer to the city. Some better known restaurants:
phone: +65 6442 3435

address: 1206 and 1208 East Coast Pkwy

Best known for its chilli crabs. Other outlets at Riverside Point (opposite Clarke Quay), Serangoon Gardens, Changi, and Riverwalk, but this is the original.

Little Red House

address: East Coast Pkwy

Another chilli crab joint.

phone: +65 6445 8833

address: 1018 East Coast Pkwy

Known for a wide variety of seafood including black pepper crab and butter crayfish and one of the most crowded seafood restaurants in the East Coast area on weekends. One should also try the duck they serve, which is prepared in a unique way and is available only at the main branch. Other branches can be found in Jurong East and Marina South.

phone: +65 6442 8655

address: 1000 East Coast Pkwy, Blk B, Unit 23

Offers Kerala-style Indian seafood in a tastefully decorated beach side restaurant, quite unlike the raucous Chinese places above. Plenty of vegetarian options too.

No Signboard SeafoodStarted as a tiny hawker stall too poor to afford a signboard, now franchised across the island with, inevitably, large neon signboards proclaiming "No Signboard". Known for white pepper and butter crabs.

Sin Huat Seafood

address: 659-661 Geylang Rd

Looks very unassuming, but the crab bee hoon stewed in rice noodles is legendary. Cooked to order, so expect to wait up to an hour and expect "legendary" service as well: they won't serve you if you are eating duck rice from the neighbouring shop. Prices have gone up since the shop was featured on Anthony Bourdain's TV show.
Drink
There are only a few places to drink on the East Coast. East Coast Road has over 30 excellent bars and restaurants, clustered around
Katong
and
Siglap
. Joo Chiat Road has many bars, but also many "karaoke" joints. The most infamous of all is
Geylang
(adjacent to but distinct from Geylang Serai), which is Singapore's largest red-light district. Rule of thumb is, the establishments on even-numbered alleys (
lorong
) are brothels, those on odd-numbered lorong are not.
Georges Mad Bar and Cafe

phone: +65 6441 9122

address: 693 East Coast Rd

Laid back and cosy ambience with a good range of beers and spirits. The pub food is average.

address: 699 East Coast Rd

A European-style cafe perfect for pizzas, sandwiches and salads. Also offers a wide range of alcoholic & soft drinks. Books, magazines and board games also available. Perfect place to chill out for lunch and dinner.

Vic's Wine Bar

address: Joo Chiat Rd

A great place to unwind, meet friends and enjoy excellent wine from Vic's own Australian vineyards.

Vie Cafe

phone: +65 6245 0010

address: 914 East Coast Rd

Wide selection of wines, whiskeys, beers and other spirits.
Sleep
Most of the East Coast's accommodation consists of cheap hotels in and around the red-light districts of
Geylang
and
Joo Chiat
, many of which rent rooms by the hour. The ubiquitous
Hotel 81
chain alone has 11 hotels in the area. Still, if you're on a budget and don't mind the local nightlife, Geylang/Joo Chiat are definitely worth considering: the rates are among the cheapest in town, the late night eating options are unparalleled, the area is perfectly safe, and both the airport and the city aren't too far away.
Budget
Camping
is allowed in designated areas of Changi Beach Park, East Coast Park, Pasir Ris Park and Pulau Ubin. All have showers and toilets and are free to use for stays of up to five days, although you have to register with park officers or online at
AXS
.
phone: +65 6247 7340

address: 200 Joo Chiat Rd, Katong District

Free bed linen, use of a security locker, free 30 min broadband Internet access, free unlimited Wi-Fi, free use of fitness centre. All rooms are air conditioned and there are hot and cold showers.

phone: +65 8186 8336

address: 67A Lor 27 Geylang

Budget accommodation for backpackers, there are private rooms of 2 beds, female dorm room with 4 beds, mixed dorm with 6 beds and 8 beds which gives you a lot of choices. Provides 24 hour check in, free Wi-Fi, free coffee and tea, big LCD TV and DVD and a wide movie selection. Devastating online reviews. Think twice before going to this place.

phone: +65 9100 9123

address: 67B Lor 27 Geylang

Brand new boutique hostel, with privacy wall. Good security with card access. Great to have universal power point, USB charger, and reading light on every bed. Clean, safe, good beds, powerful air-con, free Wi-Fi, free Internet (no limit), free breakfast. Lockers free of charge. Good water pressure hot/cold showers. Very close to MRT, Library, Olympic-size swimming pool.
Splurge
phone: +65 6379 7111

address: 1 Netheravon Road

The hotel has changed its management and gone through a long-overdue renovation. It is in Changi Village, an otherwise sleepy enclave of cheap (but surprisingly good) eateries and pubs, and is about 15 min by taxi from the airport. The hotel also provides an hourly airport shuttle bus for its guests. The downside is that it is somewhat out of the way and public transport is rather inconvenient, so visitors staying here should consider renting a car to get around.

phone: +65 6823 5300

address: 75 Airport Blvd #01-01

Opened Apr 2008, this upscale airport hotel is directly connected to Changi's Terminal 3 and easily reached from T1/T2, but you have to pass through immigration to stay here. Pool, gym, spa, bar, two restaurants, pay-per-minute Internet.
Connect
East Coast Rd has a slew of cheap Internet cafes. Try Red Hot Internet Café at 63 East Coast Rd or CyberWorld Communications at 67 East Coast Rd, both offering rates of $1/hour.

Cope
Laundry
phone: +65 9228 8444

address: 298A Bedok Rd

$6 for 4 kg of laundry, returned in 2 business days depending on weekday or weekend collection. Free delivery over $30.

Systematic Laundromat

phone: +65 6440 1554

address: 80 Marine Parade Rd #04-K1/K2

Self-service laundromat. 30 min washing machine for up to 6 kg of laundry for $6, then $1/8 min cycle of the dryer.

Wonder Wash

phone: +65 9786 0239

address: 1 Lorong 23 Geylang, High Point

24 hr self-service laundromat. 32 min washing machine for up to 8 kg of laundry for $4, then $1/10 min cycle of the dryer.
Go next