Singapore/Little India
Little India
is, as the name promises, the centre for the large Indian community in
Singapore
. While a rather sanitized version of the
real thing
, Little India retains its distinct identity without degenerating into a mere tourist attraction and is one of the most colourful and attractive places to visit in Singapore.
Get in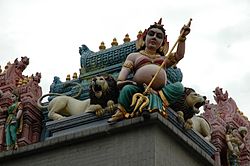 Little India
(North-East/Downtown line interchange) or
Farrer Park
(North-East line) are the most convenient MRT stations near Serangoon Road.
Bugis
station on the East-West line is an 11-min walk away (see
Bugis
).
Rochor
(Downtown line), near Sim Lim Square, is 6 minutes walk.
Get around
Little India's main drag is Serangoon Road, which starts at Rochor Canal Rd and continues northward to Serangoon itself. The action is tightly concentrated a few blocks on either side of the road, and can be easily covered on foot.
There are several public buses travelling along the length of Serangoon Road from the bus stop, Tekka Ctr (ID 07031).
Hailing a taxis can be difficult on the crowded main streets like Serangoon Road or Race Course Road. Consider booking through a ride-hail or taxi app at a location away from the main street (Serangoon Road), where there are strict restrictions on where vehicles may stop.

See
Little India's primary attraction is the district itself. Here too you can find the gaily painted shophouses that are an icon of Singapore, but now most of the Chinese signs (almost) disappear to be replaced with Tamil, Hindi, Bengali and other Indian scripts. Stores hawk
saris
and gold bangles, spices and incense waft in from the doorways and Bollywood's latest soundtracks blare from every other alleyway.
address: 141 Serangoon Rd

Little India's busiest and oldest temple, dating back to 1881 — although the present structure was completed in 1986. The temple is particularly busy on Tuesdays, Fridays and Sundays. Be sure to take your shoes off before venturing inside.
Do
The most extreme thing to do in Little India is to join the festival of
Thaipusam
, held yearly during the full moon in the lunar month of Thai (usually Jan/Feb). Male devotees attach ornate shrines to their flesh with piercing hooks known as
kavadi
and walk across town in a day-long procession. Female devotees usually just carry a pot of milk on their head and join the procession. The procession starts from Sri Srinivasa Perumal Temple in Serangoon Road and proceeds to the Sri Thandayuthapani Temple at Tank Road.
Around
Deepavali
, the Hindu festival of light, Serangoon Road is festively decorated (with lights, of course!) and open-air markets are set up to sell Deepavali goodies. Like Thaipusam, the exact date is set by the lunar calendar, but it takes place in October/November and is a public holiday. Near the beginning of Deepavali, the fire-walking festival of
Thimithi
is held, in which many male devotees walk across a platform of burning coal. Although the actual fire-walking takes place at the Sri Mariammam temple in
Chinatown
, the procession starts at the Sri Srinivasa Perumal Temple in Serangoon Road and makes its way to Chinatown early in the morning where the fire-walking commences.
A more low-key event happens every
Sunday evening
when a half-million workers from the subcontinent throng the streets of Little India to hang out on their day off. Most of the crowd is friendly enough, but inevitably a few get into drunken fights and there's a heavy police presence about to keep an eye on things.
Buy
The central streets of Little India are packed with stalls selling all sorts of Indian goods. Two giant shopping centres, however, are unique not just in Little India but all of Singapore: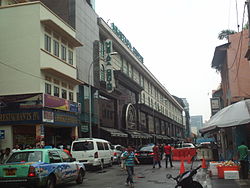 phone: +65 6295 5855

address: 145 Syed Alwi Road

Singapore's supreme discount department store: floor after floor of absolutely everything at what some say are rock-bottom prices, ranging from Rolex watches and washing machines to fresh mangoes, bags of lentils, tailored suits and airline tickets. Open 24 hours; the exchange counters in front are probably the best place in Singapore to exchange any currency you can think of (and many you can't) at competitive rates. Mustafa Centre also offers travel, hotel reservation and visa assistance services. There are now many mini-Mustafa outlets scattered along Serangoon Rd, but the original and by far the largest is the one facing Syed Alwi Rd.

Tekka Market

address: 665 Buffalo Road

Little India is a cacophony of car horns, bicycle bells and the vibrant chatter of its residents. This explosion of sights, smells and sounds in Tekka Market is only a short walk from Little India MRT Station. Tekka (as it is locally known), has a plethora of stalls selling Indian, Malay and Chinese food that draws crowds from all over Singapore. There's also a wet market stocked with the freshest vegetables, meat, fish, spices and flowers. Also available are souvenirs such as brass oil lamps and pots, or fresh garlands of jasmine, whose scent is signature aroma of Little India.

phone: +65 6338 3859

address: 1 Rochor Canal Road

Not actually in Little India but right across the street, Sim Lim is Singapore's Akihabara, a giant electronics Mecca squeezed into one building, with hundreds upon hundreds of tightly packed specialist stores. Some competitive prices can be found here on computer parts, but consumer electronics and cameras are not particularly cheap in comparison with large on-line retailers, and a good number of shops on the first and second floors engage in scamming tourists and wrecking their holidays. Upon stepping in, immediately skip the first and second floors (a big tourist trap) and start shopping at floors 4-5, descending to 3 later, not forgetting the back corridors - these are the only places to consider shopping. To reiterate, avoid the first and second floor shops as many of them have a tendency to grossly overcharge or cheat tourists by means of pricing tricks (omitting tax, selling included accessories separately, adding unilateral fees, and similar misleading or deceptive tactics) and the occasional outright substitution fraud; unless you know exactly what you're doing and/or need something unusual, you might want to shop at Mustafa instead. The third floors and above are the real haven for computer geeks looking for cheap bargains and to upgrade or put together a system; grab price lists from the Sim Lim entrance and do your on-line price research. Sim Lim Tower, just across the street, also has a few shops but these focus on electronic components; it pales in comparison sizewise.
The other shopping options in Little India cater more to the Indian market:
address: 48 Serangoon Road

A narrow pathway through a cluster of restored shophouses, filled to the brim with Indian clothing, accessories, incense and a rather good Indian sweet shop at (#01-16).

Naranjan Electronics

address: 154 Race Course Road

Small shop for basic electronics like digital cameras and mobile phones, with bargain-basement prices. Please note the rock bottom prices comes with no 'warranty' or 'service' what so ever. Many of items are not for sale in Singapore. So try to check your goods before you leave though, as these guys have a strict (and theoretically illegal) no-returns-whatsoever policy.
Eat
The thing to eat in Little India is obviously
Indian food
. Both southern and northern cuisines are well represented, food is cheap even by Singaporean standards, portions are generous and
vegetarians
in particular will have a field day. Note that these are authentic Indian places and people around you will be eating the way Indians do, namely
by hand
— it's best to shed your inhibitions and dig in, although cutlery can be provided on request.
Budget
phone: +65 6341 7797

address: 103 Syed Alwi Road

Opened in the second half of 2005. Franchisee of a South Indian restaurant from Delhi, and serves up decent fare for reasonable prices. Set meals ($5-7) are good value, ordering a la carte will cost you more. The rasam (spicy lentil soup) in particular never fails to impress. Strictly pure vegetarian.

Jaggis North Indian Cuisine

phone: +65 6296 6141

address: 34 Race Course Rd

Caters to meat-eaters too with a selection of tandoori dishes. Set meals available, or mix and match at the counter.

Kasturi Restaurant

phone: +65 6299 5510

address: Zaman Centre #02-31, 1 Roberts Lane

North Indian, Bangladeshi and Pakistani cuisine, meals from $2 upwards.

phone: +65 6293 6980

address: 76-78 Serangoon Road

A Singaporean institution featuring purely vegetarian Indian food, the masala dosa here is epic. Downstairs is fast food, head up for restaurant-style seating and serving. Sets start at less than $3 and even the largest platter of breads and dips will cost less than $7. Note that gourmands prefer the original outlet over the many franchised fast-food copies, and that not all dishes are available all day. South Indian set meal upstairs is $6.50 with top-ups.

Madras New Woodlands

phone: +65 6297 1594

address: 14 Upper Dickson Road

This restaurant found in a slightly more quieter part of Little India (since it lies on one of the side streets) is a pure south Indian Vegetarian restaurant. Special dishes to try here are the "Keera Adai" (which is a type of South Indian pancake with spinach inside) and sambhar Vadai. Other dishes like the dosa, vadai and idli are also excellent for the price here.

phone: +65 6297 0770

address: 84 Syed Alwi Rd

The Singapore branch of a restaurant chain from Chennai, serving up vegetarian Indian food. Get a massive set lunch for $4.80 or just order your favorites for a few dollars a piece. Try the rava dosa, a steal at $2.60.
Mid-range
Banana Leaf Apolo

address: 54-58 Race Course Rd

A well-known place for all sorts of South Indian food; no prizes for guessing what serves as the plate. Most visitors come here for the fish head curry, even the "small" size is enough for 3-4 and will cost you $18, plus $2.50 a head for rice, pappadams and dips.

Bismillah Biryani

address: 50 Dunlop St

The most famous biryani restaurant in Singapore.

phone: +65 6299 0300

address: 166 Serangoon Rd

Cheap coffeeshop-style eats downstairs (under $5) and a midrange air-con restaurant upstairs (mains $5-10). Generous portions if you don't mind their touts. Best known for its tandoori dishes and a wide selection of chaat appetizers.

phone: +65 6296 1215

address: 6 Upper Dickson Rd

Delicious Indian food from a very friendly owner. Upstairs is barefoot only with a very relaxed atmosphere. Offers cooking courses and also a "slave" deal: work for 3h to have one wish granted.

Muthus Curry

address: 72-78 Race Course Rd

Muthu's has a respectable claim to coming up with the idea of fish head curry; now run by the founder's son, this shop continues to draw the crowds.
Splurge
Delhi Restaurant

address: 60 Race Course Rd

Offers a more upmarket experience with vested waiters and a stack of awards posted on the wall. The menu features northern Indian food and has non-vegetarian selections as well; order a couple of Kingfisher beers to get pappadam with an excellent mint dip on the house.
Drink
Race Course Rd
has some funky pubs and bars.
Desker Road
is Singapore's dingiest quarter of ill repute and best avoided, especially on Sundays.
Little India has quite a few
sarabat
stalls offering local drinks, especially
teh tarik
("pulled tea", a Malaysian variant of sweet, milky Indian chai), also available in iced. A particularly popular one can be found at the intersection of Perak and Dunlop Rds, next to the mosque.
Prince of Wales Backpacker Pub

phone: +65 6299 0130

address: 101 Dunlop St

Brightly painted Australian corner pub/hostel transplanted in Singapore, with Gippsland Gold draught beer shipped in, near-nightly live music and fun theme nights (eg. free drinks for guys in skirts).
Sleep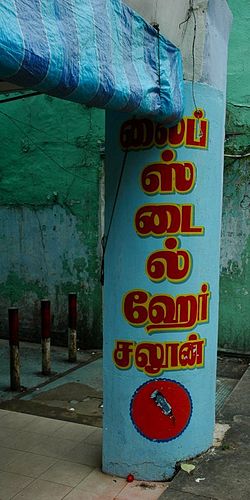 Along with neighboring
Bugis
, Little India is Singapore's backpacker district and has many hostels offering cheap lodging, as well as some of the most affordable hotels in town. Note that some of the cheap hotels around Desker Rd cater to the sex trade.
Budget
Hostels
Hotels
phone: +65 6392 4855

address: 301 Serangoon Rd

Recently renovated mid-range hotel, around the corner from Mustafa.

phone: +65 6392 4855

address: 165 Kitchener Road

Basic but adequate accommodation within striking distance of Mustafa — and Desker Rd.

Penta Hotel

phone: +65 6299 6311

address: 33 Birch Rd

Rooms have air-con and the location near Mustafa and the MRT is fairly good.

phone: +65 6297 7488

address: 88 Syed Alwi Rd

Another cheap hotel that's perhaps a small cut above the rest — their website advertises "homogenous tiles flooring", and offers discounts for advance booking.
Mid-range
Cope
phone: +65 6294 2256

address: 22 Boon Keng Rd, 01-37

24h self-service coin operated laundromat in the central area of Singapore.