Sirsi
Sirsi
is a city in the
North Kanara
district in the
Indian
state of
Karnataka
.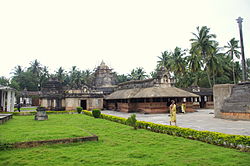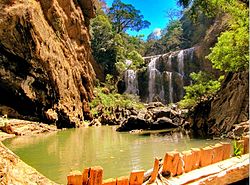 Get in
Get around
By North Western Karnataka Road Transport Corporation ( NWKRTC ) buses which go to nearby villages and to major towns of Karnataka ( Karunadu ) state. Auto rickshaws and Taxi's available at Sirsi town.

See
Marikamba Temple: Marikamba temple was built in 1688. The famous 'Marikamba Jaathre', commemorating the goddess Marikamba is held by the temple authorities every alternate year. Nearly a lakh devotees from all parts of the country attend the fair, making it one of the biggest festivals in the region.
Unchalli Falls: Measuring 116 metres (381 ft) drop in the Aghanashini river, also known as Lushington Falls, named after J. D. Lushington, a District Collector of the British Government, who discovered the falls in 1845. This place can be reached by a 5 kilometres (3.1 mi) trek through thick forest or drive down to the falls by concrete constructed road. It is also called Keppa Joga because of the deafening sound they make.
Madhukeshwara Temple, Banavasi : An ancient Hindu temple known for its beautiful architecture at Banavasi village on the banks of Varada river by Karnataka state highway 77 ( SH-77) about 30 Kilometre from Sirsi town towards Soraba.
Other places worth a visit are: Yana Rock , Sahasralinga, Gudavi Bird Sanctuary, Bheemanavra Gudda(Mountain Peak) in Nilkund, Shivaganga Falls, Muregar Falls, Tumbargod Falls, Benehole Falls etc

Buy
Sirsi is famous for several sweets prepared by locals,
Todadevu is a special kind of thin-crust dosa made out of fresh sugarcane juice. (Most local desserts of Sirsi have jaggery rather than sugar.)
Kadubu: The main ingredients are jackfruit pulp and jaggery. The batter is prepared and, with additional ingredients, the batter is put into a container and steamed. The dessert is a local delicacy and is served hot with ghee butter.
Karakali is a special kind of chutney which tastes very spicy. It is prepared from colocacia leaves.
Kesari is a special sweet prepared from special small aromatic rice Sannakki, saffron and ghee. It is generally prepared during marriage ceremonies.
Shunti Kaddi is a special sweet prepared from ginger paste and jaggery, which is most popular during Sirsi Jathre.
Bendu Battasu is a special sweet which is available during Sirsi Jathre.
Eat
Several hotels are in Sirsi - Yellapur road which are famous for vegetarian dishes. Local rice plate meals ( Thali ).

Sleep
There are many lodges present in this town. But, one can plan for camp fire at home stays and resorts as this town surrounded by lush forest and Western Ghat mountains.

Connect
By B.S.N.L. mobile ( cellular ) connections.

Stay safe
While getting down to water falls be careful. There may be whirlpool in the water also the rocks may be slippery.Before entering dense forests ensure that you have torch with spare battery cells, whistle, eatables,water with you. Fill up the fuel tank of your automobile before travel as petrol bunks ( petrol pumps ) are not available in remote areas.

Go next
Yellapur is about 60 km from Sirsi. Yellapur has two famous water falls - Sathodi Falls and Magod Falls.
Jog Falls is the second-highest plunge waterfall in India, created by the Sharavathi River falling from a height of 253 m (830 ft), and is a major tourist attraction. It is about 60 km from Sirsi.
Gokarna is a temple town in the North Kanara. Around the town lie a number of temples like Mahabaleshwara Temple and beaches which serve as a major attraction for travellers.