Sittwe
Sittwe
or Akyab (Burmese စစ်တွေမြို့) is a city (pop. 181,000 as of 2006) and district in Rakhine State,
Western Myanmar
.
Understand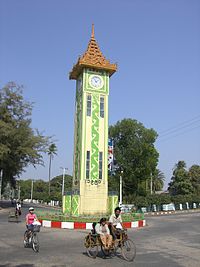 Sittwe is in the far west of Myanmar and has been a hub for tourists travelling to
Mrauk U
via plane, e.g. from Yangon.
Get in
By bus
The road to Sittwe (via Pyay) has been upgraded in recent years and the once harrowing journey is now quite comfortable if you have your own car. Buses also travel the route. Either way, set aside two days for the journey from Yangon. The coastal route is still long and arduous.

From specific destinations

By boat
The journey through the backwaters and then up the river is a wonderful trip. There are some concerns regarding the security on the boat, robberies have occurred. Please get updated information on-site.

There were, although thae current situation is unclear, 2 large ferries running from Mrauk U to Sittwe: the ex-government boat (XGov, now privatised) and the Aung Kyan Moe (AKM) double-decker boat. Prices for both are US$10 (tourists) and they take 7 hr. An express boat is $20, which takes 3 hr. Also ask for private boats/places on private boats (5 passengers+, $20, 6 hr, one-way), which may be useful if it goes that afternoon, as you save a night in Sittwe.
Sittwe to Mrauk U: a ferry goes Monday (AKM); Tuesday (XGov); Friday (Xgov); Saturday (AKM) at 07:00. Express boat Wednesday, 14:00 and there one more sailing of the Aung Kyaw Moe, Thursday (possibly Wednesday).
Mrauk U to Sittwe: a ferry goes Tuesday (AKM); Wednesday (XGov); Friday (AKM); Saturday (Xgov); Sunday (AKM) at 07:00. Express boat Thursday, 07:00.
Food is available for purchase. The ferry is not in good condition, but seems safe enough. The ferry has been known to skip a day or two every now and then so, if relying on it for travel, keep a reasonable buffer to avoid being stuck. Private boats are available for rent in Sittwe and may do the trip considerably faster (4 to 6 hr) for $80 (as of 2008) depending on your negotiating skills and the number in your party. The principal advantage of renting a private boat is that you are no longer tied to the ferry schedule. In high season 2011 there were private boats leaving Mrauk U seemingly every day, which you could join for negotiated fare. Flights from Yangon arrive in Sittwe in the afternoon and it is easy to rent a boat and be in Mrauk U in the evening, which means a travel time of one day from Yangon. With the government ferry, count on at least two days to get from Yangon to Mrauk U (including flight), longer if you arrive the day before a ferry off-day.

By plane
Get around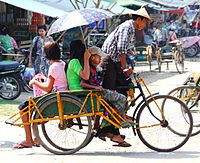 Most sights can be reached on foot if you stay in one of the guesthouses in the center. Trishaws and motorbike taxis are readily available and the easiest way to get around for destinations outside this range. A private ride to Sittwe Bus Station is 1,000 kyat or more. Shared pickups are about 500 kyat for 10-15 km.
As always, you can also rent a bicycle for 1,000 kyat or more from most hotels and guesthouses.
See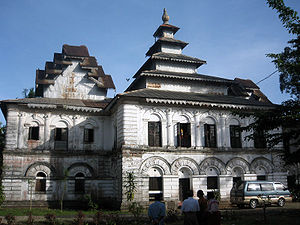 PhaYar Gyi (The Great Buddha Image) PagodaBuilt in 1255.

Law Ka Nandar PagodaA different and modern building and the No.1 sight on Tripadvisor.

U Ye Kyaw Thu Pagode

Shwe Zedi KyaungU Ottama monastery.

Kyayoke Kyaung

Jama MosqueLeftovers of a dark and very near past. Built in 1859, this is what remains after the crackdown on the Muslim population (Rohingya) after riots broke out in 2012, which killed 200 people. Most of this community (140,000) has been displaced and now lives outside of the city in camps, not accessible to tourist.

Buddhist MuseumAn odd museum with a mixture of colonial era and Buddhist artifacts. This is almost a must for a stay in Sittwe. A little tour is included. The museum is in a colonial mansion that is itself well worth a visit.

Rakhaing State Cultural MuseumAn easy way to get up to speed on the culture of the region. The visit takes less than an hour.
Do
Most people use Sittwe as a stopping point for
Mrauk U
and rarely spend time in the city. However, a brief visit is well-rewarded.
The PointAt sunset, visit this point for a glimpse of the sun setting over the Bay of Bengal. Walk back along the Strand to the City Point Restaurant/Music for some beer and music by the water.

Fruit Bat TreesThe city is known for its fruit bats which take wing by the hundreds at dusk. Try this location for a good sight.

Mya Yu Golf Club

Bayonga IslandA group of islands, which are used for oil production and by local fishermen. A chartered or regular boat can be used to get there, but you will need a permit to go there. The regular boat starts from the quai at Kaladan River.
Buy
Fish MarketThis is actually more a See than a Buy. If you like seeing various kinds of fish by the thousands, this is your place. Busy and fascinating.

Central MarketSwing by this lively town market.
Eat
Sittwe is a much better place for trying Rakhine food than Mrauk U. Rakhine food is spicy and is a nice change from the blander Burmese curries.
Mondi
, the Rakhaing version of the Burmese mohinga, is thinner and spicier. Rakhaing fish curries, catfish is the local favourite, are fiery and can be enjoyed at several hole-in-the-wall (or rather shack-on-the-ground) eateries that dot the main street and side streets of Sittwe. Restaurants, such as
City Point
,
Nyein Chan
, and in the
Shwe Thazin Hotel
in Sittwe tend to serve blander Burmese or Chinese food, so forget about them.
River Valley Seafoods Restaurant

address: Main Road

To enjoy the fresh fish you saw at the market, try this restaurant.

Gisspanadi

phone: +95 43 22385

Similar to River Valley Seafoods, but mostly cheaper.
Drink
City Point Restaurant/Music
Sleep
Budget
Prince Guest House

phone: +95 43-21395

address: 7 Main Rd., Yupar North Qtr (in the centre),

The guesthouse offers simple rooms with fan and shared bathroom, as well as more expensive ones with AC, en-suite and fridge.

Palace Hotel

phone: +95 43-21657

address: 5 Main Road

The rooms have fan and en-suite bathroom.

Kiss Guest House

address: No.145, Main road, South Rupa Quarter

A decent budget option with 20 rooms with en-suite bathrooms and some have AC.

Yadanar Htun Guest House

address: No 39 Main Rd

Star Guest House
Mid-range
Noble HotelAir-con; private bath; generator.

phone: +95 43-23579

address: 250 Main Rd. Kyaebingyi Qtr.

New hotel, decent, clean and business-style rooms with TV. Air-con; restaurant; private bath; generator. Restaurant on the upper storey.

Shwe Myint Mho Guest House

phone: +95 9 496 60533

A decent guesthouse.

phone: +95 43 21794, +95 43 22701, +95 1 548598

address: 19. Akauk Yone Street

New and fresh, including everything a not so tight budget longs for. The restaurant on top is recommended.

phone: +95 43 23478, +95 43 21328, +95 43 24008, +95 43 24009, +95-1 393434, +95 1 393458

address: West of San Pya Quarter

AC, en-suite bathroom, big rooms, pool and restaurant.
Go next
Road travel is becoming more and more popular. In the past it was only possible to fly into Sittwe and take a boat to Mrauk U, or the other way around, due to travel restrictions on tourists.