Skagen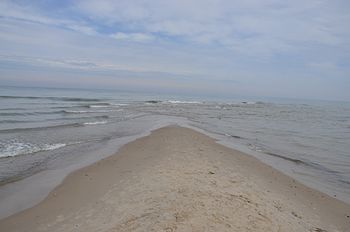 Skagen
is a town in
North Jutland
.
Understand
Skagen (Pronounced "Skane") is the northernmost town in Denmark, with the northernmost point in Denmark, Grenen. This is where Kattegat (waters between Denmark and Sweden) and the Skagerrak (part of the North Sea) meet.
It is a town where the main turnover are the fishing fleet and the connected industries - food industries and different industries supporting the fleet. Second income is tourism. There are 8.900 habitants in the town but in the main tourist season the inhabitants increase up to 50-60,000 persons.

Get in
By bus
By train
The semi-private
Nordjyske Jernbaner
railway runs between
Frederikshavn
, interchange with the national railway system, and Skagen.
Skagen railway station

address: Sankt Laurentii Vej 22
By car
The easiest option is following the
E45
highway to Frederikshavn and take national road
40
from there. To the port of
Hirtshals
with ferry connections to Norway, catch road
597
Skagensvej/Hirsthalsvej and make a turn in the village Ålbæk.
Get around
A very popular way of transport in the area is by bicycle on a distributed net of bicycle paths. Between Easter and wk43, there is also a "sand train" at Grenen, called Sandormen, carrying tourists between the parking lot and the northernmost point of Denmark. It is a sort of a special vehicle driving through the sand, so it can be an experience taking it. You can only pay cash and the first run starts at 10am. It also makes the hike between Skagen and Grenen shorter, if you decide to do this by foot.

See
phone: +45 9899 0007

address: Havnevej 6

Here you can see how candy is made, taste the sweets and buy some to take home.

GrenenThe northernmost point in Denmark where Baltic sea and North sea meet.

The HarbourThe main spot in summer where thousands of tourist frequents the different restaurants on the quay. The harbour itself is a big marina with many guesting boats from Norway, Sweden and Germany.

Råbjerg MileOne of the biggest migrating dunes in Europe. It is moving about 15 meters pr. year eastward leaving a new land to be populated by plants and animals on the western side.

The Buried Church (Den tilsandede kirke)

phone: +45 9844 4371

This church from the 14th century became buried by the moving sand dunes and is not in use anymore. Inside is now a tourist shop.

address: Corner of Markvej & Sct. Laurentii Road

Built in 1858. 46 metres high and thereby the highest in Denmark. (Only open on weekends from April 1st till May 31st and from September 16th till October 31st)

phone: +45 9844 2288

address: Fyrvej 40

A very good art museum showing a vast collection of paintings from the famous school of artists from the late 19th century, the Skagen Painters.

Water Tower

address: Markvej/Sct. Laurentii Vej

Built in 1934 and was in use until 1983. It is 34 metres high and contained 150,000 litres of water. 120 steps will take you to the top with a fantastic view of town.
Do
Fishing: The harbour in Skagen is a good place to fish, because of the two seas meeting at Grenen.
Bird watching: 'Grenen' and the areas right south west of it is one of the best spots in Denmark watching migrating birds and the town is visited by hundreds of bird watchers in spring and fall.
Beach Life: Skagen is surrounded of fine white beaches.
Sports
Skagen Kultur & Fritidscenter: Indoor swimming, Handball, Volley, Badminton. Does also have a small restaurant.
SkawBowling: A bowling center with 8 bowling lanes, pool tables, slot machines and a restaurant.
Tours
Buy
Amber and different handicrafts

Eat
Skagen is well known for its fish products in general and for its fresh cooked shrimps in particular. Enjoy them on the quey at the small restaurants in the old fishing houses or bring them with you home.
phone: +45 98 44 24 35

address: Fyrvej 42

Gastropub and restaurant at Grenen's parking lot, with a view at the two oceans.

phone: +45 98 44 20 00

address: Rødspættevej 6

Fish restaurant at the harbour.

Jakobs Café & Bar

phone: +45 98 44 16 90

address: Havnevej 4A

Popular café and bar in the city center.

phone: +45 98 44 33 00

address: Østre Strandvej 11

Restaurant with traditional Danish food.

phone: +45 98 44 35 44

address: Fiskehuskaj 13

Fish restaurant at the harbour.

phone: +45 98 45 19 22

address: Havnevej 9

Italian restaurant and pizzeria.
Drink
Jakobs Café & Bar

phone: +45 98 44 16 90

address: Havnevej 4A

Popular café and bar in the city center.

address: Havnevej 16

Night club

phone: +45 98 45 15 85

address: Havnevej 3A

Café and bar in the city center.
Sleep