Skardu
Skardu
is a town in the region of the same name in the
Gilgit-Baltistan
,
Pakistan
.
Skardu, capital of Baltistan is perched 2,438 metres above sea level in the backdrop of the great peaks of the Karakorams. Balti people are a mixture of
Tibet
and Caucasian stock and speak Balti, an ancient form of Tibetan. Due to the similarity of its culture, lifestyle and architecture with Tibet, Baltistan is also known as the "Tibet-e-Khurd" (Little Tibet).
It borders on the
Chinese
province of
Xinjiang
and
Indian Kashmir
. The tourist season is from April to October. The maximum temperature is 27 C and minimum (October) 8 C. Apart from its incomparable cluster of mountain peaks and glaciers Baltistan's five valleys, - Shigar, Skardu, Khaplu, Rondu and Kharmang are noted for their luscious peaches, apricots, apples and pears.
Get in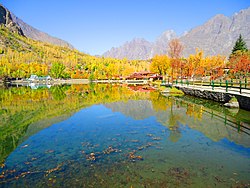 By air
Pakistan International Airlines flies daily from Islamabad. However, since the pilots fly by sight with no computer navigation the flight only goes on clear days. During the flight it's possible to catch a glimpse of Nanga Parbat (the 9th highest mountain in the world) and K2 (the 2nd highest mountain in the world. The air journey is full of thrills and could itself be regarded as the highlight of the visit. After following the same air route, which connects Gilgit to Islamabad/Rawalpindi, the plane turns right and flies over the gorge of the Indus River.
By road
Skardu can be reached by bus from Islamabad. The drive takes you all the way over the KKH (Karakoram Highway).
Since the KKH is still under construction and the Skardu road still has to be repaired, the road can take up to 36 hours by public transport (cost approx. 1500 Rupees).
It's also possible to get to Skardu from Gilgit. Though it's less than 200 km the journey takes close to 8 hours by public transport.
Get around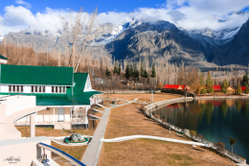 Most places in Skardu town are within a 30 minute walk. It's easy to get a taxi or hire a driver for trips outside of the town.
See
Skardu city center
K2 Museum located near K2 Motel, displays pictures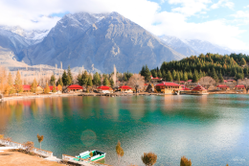 Kharpocho Fort: Skardu has an ancient Fort known as Kharpocho Fort (King of Forts) situated on a hill overlooking the town. It was constructed by Ali Sher Khan Anchan, who ruled over Baltistan till the end of the 16th century. The mighty Indus snaking along just a few metres beneath your feet among the silvery white sands is an awesome sight.
Satpara Lake About 8 km (5 miles) north of Skardu and 20 minutes by jeep lays Sadpara Lake, surrounded by glacial mountains, which are mirrored in its crystal clear waters. The lake has a fairytale island in the middle, which can be reached by country boats that one can row. This lake also abounds in fish and provides good fishing.
Shangrila Lake About 32 km (20 miles) from Skardu and 1 hour by jeep lies the shimmering peaceful deep Shangrila lake, also called Kachura Lake, teeming with brown trout. During spring many exotic and colourful flowers adorn its banks, while peach, apricot and apple trees are laden with blossoms in April. Later in the summer one can taste the apples, which are a delicious variety. Also see Shangrila resort.
Shigar Valley: The gateway to the great mountain peaks of the Karakorams, Gasherbrum, and K2, is only 23 km away from Skardu via jeep road. Shigar valley's gentle, irrigated slopes are filled with terraces of wheat, maize and barley. Its orchards of apricots, mulberries, peaches, plums, pears, apples and nuts are unique to Baltistan. The wooden mosque in the middle of the town was built by Kashmiri carpenters several hundred years ago.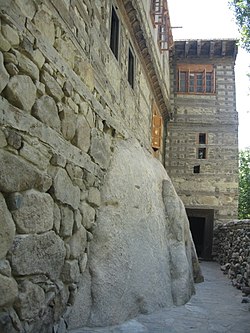 Khaplu Valley: This beautiful valley of the Shyok River is 103 km east of Skardu. Khaplu is the starting point for most trekking and climbing expeditions. Many famous mountains such as Masherbrum, Saltoro, Sia Kangri, K-6, K-7 are located here. Chaqchan Mosque is one of the earliest mosques in Baltistan (1504 AD), attributed to Syed Ali Hamdani. There is a Palace of Raja of Khaplu and remains of Thors
Narsok village, here you will find a large pure spring flowing from the base of the monolith.
First Organic village
Buddha Rock Carvings: Dating back to 8th century AD, a huge Buddha figure surrounded by small Buddhisatvas is carved on a rock, three kilometres from Skardu across Sadpara Nullah on Skardu-Sadpara Road. Pre-historic men and animal figures are carved on rocks along Kachura Lake. Some rock carvings and diagram of a monastery near Perkuta (Mehdi Abad) Nalah are also found.
Do
Karakoram Air Safari
Mountaineering, Trekking and Hiking: The area is ideal for mountaineering, trekking and hiking. Permission for mountaineering and trekking for restricted zone is issued by the Ministry of Tourism, Government of Pakistan, Pakistan Sports Complex, Kashmir Highway, Aabpara, Islamabad (Telephone: 92-51-9203509). Fishing permits are issued by the Fisheries Department at Gilgit and Skardu.
Fishing: at Satpara Lake (8 km) and Kachura Lake (32 km) from Skardu abound in trout. Fishing permits are issued by the Fisheries Department.
Flora & Fauna: Roses, lilies, pansies, willow, pine and fir trees are found in abundance. Apples, apricots, peaches, plums mulberry, walnuts and grapes are available from June to October and almonds from October to March.
Wildlife: Baltistan boasts of wildlife such as Markhors, ibexes, snow leopards and birds, namely Chakors, partridges and ducks. Most of the animals and birds are protected but limited shooting is allowed. Hunting permits are issued by the local administration.
Biking
Walking excursions: A stroll around the eastern end of the Skardu rock will take you to the nearby village of 'Narsok', where you will find a large pure spring flowing from the base of the monolith. To reach Narsok, walk to the far end of the Skardu Polo field and pick up a trail that skirts the rock slopes beneath Zowar Singh's fortress. The mighty Indus snaking along just a few yards beneath your feet among the silvery white sands is an awesome sight. on the west bank of the Satpura Nala is a tall rock with a vertical, beige-colored northern face. Carved here circa A.D 900 is a lovely image of a meditating Maitreya Buddha framed by Bodhisattvas.
Buy
Baltistan is known for its "Pattu" - hand woven woollen cloth for jackets and coats. Also, colourful intricately embroidered "Chugas" (Baltistani gown) and wooden spoons at Skardu bazaar.
Shopping Centres
Naya Bazar, Old Bazar, Botto Bazar, Hussain Chowk, Alamdar Chowk, Kazmi Bazar, Gamba Bazar, Benazir Chowk, Yadgar Chowk etc.
Baltistan Gems, Jewellery and Antique(regd)
, cell 0092-344-620-10-60, email: baltistan.gems@yahoo.com. Baltistan Gems is a big gem and jewellery exporters. Address: New Bazaar, Near Qatal Gah Chock.
Handicraft Shops
Murad Trading Co. Gem Stores & Antiques

phone: +92 575 2132

New Bazar, Skardu.

Hassan Mirza & Co.

phone: +92 575 55420

New Bazar, Skardu.

Pakiza Gems

phone: +92 575 55118

Batti Antiques, Naya Bazar, Skardu.

K-2 Handicraft

phone: +92 575 2577

K-2 Motel, Skardu.
Topaz Gems, Yadgar Chowk, Skardu.
Sahabaz Gems, Kazmi Bazar, Skardu.
Eat
Hotel & Restaurant Dewan-E-Khas, located near the SCO office, offers a wide variety of Pakistani, Western and Chinese food. Dewan-E-Khas is the only family restaurant (this means that it has a room for families/Women to eat in) in Skardu..
Web.www.dewanekhas.com.pk
Email dewanekhas@gmail.com
ph.+92 5815 455494
Mob.+92 3009091494
Pagoda Restaurant, part of Shangrilla resort, offers a sumptuous Chinese cuisine. The Pagoda is on an island amidst the Honeymoon Lake linked to the Shangrila Resort by a short bridge.
The Lake View Restaurant, part of Shangrilla resort gives a panoramic view of the Shangrila Resort and offers Pakistani and Continental cuisine.
Tandoori Village offers traditional dishes such as, chicken tikka, seekh kebabs, mutton tikkas, grilled fish with home made tandoori rooti.
Cafe DC-3, part of Shangrilla resort This code name of original DC-3 Aircraft was Alph Alpha Foxtrot (AAF) . This unique cafe situated in an airplane, which crash landed on the riverbed and was brought to the present site in the 1950s.
Karakoram Café, located near Benazir Chowk across from the frozen goods store. WiFi available.
Sleep
Budget
Karakoram Inn

phone: +92 575 55438

Hotel & Restaurant, skardu. S.R. D.R.

Concordia - II

phone: +92 5815 452 515

Near K-2 Motel, skardu. S.R. D.R.

Hunza Inn

phone: +92 575 2570

Naya Bazar, Skardu. Room Rs. 200/- Meal: Rs. 60/-

Baltistan Tourist Cottage

phone: +92 575 2707

Chowk Yadgar, Skardu. Room: Rs. 150/- to 200/-

Baltoro Rest House

phone: +92 575 2443

Satellite Town, Skardu. Rooms: Rs. 200/-, (for government servants)

Northern Areas PWD Rest House

phone: +92 575 2405

Hamid Garh, Skardu. VIP Rooms = 07 - Rs. 2500/-, (for government servants)

Yak N Yurt Sarai

phone: +92 575 2856

Satellite Town, Skardu.
Mid-range
Skardu Inn, in the main Bazaar
Indus Hotel
Karakuram Hotel in the main bazar
GRACELAND Hotel. 03111333046
ph.+92 5815 455494
Mob.+92 3009091494
Splurge
phone: +92 5815 4549412

phone: +92 5815 467108

Recently restored by Aga Khan trust is a must see.
K2 Motel is a PTDC motel in Skardu
Go next