Sorata
Sorata
is a town in the
La Paz Department
of
Bolivia
, about a 150 km northwest of
La Paz
.
Understand
Sorata attracts mainly people that plan on hiking or climbing the mountains around. In this sense, Sorata is the better than
Quime
, it has more accommodation options, more manifold vegetation, it is more alive, and has more impressive day hikes, e.g. to the Laguna Chillata.
High season in Sorata is apparently in August and September.
Get in
To get there take/leave La Paz from
Cemetario
or El Alto from Río Seco, Bs. 20, 3-3.5 hr. There are buses leaving every hour until 15:00.
You can also bypass La Paz if going to/from
Copacabana
. Get on a La Paz bound bus/minibus/micro from either town, tell the driver you wish to go to Sorata/Copacabana and you will be dropped off at the small lakeside town of Huarina (2 hours from La Paz). Cross the road and wait for a Sorata/Copacabana bound bus with space to pass. They should honk their horn if they have space and see people waiting, but it wouldn't hurt to keep an eye out and flag one down if you see it first. Best to get started early as you may have a bit of a wait at Huarina—it should still be quicker than going all the way to La Paz then 2 hours back in the same direction though.
Buses arrive Sorata from the main square., but departure is right when you enter the town
Get around
On foot and navigation
Once in the town, nearly all points of interest, restaurants, services, are within walking distance. Even the San Pedro cave can be hiked to.
Outside of town, there are many interesting hiking trails. For reliable trails in this region, consult
OpenStreetMap
, which is used by many mobile Apps like
OsmAnd
(complex with many add-ons) and
MAPS.ME
(easy but limited).
By taxi
Taxis are available, although the town is tiny so you will only want one for an excursion (hiking). Many are waiting near the plaza, but you might be lucky hailing one along the main roads.
See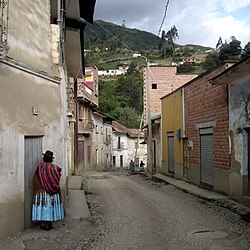 While there aren't many specific tourist attractions, the town itself is a typically attractive small Bolivian
pueblo
with little market streets dotted about, ideal for pottering around if the weather isn't up to proper hiking (often the case during the wet season).
The central plaza is unremarkable save for the statue of General Enrique Peñaranda del Castillo, who bears a striking resemblance to Adolf Hitler (and is dressed for the part).
Do
Mountain hiking
If wanting to organize short or long treks around Sorata, use the guides in Sorata rather than booking ahead from La Paz. It ensures that the money you pay goes directly to the guides themselves, most of whom are from poor local families that rely on guiding as a key source of income.
There are several guide offices. The official one (Sorata Guide Association) is close to northeastern corner of main plaza, the other one ("Tourist Information") is on the street that leaves to La Paz from southwestern corner of main plaza. If you arrive in the middle of the week, you may be the only hiker there. From summer months, September is busier than July. Example prices are: guide is Bs. 300/day, transport (4WD) from the town to the start (from the end) of the hike is Bs. 200 one-way, tent and sleeping gear is Bs. 65/day, food and equipment hire is about Bs. 150, taxi (can let you somehow shorten the "boring" part of walk, but not that much as 4WD) is Bs. 40. All these prices are negotiable. If you're single, things may get expensive, but you may get an acceptable custom solution.
Example custom solutions:
Bs. 600 for a 2 person, 2 day trip to both Laguna Chillata and Glacier—includes guide, mule and taxi back to town.
A day hike to Laguna Chillata should be around Bs. 350 per group, but the hike is easy and can be done without guide if you have a decent map.
A day walk to Laguna Chillata with initial taxi, no guide (map may help), 4WD (from a higher point) back home for Bs. 240.
For the following two: If you arrive late, you can still make it to the first camp ground. The advantage being that in the morning the mountains might be without clouds or excellent views.
Laguna ChillataThis is an easy but all day hike (~32 km) up to the Laguna (3-4 hr) and back. With the taxi you will save 1.5-2 hr. It uses the same trail as to the Laguna Glaciar. There are many camp sites along the way, in case you want to head back only the next day. It gets cold however at 4,000 m, so it is important to have a proper tent and sleeping bag. At the altitude around the Laguna also the water should be save to drink, but further down there are still many villages which use the water for all purposes.

Laguna GlaciarThe (green ) is a picturesque but also demanding 2-4 days hike. There are many camp sites or even just flat areas along the trail, where you can put up a tent. General properties: 18 km length, 2,360 m total climb, 5,050 maximal altitude. Download track here: KMZ, GeoJSON, for GPX see GPSies.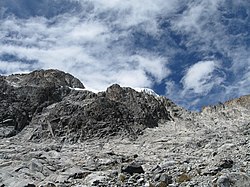 For the following you will probably need a guide or a very good map:
IskanwayaAn archaeological site about 5 days hike away.

Mapiri7 days

Circuito Illampu6-7 days

Cordillera Real/Transcordillera: 8-12 days
Apolobamba: 5 days
Road Gold: 5 days
Wild Adventure Minascapa: 3 days
Other activities
San Pedro CavesIf you never seen a cave or are bored (i.e. you start a mountain hike the next day), this is a nice activity and walk. However, the caves may be not that impressive as the ones you may have seen in USA or Europe. Swimming is no longer permitted at the caves. Also, the cave is not very colorful nor has it stalactites and stalagmites, and there are no bats. It is not even very long, maybe 25 min return. In addition, the guides have apparently also been abolished, they were mentioned before at the entrance wall (see the washed out writings). The walk is not very pleasant (as it is always on the road where quite many cars pass and make dust), but with good views, it is uphill on the way back. If you arrive late in Sorata, take a taxi for Bs. 40 (can be haggled down to Bs. 35) one-way. If you don't want to walk both ways it might be better to walk there and arrange for a taxi to meet you there for collection (it's a small place and you can't rely on one being there for you). However, there are many taxis driving along this road and you might just stop one after leaving the caves.

Downhill Mountain BikeIn the mountains around Sorata are also the only Downhill Mountainbike possibilities in Bolivia, the MTB/Boat trip to Rurrenabaque starts from Sorata.

Other than that, just relax and admire the beautiful views! It's a nice antidote from frenetic La Paz.
Buy
Small Sunday market, mostly selling food and general goods. Good fruit and vegetable market every day.
There are several food shops in the town.
Eat
The are many opportunities in town to enjoy local food. Skip the overly expensive pizzerias, unless you don't care about you impact onto local price structures. A schnitzel with fries can already be obtained for Bs. 10 bs from the street vendors.

PanchitaAttached to Hostal Panchita on the plaza (next to the church), but more visible than the hotel itself. The best of the various pizza places around the plaza—surprisingly good pizzas for the type of establishment, decent mexican food, a variety of vegetarian options, and a very forgetful owner who you'll usually have to give your order to at least twice. As usual with places like this, the wine list is rather optimistic compared to their actual stock.
Drink
On the way back from the San Pedro Cave, you can stop at Cafe Illampu or Altai Oasis for drinks and food.
Otherwise, Sorata is not the place for a wild night out. Casa Reggae (see below) has a bar with beer and cocktails available.
Sleep
Residencia Sorata CentralAlso have a great garden and a big breakfast.

Residencial SorataThe building is of "organic" construction, all very alive.

Casa ReggaeIncludes a kitchen, shower, beer garden and "Tourist Information". They also have a slightly insane monkey who will try and steal your drinks.

phone: +591 719 16 341

just past the football field. Comfortable, nicely decorated, very clean, kitchen is fairly good, breakfasts (extra) yummy, plus a small but tasty menu for "proper" meals—the tomato soup is particularly good. Free filtered water, sink to wash your own clothes, friendly and helpful German owner, Petra Huber. A good place to splash out slightly if you want something a bit nicer than a standard dorm.

Altai Oasisis just below the town and has cabins you can stay in. Their restaurant has a great view over the valley, serves huge T-Bone steaks, great goulash, and a visually impressive but bland spinach & pumpkin soup. Service is slow but friendly.
Cope
The so called "tourist informations" in town are basically just disguised tour operators. Often, you are better off just taking a taxi to a start of a trail instead of letting them do it. For longer treks they are useful, but an experienced hiker most likely will not need to rely on them. However, they are good to get some basic information about the hikes in the area. Nevertheless, be aware they will always try to sell you something, and even take a share from a simple taxi ride.

Connect
Wi-Fi is unheard of in most accommodations. Supposedly the pizzerias have some.

Go next