South Island
The
South Island
(Māori:
Te Waipounamu
) of
New Zealand
is characterised by grand, open landscapes and a great sense of freedom in the sparsely populated areas away from the Christchurch and Dunedin conurbations of the east coast. Divided by the backbone of mountain ranges aptly called the
Southern Alps
, the South Island is renowned for spectacular snow-topped peaks, fiords, large beech forests, golden sand beaches and fertile, broad plains. There are no active volcanoes – but hot pools abound. The South Island is more than just stunning scenery though. Go hiking (or tramping, as the locals say) through unspoiled valleys, lay down fresh tracks at the many ski fields, get your adrenaline going at a bungee jump or kayak to golden sand beaches. Your visit to the South Island can be as tame or as adventurous as you want.
Regions
The regions, in approximate north to south order, are:
Cities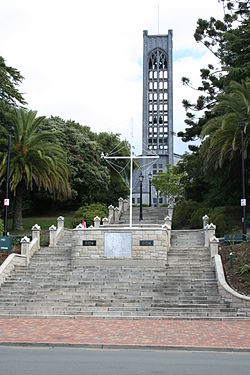 The biggest cities and some smaller towns of particular interest to travellers, listed from north to south:
– sunshine city with gold medal winning wineries and craft breweries
– gateway to the Marlborough Sounds
– sauvignon blanc central
– whales and beautiful scenery
– see a city being rebuilt after the earthquake
– lakeside town with skiing and scenery
– stunning setting between lake and mountains
– little blue penguins and a Victorian streetscape of limestone buildings
– proud of their Scots heritage, beer, rugby and student shenanigans
Other destinations
– stunning beaches
– New Zealand's highest mountains
– sea lions, largest east coast native forest meets the sea
– several great hikes and Milford Sound
– the largest land snails in the world and some of the deepest and most extensive cave systems in the southern hemisphere
– scenic drowned river valleys, a boaties' paradise
– vintage boat regattas on Lake Rotoroa, easy to moderate tramping
– ice, luscious bush and the wild sea
Understand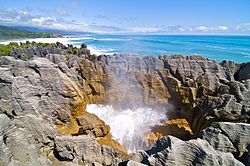 The South Island of New Zealand is the larger of the two main islands and is sometimes referred to as the 'Mainland' (especially by South Islanders) despite having just 1.1 million of New Zealand's 4.9 million population. Geographically the South Island is dominated by the
Southern Alps
which divide the island and affect both climate and flora. Most of the South Island's national parks are strung out along this main divide.
Christchurch
,
Dunedin
,
Invercargill
and
Nelson
are the main settlements, but many attractions are outside the cities. All four cities are very different. Christchurch is the largest and had a certain English feel to it until earthquakes and shopping malls took their toll. Nowadays it is definitely a New World city. Dunedin was settled by Scottish Presbyterians and is very proud of those roots. It also feels older than other cities in NZ because it was built by gold rush money in the late 19th century but has since been surpassed by bigger and brasher cities to the north. Invercargill has been steadily losing population for many years but the warmth of that southern welcome will astound you. Nelson is still very young by European standards (although it was the second founded city in New Zealand) but still has its own symphony orchestra and a fine collection of Victorian stately homes. It has a very South Pacific feel with palm trees and a huge and beautiful white sand beach. However, beautiful beaches are a dime a dozen in the South Island and some of the best do not average even one visitor per day.
Climate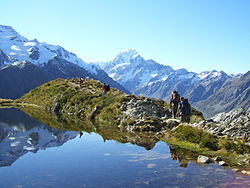 The South Island generally has a more invigorating climate than the
North Island
; all the major weather records in New Zealand have been set in the South Island.
The sea and the Southern Alps are the main contributors to the island's climate. The moist westerly air flow from the Tasman Sea rises as it hits the mountains. This causes orthographic rain which is dumped on the West Coast of the island; most areas receive over 2000 mm of rain per year here. This rain does have its benefits though, supporting the lush, temperate rain forests of Fiordland.
With very little moisture left in the air after crossing the Southern Alps, eastern areas of the South Island are generally dry, with the Pacific Ocean the only main influence on the moisture. Coastal Christchurch receive only 620 mm of rain per year, while
Alexandra
, over 100 km away from the ocean in central Otago, receives just 360 mm of rain per year.
Temperatures generally become cooler the further south you go – but you can still experience the classic New Zealand "four seasons in one day" in any part of the island. Coastal regions are generally milder because the sea buffers temperatures. The hot and dry northwesterly winds off the Southern Alps can push temperatures in Canterbury into the mid-to-high 30s and even the low 40s during summer.
Rangiora
, 25 km north of Christchurch, holds the national record with a high of 42.4 °C (108.3 °F) on 7 February 1973. Elevated regions in the centre of the island have a more alpine climate, being cooler in winter and hotter in summer. Many of the mountains themselves are permanently capped with snow.
In winter, snowfalls are common in central, elevated regions (occasionally leading to the temporary closure of roads). During winter, snow also occasionally falls down to sea level and even coastal region temperatures can often drop below zero overnight (32°F) – although rarely by much.
Get in
By plane
Christchurch
has the island's biggest international airport, with flights from all around the Pacific Rim.
Dunedin
and
Queenstown
have flights from
Australia
.
Many airports have scheduled flights into the South Island, including
Picton
,
Blenheim
,
Nelson
,
Takaka
,
Westport
,
Kaikoura
,
Greymouth
, Christchurch,
Timaru
, Dunedin and Queenstown.
Invercargill
airport has flights to
Stewart Island
. Christchurch airport has flights to the
Chatham Islands
.
By boat
Bluebridge
and the
Interislander
ferry companies sail across Cook Strait from
Wellington
to
Picton
through the
Marlborough Sounds
. They take bikes, cars, buses and trains, and the scenery on a good day is spectacular. The ferries are substantial ships designed for the sometimes rough conditions and the journey takes between 3 and 3.5 hours.
Get around
By bus
Buses are a cheap way to get around the main centres. There are a range of types of services, from a luxury coach service to minivan shuttles. Shuttles that service a local area can be found in the articles for the regions and towns that they service.
By road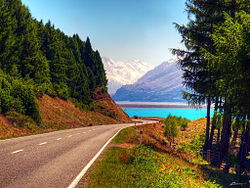 The South Island has a vast and varying road network. Having less traffic than the North Island, there are very few motorway-standard roads (just in the whole island) so most inter-city driving is done on two-lane undivided highways. The road network also has a large number of single-lane bridges.
Rental cars are available in most sizeable towns. The best range (and hence lowest prices) are in
Picton
(just off the Cook Strait ferries) and
Christchurch
.
Internet based rideshare and carpooling systems are growing in New Zealand as fuel prices rise and people recognise the social and environmental benefit of sharing vehicles and travelling with others. While some systems are quite informal, others have trust systems which give greater security when choosing a ride.
Jayride is a New Zealand ridesharing and hitch hiking website. Their focus is on providing a variety of ride options, for flexibility and cost savings.
By train
The South Island has two outstanding train services. The daily
TranzAlpine
runs across the island from
Christchurch
to
Greymouth
and back, crossing the
Southern Alps
at
Arthur's Pass
, and is one of the most scenic train journeys in the world. The Christchurch–
Picton
Coastal Pacific
crosses the
Canterbury
Plains before hugging the
Kaikoura
Coast then travelling through the
Marlborough
wine region and returning daily (from Oct–Apr only).
See
There are not many places in the world where you can ask "
Where's the nice scenery?"
and be answered
"Pretty much everywhere
", but the South Island is one of them. Simply driving from one town to another can reveal stunning views that many locals take for granted. From snow-capped mountains to wild beaches to ancient fiords to natural forest, the South Island features a remarkable number of varied and stunning landscapes in such a small package. Some highlights from an island full of highlights include
The forest-lined shores of the Marlborough Sounds
Abel Tasman National Park with its warm weather and sandy bays
Kaikoura with its rugged coast and mountains dropping almost straight into the sea
The vast open spaces of the Canterbury Plains with the backdrop of the snow-capped Alps
The beautiful and sparse Mackenzie Country, with Mount Cook (the tallest mountain in New Zealand) and picturesque lakes
The dry, open landscapes of Central Otago
The popular towns of Queenstown and Wanaka, nestled beside lakes among stunning mountain scenery and offering some of the best hiking, kayaking, skiing, jet boating and mountain biking in the country.
Milford Sound, the most popular and accessible of the many glacial fiords in Fiordland — the highway to get there was voted one of the 10 most scenically stunning road journeys on the planet
The wild and wet West Coast, complete with easily accessible glaciers
Wildlife – including seals, sea lions, whales, dolphins, penguins, albatrosses and other unique native birds
Do
Numbering almost as many as the varied natural attractions are the possible ways to get out and enjoy the outdoors.
Cycling
The South Island is a great cycling destination, featuring on road, off-road, and serious downhill mountain biking tracks. Cycling is a popular way to explore both the whole island and individual regions. For some it can be the method of choice for getting around the island and it's not uncommon to see intrepid travellers cycling on South Island highways.
There are a number of specially constructed cycle trails in the South Island and a national project to build a network of world class cycle trails is underway. Of the 18 "Great Rides" planned that will compose the
New Zealand Cycle Trail
(
Nga Haerenga
), ten are in the South Island.
Mountain bikingThe Dun Mountain Trail is especially popular for mountain biking. It's based on the line of New Zealand's very first railway - used to transport a variety of minerals from the eastern slopes of the beech forest shrouded 1129 m peak down to the waiting ships in Nelson's haven.

Off-road - highlights include:
Diving
Fishing
Fishing is another draw card. The South Island contains world famous
fly fishing
destinations such as the Buller, D'Urville, Goulter, Gowan, Karamea, Motueka, Owen, Mokihinui, Pelorus, Sabine, Wairau and Wangapeka Rivers in
Nelson Bays
using either local guides and accommodation or specialist luxury lodges .
Sea fishing
is particularly scenic and sheltered in the
Marlborough Sounds
but the choice is endless.
Kayaking
Kayaking is rewarding in many areas throughout the island; it's a particularly popular and well organized tourist activity in the
Abel Tasman National Park
and Cable Bay in
Nelson Bays
Mountain climbing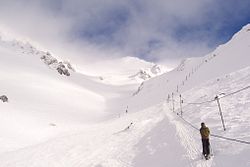 Mountain climbing often centres around the
Mackenzie Country
and
Wanaka
for the Alpinist variety.
Skiing
All those mountains provide ample terrain for snow enthusiasts, so it's not surprising there are many
ski fields
in the South Island. While not as large as the resorts in North America or Europe, they provide a good mix of terrain. The largest and most commercially developed ski areas are near
Queenstown
,
Wanaka
and
Methven
. Small "club" fields – with fewer facilities but less crowds – can be found in the
Mackenzie Country
and
Nelson Bays
. "Top dollar" heli-skiing is also available in many locations
Tramping
The South Island is a renowned tramping (hiking) destination, with many tracks ranging in length from minutes to weeks. These include some of the finest walks in the world, the so-called "
Great Walks
":
Abel Tasman Coastal Track
and
Heaphy Track
in
Nelson Bays
, and the
Kepler
,
Milford
and
Routeburn
Tracks in
Southland
. Most tracks pass through public conservation land and are marked and graded in difficulty by DOC.
Although there are typically no entrance charges to National Parks for either NZ residents or overseas visitors, this is under discussion since some feel that NZ taxpayers are subsidising foreign tourists. Start planning your trip before admission charges kick in!
Adventure tourism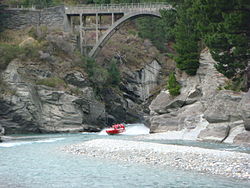 The South Island has become the natural home of
adventure tourism
. That is, ordinary people being encouraged to do crazy things; such as jumping off a bridge with a rubber band tied to their ankles, riding in a jet boat or rubber raft.
Nevis Valley South of Cromwell in Central Otago you can drive on New Zealand's highest public road to this isolated valley which was once a hive of gold-mining activity. While a car is OK for the upper valley, a 4WD is recommended for the many fords further down the valley
Nelson Bays and Queenstown are both hubs for adventure tourism. Canyoning, skydiving, bungie jumping, paragliding, rafting, jetboating and canyon swinging are just a few of the possibilities on offer
Eat
The South Island's regional specialities reflect New Zealand's island nature, and the agricultural character of the regions. They include:
Drink
Beer – Nelson grows all of the hops and has a thriving export business, so it's not surprising that it has both the pub that was voted "Best in New Zealand" but is also the craft brewing capital. Other regions all have local beers, and also feature their own smaller craft breweries.
Fruit juice – in Central Otago or boysenberry spritzers in the Upper Moutere.
Wine – the varied climate of the South Island provides for a number of different climates suitable for growing different varieties of wine. Although the most well known are the Sauvignon Blanc producing region of Marlborough and the Pinot Noir producing region of Central Otago, many of the Gold medals at national and international tasting competitions are often won by lesser known regions such as Nelson Bays and the Canterbury/Waipara regions.
Stay safe
The changeable weather and imprecise forecasting are key dangers. Great care must be taken, especially when tramping in remote or alpine regions, as the weather can change from benign sunshine to life-threatening, hypothermia inducing conditions of gales and snow in a matter of hours (even in summer, in the high country). Even on day trips you should check the weather forecast, make sure you know your route, make sure someone knows where you are going and carry some rain and cold weather gear and supplies. Many places are very remote and far from help and care is recommended – every year New Zealand search and rescue teams are called in to find tourists missing in remote regions and every year, at least a few end up as hospitalised casualties.

Go next