Southern Africa
Southern Africa
is marked by sub-tropical and temperate climate, in contrast to the tropical savannas and jungles of
Central Africa
.
Countries
A number of other countries are sometimes considered part of Southern Africa due to their accessibility from the countries listed above, such as
Angola
and some
East African islands
such as the
Seychelles
and
Mauritius
. In some instances all of the countries south of the Equator are viewed as Southern Africa. For the purpose of this guide, these countries are described in other regions.
Cities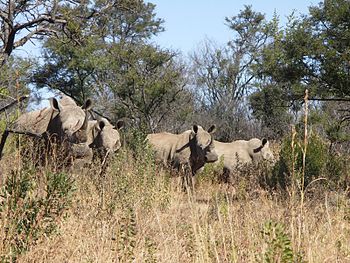 Other destinations
Understand
The Drakensberg (
mountains of the dragon
) range stretches some 1000km through
Southern Africa
, from the
Eastern Cape
through
Lesotho
(
most of this country is on a plateau of the mountain range
), central
KwaZulu-Natal
(
where one can find the Tugela Falls, the second highest waterfall in the world
), divides
Mpumalanga
in half creating the Escarpment and the
Blyde River Canyon
(
the third largest canyon in the world
) from where it reaches up into the southern parts of
Limpopo
.
Talk
English is an official language in all countries in the region except Mozambique, and most urban dwellers speak it fairly well.
Afrikaans
is widely spoken in South Africa and Namibia, and
German
is also spoken by some in Namibia. You may encounter
Portuguese
in the region as well, especially in Mozambique where it is the official language.
Bantu languages dominate the area.
The Khoisan languages, including Nama, are spoken by the Khoikhoi and the San peoples, prevalent around the Kalahari.
Get in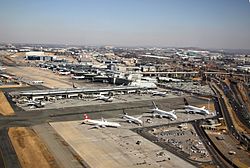 By plane
South Africa
's
O.R. Tambo International Airport
(
JNB
) in Johannesburg and Cape Town International Airport (CPT) are two of the easiest entry points into the region, with many direct international flight landing there from Amsterdam, Bangkok, Lisbon, London, Paris, Frankfurt, Munich, Zurich, Athens, Dubai, Doha, New York, Atlanta, Washington, D.C., Buenos Aires, Mumbai, Hong Kong, Kuala Lumpur, Singapore, Sydney, Perth and others.
Connections to the rest of the Southern African region is easily made from here with flights to Blantyre, Cairo, Gaborone, Dar es Salaam, Harare, Lilongwe, Livingstone, Luanda, Lusaka, Kinshasa, Maputo, Manzini, Maun, Mauritius, Nairobi, Victoria Falls, Windhoek and more.
You may also want to have a look at Discount airlines in Africa and Air travel in South Africa.

By sea
Numerous ocean liners stop in multiple ports throughout Southern Africa, and can make a great way to explore the sub-continent. Europe or South America are the most frequent location to find a boat heading to Southern Africa. For the truly adventurous, there are infrequent ships coming up from Antarctica.
Southern Africa is easily reachable by yacht, but be sure your route avoids the pirate-infested waters of North Africa.

By car
Entering Southern Africa by car is an amazing way to see all the region's beauty as well as to get to places off the normal tourist routes. This can be done in a normal car with careful planning but a 4x4 is highly advised and many locations are only accessible with a high wheel base 4x4.
Keep in mind while planning that although Southern Africa is stable not all neighboring countries are. Please research all countries before entering them. Visa requirements and costs vary from nation to nation and are affected by the country you come from.
Each country also has unique laws requiring what emergency items need to be in the car. It is well worth looking into getting a 'Carnet de Passage' as it can save you small fortune in import taxes for your car.
Unfortunately corruption still infects certain of these countries and you'd be best advised to look into best travelling practices for each country before you arrive.

By train
By bus
Get around
By air
Southern Africa has limited airline options, and varies from country to country. Most countries have a national airline that will fly at least to Johannesburg (O.R. Tambo International) and other neighboring countries. The two largest carriers in the region are South African Airways and British Airways. Smaller airlines include most of the local countries national airlines, but prices can be excessively high.
By car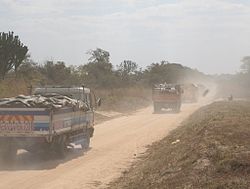 Cars can be hired in all Southern African countries but South Africa is the cheapest country to hire in. Rates start from $20 a day or $300 a month for a cheap get around car (e.g. old VW Beetle), to $130 per day or $330 per month for an entry level 4x4. Depending on who you hire from there most likely will be a fee to cross borders but this should include a tow fee back to South Africa if you break down in elsewhere in the region. This can easily be arranged on line and there are plenty of forums giving advice on the best options available.
Buying a car is also easiest to do in South Africa as they are most amenable to non-citizens owning vehicles. A second hand entry level car can be purchased for less than $200 (e.g. Classic VW Beetle) to a 4x4 costing less than $5100. If you do purchase a second hand vehicle it's best to personally inspect it, as well as have mechanic inspect it before purchase. Be careful of were you go to buy the car as many areas in South Africa are not tourist safe, so make sure to meet at a mall or some other convenient location.
Driving your own car or hired car through Southern Africa will require that you have a fully road worthy car and all the legal accessories in your car. These accessories are country dependent and you should check each country you plan to enter before leaving, the items may include red triangles, fire extinguisher, spare wheel, etc. Corruption in Southern Africa is a problem (country dependent), so be cautious about best practice for each country and that they have no excuse to fine or in the worst case arrest you. And be warned Africa is bigger than you expect, so expect lots of long drives.
By sea
There are numerous Yachting Companies or Ocean Liners that travel the Southern African Coast line, depending on your budget.
By train
There was a strong colonial train system, that is now in various conditions dependent on which countries you enter. That said train travel is still and amazing way to travel through Southern Africa and well worth looking into.
By bike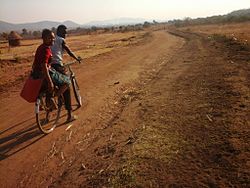 Many countries in Southern Africa are amazing to cycle through, but the size of these countries are often comparable to
France
or
Texas
. You will have long rides often with few or no towns in a day's cycling, so be prepared to carry all you need. In certain areas it is legally required that you have a follow car with you for emergencies.
It most likely goes without saying that if the area is marked as a wild life preserve, cycling is a bad idea unless clearly indicated otherwise! (You may wind up as dinner...)
By thumb
In many areas this is
highly inadvisable
and may even be illegal, so check before you hit the road.
That said, if you do hit the road, with nothing but your backpack, you might want to read up on what the local customs are as sticking your thumb out will not get the message out in all countries. Watch the locals and expect that in some countries, you may still need to pay for the ride.
By bus
This is the preferred way to travel through Southern Africa for people who don't have access to a car. The buses vary in quality which is related to cost, but they will take you anywhere and normally it is easy to cross a border as a bus passenger. But the chance of a break down on a long African bus trip is high, hence you should always have sufficient time for transfers as buses often run late. The South African bus company
Intercape
operates a network of bus lines in most countries in Southern Africa, all the way up to northern Malawi.
See
Itineraries

Trip starts in Zambia, near world-famous Victoria Falls and provides a glimpse into the best of Botswana with plenty of options for game drives before heading down through the wild Limpopo province of South Africa.
Livingstone, Botswana, Waterberg National Park, Johannesburg.

Do
Safari
One of the most popular holiday activities in Southern Africa is
wildlife safaris
where travelers try to spot the Big Five (lion, elephant, buffalo, leopard, rhino). There are game reserves within South Africa, Botswana, Zambia, Namibia and Zimbabwe. They all have lodges ranging from basic camping to five-star luxury.
Beaches
South Africa has beautiful beaches stretching all the way from Cape Town around the coast up to Durban, which is a surfing mecca. Further north Mozambique - known for its excellent diving and warm, clear waters - takes over.
Adventure activities
Southern Africa is an adventure heaven. The region has some of the highest bungee jumping spots in the world; fantastic hiking and biking trails, great rivers for white-water river rafting and canoeing and excellent surf for surfing and kite-boarding.
Wine
The area at the tip of Southern Africa around Cape Town is known as the Wine Route and produces award-winning wines. Most wine farms are open for public tastings. Some of the towns to visit on the Wine Route include Stellenbosch, Franschoek, Paarl and Robertson.
Drink
Water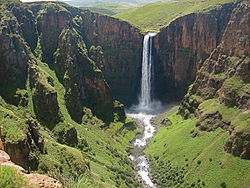 Southern Africa's tap water is generally good but the exceptions are Lesotho, Mozambique, Zambia and Zimbabwe. In the cities or where indicated outside these four countries it is advised for those with weak stomach to at least boil the water. In Lesotho, Zambia and Zimbabwe you should always boil the water or use chlorine pills. It's best to buy bottled water if you are worried about the quality of the tap water and this concerns all the water you use including toothbrushing, ice cubes, cleaning fruit (always rinse fruits before you consume them!) or any other time you consume water.
There are areas with contaminated waters!
but this is rare near cities and normally signed, but if the locals don't drink it, you shouldn't.
River water and water in rural communities is often contaminated or will at least give travelers diarrhea. Bring fresh water were possible and in an emergency at least boil or add chlorine pills to the water. Be careful of were camp sites get their water, as it some time for the local river.
Alcohol
Southern Africa generally has or had a lot of control on its alcohol beverage manufacture, which limited creativity or variety. Most countries have at least one local beer or beer brand. That said alcohol is readily available, though price can fluctuate greatly depending on where you buy them from.
South Africa has the largest variety as there has been more freedom in the market over the last 15 years, with around a thousand vinyards, numerous micro-breweries (beer) and a variety of other drinks being produced. You are most like to find some of the older names of South African Alcohols throughout Southern Africa, though certain international Spirits and whiskys are available in areas.
Sleep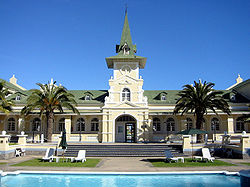 Accommodation in Southern Africa varies to serve all budgets, from those backpacking to 5 star hotels and game resorts. In tourist areas, you will normally find something that meets your needs and budget but it's best to have cash at hand outside of South Africa or do an EFT in advance as few place accept bank cards.
Cost are often affected by time of year, Christmas (Summer) and Easter are two large local holidays that send the local tourist swarming and cause prices to rise. You can often end up paying twice as much at this time of the year in all accommodation types.
Back Packers (Hostels)
In South Africa, Back Packers (known as hostels in other parts of the world) are common in most tourist areas or medium to large cities. In the rest of Southern Africa the trend of Back Packers is slowly growing and most countries now have at least a few, especially near tourist locations, e.g. Victoria Falls, Lake Kariba or the Mozambique Coast.
Normally accommodation varies from large rooms with up to 20 beds, to smaller rooms with up to 6 beds. The number of beds in the dorm affect the cost but cost is normally around $10 per night, excluding food, per person.
Private rooms are normally available, but cost increase depending if you have a private or shared bathroom, or double bed. Normally between $35 and $70, location dependent.
Most Back Packers will also have camping facilities, with a shared amenities. Prices are around $5 per person per night.
Most Back Packers have a small restaurant inside, but often only serve a small variety of dishes (Though there is normally 2 or 3 vegetarian options), and only breakfast and dinner are served. There should also be a basically equipped communal kitchen for those that prefer to prepare their own (definitely not halal and you might want to wash any equipment before using it).
A bar, communal relaxation area, pool and even a TV are common in most back packers, but expect to find treasures like cliff top baths and tree house for the adventurous.
Backpackers tend to function as informal tourist information centers and will often help you make bookings or find out what is available with in the local area.
Though not conclusive coast to coast is a free guide that you will find in most Back Packers throughout Southern Africa.
Bed and Breakfast
Throughout Southern Africa, in places frequented by tourists you will find a Bed and Breakfast. Mostly these are located in large cities or towns with popular tourist attractions, though in South Africa you will find one in just about every small town no matter how far off the beaten track you are.
The quality of Bed and Breakfasts vary greatly, some are no more than an old bedroom that's now open for stay, while others are professionally run and will rival top hotels.
Depending on were you chose to stay, most will offer only breakfast or tea and coffee; while a few will do dinners as well. Though if you plan in advance you can often make arrangements for extra meals.
In many ways you are staying in someone's home, so only enter the areas that the owner shows or invites you and feel free to make use of amenities where indicated. However, unlike a hotel, the staff are not always available 24/7, so don't be surprised or offended that you will be let in by someone in a bathrobe if you arrive late.
Hotels and Lodges
Cities in Southern Africa are filled with lodges and hotels to fit your budget and better rates are offered for longer stays. You will find most of the large international chains in most of the Southern African countries (except in Zimbabwe which no longer allows internationally run business). On the rare occasion you will find a hotel claiming to be 4 or 5 star that is not (or more likely no longer is). Doing a little research online about other people's experiences or following a travel guide can get you a long way to finding the perfect spot to stay.
Game Reserves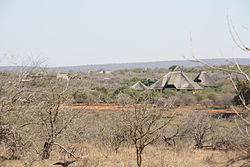 Southern Africa is full with public or government run game reserves. Reserves such as Kruger National Park are easily accessible by any vehicle but many can only be accessed by high based 4x4's. Some are associated with tour operators that will get you there.
Accommodation varies from camping to five star lodges, but you will need to check what's available and where it's best to stay in which season as some areas of the reserves are not accessible during the rain season.
House Boats
If you looking for the house boat experience Lake Malawi or Lake Kariba are you best bets, though certainly not the only ones. As with selecting anywhere to stay do your research in advance as some of the best option at 30km of dirt road and a long drive from anywhere but the beauty of the lakes will make the journey worth it.
Hunting Lodges
Though most animals can be hunted at some private game lodges, please take into consideration the animals you are hunting. Please consider carefully if the animal you are hunting is endangered or high risk of becoming endangered. Do not go hunting without a professional and certified guide or a spotter, hunters have been attacked by animals they did not see while focused on their quarry. Hunting is an art you will not master in a two African safaris, if you're not exceptionally competent with a gun, master it before you leave your home country, for sake of the animal and those you hunt with.
Stay away from grey practices
such as canned lion hunting - when people realize you shot a drugged animal after wounding it three times, you just going to embarrass yourself.
There are numerous hunting lodges within easy access of international travel and are normally located close to tourist areas. The quality of accommodation varies and cost is affected by what you hunt.
Stay safe
The people of Southern Africa tend to be friendly and helpful, but unemployment is high and thus a lot of opportunistic theft happens. Violent crime is common in certain cities or regions, please check each country before going.
Some basic safety tips include:
Do not leave items visible in cars.
Park in secure areas, parking lots with security or visible guards.
Avoid leaving possessions unattended.
Stay healthy
Water
Depending on the country you are visiting, tap water might not always be safe to drink. Consult the page for the relevant country and check with locals when in doubt, especially outside of cities.
Sunburn
Many activities in
Southern Africa
will be outdoors, see the
sunburn and sun protection
travel topic for tips on how to protect yourself.
HIV and AIDS
Southern Africa has a very high HIV infection rate.
Malaria
There might be a risk of contracting
Malaria
in many areas in the region.
See the
Malaria
and
Mosquitoes
travel topics for more information.
Yellow Fever
In practice,
yellow fever
is not a problem in Zambia anymore, except perhaps in the extreme west along the Congolese borders. However, many countries will insist on a yellow fever vaccination certificate if they find out you've been to Zambia, so it's best to get a jab at least 10-14 days before arriving.
Other
Typhoid, Hepatitis A, Diphtheria are advised for most of Southern African countries.
Other less common vaccinations maybe advised for certain countries, depending on region and duration of stay.
Please consult a travel doctor before leaving.