Southern Highlands (New South Wales)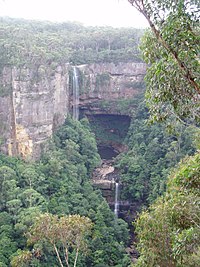 The
Southern Highlands
is located south west of
Sydney
in
New South Wales
,
Australia
.
Towns
Several towns in the southern highlands have a choice of accommodation, restaurants, large variety of services.
- largest town in the region
- in the foothills of South West Sydney
An effective suburb of the nation's capital Canberra, but part of New South Wales
Smaller Towns and Villages
Smaller towns and villages offer general stores, cafes, and other local attractions.
Understand
The Southern Highlands is within commuting distance of
Sydney
and is popular for weekends away from Sydney. It is a cooler climate than Sydney. It has more identifiable seasons than Sydney, with a cooler spring, and leaves falling in Autumn.
Get in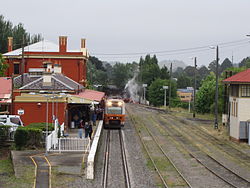 The district can be reached by train from Sydney and by car via the Hume Highway. Allow 80 minutes to travel by car from Sydney to
Bowral
unless driving on a weekday afternoon when an additional 30-45 minutes will be needed. Friday afternoon traffic can be particularly bad.
Get around
By car
Private car is the easiest way to travel around the villages of the Southern Highlands.
By bicycle
Cycling around the many country lanes and national parks can be a pleasant way to see the area. Moss Vale and Bowral are linked by a pleasant cycleway by the river. Mittagong to Bowral is more problematic, with the highspeed four lane road being the only route past Mt Gibraltar without going over it!
By public transport
The region has a taxi service and a local bus company , which also connects to
Nowra
allowing access to the
South Coast
.
See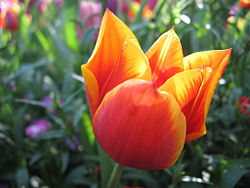 The Morton National Park has view, waterfalls, cliffs, bushwalks, and picnic and cycling opportunities access the park at Bundanoon, Tallong and Fitzroy Falls. The Macquarie Pass National park waterfalls, views, and more bushwalking and cycling opportunities. Access the National Park from Robertson.
Flower gardens at Bowral
Do
Cricket tragics can't miss the Bradman Museum attached to Bradman Oval in Bowral. A walking tour of Bowral starting at the museum passes a number of historic sites connected with Sir Donald Bradman .
Eat
Most of the small towns of the Southern Highlands have cafes or small restaurants. A more extensive choice of restaurants is in the major towns at
Bowral
,
Mittagong
,
Moss Vale
,
Bundanoon
and
Berrima
.
There are also several wineries in the area which serve food.
Short diversions off the main freeway from
Sydney
can give a much more pleasant and tasty place to eat than the highway services.
address: 85 George St, Marulan

The only cafe on the 150º meridian. Highly recommended, lovely food, great for a half-way stop between Sydney and Canberra or vice-versa (and much better than the fast food services). Restaurant food serves local produce and wines, menu changes often depending on seasonal produce.
Drink
Sleep
Stay safe
The southern highlands is generally a safe area. Beware of some alcohol fueled violence in the larger towns, like
Moss Vale
. Many of the roads in the area can be narrow and sometimes unsealed. There can also be cyclists and pedestrians walking on the roads.
Go next
If you are travelling from
Sydney
you have made it half way to
Canberra
. It is only a short drive down the freeway to
Goulburn
.
If you are travelling on to
Sydney
, consider taking the Illawarra Highway from
Moss Vale
over the Macquarie Pass via
Robertson
and
Wollongong
, with spectacular winding mountain roads, and coastal views, and only adding 30 minutes or so to the trip to
Sydney
.