Split
Split
is a city in Central
Dalmatia
,
Croatia
, and the seat of the
Split-Dalmatia
county. The city was built around the Diocletian palace (a palace/fort built for the retired Roman emperor Diocletian) where the locals sought refuge centuries ago.
Wandering the historic centre of Split you can still clearly see the Roman walls, squares, and temples.
Understand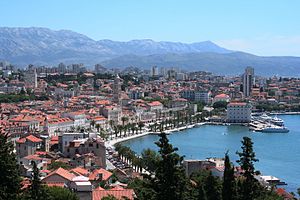 Because of its ideal climate, with 2,800 hours of sunlight each year, local people have a few nicknames for Split: "The most beautiful city in the world" and "Mediterranean flower". Many famous Croatian sports people were born in Split, so locals often nicknamed their city "The sportiest city in the world". The most popular sport institution is the football club Hajduk. Large portions of the city are painted with the club's colors and logo. This is done by Torcida, the oldest supporters group in Europe, established in 1950.
Besides the bell tower of St. Duje, the symbols of city are the Dalmatian dog and a donkey. Locals have a high regard for the donkey because of its past indispensable place in field work and transport across the Dalmatian mountains.
Winters in Split are generally mild, with temperatures above 0°C, but despite the popular saying that the city experiences snowfall once every 30 years, there is actually at least one snowy day nearly every winter, usually in January or early February. If you find yourself in Split on a day with significant snowfall, expect serious traffic disruption.
Tourist information
address: Obala Hrv. narodnog preporoda 9

TIC Peristil

address: Peristil bb
Get in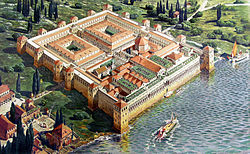 By plane
Zračna luka SplitMost flights are budget and charter airlines bringing in holiday-makers, highly seasonal. Destinations include Amsterdam, Athens, Barcelona, Belgrade, Berlin SXF & TXL, Cologne, Copenhagen, Dublin, Düsseldorf, Frankfurt, Geneva, Glasgow, Gothenburg, Hamburg, Hannover, Helsinki, Katowice, Leeds-Bradford, London LCY LGW LHR Luton & Stansted, Lyon, Madrid, Marseille, Milan MXP, Moscow SVO, Munich, Nantes, Naples, Nice, Oslo, Paris CDG & Orly, Prague, Rome FCO, Stockholm ARN, Toulouse, Venice, Vienna, Warsaw and Zürich. There are domestic flights to Dubrovnik, Zagreb, Pula, Rijeka and Osijek. Enter from the large bus park into the ground floor check-in area next to Arrivals. Go to the first floor for departures; this has a cafe and limited seating, but there's a much larger ground-side seating area and cafe on the second floor. From the first floor go through security and you enter seating for domestic Gates 1 & 2, often empty but with no other facilities. For all international flights go through passport control (Croatia remains non-Schengen) to the open-plan Gates 3-10, with cafes and shops. A coffee costs 16 kn ground-side and 26 kn air-side, which shows what a bargain their "duty-free" prices are. There's free WiFi internet.
Ground transport
To Split: the Airport Shuttle Bus runs at least hourly between the airport and inter-city bus station, taking 30 min. From town it runs 05:00-21:00, into town it runs 07:30-23:00. One-way fare is 30 kn - that's about €5, which they're unlikely to accept.
Bus 37 plies every 30 min 04:00-00:00 between Trogir, the airport, and Split's local bus station Sukoišan; it doesn't run to the inter-city station. The bus stops are just outside the airport, walk south out of the parking lot onto the highway Cesta Dr. Franje Tuđmana. The stop on the near side is westbound for Trogir, which takes 10 min, fare 13 kn; the opposite-side stop is eastbound via Kaštel Stari and Solin to Split, taking 50 min, fare 17 kn. Just pay the driver, definitely not with euros.
Further north towards Šibenik, Zadar and Rijeka, buses fly past on the main highway and don't call at the airport, but they do call at nearby Trogir every hour or so. So you can save some time and money by taking transport to Trogir rather than doubling back via Split. In July and August only, there's a direct bus between the airport and Šibenik every couple of hours, taking almost 3 hours.
Going south towards Makarska and Dubrovnik, simply head for Split and change. For the islands, most ferries sail from Spilt, but those for the Drvenik isles sail from Trogir.
Taxi: the taxi stand is just left as you exit the terminal. To Split reckon 350 kn, 30 minutes; to Trogir 100 kn.
By bus
Most international services to Split involve a change of buses in Zagreb, but
Flixbus
have direct buses from
Vienna
(11 hr),
Munich
(13 hr) and
Mostar
(4 hr).
Croatian inter-city buses run north to
Sibenik
,
Zadar
,
Rijeka
and
Zagreb
, and south to
Makarska
and (via
Neum
in Bosnia & Herzegovina) to
Dubrovnik
.
The long-distance bus station, is next to the railway station and ferry port. It has ticket offices, toilets, left luggage and indoor seating; outside on the quay are lots of little cafes and kiosks. A scrummage of grannies with signs "Sobe / Rooms" will mob arriving backpackers, but they'll only acknowledge places that pay them commission. Those that don't pay, eg Al's Hostel, they'll claim don't exist.
The airport bus runs to this station, but most local services (eg west through Solin to Trogir) depart instead from the local bus station 1 km north, see "Get around".
By boat
Cruise ships, long distance and short-run ferries all dock at the
passenger port
next to the bus & railway stations. Ferries run three times a week across the Adriatic to and from
Ancona
and
Pescara
(
Italy
). There is also a large ferry that runs twice a week up and down the coast between
Dubrovnik
and
Rijeka
, stopping off at a couple of islands along the way. Split is the main hub for local boats and hydrofoils in Central
Dalmatia
. Several a day run to and from
Brac
,
Hvar
,
Solta
,
Vis
,
Korčula
and Lastovo.
The major operators here are:
Jadrolinija. State-owned sea shipping company. They have regular lines connecting the Croatian shore to its islands and with Italy.
By train
Trains
run to Split from
Zagreb
once daily (with a second train mid-summer) taking six hours, and once overnight. Zagreb has trains from Vienna and Budapest, and connections across the rest of Europe.
From
Rijeka
(which has trains from Zagreb, Ljubljana and elsewhere) there is one daytime and one overnight service changing at Ostarije, seven hours.
From
Šibenik
there are five services changing at Perković, taking a couple of hours.
The
main railway station
(Kolodvor Split) is next to the bus station and ship terminals. The station is grubby and basic but has left luggage.
Many of these trains also stop at Split Predgrađe station in the north of the city.
Get around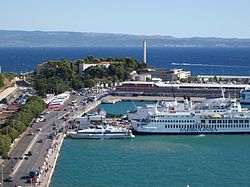 Central Split is quite compact and most sights can be easily seen and best experienced on foot, but there are frequent local buses to outlying attractions and the airport.
By bus
Public transport is run by
Promet
. Most of the city buses in Split are new, but some are very old and dilapidated. The station for town and local buses is - these don't use the main station 1 km south by the harbour. To transfer between stations use Bus 9 / 10 or just walk.
Split city is Fare Zone 1 (11 kn), Solin and the burbs are Zone 2 (13 kn), the airport is Zone 3 (17 kn), while Trogir to the west and Omiš to the south are Zone 4 (21 kn); cash only, plus 5 kn per big bag. Two-way tickets cost 17 kn, but you have to buy them in blocks of 5 or 10 from a kiosk. A one-month ticket is 290 kn.
Local buses you might use are Bus 37 to the airport and Trogir described earlier, and Bus 60 to Omiš and Ravnicki Most which runs every 30 min. Long-distance buses from the inter-city station also pass through Omiš en route to Makarska.
By bike
Rent a bike and enjoy beautiful biking along Split's waterfront (Riva), continue to Marjan hill (approximately 7 km), climb to the top of the hill for great view on the Split town and surrounding islands. You can bike to the east side, along the coast to nearby village of Stobrec. Another great option from Split is to take a day tour to nearby islands of Solta, Brac, Hvar or Vis. You can take the bike on a regular ferry (they leave approximately every couple of hours in the summer season) and bike along quite roads and charming villages, explore great beaches and restaurants and return in the evening to Split!
Older but rideable mountain bikes are available for 15 kn/hour (March 2012) at the northern entrance to Marjan hill (near Mandalinski put).
By boat
Speed taxi boat is an excellent solution for fast transportation of passengers on whole Adriatic. Said service is available trough
Dalmatia-express
for direct transportation from airport Split to Split Riva or from Split Riva to Dalmatia islands.
If you don't know how to sail, there are a few companies that offer skippered charters in the area. If you are seeking something affordable,
Antlos
enables you to book boat holidays with local Skippers that offer trips around Split's coastline and visits to the neighbouring islands and if you're looking for something upmarket, there are many superyacht charter agencies such as
Burgess Yachts
,
Navis Yacht Charter
and
Camper and Nicholsons
.
By train
A suburban train uses the main line from Split as far west as Kaštel Stari. It doesn't reach the airport: they've announced an extension there by 2025, but have yet to identify funding so it's probably more like 2035.
See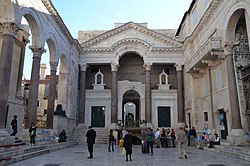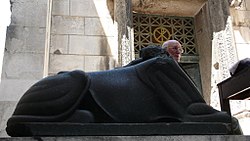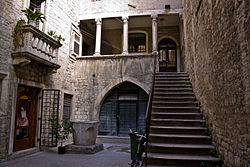 Diocletian's Palace
The historic centre of Split is built around the remains of this Roman palace. You only need to wander around to experience it but you can also pay to visit the excavated remains of the basement of the palace. The palace has well preserved main streets
cardo
and
decumanus
. Roman palace is enriched with some gothic and reinassance buildings which makes a perfect match. Palace has 4 monumental gates
Porta Aurea
(Zlatna vrata, Golden gate),
Porta Argenta
(Srebrna vrata, Silver gate),
Porta Ferrea
(Željezna vrata, Iron gate) and
Porta Aenea
(Mjedena vrata). It is probably the best preserved Roman palace in the world.
PeristyliumMain square of Diocletian's palace with well preserved Roman architecture.

Katedrala sv. DujeBuilt around 305 AD as a mausoleum of Roman emperor Diocletian's (the oldest cathedral building in the world). The cathedral is also a very beautiful mixture of Roman temple and Catholic church. It also has a beautiful belltower which provides you a great panoramic view of Split, nearby islands and Marjan hill.

St. Duje's bell towerBeautiful belltower which provides you a great panoramic view of Split, nearby islands and Marjan hill.

Jupiter templeAncient Roman temple which became St. John's church.

Getski vrtal

address: Ul. Dominisova

is the smallest park in Split, situated in the Diocletian's palace at the Dominisova street (Marko Antonio De Dominis street). In that park are beautiful traditional Dalmatian tiramolas. During the summer these are full of clothes drying in the sunshine. In every guidebook about Split you have pictures from the Getski vrtal. It is the location of a 500-year-old stone house which was destroyed during World War II.
Two original Egyptian sphinxes- One is located on Peristil square, and the other in front of Jupiter's temple or St. John's church. They were brought from Egypt by Roman emperor Diocletian.

Basement halls of Diocletian's PalaceExceptionally well preserved substructure of Diocletian's Palace now open as a museum. One of the locations in Game of Thrones.
Beyond the Diocletian's Palace
Riva is the main city promenade. Since 2007, Riva has a new, modern appearance, which isn't up to the taste of some who used to it's authentic look.
Marjan - a hill situated on the west of Split. Marjan is an oasis for many people who look for a natural stress relief, a great place for long walks, jogging, and bike rides. Marjan's peak, Telegrin is 174 m high and gives a wonderful panoramic view of Split. South cliffs are popular within alpine climbers. St. Nicholas church is situated on the east of Marjan, on its south side are beautiful St. Jeronimus church and "Gospe od Betlema" church (Madonna of Betlehem). House building is strictly forbidden in order to save Marjan - the lungs of Split.
Varoš - one of the oldest parts of town. A place where most of the city peasants and fishermen lived. Charming streets and beautiful small houses.

Galerija MeštrovićThe gallery contains works of Ivan Meštrović, famous Croatian sculptor.

Archaeological MuseumThe oldest museum in Croatia (1820), about 20 min walk north of the old town (entry 20 kn). Many artifacts and monuments from Roman colonies Salona and Narona.

Old graveyardsSustipan and old Jewish cemetery
Do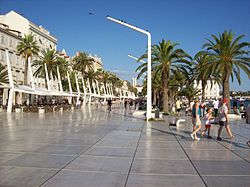 Split city beachIf you have a longer stop-over in Split, 5 mins south of the passenger terminal and the train and bus stations lies Split's city beach where you can take a plunge in the Adriatic.

Sunbathe and swim on the beach at Bačvice. To reach this beach walk south along the waterfront from the bus station and then follow the road that crosses the railway line. There are many cafes and places to eat ice cream. This is certainly not the best beach in Croatia (it is packed solid most of summer), but it will give you a feeling of 'real' Croatia as the vast majority of people who go there are from Split. There are also beaches around hill Marjan. Most popular are Kaštelet, Kašjuni and beautiful pine forest beach Bene. On Bene beach there is a restaurant and a recreation centre. Bus No. 12 travels there.
Climb the campanile bell tower next to the palace mausoleum. The stairs cling to the inside of the tower, and in places the steps cross the large open window spaces. The ascent is certainly not for those with vertigo, but the views from the top are marvelous. It costs 10 kn to go up the bell tower.
The historic core of Split with Diocletian palace is among the first urban complexes to enter the list of the UNESCO world heritage in year 1979. Most probably this one of a kind Imperial Palace was built from 298-305 AD and is one of the most significant original structures of the period mostly because so much of it has been preserved. Later this Palace contributed to the broadening of the town because as the city evolved beyond its walls. The unique substructure halls were newley explored and each year more of them are opened to the public. Some have fascinating artefacts on display. May - Oct 10:00-19:00. Nov-Apr, opens at 11:00, duration 90 min. In English language. Starts in front of the tourist info centre, please arrive 15 min before tour is due to commence.

Green Market (Pazar)Split's Pazar is the place to go for a variety of wares such as fruits and veggies, clothing and other odds and ends. Lots of local colour and excitement.

Picigin

address: Bačvice

Traditional beach game with a small ball (Bačvice beach). In summer every year there is a world championship in picigin.

Grgur NinskiIt is said that if you touch the big toe of the statue and make a wish your wish will come true.

Watch football ie soccer at

address: Stadion Poljud, Osmih mediteranskih igara

They play in Prva HNL, the top tier of football in Croatia; indeed they've never been out of it, and have won it several times. Their home ground of Poljud stadium (capacity 34,000) is 1 km north of the main bus station, harbour and old city. Don't go for the cheapest seats as these are in the north stand, the Torcida bastion of home fanatics.
Seabob. Explore some beaches above or below water with a SEABOB.
Sailing
There are lots of companies running boats, such as Busabout, Topdeck and Contiki.
The majority of sailing charters start from the city of Split. There are many charter agencies where you can charter a sailing or motor yacht which are based in Split. Most of them operate from ACI marina Split, marina Zenta or marina Spinut. There are also many charter agencies based in marina Kastela which is based in the vicinity of Split.
When you charter a yacht through a charter agency and arrive to the designated marina there are a few things that need to be done.
The most important thing is the yacht check in (usually Saturday around 16:00). Take your time doing yacht check in. Familiarise yourself with the chartered yacht and with the yacht equipment. The rule of thumb is the more time you take for the yacht check in, the less time you will need for the yacht check out.
After that you have to do the shopping for the charter vacation. Don't neglect the groceries shopping because the sea is unpredictable and you don't want to get stuck on the boat without sufficient provisions of food and drink.
You can do the shopping in a marina although the prices are usually much higher there, or you can order from yacht provisioning services who usually deliver the products to the marina at no extra fee. In
Jam Yacht Supply
offer an online provisioning catalogue and you can order from a large selection of groceries and other products months in advance, everything you order awaits for you at the marina.
Buy
Pazar

address: Stari Pazar 2

Green market with perfect fruit, vegetables and more. The best time to visit the market is Saturday morning.

Ribarnica

address: Obrov 2

Fish market.

MarmontovaShopping street in the centre.
Shopping malls
address: Vukovarska 207

Opened in 2010. 3 floors (5 garage levels) and Cineplexx cinema.
Joker Put Brodarice 6. Opened in 2007. 50 shops on 4 floors with Tommy supermarket, DM, Hervis sports shop, Deichmann and a McDonalds. 15-20 min walk from the city center with buses stopping near the front of the centre. There is a cinema on the first floor. The top floor has fitness club, restaurant and a sky bar with an outdoor swimming pool.
Eat
The most famous local delicacy is
Soparnik
. It originates from nearby Poljica region (formerly known as
Poljička Republika
or
Republic of Poljica
in the Middle Ages). It is a dough filled with chard and baked in the fireplace. On top comes olive oil and garlic. You can find it on
Pazar
(green market).
Italian influences dominate on Croatia's coast, amongst the best are; Risotto with tender white scampi or black calamari, a dish beloved by all Croatians. A wide selection of salumi, magnificent Istrian and Dalmatian hams (
Dalmatinski pršut
- comparable to Parma or Speck) and cheese from the island of Pag are well worth trying, as are the large varieties of excellent Croatian wines and beers.
Do not miss Dalmatian
pašticada s njokama
(Gnocchi).
Please note; in a world suffocating under the weight of processed foods, Croatia's coastal cuisine is unique in that most of its produce is organic.
Ćevapi or Ćevapčići (diminutive), are small grilled rolls of minced beef, pork, or lamb, or a combination of any of these three. Usually served with chopped onions, Kajmak (similar to clotted cream) or Ajvar (a relish made from bell peppers, aubergines, garlic and chilli). Ćevapi are traditional Bosnian dish and they are popular across the Balkans.
Split's eateries are to be found in a variety of settings, ranging from the romantic to the vibrant. It isn't difficult to enjoy superb food and wine in a classical environment with good friends and/or family.
Plenty of fast food joints between the Old Town and the bus station.
Nostromo

address: Kraj Svete Marije 10

Good seafood and salad in a rather smoky ambience with friendly service.

Kod Joze

phone: +385 21 347 397

address: Sredmanuska 4

The traditional family-run konoba serves tasty dishes in style. Prices very reasonable considering the quality and atmosphere.

Panchos

address: Nepotova 3

Good Mexican place in the land of cevapcici. Staff is friendly, the place is nice, but a bit small.

Buffet Picaferaj

address: popovica 2

Small side street restaurant run by a young married couple, incredible food at a very fair price. Pasta with prawns and mussels is 70 kn.

Fino Friško

address: Čulića dvori 2

Because of its proximity to school, this bakery always has fresh and tasty food.

Mala kuća

address: Domovinskog rata 27d, Put firula 39

Fast food with delicious marinated chicken grill sandwich (20 kn).

address: Pojišanska b.b., Šetalište Ivana Meštrovića b.b.

The most popular fast food in Split with great pizzeta (small pizza, 10 kn) and very big ham sandwich (14 kn).

Pizzeria Bakra

address: Radovanova 2

Definitely one of the best pizza in town, baked on fireplace.

Biser Orijenta

address: Bihaćka 2a (top floor of Lavčević building)

Good "European Chinese" cuisine. Not too popular among the locals, but the prices are fair and the service is friendly.

Konoba Marjan

phone: +385 98 9346848

address: Senjska, 1

Risottos, pasticada (marinaded veal cooked in sauce), and excellent fish. Prices are very reasonable and the staff very friendly. English spoken.

Fife

address: Trumbiceva obala 11

Lively and busy restaurant with lots of seating and deliciously large Croatian dishes.

Kod Sfinge Vanevropske Zviri

phone: +385 99 443 8666

address: Ulica Kraj Svetog Ivana 2

A Konoba/Trattoria. Good Dalmatian specialties: Pašticada, Paški sir, etc. Also proposes good seafood catch of the day, but sometimes unavailable. Seems to be operated by a single family: The waiters knows very well the menu!
Drink
Dalmatia is well known for its world class wines, but when in Split it is a must to try soda drinks called
Pipi
and
Orela
, produced by local beverage manufacturer
Dalmacijavino
.
Lots of outdoor cafés are to be found along the Riva seafront.
St RivaHas an upper story that overlooks the promenade.

phone: +385 95 896 1199

address: Poljana Stare Gimnazije 1

The beachhead of craft cocktails in Split, with a selection of craft beers as well. Run by US expat, Tristan.

Shook

address: Mihovilova sirina 4

Chill out cafe/bar with electronic beat in a busy passageway.

Gaga BarCosy atmosphere, long list of cocktails, latin music. Ask for a bill, because one round is 100 kn, and then second one (the same one) may be 150 kn. Atmosphere is nice, but the waiters are not. More tourists than locals.
Nightclubs
There are many clubs on
Bačvice
beach
address: Poljudsko šetalište b.b.

Fancy place by the swimming pool with popular domestic and foreign music.

address: VIII Mediteranskih igara 5

Extremely fancy club.
Sleep

There is a wide variety of private accommodation available in Split, as well as a few hostels. Some of the best prices can probably be obtained by going to the bus station or ferry terminal and haggling with the many people there offering accommodation - even fairly late at night, there are still many people offering beds.

Budget
Mid-range
Splurge
Out of town
Stay safe
Do not go to striptease bars because they are a tourist trap.
Dentist
Split-Dent Dental treatment, visitors to the city are welcome.
Connect
Internet access
There are internet cafés in the old centre of the city
Internet club Net Com P. Grgura Ninskog 9, . Internet and international calls.
Smokvina Travel Majstora Jurja 3.
There are several more Internet cafés by the harbour just north of the train station. One provides Ubuntu Linux.
phone: +385 21 345 014

17 computers, connection speed: 1.5 Mbit, printing b/w, camera to CD/usb transfer, call centre, international calling cards, rent-a-bike, luggage storage.
There is free internet via WiFi in the People's Square next to the Lacoste store. Search for "Split Hotspot"
Go next