St. John's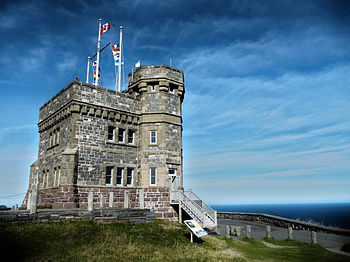 St. John's
is the capital of
Newfoundland and Labrador
,
Canada
. It is the oldest city in North America and is located on the Avalon Peninsula in the southeast corner of the island of Newfoundland. The city is the easternmost point on the
Trans-Canada Highway
, a network of roads leading more than 8000 km westward to
Victoria
,
British Columbia
.
With just above 200,000 citizens, the metropolitan area is the second largest in
Atlantic Canada
, behind
Halifax
.
Understand
John Cabot was believed to have sailed into the harbour on June 24, 1494 - the feast day of John the Baptist, for whom St. John's Harbour is named. The first year-round settlement was not long after 1630, although a seasonal fishery operated in the region long before then. Sir Humphrey Gilbert claimed the area as England's first overseas colony on 5 August 1583 under Royal Charter of Queen Elizabeth I. Fishermen from England's West Country controlled most of Newfoundland's east coast by 1620. Fortifications were installed from 1670 onward to defend the city, against the Dutch and then against the French—both of whom had briefly captured the town at one time or another.
When Newfoundland became a self-governing dominion within the British Empire in 1907 (a status similar to that of
New Zealand
), St. John's was its national capital. Confederation with the Dominion of
Canada
in 1949 demoted the city to provincial capital status; by then, Newfoundland had fought in two world wars.
With a location 2100 km (1339 miles) northeast of
Toronto
, St. John's is closer to
Dublin
than Vancouver. It is the most easternly urban settlement in North America and is 3½ hours behind Greenwich Mean Time. Vancouver on the west coast of Canada is 8 hours behind GMT.
Get in
By plane
You can reach downtown by public bus No. 14 on weekdays only, buses leave roughly hourly from 6:45AM to 7:15PM to the campus of Memorial University, where connections to various downtown buses are available.
By car
St John's is the easternmost point on
Trans-Canada Highway
1, the main road across Newfoundland. If you splash loudly into the
Atlantic Ocean
, you'll know you've gone past the city.
Traffic arriving from out-of-province normally crosses by ferry from
North Sydney (Nova Scotia)
to either
Port-aux-Basques
or
Argentia
, then follows TCH 1 east to town. (It's also possible to cross from
Labrador
via a ferry at
Blanc-Sablon
Québec, but the
Trans-Labrador Highway
to
Quebec Route 389
in
Labrador City
-
Fermont
is no easy journey.)
By boat
The island portion of the province is accessible by several ferries leaving North Sydney,
Nova Scotia
. From there, you can take a 5 to 6 hour ferry ride to
Port-aux-Basques
, at the southwest corner of Newfoundland, and drive 905 km across the island to St. John's, near its eastern tip.
From mid-June through September, you can take a 14-17 hour ferry ride from North Sydney, Nova Scotia, to
Argentia
, Newfoundland, which is 131 km from St. John's. Ferry schedules and reservation information are available from
Marine Atlantic
. You should make a reservation well in advance, especially if you want a cabin on an overnight crossing. Marine Atlantic ferries offer a wide variety of on board accommodations and features, including deluxe cabins, dormitory sleepers, full meal and beverage service, live entertainment, movies, and children's activity programs.
By bus
phone: +1 709 263-2171

Connects Port-Aux-Basques to St. John's.

New Hook Bus Lines

phone: +1 709 426-4876

Connects Argentia to St. John's.
Get around
By bus
St. John's public transit system, Metrobus, serves nearly all of St. John's, the neighbourhoods of Shea Heights, Kilbride and the Goulds, and the neighbouring city of
Mount Pearl
. The fare is $2.50 per ride (adults and seniors, Jan 2017), and not per distance, making it a very cheap, affordable way of getting around town. A ten-ride pass is $22.50 for adults, $18.00 for seniors. Most, if not all, of the bus drivers are kind and courteous and are willing to give directions. Travellers can check routes and even the current position of any bus on the Metrobus online .
By car
St. John's is a driver-friendly city, although the road layout is haphazard and a map or GPS is
de rigueur
for visitors. Except for the Downtown centre, parking is almost always abundant and traffic jams are non-existent. The downtown area contains many one-way streets so it is important to watch for signs.
St. John's International Airport has the following car rental agencies: Hertz, Avis, Thrifty, Budget, and National. In the city you can also find Enterprise, Discount, and Rent-A-Wreck. Book rental cars early for travel during the peak summer months. Executive Car Service is also available for chauffeured car rentals and tours from several providers such as Black Car Service, Corporate Concierge and Jimmy's Sedan Service.
By foot
The Downtown core can be easily explored by foot. Take a stroll up Water Street, stop for a drink or take in some live music at a wide range of drinking establishments, a wide range of restaurants, and distinctive shopping.
George Street, just above Water at the west end of the downtown core, near City Hall and the Convention Centre, is a concentration of nightclubs, taverns, restaurants that is typically busy any night of the week, with bar patrons spilling onto many patios and onto the street. Adjacent streets such as Duckworth Street also have interesting shopping and restaurants, and there are a number of (liquor-licensed) billiards halls.
By bicycle
Be warned, St. John's rivals San Francisco with its notorious sloping hills. Unless you're in the mood to challenge gravity, renting a bicycle is probably not the best idea.
By taxi
St. John's issues over 300 taxi licences, and many of the cab drivers are quite knowledgeable and eager to help visitors find out about local attractions. If you want to see something but aren't sure what or where, ask a cabbie for a tour of the city or Cape Spear, the easternmost point in Canada.
See
Signal HillMajestically overlooking the city and designated as a National Historic Site. The hill was the last stand of the French army in North America during the Seven Years War. Cabot Tower, built in 1897, stand as the top today. The first wireless transatlantic message was received there in 1901.

The BatterySmall village on the edge of the downtown where small houses are framed by the sheer cliffs. The village was once part of the British Defence for the St. John's Harbour. A trail leads from the end of the Battery around the cliffs and up to Signal Hill.

phone: +1 709 364-1531

address: 305 Waterford Bridge Rd

A beautiful 20-ha (50-acre) park with duck ponds, bridges, walking trails, tennis courts, playground equipment, an outdoor pool and many monuments.

Memorial University's Botanical Garden

phone: +1 709 864-8590

address: 306 Mt Scio Rd

Fort Amherst

address: Fort Amherst Rd

A lighthouse and World War II military fortification. Located across "The Narrows" on the opposite side of the harbour from Signal Hill. Offers unique views of the city and Cape Spear.

phone: +1 709 757-8090

address: 9 Bonaventure Ave

the major cultural centre at Fort Townsend for Newfoundland & Labrador. The building has become one of prominence (and controversy) rivalling that of the Basilica. The Rooms contain the Newfoundland Museum, Provincial Archives, and Art Gallery. From the upper floor you can get an unrivalled view of the area. For the cheap, there is free admission on W 7-9PM.

address: Military Rd & Bannerman Rd

The Colonial Building is a neoclassical building constructed of white limestone brought from Cork, Ireland. Opened in the 1850s, it was the seat of Newfoundland's legislature until 1959.

Commissariat House, Provincial Historic Site

phone: +1 709 729-6730

address: 11 Kings Bridge Rd

The commissariat procured supplies for the local military in 19th century. The first commissariat had a house built to provide a residence as well as a staffed public office. The rooms on display are furnished with many antiques circa 1830. A narrated guided tour is provided.

phone: +1 709 729-1137

address: 309 Duckworth St

The Court House, built in 1901, is a Victorian-era building built of local granite and sandstone. The building extends between Duckworth and Water streets, and has an interesting façade on each of the two streets.

phone: +1 709 729-2669

address: Military Road

Government House contains the official residence of the Lieutenant Governor of Newfoundland and Labrador, and is situated within a park with flower beds.and blossoming trees. As well as visiting the gardens, the public may go within the main entrance of Government House to sign a guest book and pick up a free postcard. (The main entrance of the building is at the rear on its north side; bypass the side entrance on its west side.)

phone: +1 709 724-5929

address: 495 Water St

The museum has various exhibits about rail and coastal shipping located in the original 1903 Riverhead Railway Station. The museum contains dioramas of passenger car interiors built into the dismantled passenger car bodies. Outside, south across the street from the museum, a locomotive and two carriages are on display in a small park. Behind the museum at its NE corner, the shop building of the Newfoundland Railway still stands without any tracks; although closed to the public, the shop front can be viewed from a public area.

phone: +1 709 739-1882

address: 72 Harbour Dr

Contemporary art from Canada and the province.

phone: +1 709 754-3474

address: 5 Nagles Pl

Scientific exhibits explaining water in relation to rivers, watersheds and ecosystems.

George StreetThis narrow street lined with colourful buildings is the core of St. John's busy nightlife.

phone: +1 709 729-2627

address: 436 Water St

Historic wine vaults, constructed in the late 18th century to age port wine, occupy one of St. John's oldest buildings. Port wine was imported from England, aged in the cellars, and often exported back to England because the sea voyage and Saint John's cool temperature were good for the wine. The front of the building was modernized in the early 20th century; however, the interior is well preserved in its original state. A free sample of port is offered to adult visitors.

address: 1 Water St

A small park containing a bronze sculpture of Terry Fox dipping his foot in the water at the site where in 1980 he began his Marathon of Hope to raise money and awareness for cancer research.

phone: +1 709 737-7880

address: 175 Signal Hill Rd

Historic St. John's Harbour
Churches
Do
phone: +1 709 722-1888

address: Pier 6, 135 Harbour Dr

Enjoy St. John's from the water. See whales, seabirds and icebergs.

The Quidi Vidi Brewing Company

phone: +1 709 738-4040

address: 35 Barrows Rd

Tour the brewery and sample specialty beers.

phone: +1 709 753-4531

address: 3 Victoria St

Performing arts theatre located in a brightly coloured wooden building.

Arts and Culture Centre St. John's

phone: +1 709 729-3900

address: 95 Allandale Rd

Performing arts theatre.

address: Water St at Queens Cove

The park hosts concerts, and features statues of a Newfoundland dog and a Labrador Retriever.

phone: +1 709 737-1077

address: 439 Allandale Rd

The Grand Concourse Authority oversees an extensive collection of walking trails in the city.

address: Military Rd opposite Carew St

This urban park has large grassy areas and a few small flower beds. Near a small bandstand, there is a life-size statue of a girl sitting on a park bench tying her ice skates. A building shaped like a railway station has a BeaverTails stand and a WC.

address: Church Hill

Tour historic St. John's while being regaled with stories of the spooky & strange.

East Coast TrailA cliff side trail along the coast north of Signal Hill. This trail system extends in segments to the north and south for dozens of kilometers.
Learn
The only university in Newfoundland and Labrador is
Memorial University
, located on the northwest side of the city.
Buy
St. John's has two modern shopping centres. The Avalon Mall, the largest shopping centre in Newfoundland, has 140 stores and is on Kenmount Road. The Village Shopping Centre is in the West End on Topsail Road. St. John's also has several big box centres; Stavanger Drive in the east end; Kelsey Drive (off Kenmount Road); and Pearlgate located in the suburb of Mount Pearl.
Downtown St. John's boasts a wide array of shops and boutiques, most notably
Water Street
. Everything from unique souvenirs to designer clothing.
Unlike most provinces in Canada, cold beer can be purchased in convenience stores.
Groceries
phone: +1 709 726-2242

address: 8 Merrymeeting Road

Sells groceries.

phone: +1 709 579-0133

address: 260 Blackmarsh Road

Sells groceries. This chain is known as "Loblaws" elsewhere in Canada.
Clothing
Byron's Clothing For Men

phone: +1 709 753-5555

address: 188 Water St

phone: +1 709 722-6004

address: 179 Water St

Locally made clothing and accessories by Canadian designers.

Couture Studio

phone: +1 709 739-8868

address: 174 Water St

Designer Asian clothing.
Souvenirs
phone: +1 709 738-8284

address: 197 Water St

Travel accessories.

Hempware

phone: +1 709 738-4367

address: 98 Duckworth St

Newfoundland's only hemp product specialty store.

phone: +1 709 722-2970

address: 303 Water St

Local souvenirs and literature.
Eat
Breakfast
Budget
Newfoundlanders will tell you that you can't leave St. John's without having fish and chips at either Ches's or the Big R (known to locals as "the Big Arse"). Local favourite dishes include "chips, dressing and gravy" (french fries and stuffing covered in thick gravy), "fish-and-brewis" (a sort of hard bread), and "cod cheeks" (the cheeks of cod fish, really).


Mid-range
Splurge
Drink
George Street
, in the heart of downtown, is a prime location for nightlife.
Water Street
, said to be the oldest street in North America, also contains several pubs, usually of a more relaxing atmosphere.
phone: +1 709 739-6344

address: 325 Duckworth St

Cosy English style pub with excellent food and good beer.
Sleep
Budget
phone: +1 709 754-4789

address: 8 Gower St and 246 Duckworth St

Dorms and private rooms available. Free WiFi and internet terminals.

Downtown Hostel

phone: +1 709 754-7658, +1 709 746-7161 (cell)

address: 25 Young St
Mid-range
phone: +1 709 351-6660

address: 38 Outer Battery Rd

Restored coastal cottage located in the Battery neighbourhood at Signal Hill.

phone: +1 709 739-7799

address: 10 St. Joseph's Ln

Unique, luxury accommodation located at the base of Signal Hill. Steps to downtown, shopping, restaurants and nightlife. Accommodations in 10 brownstone units each featuring 3 or 4 guest rooms. Rent a guest room or rent a whole house. Includes breakfast, local and long distance calling, parking and internet.

Leaside Manor Suites & Apartments

phone: +1 709 722-0387

address: 39 Topsail Rd

A Heritage Inn offering double Jacuzzi suites with fireplaces, and executive apartments. Leaside Manor's décor, location, and excellent staff make it a great place to relax and celebrate special occasions.

address: 102 Kenmount Rd

Renovated suburban hotel. Near shopping and industrial/business parks

address: 79 Rennies Mill Rd

address: 3 Wadland Cres

An apartment complex featuring 1, 2, and 3 bedroom furnished suites available for daily/weekly rental. All have kitchen, phone, TV, microwave, and stove. Laundry on site. Housekeeping available.

address: 9 Military Rd

McCoubrey Manor Bed & Breakfast

phone: +1 709 722-7577

address: 6-8 Ordnance St

1, 2, 3 bedroom apartments available.

phone: +1 709 754-0058

address: 36 Queen's Rd

phone: +1 709 754-2583

address: 319 Water St

phone: +1 709 722-6636

address: 131 Duckworth St

Has a nice view of the harbour.

phone: +1 709 738-0123

address: 5 Navigator Ave

Quality Hotel

phone: +1 709 754-7788

address: 2 Hill O' Chips

phone: +1 709 738-7432

address: 82 Cochrane St

phone: +1 709 753-7733

address: 21 Military Rd
Splurge
address: 120 New Gower St

New Gower at Barter's Hill. Near George Street, Mile One Stadium and the St. John's Convention Center. For Tim Hortons fans: There is a footbridge behind hotel reception leading to a small Tim Hortons outlet open on weekdays only.

phone: +1 709 753-7926

address: 21 Rennie's Mill Rd

An exceptional 5-star Bed and Breakfast located in a Heritage home in downtown St. John's. Marble en suite baths feature heated floors and therapeutic tubs for two. Extravagant suites are arranged over 6 rooms and offer the ultimate in guest accommodation including en suite baths featuring personal steam/shower rooms and century old tubs carved from granite! A collection of local, national, and international artworks, sculpture and artefacts are exhibited throughout the mansion, and a cosy library offers a selection of books & games.

phone: +1 709 726-4980

address: 115 Cavendish Sq

Offers 301 rooms with free wired and wireless internet use. Newly renovated lobby and lounge. Many rooms feature views of the harbour and downtown.
Cope
Visitors should have clothing for highly variable
weather in Saint John's
. For example, the high for July 5, 2017 was but was more than on the next day.
Stay safe
While St. John's is generally regarded as a safe city, increases in the crime rate have been reported.
Panhandling
is very common in downtown, however simply replying "no" or ignoring those individuals usually does the trick, while a few more may be more persistent. Very rarely will these people become violent, and are usually not a problem.
As in any other city of comparable size, use caution when travelling after dark. Common areas to avoid after dark include Buckmaster Circle, Old and New Penneywell Road, areas immediately around Hamlyn Road, Livingstone Street, Water Street west (Springdale Street west to the beginning of Waterford Bridge Road including Victoria Park) and Shea Heights. Most of these places are not areas which tourists would normally be in, and shouldn't be a huge problem.
Caution should be used when on George Street, especially on Friday and Saturday nights. With excessive drinking and drug use, there is a high tendency for people to turn violent. However, it's unlikely that you'll fall victim to assault if you keep out of trouble. Take caution at 24-hour restaurants and convenience stores across town, especially in the downtown area. Patrons from George Street often stagger into such restaurants after last call and can be violent, sometimes attacking unsuspecting individuals. As well, a rise in armed robberies in the metropolitan area have left 24-hour convenience an easy target for criminals.
However, with crime rates much lower than the national average, little is to fear about walking around St. John's at most times of day or night. With some basic caution, there is no reason why your visit to the city can't be a safe one.
Nearby
Cape Spear
The most easterly point in North America, a drive from St. John's.
Cape Spear National Historic Site

phone: +1 709 772-2191

address: Blackhead Rd, Cape Spear

Great lighthouse on an ocean-facing cliff, with walking trails. Beware! It's 45 m down the cliff face, so heed posted warnings. A man drowned here in 2015; a woman fell off the cliff to her death in 2018.
Petty Harbour
Petty Harbour, about south of town, is a picturesque fishing village and friendly, quiet retreat. From Blackhead Road (which leads from St. John's to Cape Spear), turn south onto Maddox Cove Road.
phone: +1 709 330-3474

address: 35 A Southside Rd, Petty Harbour
Holyrood
About west of the city on the
Trans-Canada Highway
.
phone: +1 709 229-7888

A 3-km nature trail winds through a mixture of wood and wetlands. View animals in their (enclosed) natural habitats. The trail takes about an hour to walk. 65 km from St. John's.
Portugal Cove
A little under west of town on Route 40. A ferry runs from Portugal Cove west to Bell Island.
phone: +1 709 488-2880

address: 13 Compressor Hill, Bell Island
Torbay
Torbay, Logy Bay and Middle Bay are about north of the city, past the airport.
Middle Cove BeachThe closest beach to St. John's. Noted for annual caplin roll in late June.
Go next
Bonavista and its famous lighthouse are further north
Dildo - quiet little fishing town is less than an hour's drive away - go whale watching or check out the archaeological remains of early Indian settlement
Irish Loop - 7-8 hour scenic drive following the southern 'cape' shore (route 10) back to the Trans-Canada Highway. Bay Bulls, one of the closest points to town, is a a small bay east on route 10 which is home to various boat tour companies offering whale, puffin, and iceberg watching.