Stewart Island
Stewart Island
is the third largest island of
New Zealand
after the
South Island
and the
North Island
. It lies 30 km to the south of the South Island, separated from it by Foveaux Strait. With an area of 1,746 km² (674 mi²), it is far smaller than the two main islands, but is nearly twice the size of the next largest island,
Chatham Island
with 920 km² (355 mi²), and far bigger than all the other small islands of the temperate New Zealand archipelago.
Its original Maori name of
Te Punga o Te Waka a Maui
positions Stewart Island firmly at the heart of Maori mythology. Translated as "The Anchor Stone of Maui's Canoe", this refers to the part played by this island in the legend of Maui and his crew who, from their canoe (the South Island), caught and raised the great fish, the North Island. However, the more commonly used name is
Rakiura
. Translated as "The great and deep blushing of Te Rakitamau", an early Maori chief, it is seen today as the glowing sunrises, sunsets and the
aurora australis
or
Southern Lights
.
Understand
Most of the island is covered in native forest and virtually the entire population of about 400 is concentrated in the township of Oban (also known as Halfmoon Bay) on the east coast. Commercial fishing and tourism are the two main occupations for residents. The main attractions for visitors are hiking (called tramping in New Zealand), birdwatching, fishing and deer hunting.
Although Stewart Island looks small on a map next to the South Island, it is large – 64 km long, 40 km across (at its widest point), with a 700 km coastline. But there are only 20 km of roads. You can't walk round the island in a day – even ten days tramping only skirts the northern third. Few people have seen anywhere near the whole of the island.
There is much to see, even close to the only settlement of Oban. Come for a daytrip or stay longer, as there is a good range of accommodation. Some visitors from twenty years ago are still living here.
The terrain is rugged. Stewart Island is made of granite, some of the oldest rock in New Zealand. A wide range of minerals are present, though not in commercial quantities. Tin was mined at Port Pegasus for a few years in the 1890s. There's black iron sand on some beaches, others are white with quartz or red with garnet. Most beaches are gold, sparkling in the sun. Don't bother bringing a gold pan though: it's all "fool's gold"!
Paterson Inlet cuts the Island almost in half. This large expanse of water is popular for boat trips and recreational fishing and diving.
The climate is mild, and a bit damp, but without rain, there wouldn't be a rainforest. The eastern lowlands are forest right to the water's edge. A canopy of kamahi is pierced by majestic rimu and miro. Lianes and lush fern growth adorn the bush interior.
The forest is a haven for bird-life, as there are fewer predators than on the mainland. Kaka, parakeets, tui, and bellbird give a wonderful dawn chorus in spring. New Zealand's national bird, the kiwi, is found all around the island. Seabirds abound offshore. Albatross, petrels, cormorants, gulls and blue penguins are common. Rarer species like yellow-eye penguins are also seen often.
Mason Bay, on the island's west coast is much different. It's a 20 km crescent of sandy beach, with huge sand-hills and tussock and scrub in place of forest. This is the place to watch the white-horses charge ashore in a screaming westerly gale.
Oban Visitor Centre

address: The Red Shed, 12 Elgin Terr

Visitor info, bookings and car, scooter and bike hire.
Get in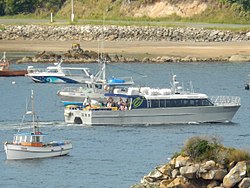 Getting there requires crossing Foveaux Strait from
Southland
by boat or plane.
Stewart Island Experience
runs a scheduled passenger ferry service from
Bluff
, near
Invercargill
, to Oban / Half Moon Bay, with multiple departures during the day (dependent on time of year). The crossing is 22 nautical miles or 39 km and takes one hour. Adult $75 one way, $130 return. Long-stay parking is available at the Bluff terminal. Occasionally other boats, usually charter vessels, make the crossing.
makes three 20-minute flights a day from Invercargill Airport.
Get around
Walk, mostly. All of the 20 kilometres of roads are around Halfmoon Bay, so the island is a hiker's wilderness paradise.
Bus tour
Shuttles, taxi, rental cars, mountain bikes and scooters
Water taxi or charter a fishing or tour boat
Helicopter

Stewart Island Electric Bike Hire

address: 4 Main Rd
See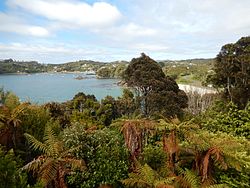 The museum and Department of Conservation (DoC) in Oban both have excellent displays and are open most days.
Stewart Island is one of the best places to view the
aurora australis
or
Southern Lights
, unless you fancy an expensive and uncomfortable sojourn in one of the
New Zealand Subantarctic Islands
. It's not ideally located for this and travellers should not expect a display every night, but the magnetic pole's offset helps, and it's a lot cheaper than taking a boat into Antarctic waters.
Rakiura National Park Visitor Centre

phone: +64 3 219-0009

address: 15 Main Rd

Department of Conservation (DoC) office in Oban, with a small exhibition and information counter.

Rakiura Museum

address: 9 Ayr St

Volunteer-run museum with an interesting historical and nature collection.

Moturau Moana Native GardensA semi park-like area of mostly native garden given to the people by the late Miss Noeline Baker. It is particularly worth visiting if you are not going to explore the native woodland in more detail, and even if you are, the labels on some of the trees may be of interest. Also offers good views looking towards Halfmoon Bay.

Lee Bay chain sculptureA section of giant anchor chain and some interpretation boards by the beach at Lee Bay. The anchor chain reflects Maori legends that Stewart Island acts as an anchor for the great ancestral canoe Te Waka o Aoraki (the South Island). The chain is at the start of the Rakiura Track.
Do
Walking is a popular activity and walks range from a few minutes and easy (Fuchsia Walk) to several days and challenging (Northwest Circuit). There are fishing trips available with a number of operators.
Kiwi spotting
.
Penguins may be seen within the village in the evenings, as are long-tailed bats and occasionally even kiwi. Sooty shearwaters nest on Ackers Point, and can be seen in late evening over the summer.
phone: +64 27 867 9381
address: 10 Main Rd
"A Local's Tail" is a quirky 40 minute movie about Stewart Island produced by Stewart Island Bunkhouse Theatre. Narrated and shown from the eyes of a dog, it gives you a fascinating insight into the Island's history and heritage as well as more up-to-date footage. Don't forget a $2 coin for the popcorn machine and you can purchase a small range of drinks, snacks and ice-cream.
Walking / hiking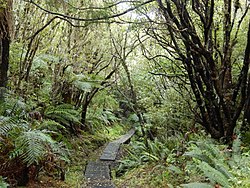 Nature watching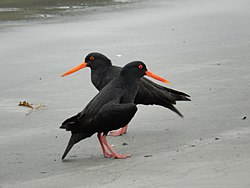 Ulva Island Open Sanctuary
(in relative isolation but with easy access from Stewart Island) is a sanctuary for both birds and plants, holding species that are rare or have died out on the mainland of New Zealand. Partially private land and partially national park, Ulva Island is possibly the closest to pristine of any area of New Zealand open to the public. In 1997, the island was declared rat-free, following an eradication program, and extirpated birds have been reintroduced to the island. The birds include the South Island saddleback (tieke), yellowhead (mohua) and Stewart Island robin (toutouwai). In addition to birds the general forest health has improved significantly. Many orchids can now be seen that are difficult to find on mainland Stewart Island. Water taxis and a ferry service regularly make the short trip from Golden Bay. You can take yourself around Ulva or take a guided tour.
Mason Bay, on the west coast, is possibly the best place in New Zealand (and therefore the world) to see the remarkable flightless kiwi in the wild.
Deer hunting
White-tailed deer may be found in moderate numbers all over Stewart Island/Rakiura. Red deer are found in moderate numbers in the Northwest. Permits are required for all hunting on Stewart Island/Rakiura and must be applied for in advance from the Department of Conservation or the Rakiura Maori Land Trust. Hunting blocks can be booked via the
DOC Website
or the
Rakiura Maori Land Trust
.
Sea kayaking
Diving
Fishing
Buy
Eat
Church Hill Restaurant and Oyster Bar

phone: +64 3 219-1123

address: 36 Kamahi Rd

After a number of years leasing out the restaurant, Deanne has returned and re-established the restaurant, this time with her husband Chris. Try local Southern Glory Oysters, grown and harvested on Stewart Island.

Kai Kart

address: Ayr St.

Caravan serving good fish and chips (and great coleslaw). Some outdoor seats if you don't want to take away.

phone: +64 3 219-1059

address: Elgin Terrace

Open for breakfast, lunch and dinner you have the choice of dining in the restaurant or the bar. During summer hours the kitchen also offers a short cafe menu during the afternoon. Bookings are strongly recommended in the summer months.

Stewart Island Four Square

phone: +64 3 2191 069

address: Elgin Terrace

A fully stocked supermarket is great for people wishing to cater for themselves and they also offer a great range of home-made sandwiches, hot pies, ice-creams etc
Drink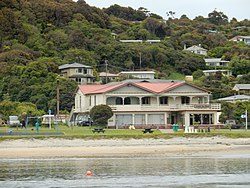 phone: +64 3 219-1059

address: Elgin Terrace

This is the only pub in town and is the hub of the community. Drink prices are reasonable compared to the mainland; in a lot of cases cheaper. The bar has a Happy Hour Tu 17:00–18:30 and bar food is always available, or you can get a meal from the restaurant. Friday night is a great night to meet the locals and listen to their yarns. Sunday night is Quiz Night, starting at 18:30 promptly. It has been featured on TV, radio and in many newspapers. Registrations start at 18:00, but in the summer months the pub fills up rapidly, so it's recommended to go in about an hour before that to get a seat!
Sleep
There are a variety of accommodation options on Stewart Island - ranging from backpackers, motels, and
bed and breakfast
to self catering/contained houses and lodges.
phone: +64 3 219-1160

address: 13 Argyle St

Just 100 m from the beach and pub, there's a comfy lounge with a fire and books, free tea and coffee and barbeque facilities. Locally owned and operated, Bunkers is a member of the BBH network, so bring your card for a discount on your room.

address: 18 Ayr Street

phone: +64 3 219-1252

address: 7-9 Miro Crescent

Nestled amongst native bush and birds. Accommodations range from studio apartments to group bookings for up to 24 people.

phone: +64 3 219-1151

address: 6 Kowhai Lane

All 4 guest rooms are centrally heated and en suite, with shared kitchen, dining and lounge. It has a harbour view.

phone: +64 3 219 1119

address: 9 Dundee St, Halfmoon Bay

Twelve rooms.
Connect
Spark and Vodafone provide mobile phone coverage around Oban.
Free WiFi is available throughout Ayr Street (APNK, password 88 88 88 88), and Elgin Terrace (beachfrontwifi password tokoeka).

Go next
Bluff – if returning to the South Island by boat, you will probably land here
New Zealand Subantarctic Islands – to the south and east (although you wouldn't generally leave from Stewart Island to get to them)
Chatham Islands – if you want to visit more remote and rugged islands, these lie to the east of the South Island (though you wouldn't leave from Stewart Island to get there)