Stirling
Stirling
is a small city in the
Central Belt
of Scotland; it's the county town of
Stirlingshire
. For centuries this was the main route between the Highlands and the Lowlands, guarded by the castle on its battleship of a crag, and with the River Forth sweeping round as a moat. The Scots won two famous victories against the English on the nearby fields, at Stirling Bridge and at Bannockburn. Medieval Scottish rulers made it their residence and capital.
The city limits also include
Bridge of Allan
, the village north of the river which is now the campus for Stirling University, and
Dunblane
further north. They're described on their own pages.
The
TIC
is in the Old Town Jail, on St John St near the castle. It's open daily 10:00-17:00.
Get in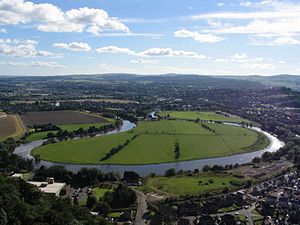 By plane
Edinburgh Airport
EDI
is the nearest, and has a good range of flights domestically, within Europe and beyond. It's 29 miles / 47 km southeast of Stirling, a 30-min drive along the M9 motorway. Or take the bus or tram from the airport to Haymarket station for frequent trains to Stirling.
Glasgow Airport GLA likewise has good domestic and European flights but fewer long-haul. It's also the wrong side of the city for Stirling. By road, follow M8 east then M74 to avoid city centre traffic, then head north on M73 to M80. Or take the airport bus into Glasgow then the train.

By train


Stirling has trains every 30 mins from Glasgow Queen Street, Edinburgh Waverley and Haymarket, and Perth; and hourly from Aberdeen and Dundee. There are trains every 15 mins from Dunblane and hourly from Alloa. From Inverness there's an hourly service, alternately direct or changing at Perth.
From Manchester or Birmingham change in Glasgow. From London, York and Newcastle you usually change in Edinburgh, but there are two direct daytime trains from London King's Cross taking 5 hr 30 min.
Two Caledonian Sleeper trains run overnight from London Euston. The Highland Sleeper, departing around 21:00, calls at Stirling before 05:00 on its way to Inverness; the southbound train picks up shortly after midnight to reach Euston by 08:00. You might prefer to take the Lowland Sleeper north near midnight, changing in Glasgow around 07:00 for a morning train to Stirling; the southbound train leaves Glasgow Central at 23:30 to reach Euston by 07:00.


Stirling stationThe station is central, and staffed throughout its opening hours. A few convenience shops here. Keep your ticket, you need it to exit the barriers.



By bus

First Scotland East Bus X36 runs from Glasgow Buchanan Street to Stirling every 30 mins M-Sat and hourly Sunday, via Cumbernauld and Denny.
Scottish Citylink Bus 909 runs from Edinburgh St Andrew Square every two hours via the airport, Bo'ness, Grangemouth and Falkirk to Stirling (90 mins), with two buses a day extending to the University campus. Buses run M-Sa 07:00-20:00 and at midnight from Edinburgh, 04:30-17:30 from Stirling; only two on Sunday. There's also a slower First Bus 38 between Edinburgh and Stirling via Linlithgow and Falkirk. Other buses link Stirling to Callander, Alloa, and two Saturdays a month to Tyndrum via Lochearnhead and Killin.
The Citylink buses from Glasgow to Aberdeen and Inverness rush past on the M9 and don't call at Stirling. The Megabus from London Victoria leaves at noon (M-Sat) and calls at Birmingham, Manchester, Preston, Lancaster and Glasgow, reaching Stirling just after midnight, and continuing north via Perth and Dundee to Aberdeen. The southbound bus doesn't call at Stirling, travel via Edinburgh or Glasgow.
National Express NX 592 leaves London Victoria every night at 23:00 and runs via Heathrow Airport, Carlisle and Glasgow to reach Stirling at 08:30, continuing to Perth, Dundee and Aberdeen. Change at Perth for the connecting bus to Pitlochry, Aviemore and Inverness. The southbound bus calls at Stirling around 21:00 to reach London by 07:00.

By car

Stirling is on the main A9/M9 route from the central belt of Scotland to the Highlands, some 28 miles (45 km) northeast of Glasgow via M80, and 35 miles (56 km) northwest of Edinburgh via M9. From London and the Midlands it's usually quickest to follow M6, M74 then M73 onto M80.

Get around

To the University 3 miles north by Bridge of Allan: the uni-link Bus UL runs every 30 mins from Stirling bus station direct to the campus. Bus 54 also runs there every 30 mins via Bridge of Allan village.

See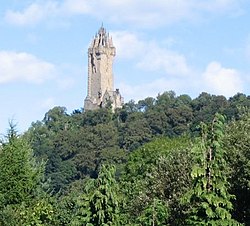 phone: +44 1786 450000

address: Castle Esplanade, Stirling FK8 1EJ

Pocket-sized edition of Edinburgh Castle, similarly poised on a crag with steep cliffs on three sides and tail of glacial rubble. It dates back at least to 12th C, but most of the interior is from 15th & 16th C when James IV, V and VI developed it as a royal residence in Renaissance style. It became an army base in 1800 and remains the HQ of the Argyll and Sutherland Highlanders, though they are nowadays quartered in Edinburgh. Visits take in the Great Hall, the Palace and Chapel Royal, the kitchens, tapestries, vaults, the gardens, and Argyll and Sutherland Highlanders regimental museum. There is limited access for those with restricted mobility, but the "access gallery" gives them a view of the hard-to-reach sections. Argyll's Lodging just outside the castle is normally included in the ticket, but it's closed for building work. Unicorn Cafe inside the castle serves good quality food but is pricey.

phone: +44 1786 450000

address: Castle Wynd

The well-preserved 17th-century town house, erected by the 1st Earl of Stirling, is a fine example of renaissance architecture. In 2019 it's closed for building maintenance, re-opening date not known.

address: St John Street FK8 1ED

Beautiful church dating to 15th C with impressive stained glass; James VI of Scotland was crowned here. See also the adjacent cemetery, where one gravestone depicts an 1822 victim of body-snatching.
Opposite Holy Rude, Mar's Wark is the facade of a 16th C townhouse; that's all that remains.

address: Albert Place / Dumbarton Road FK8 2RQ

Small art gallery, local museum and cafe. Galleries One & Two have rotating exhibitions. "Stirling Story" in Gallery 3 sets out the history of the area and local industry. Displays the world's oldest football - did Mary Queen of Scots really play keepy-up with this?

address: Ladysneuk Road FK9 5NG

Ruins of an Augustinian 12th C abbey, on a loop of land far side of the meandering River Forth. It's mostly just courses of masonry but the bell tower has been restored. You can see the graves of Queen Margaret of Denmark and her husband James III here.

address: north edge of town

This stone bridge was built some time in the 15th C. The timber bridge that it replaced, 180 yards upstream, caused the English downfall at the Battle of Stirling Bridge in 1297: see Bridge of Allan for this story.
The other bank of the river is Bridge of Allan: visit here for the Wallace Monument and Stirling University. It also includes the abbey, but that's easier to reach from Stirling.

phone: +44 1786 812664

address: Glasgow Road, Stirling

England's King Edward II tried to install a puppet king on the throne of Scotland, and garrisoned Stirling Castle. In 1314 the Scots under Robert the Bruce beseiged the castle then attacked the English forces to the south at Bannockburn. They won, a victory still celebrated today, eg in the song Flower o' Scotland. There's a monument and statue of Robert the Bruce that you can visit free anytime. But what the crowds come for is the Battle of Bannockburn Experience which is a 3D immersive battle game - no paintball involved but lots of CGI as you manouevre your assigned army unit. Admission is only by timed slot, with limited capacity so they often book out. After briefing and familiarisation, you spend 45 mins in battle play.
Do
See Bridge of Allan for walks in the nearby hills.
Watch Rugby Union at Stirling County RFC. They play in the Premiership, the top tier of Scottish club rugby. Their home ground is Bridgehaugh Park, just north of the A9 bridge out of town.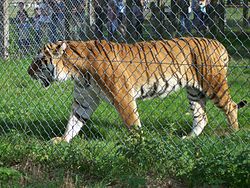 phone: +44 1786 841456

address: Blair Drummond, FK9 4UR

Drive-through safari park, plus enclosures for chimps, sea lions, bugs, birds of prey, petting farm etc. Plus lots of theme-park stuff like pedalos and zipwires that charge extra. No dogs.

Briarlands FarmChildren's farm: petting zoo, fruit-picking, go-karting, trampolines, a maize maze and other family activities.

Sruighlea is Stirling's mid-August festival, incorporating Highland Games, a Food & Drink Fair, and a Creative Arts Festival. The next event is Sat 15 Aug 2020.
Buy
Port Street has the usual range of high-street shops and banks. Stirling has a limited range of independent shops, mostly on side streets or north of the railway station.
Europa Music at 10 Friars St is an independent music store, open M-Sat 09:30-17:30, Sun 12:00-17:00.
Thistle Marches is a shopping centre just south of the railway station with the usual range of high street stores. Open late Thursday nights.
Supermarkets include Tesco 5 mins north of railway station, Sainsbury's a little further north, and Morrison's a mile to the east. They're mostly open until 22:00.

phone: +44 1786 450719

address: King Street, FK8 1AX

A Victorian shopping arcade, built in 1881, housing several boutique shops and cafés.
Eat
Fast food outlets are Greggs (various locations), McDonalds (by station) and Pizza Hut (300 yards north of station). Lots of cheap & cheerful restaurants and takeaways also.

Poonthais

address: 9 Baker Street, Stirling FK8 1BJ

Highly commended Thai restaurant.

Greengrocer Cafe

address: 81 Port St FK8 2ER

Gourmet sandwich lunch menu and amazing cakes.

phone: +44 1786 464411

address: 15 Friars Street, FK8 1HA

Neapolitan pizza baked in a mosaic-covered wood burning oven. Half a dozen tables, reserve during busy times. Does takeaways.

address: 8 Spittal Street

Wetherspoon pub with food all day
Splurge at

phone: +44 1786 450632

address: Mar Place House, 58 Broad Street FK8 1EF

Excellent Austrian/Scottish fusion restaurant. Offers delicious local produce with an original twist.
Drink
Bars
address: 29 Baker Street FK8 1BJ

Opened in 1718, friendly (and dog-friendly) atmosphere, mostly student clientele, food served to 21:00. Live music most nights, pub quiz Sun evenings.

Corn Exchange

address: 11-13 Corn Exchange Road FK8 2HX

Now a Belhaven pub, has decent food and good meals.

phone: +44 1786 472290

address: Castle Wynd FK8 1EG

Located at the bottom of the castle car park. Good whisky selection. Also offers good quality meals and accommodation.

Settle Inn

phone: +44 1786 474609

address: 91 Saint Mary's Wynd FK8 1BU

Traditional pub close to the castle, dog-friendly. Frequent live music. Board games available for customers to play.
Clubs
address: 6 Maxwell Place FK8 1JU

Club with 2 floors, programme varies by day.

Dusk

phone: +44 1786 464904

address: Dalgleish Court FK8 1BJ

Nightclub: Mon is "guilty pleasures", Tue is "skint" cheap drinks, Thurs is LivItUp club tunes, Fri is Dusk'n Ladies Night, and Sats we're promised is the pinnacle. Age 25+ only, you need photo ID to prove it.
Sleep
Budget
phone: +44 1786 473442

address: St John Street FK8 1EA

Built behind the façade of an old church, it offers 2 to 6-bedded rooms, good self-catering kitchen, internet, friendly staff and TV-room; breakfast £7.50. Book ahead during summer. Open all year.

phone: +44 1786 446773

address: 77 Murray Place FK8 1AU

Located in the centre of the old town, mixed & female dorms, lounge. Open all year.
Mid-range
Premier Inn is on the riverside just east of the railway station.
Lots of B&Bs, those central include Lost Guest House at 4 Melville Terrace, Castle Walk B&B on Back Walk, and Munro's at 14 Princes St.
The Golden Lion is a 3-star hotel at 8 King St FK8 1BD, B&B double £60.

phone: +44 1786 272727

address: Spittal St FK8 1DU

Hotel in Victorian schoolhouse in old centre.

phone: +44 1786 448880

address: 33 Spittal St FK8 1DX

Central boutique hotel.

phone: +44 1786 449922

address: Springkerse Business Park FK7 7XH

Modern chain hotel with 80 a/c guest rooms, meeting facilities, bar, coffee lounge and free parking. 20 mins walk from centre, but use the Park & Ride bus from the nearby Morrison's supermarket, every 12 mins Mon-Sat.
There's a caravan site at Blair Drummond by the safari park.

address: Kirk Lane, Blair Drummond FK9 4AN

Open all year, with 3 en suite bedrooms (sleep 2, 3 or 4). Just 50 yards off main road yet quiet.
Connect
address: Corn Exchange Road

Several computers with free internet access available, though you may need to join a queue.
Cope
Post Office is within WH Smith, opposite Marks & Spencer, Thistle Shopping Centre
Go next