Stockholm County
Stockholm County
(
Stockholms län
) in
Sweden
comprises the country's capital city,
Stockholm
, and its surrounding municipalities. With 2.3 million inhabitants, it is both the country's most populous region and the most densely populated one. Far from homogenous, it includes dense urban areas as well as large expanses of forests and the
Stockholm Archipelago
, made up of more than 30,000 islands.
Stockholm dominates the area, and while most other municipalities are essentially suburbs, some of them have an identity on their own, notably Sweden's oldest city
Sigtuna
, the port of
Nynäshamn
, and the industrial hub of
Södertälje
.
Destinations
The county has 26 municipalities, not all of them of equal interest to tourists. For easier orientation, we group them into eight regions: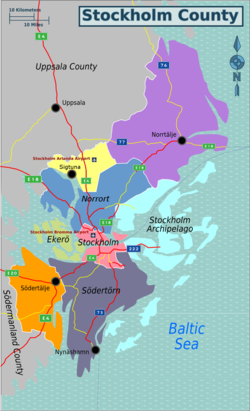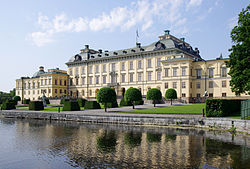 Understand
Due to the
post-glacial rebound
, the land is rising. Until the 15th century, lake Mälaren was a bay of the Baltic Sea, and much of the land around Stockholm was beneath sea level. While Birka became Sweden's first city in the 8th century,
Sigtuna
was the cradle of the Swedish Kingdom. Stockholm was founded in the 13th century, and became the effective capital 200 years later.
Stockholm County was established in 1714 from parts of the
Uppland
and
Södermanland
provinces, not long after the county system was created in 1683. While most Swedish counties were formed by the provinces (
landskap
), each with their distinctive folk culture and local patriotism with roots in the Middle Ages, the identity of Stockholm County has emerged from the capital city. The city of Stockholm was an autonomous entity until it merged with the county in 1968; it contains 26 municipalities.
While the whole county is effectively suburbs of Stockholm today, towns such as
Sigtuna
,
Vaxholm
and
Södertälje
have their own interesting history.
Get in
The main hub of the county is the
Stockholms Centralstation
(
Stockholm C
or
Centralen
), which is the busiest station for long-distance and regional trains, local trains (underneath the metro station), the Stockholm metro (whose adjacent station is called
T-Centralen
) and airport, boat port and long-range buses (which stop at the adjacent
Cityterminalen
).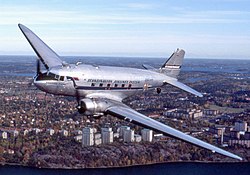 By plane
Stockholm county includes two major airports with scheduled passenger traffic:
Stockholm Arlanda is the country's largest airport by far in terms of passenger traffic and the number of international and intercontinental connections. It has a railway station served by Storstockholms Lokaltrafik's local trains (pendeltåg), which can take you to all over the county (and even up to Uppsala County) either directly or with a transfer. There is also an express direct connection to Stockholm's central railway station called Arlanda Express, and bus connections locally within Sigtuna, to Uppsala and to Stockholm. See Stockholm Arlanda Airport for airport amenities, and Stockholm#Get in for transfer to central Stockholm.
Stockholm Bromma is Stockholm's older airport, still within the city borders, now served mostly by domestic connections within Sweden.
By rail
The only train station in Stockholm served by long-distance domestic and international trains is the
Centralstation
, where you can change to local trains, the metro or a local bus further on to your destination. Some long-distance trains also call at
Södertälje Syd
,
Flemingsberg
, and
Arlanda
.
By boat
Baltic sea ferries
with passenger and vehicular (car and truck) capacities connect Stockholm with
Helsinki
,
Turku
,
Riga
and
Tallinn
. A ferry from
Gdańsk
arrives in Nynäshamn, a port in the south of
Södertörn
.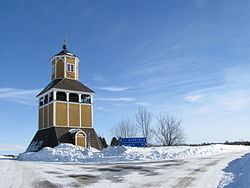 By road
Stockholm is served by three major motorways of the European motorway system:
E4, which traverses the country from north to south, passes through Stockholm by way of the city's beltway. South of Stockholm, it goes across the country to its west coast, terminating in Helsingborg (where you can branch out further south to Malmö and Copenhagen), passing by Nyköping, Linköping and Jönköping. In Jönköping, you can branch out to Gothenburg. North of Stockholm, the E4 follows the Baltic Sea coast to major Norrland seaside cities like Umeå, Luleå and Skellefteå and ends in Finland.
E18, which leads by ferry from Finland to Norrtälje and goes north of the lake Mälaren through Västerås, Örebro and Karlstad to the Norwegian border and then on to Oslo
E20, which goes south from Stockholm via Södertälje, and then, south of lake Mälaren, it goes west to Gothenburg. In Gothenburg, it turns south along the North Sea coast to Malmö.
Entering Stockholm by car incurs a congestion charge; see also
Stockholm#By car
.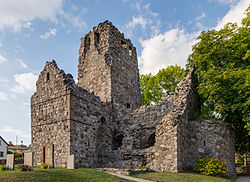 Get around
By car
Though public transport serves nearly all settlements in the county, driving can be a practical option for the countryside. Some archipelago islands are connected to the mainland by car ferries. Tourist destinations can be congested around holidays.
The north-south divide in Stockholm (between Södermalm and the northern boroughs) is a chokepoint during rush hour.
Despite the size of Stockholm, much of the outer county is wild nature. Even a few kilometres outside built-up areas, traffic lighting is scarce, and
animal collisions
become a concern.
Passage through inner Stockholm is subject to a congestion tax; see
Stockholm#By car
for details.
Public transit
The whole county is served by
Storstockholms Lokaltrafik AB
(
Greater Stockholm Local Transit Company
), which provides many different modes of
public transportation
under a common ticketing and fare scheme. This includes, light rail/trams in Stockholm, the Stockholm metro and local trains, and a comprehensive network of bus lines. There are also regular ferries between the islands which are operated by independent companies - some are under the same SL fare scheme, and others are not, requiring separate tickets.
Some lines extend to
Uppsala
,
Gnesta
and
Bålsta
for an extra fee (see below).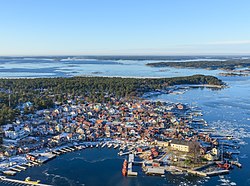 The SL website has detailed ticket and price information in English, and a journey planner. It is always updated.
Tickets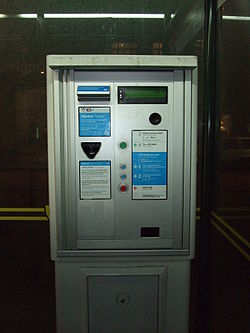 All SL services use the same integrated ticket system. These can be bought at the public transport centers (in stations, including Central station and the T-Central), at all "Pressbyrån"-kiosks, most bigger food markets and some smaller kiosks.
Tickets cannot be bought on buses
. They can also be bought at the Arlanda visitor center at the airport.
Stockholm operates a RFID card called
SL Access
which triggers entry gates and other electronic readers. The card costs 20 SEK to purchase and can load all tickets available in the SL fare scheme.
There are two forms of ticketing, travelcards and pay as you go. Travelcards provide unlimited travel for periods of 24 hours (125 SEK, 85 SEK for people younger than 20 or older than 65), 72 hours (250 SEK/165 SEK), 7 days (325 SEK/220 SEK) and for extended stays in Stockholm a 30-day travelcard is available (860 SEK/570 SEK). These allow unrestricted access to all buses, trams, T-bana, and commuter trains, as well as the Djurgården ferry.
All travelcards can be loaded onto the SL access card. 24-hour and 72-hour travelcards are additionally available as individual disposable paper RFID tickets, without the 20 kr fee to buy the SL access card; however they are often out of stock except at Arlanda airport, since residents usually do not buy them in this format.
Pay as you go travel also comes in several formats: as travel credit (
reskassa
in Swedish) on SL access cards; as a single paper ticket from ticket machines, staffed counters or ticket agents (such as convenience stores), or on the SL mobile app; and single tickets from conductors on tram 7 and the Roslagsbana paying in cash. In all formats, the ticket is valid on unlimited SL services for a period of 75 minutes.
The prices are 31 kr (21 kr discounted) for travel credit, 62 kr for conductor-bought tickets (41 kr discounted), and 44 kr for the other modes. However, the minimum load amount for SL access cards is 100 kr, and you do not get a refund for unused amounts.
Tickets are generally only inspected upon entering public transport, so they only need to be valid at the time of boarding a tram or bus, or at the time of entering the T-bana/commuter train system. There is no need to scan tickets when disembarking transport; at gated stations the exit gates simply open when you approach. This means a single ticket can actually be used for much longer than 75 minutes. However, around parts of the network with ungated stations, e.g. between Farsta Strand and Nynäshamn, or on the Saltsjöbana, there are roving conductors so you cannot guarantee the exact time you will be inspected.
Children under 12 travelling with adults travel free from midday Friday to midnight Sunday. Children under 7 ride for free with a paying adult.
Travel credit on a single SL access card can be used for multiple people, but this requires informing bus drivers upon boarding, and going to the staffed counter at stations. Furthermore, you need to inform the staff if you are transferring and already have a valid ticket, otherwise they may end up deducting more credit from your card.
You may see references to SL zones or coupons. Zones were abolished in January 2018 and travel now costs the same across the entire network.
Airport buses, Arlanda Express and regional trains are not part of the SL network, and thus not included in any of these tickets. However, SL does operate certain local buses to Arlanda (582, 583, 592, 593, the latter two only running overnight) on which SL tickets are valid.
Stockholm Metro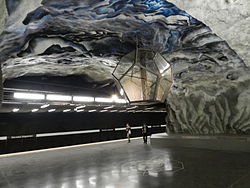 The Stockholm metro, the
tunnelbana
(sometimes abbreviated
T-Bana
or just
T
on signs) with exactly 100 stations, serving most of Stockholm municipality, as well as Sundbyberg, Solna, and Danderyd. Trains run from 05:00 to 01:00 on weekdays, and around the clock on weekends. Night buses replace the trains on weeknights. It is in most cases the fastest mode of transportation.
The
SL website
has a guidebook to the artwork that is featured in many metro stations, with nearly all stations offering some form of artwork on display. The art on the
blue line
in particular is of note.
Commuter rail
Stockholm County has a
commuter rail network
,
pendeltåg
, reaching 53 stations, including
Uppsala
, Knivsta and Bålsta in Uppsala county, plus Gnesta in
Södermanland
county. Stations are marked by a
J
sign. There are four lines:
35: (Bålsta) - Kungsängen - Stockholm C - Västerhaninge - (Nynäshamn)
36: Märsta - Stockholm C - Södertälje C
37: Södertälje C - Gnesta (connects with line 36 at Södertälje hamn)
38: Uppsala - Arlanda Airport - Stockholm C - Älvsjö - (Tumba).
Off-peak sees 4 tph (trains per hour) on lines 35 and 36 (2 tph in the bracketed sections), 2 tph on line 38 (only peak services run Älvsjö-Tumba) and 1 tph on line 37. Additional services run during peak hours, giving the core section Odenplan - Älvsjö a peak frequency of 14 tph.
Commuter trains are included in Stockholm's transport ticket system, with the exception of Knivsta and Uppsala on line 38, which employ Uppsala's local transport fares, and Arlanda Airport (see
#By plane
above). The cost is 60 kr (35 kr for youth) with an SL travelcard.
As of 2019, some escalators of stations Stockholm City and Odenplan are closed down. While every passage has at least one pair of escalators, passengers need to line up at rush hours.
Light rail/tram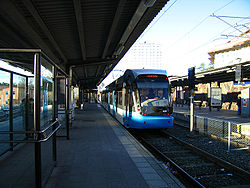 Stockholm county has four light rail lines, with modern trams.
Tvärbanan connecting Västerort to Söderort.
Lidingöbanan connects Ropsten in Östermalm to Lidingö. Several archipelago ferries call at Gåshaga brygga at the end of the line.
Nockebybanan in Västerort connects the district of Nockeby to Alvik on the green line of the Tunnelbana.
Spårväg City is a city tram connecting Stockholm Central to Waldemarsudde (Djurgården). Occasional heritage trams.
Buses
Buses
serve most populated areas where metro, rail or tram does not reach. Four inner city main lines numbered from 1 to 4 are operated by large blue buses (weekdays every 3–10 minutes), the other, generally less frequent lines (weekdays 7–20 minutes), by red buses.
Apart from those four, several lines running through outer districts and suburbs of Stockholm are designated as blue buses - apart from the colour, they are distinguished by the middle 7 in their three-digit line number. The three-digit blue buses do not go to the city center and generally serve as radial lines to quickly link various areas of a suburban community with its main rail transit nodes.
Passenger ferries
There are also ferries going to Djurgården and Skeppsholmen. Travel with the Djurgården ferry is included with any 24- or 72-hour pass, 7-day pass as well as the monthly pass.
Sjövägen
is a passenger ferry with hourly rides from Nybrokajen (
Norrmalm
), calling at several docks in
Nacka
, and
Lidingö
, ending in Frihamnen (
Östermalm
). All SL passes are good on the ferry. A single ride costs 40 kr for adults, 25 kr for children. The ferry has a cafeteria with tea, coffee, snacks, beer and wine, and gives a great view of the inlet of Stockholm.
Sjövägen is a great option for budget sightseeing.
See
As
Stockholm
has been the nation's capital for centuries, it is packed with museums, palaces, art galleries and other attractions — the Royal Palace, the Skansen outdoor museum and the Vasa Museum, to mention a few. The outskirts of the county have impressive natural features, as well as a rich cultural heritage.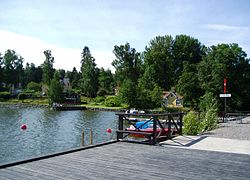 Do
The city of Stockholm contains many sports and entertainment venues including the humongous Globen and Friends Arena, and there is always something major happening to be experienced live.
Though the county is the most populous of Sweden, most of its area consists of nature, with many opportunities for
outdoor life
, even within less than an hour of commuting from Stockholm.
The county has a very long coastline and includes vast expanses of water, which lends itself to all kinds of activities, from
water sport
to simply sunbathing or picnicking on one of the many sea- and lakeshores. Surprisingly for localities easily reachable by commuter railway, you do not have to get far out of Stockholm either to observe wildlife up close and engage in a Nordic photo safari.
Eat
There is not much in the way of a particular cuisine of Stockholm County, but you will of course be able to enjoy the general Swedish favourites and specialties. Due to the region's diverse ethnic makeup, you may also take advantage of the wide range of non-Swedish cuisines represented throughout the county, from kebab and falafel stands to high-end specialty restaurants.

Drink
Central Stockholm (
Östermalm
,
Norrmalm
,
Gamla stan
and
Södermalm
) obviously has the liveliest nightlife, and given the great public transportation connections, the inhabitants of other municipalities tend to go there to party and enjoy evenings out as well.
Sleep
Given the well-developed public transport network, as well as the distribution of major businesses and venues throughout the county, you are not limited to Stockholm itself in your search for accommodation. Most accommodation in central Stockholm are business hotels and priced accordingly; expect to pay at least 1000 kr for a 4-star single room. Stockholm has many hostels with dorm beds at around 200 kr a night, which tend to be sold out at summer.
Therefore, you may want to look for a better deal in one of the other municipalities - provided you can figure out good connections from the place you stay to where you want to get. The outer areas also have mansion and palace hotels in the countryside.
The outskirts of the country feature many campsites, and the
Right to roam
allows overnight camping at most locations.
Stay safe
Stockholm is generally a safe city, at least for visitors who use common sense. While some low-income suburbs are infamous for gang crime, daytime visitors would not be troubled. In Stockholm itself, drunk brawls and pickpocketing are major risks.

Go next