Sur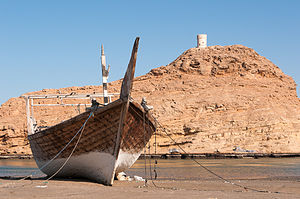 Sur
is a city in
Central Coastal Oman
, best known for its dhow shipyards.
Understand
Sur was founded in the 6th century CE as a trading port and has a long history of ship building, continuing to the present day. In addition to being an interesting destination in its own right, it makes a good base for day trips to Wadi Shab, Wadi Tiwi, and Ras al-Jinz turtle reserve established in 2008, all described in
Central Coastal Oman
.
Read
Tim Severin, The Sindbad Voyage. In 1980 Severin and a crew of Omanis – including several from Sur – sailed in a traditional dhow from Muscat to Guangzhou, China, in an effort to recreate the legendary voyages of Sindbad. The dhow was built in Sur by Omani and Indian shipwrights using completely traditional materials and techniques, described at length by the author.
Get in
There is no airport in Sur. Although one was in the works several years ago, the project has since been abandoned due to the expected increased frequency of cyclones.
Sur is a 2.5-hour drive south of Muscat, off of Highway 17. A taxi from the Rusayl Roundabout will cost about RO 25 (shared RO 5). Microbuses cost RO 3 and travel inland via Highway 23, passing Ibra.
Get around

There is no public transportation in Sur beside taxis, which charge 150 Bzs for any ride within Sur.

See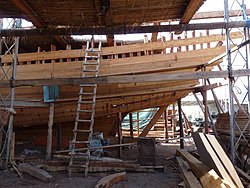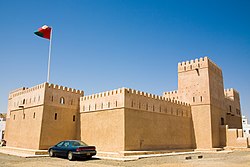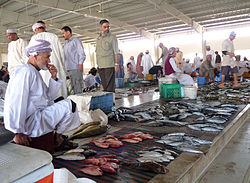 Dhow shipyardSur is where authentic dhows are still built in the traditional fashion. NOTE: the locals don't call them "dhows" but rather safeena (ship) or suh-fin (ships). If you say "dhow," they'll be perplexed.

Fatih Al-KhairIf you are an enthusiast of hand-made wooden boats and ships, this is definitely worth a visit. Several old dhows are on display, the largest of which is the Fatih Al-Khair, built in Sur 150 years ago and now beautifully restored.

Sunaysilah FortIf the "natour" (guardian) isn't there, just walk up to the fort itself and he'll see you, come sell you a ticket and then sit in the entrance hall while you look around the displays. It is possible to climb all four towers which offer great views of the town. Don't expect much in the way of history or signs.

Bilad Sur FortBuilt 200 years ago, the fortress is closed for renovation.

Al Hamooda Fort

Al Ayjah LighthouseBuilt by the Portuguese and now fully restored, this building offers good views of Sur.

Al Ayjah Watchtowers

Fish marketVisitors can watch fishermen unload and sell the catch of the day.

CornicheA pleasant seaside promenade.
Buy
SouqVisitors may find the souq disappointing, as it is filled with everyday Chinese-made goods and Indian-made khangars (daggers).

Dhow modelsDhow models of various sizes, made by the shipwrights, are for sale.
Eat
Sur has several decent restaurants but no five-star menus.
Bawadi Al AygaIndian restaurant. A lot of the locals know it but everyone knows where Nadi Sur is so just take a taxi there. Prices are low. about RO 1-1.5 for a vegetarian dish with rice while anything with meat, depending on the type, runs from RO 1.3-1.8. They also have "Chinese" food. Friendly staff, largely English speaking from Kerala, very non-intrusive. Male and family sections available.

Zaki Restaurant

phone: +968 9946 2367

address: Hwy 23

Indian restaurant, with food about the same quality as Bawadi but slightly more expensive. They also have "Chinese" food. The ambiance is extremely noisy. Staff are friendly, and a couple of them speak English. Many Omanis come here with their families, there is a family section in the back of the restaurant.

Sur Beach Hotel Restaurant

address: Al Murtefeh

Food is okay, not great and a touch more expensive than Spicy Village.
Sleep
Nearby
Wadi Tiwi. A series of villages and hamlets about a 40 minute taxi ride from Sur (RO 5-6 from the center of Sur) direction Muscat. No restaurants, bring a lunch. There's a Thursday morning market where cheap Chinese made kitchen goods can be bought from Bengalis and Omanis. No restaurant, bring a lunch.
Wadi Shab. Right next to Wadi Tiwi, a long wadi, much more spectacular geography than Tiwi and great for a day trip. Bring swimming wear and sandals because the rocks at the bottom of the water are painful on bare feet.
Wadi Bani Khalid. Further from Sur than Tiwi and Shab, great spot, tons of tourists; no restaurants, bring a lunch.

Old Castle Museum

phone: +968 25557773 or +968 93200166

address: Al Kamil Waal Wafi

An old fort, renovated as a museum. Fourteen thousand artefacts and antiques date back to the 15th century. Accommodates groups (with lunch) on three days notice. Coffee and dates are included after the tour.
Go next