Swansea
This article is about the urban area of Swansea. The Swansea Rural is covered in a separate article.
Swansea
(pronounced:
Swan-zee
;
Welsh
:
Abertawe
) is a city on the
South Wales
coast. With a population approaching 250,000, it is the second largest city in
Wales
, and on the beautiful
Gower Peninsula
- the
United Kingdom's
first designated "Area of Outstanding Natural Beauty".
Districts
Swansea Urban (this article) - from north to south covering areas from Morriston and Clydach to St.Thomas and Swansea Bay sea front and from east to west covering areas from Port Tennant to Caswell. Swansea Urban includes the city centre and the tourist areas of the Maritime Quarter, Mumbles, Limeslade, Langland and Caswell.
Gower Peninsula - covering all points west of Bishopston, Pwll Du Bay, Fairwood Common and Upper Killay, and also including the highland areas of Pontarddulais and Mawr.
Understand
History
During medieval times, Swansea was a prosperous market town, later gaining a certain prominence as a spa resort. It was during the industrial revolution, however, that the city flourished and its population grew. The city is home to the world's first passenger railway service known as the Mumbles Train, which bumped and bounced along five miles of Swansea foreshore, linking the city centre with the suburb of Mumbles. Much of the city centre's architectural heritage was lost through wartime bombing. However, the abundance of parks, stunning coastal scenery, lovely water-side suburbs, a magnificent bay-side maritime quarter, varied cultural events, medieval castles and golden sandy beaches have preserved Swansea's place as a major tourist destination. Furthermore, according to a survey conducted by an international health magazine that considered, among other factors, a city's crime rate, life-style, environment, etc., Swansea was judged to be the most relaxed city in the UK, while two national surveys have ranked the city as the third friendliest place in the country with regard to customer service and the safest urban area in the UK. Citizens from Wales' second city are known as 'Swansea Jacks,' and the name 'Swansea' is derived from 'Sweyn's-ey,' the Scandinavian name for the original settlement.
Dylan Thomas was passionate about Swansea, and in his early days described it as an "ugly, lovely town, crawling, sprawling, slummed, unplanned, jerry-villa'd, and smug-suburbed by the side of a long and splendid curving shore." Later, he referred to it as "the most romantic town I know," and described it with great gusto as a "marble town, city of laughter, little Dublin" and screamed triumphantly "Never was there such a town!"
Incidentally, the Swansea seaside resort of
Mumbles
derives its name from the French word
mamelles
, meaning "breasts"; take a look at the two islets off Mumbles Head from across the bay, and it is easy to see why.
Climate
Swansea has a wet and mild climate, with winter temperatures ranging from around 4 to 6°C, while the summer average high is about 20°C but often reaching to 26 or 27°C. Sun lovers should visit Swansea from June to August, which is the period that records the most hours of sunshine and is the main tourist season. However, those who prefer long solitary walks along cliffs paths or contemplative strolls through wooded valleys should consider September and October. During these months, the air is crisp and fresh and the area quiet, with most tourists having already departed. However, as Wales is one of the wettest areas in the UK, you should always prepare for rain when visiting the region. Even in the summer, pack some rain gear and an umbrella in your luggage.
Famous Faces
Swansea's rich and diverse history has created a city of character, which has proved to be very fertile ground for producing well known personalities. In the literary world,
Martin Amis
and
Dylan Thomas
were born in the city and inscriptions of Thomas' verses can been found throughout the city. The Oscar award-winning actor
Catherine Zeta Jones
was born and raised here, as were actors
Joanna Page
and
Matt Ryan
. The 1970s and 80s rock sensation
Bonnie Tyler
is also from Swansea and still lives in the seaside suburb of Mumbles.
Sir Harry Secombe
, who entertained the country for decades, hails from Swansea's East Side, and also in the entertainment world, the TV playwright and producer
Russell T. Davies
(of
Doctor Who
fame) has his roots in the city, as does composer
Sir Karl Jenkins
and
Ian Hislop
(captain of BBC quiz show
Have I Got News for You
and editor of
Private Eye
). In the upper echelons of religion, economics, politics, and royalty, the former Archbishop of Canterbury,
Dr. Rowan Williams
, Nobel Prize Winner
Professor Clive Granger
, former deputy-prime minister,
Sir Michael Heseltine
, former leader of the Conservative Party,
Michael Howard
and
Princess Lilian of Sweden
, were all born in Swansea, while among the city's most famous contributions to the sporting world were the soccer legend,
John Charles
, England cricketer
Simon Jones
and former WBO world cruiser weight champion,
Enzo Maccarinelli
.
Within a few miles of Swansea is the birthplace of Hollywood legends
Richard Burton
,
Anthony Hopkins
and
Ray Milland
, and opera stars
Katherine Jenkins
and
Paul Potts
.
The city's most loved character, however, is undoubtedly
Jack the black retriever
. During his seven years of life, he rescued no less than twenty-seven people from drowning in the murky waters of Swansea docks, and there is a small memorial in honor of this little hero on the foreshore, near the St. Helen's Stadium.
Tourist information
City centre tourist information

phone: +44 1792 468321

address: Plymouth Street

Offers free maps, information on tourist sites and hotel room reservation service.

Mumbles tourist information

phone: + 44 1792 361302

address: The Methodist Church, Mumbles Road

Offers same services as the main city centre office.
Talk
Although it definitely has character, Swansea dialect (especially from east-side) can be hard to understand for the uninitiated.
The following usages are to be heard in Swansea:
bye-yer = here (example: "Put it bye-yer" means "Put it here.")
ewe = you (example: "Alright, arr ewe?" means "Are you OK?")
learn = teach, (example: "Will you learn me English?" means "Will you teach me English?")
likes = like, (example: "I likes it" means "I like it")
now = often used as an affirmative, not be taken literally (example: "I'll come over now later" just means "I'll come over later.")
tidy = not to be mistaken as a command to clear up something, but a statement of approval, meaning "I agree" or "that is acceptable".
fair dues = to give someone credit (example: "He is not rich, but fair dues he's always happy to lend money to his friends." means "He is not rich, but give him credit. He's always happy to lend money to his friends.")
there's = that's, how or what (example: "There's lovely" means "That's beautiful" or "How nice", whereas "There's a mess!" would in more standard English be expressed as "What a mess!")
butt/butty = friend/buddy. (example: "How're you doing, butt?" means "How are you doing, mate/friend?")
mun = used at the end of a statement for emphasis purposes (example: "Hurry up, mun, or we'll be late").
cowin' lush = not to confused with a fertile plain for herbivores, but a statement akin to approval (example: "That curry I 'ad last night was cowin' lush mun".
Evening Po = an abbreviated term for Evening Post (the Swansea evening newspaper) called out by road side vendors.
In addition, there is a tendency for those with a strong accent to speak in the third person. So if someone walks up to you and says, "eye nose ewe", don't be surprised. They are merely expressing the fact that they recognize you (i.e. "I know you")!
The Swansea accent is more noticeable in blue collar areas of the city, whereas in more affluent areas people speak with a more refined Welsh accent. However, even in these areas Wenglish phrases like "Uch a fi!" (dirty) can still be heard.
About 16% of Swansea's population can speak and read
Welsh
in addition to English, though the majority of these are residents of the northern suburbs (i.e. those closest to the counties of Powys and Carmarthenshire). People from the original town of Swansea, east-side, Mumbles and South Gower were not traditionally Welsh speaking, and so there are far fewer Welsh speakers in these areas.
Get in
By car
By bus
phone: +44 990 80 80 80 (enquires)

Runs frequent bus services from Cardiff, London, the Midlands, and Heathrow Airport. All buses depart and arrive at the city's bus station. The National Express ticket office is next to the bus station.

MegabusIs a cheaper option.

phone: +44 900 096 0000 (enquires)

Operate a frequent and efficient bus service from Cardiff (Central Station) to Swansea (Quadrant Shopping Centre). Tickets are purchased on boarding the bus. No prior booking required. Discounts available when travelling outside peak times.
A convenient way to spend the day in Swansea city centre is to use one of the three Park and Ride systems National Park and Ride Directory. One is based at Landore on the A4067 - leave M4 at junction 45. The eastern 'Park and Ride' operates off the A483 (Fabian Way), which is the main artery into Swansea when coming off the M4 (junction 42) from the east buses on this route follow an express bus lane into the city centre. The western 'Park and Ride' operates off the A483 (Carmarthen Road) in Fforestfach. There is a £1.50 charge per car that includes all-day parking and return bus travel for up to 4 passengers, and the system operates from Monday to Saturday from 6:45AM to 7:30PM.
By plane
By train
phone: +44 8457 48 49 50 (Inquires)

Offer a very frequent express service from London Paddington Station to , stopping at Reading, Swindon, Bristol Parkway, Newport, Cardiff Central, Bridgend, Port Talbot Parkway and Neath.

phone: +44 8457 48 49 50 (Inquires)

Runs local trains throughout Wales.
West Wales services, west of Swansea. After leaving Swansea, the train follows of the contours of the coast. A left side seat will give you the best view. :
The famous Heart of Wales Line runs between the medieval town of Shrewsbury and Swansea, passing through some of Wales' most spectacular scenery and picturesque towns during its three-hour and forty minute journey. Trains depart Swansea at 4:36AM, 9:15AM, 1:17PM and 6:21PM.
There are direct trains from Manchester Piccadilly to Swansea operating hourly during the daytime M-Sa, and every two hours during the daytime on Sundays. The journey time is about 4 hours 20 minutes. This service calls at Crewe, Shrewsbury, Hereford, Newport and Cardiff.
Airport connections:
Travellers arriving from Heathrow have the option of taking the shuttle bus to Reading and boarding the west bound train there - this saves travelling into London - or taking the Heathrow Express high speed rail link to London Paddington Station. This service runs every 15 minutes from terminals 1,2,3 or every 23 minutes from terminal 4 and takes 15 minutes: £13 (single); £25 (return).
Travellers arriving from Cardiff International Airport can take a train to Swansea, however this requires a change at Bridgend. Services are provided by Arriva Trains
By boat
Swansea Marinaoffers 750 berths for private boat mooring, offering comprehensive facilities for both short and long term stays.
By bicycle
National Cycle Route 4Swansea is served by the NCR 4 which passes just south of the city centre. To the east, NCR 4 connects Swansea with Port Talbot, Newport and London. To the west, NCR 4 connects Swansea with Llanelli and St David's. From the east, NCR 4 follows the route of the A483 (Fabian Way), it then follows the route of the seafront promenade of Swansea Bay Beach and at Blackpill it continues up the Clyne Valley cycle track towards Gowerton.

National Cycle Route 43NCR 43 is still under development and will eventually connect Swansea with Builth Wells. Part of the route wholly within Swansea has been completed and signposted. The completed signposted section of NCR 43 begins at the Swansea Marina and follows the route of the River Tawe all the way to Ystalyfera, passing Pontardawe.

National Cycle Route 47NCR47 Connects Newport with Fishguard. Within Swansea, NCR47 follows the same route as NCR4. Whilst, NCR4 is a more coastal route, NCR47 is a mostly inland route.
Get around
By bus
Bus companies
First South West Wales
maintain frequent services connecting all suburbs of Swansea and the Gower Peninsula. All buses depart from the Bus Station, and there are connecting links to/from Swansea's railway station. Visitors travelling to the Mumbles have the option of taking buses heading to these final destinations: Oystermouth (synonymous with Mumbles and the final stop is in the village), Limeslade (includes stops at Mumbles Square, Verdi's Cafe and Mumbles Pier), Langland, Newton and Caswell. All buses on these routes also make stops at St. Helen's Stadium, Swansea University/Singleton Park and Blackpill Lido.
First Cymru offer a one-day "
FirstDay
" bus pass for the Swansea urban area. It costs £4.00 per adult before 9:30AM and £3.50 after 9:30AM.
By taxi
There are several taxi ranks in the city centre. One is found at High Street Station for rail connections and one is at Swansea Bus Station for bus/coach connections. A taxi rank beside St. Mary's church serves city centre shoppers. The taxi rank on Caer Street next to Castle Square is the most convenient for people returning home after a night out on Wind Street.
See
Landmarks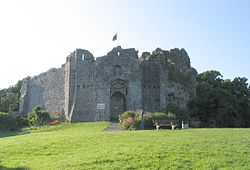 Swansea CastleThe ruins of this 13th century castle are in the city centre. While the remains are not substantial enough to warrant a special visit, the contrast of the battlements against the more contemporary architecture of its surroundings does provide an interesting backdrop for souvenir photographs of Swansea city centre - the building is floodlit at night.

The GuildhallThis elegant building of white Portland stone has graced the city centre's western approach since 1934. The main building only houses administrative offices and is of no interest to the casual visitor. However, Sir Frank Brangwyn's murals (originally intended for the House of Lords, but considered too frivolous) that grace the interior of the Brangwyn Hall are definitely worth viewing. The Brangwyn Hall is on the sea-facing side of the building and functions as the city's main concert and reception hall.

Arthur's StoneA neolithic burial chamber or cromlech dating from 2500BCE.

address: 5 Cwmdonkin Dr

Uplands. Restored to reflect the environment of Dylan's youth, Number Five Cwmdonkin Drive is open as a self-catering guest house - suitable for budding writers.

Oystermouth CastleMumbles. The original castle was founded in the early 12th century by William de Londres of Ogmore and was constructed of ringwork and bailey. In the 13th century, the castle was the principle residence of the de Braoses, the lords of Gower (their other main residence was Swansea Castle), and most of the structure remaining today originates from this period. King Edward 1 is recorded to have visited the castle in December 1284. The present day remains are well preserved and the battlements offer commanding views over Swansea Bay. There is a small entry fee.
Mumbles PierMumbles. Built in the 1880s to encourage more passengers to use the Mumbles Train, the pier is an edifice to the Victorians' love of the ocean. Compared to many piers around the country, Mumbles is quite simple in design, but the 255-m walk from beginning to end allows for spectacular views over Swansea Bay. In particular, Oystermouth Castle and the high rise buildings of the city centre are in clear view.

Historical buildings. Much of Swansea city centre was destroyed in wartime bombing. Still, there are large pockets of the historic centre that did survive, and these have been painstakingly restored in recent times. Some of the best examples of Georgian and Victorian architecture can be found on Wind Street (pronounced Wined), with Salubrious Passage (linking Wind Street with Princess Way) being almost exclusively Georgian - though the accolade for oldest buildings in that area goes to Swansea Castle and the Cross Keys (inn), which are respectively relics of the 13th and 14th centuries. At the bottom end of Wind Street and across the main thoroughfare leading from the M4 into Swansea are several lovely Georgian terraces, with Somerset Place and Cambrian Place perhaps being the most stylish. The Dylan Thomas Centre on Somerset Place also represents a fine example of Doric style Georgian architecture, and the area (which leads onto the marina) also has an impressive mixture of Victorian and Edwardian buildings, such as the colonnaded neo-classical style Swansea Museum (1841) and Morgan's Hotel (1903). Across town, Alexandra Road offers some fine examples of baroque revival Edwardian architecture, with the Glynn Vivian Art Gallery acting as the focal point. British visitors may immediately recognize some of Swansea's historic streets as they have been featured in the popular TV series Doctor Who.
Museums and galleries
phone: +44 1792 638950

address: The, Maritime Quarter

Housed in a building clad in Welsh slate, the National Waterfront Museum represents an exciting and innovative way to explore the development of the industrial revolution - through the eyes of the people whose lives it touched and transformed. The toil, the achievements, the defeats and the joys are revealed through the museum's creative exhibitions. Children will particularly enjoy the working machinery. There are also cafes and gift shops overlooking the marina. This is one of the UK's most imaginative exhibition spaces and must-see destinations.

phone: +44 1792 463980

address: The, Somerset Place, Marina

This splendid example of early 19th-century Doric style architecture served as Swansea Guildhall for over 100 years. It became the Dylan Thomas Centre in 1995 when it was refurbished in commemoration of Swansea hosting the 1995 UK Year of Literature and Writing, and was opened by former US President Jimmy Carter. The centre is dedicated to the works of Swansea's greatest literary son, and in addition to a theater, exhibition and events hall, the centre also has a second hand book store and gift shop. The local cuisine served in the second floor restaurant is strongly recommended.

phone: +44 1792 516900

address: The Alexandra Rd

The gallery housed in a baroque revival Edwardian building has permanent exhibits of paintings by local artists and a good collection of Swansea china. It frequently hosts exhibitions of national and international works of art.

phone: +44 1792 653763

address: Victoria Road, Maritime Quarter

This grade two, neo-classic building was Wales' first museum, and displays artifacts as diverse as Swansea china and an Egyptian mummy. The museum gift shop sells good quality souvenirs.

phone: +44 1792 371206

address: Parkmill, Gower

A rural life museum based around a working water mill - gift shop and café on site.

phone: +44 1792 295960

address: Singleton Park, SA2 8PP

The Swansea University campus (near the Taliesin Art Centre). One of the UK's best collections of ancient Egyptian artifacts outside London.

phone: +44 1792 653387

address: 37 Pocketts Wharf, Maritime Quarter, SA1 3XL

Wales' oldest independent gallery - specializing in grass roots Welsh art.

Mission Gallery

phone: +44 1792 652016

address: Gloucester Place, Marina

A small independent gallery in a converted seaman's chapel.

phone: +44 1792 458864

address: Elba Crescent, Crymlyn Burrows, SA1 8QQ

This small museum invites visitors to experience life in Swansea during the Second World War and through the blitz that devastated the city centre. This is definitely a museum in the making, at the entrance fee is probably a bit steep. However, for those interested in war memorabilia, it is worth a visit and the owners are very friendly and helpful. The museum offers free parking and has a gift shop and cafe.

phone: +44 7980 925 449

address: 16 College St

A volunteer-run space promoting the work of emerging artists. Admission free.

phone: +44 7971 343366

address: Exchange Building, Cambrian Place, SA1 1SE

Exchange Building, Cambrian Place, Maritime Quarter. Showcases the work of local artists.

address: Unit 2, Viking Way, Winch Wen, SA1 7DA

An exhibit of over thirty buses that once plied the streets of Swansea and West Wales.
Parks and scenic sites
MumblesA former fishing village at the western end of Swansea Bay the quaint streets, a 12th-century castle, fashionable boutiques and excellent restaurants make this suburb of Swansea a must-see destination. The promenade at Mumbles offers a spectacular panoramic view over Swansea Bay, and Village Lane (behind Patrick's restaurant) is a street of picture postcard fisherman's cottages.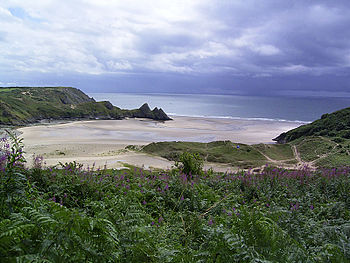 The Gower Peninsula - the first area in Britain to be designated an "area of outstanding natural beauty" - stunning scenery that extends from sandy beaches, hidden coves and lush country-side. In addition, (including the ruins of Swansea castle) there are seven medieval castles to explore. Home to Oxwich Bay - named the most beautiful beach in the UK and one of the most beautiful in the world by The Travel Magazine in 2007.
The Maritime Quarter. An international award winning bay-side development. The swinging masts and sails of the three marinas offer a great backdrop to the theaters, museums, hotels, cafes, bars and restaurants that jostle for positions in this tight little corner off the city centre. The south-side faces the sea, where there are great views over Swansea Bay and the Mumbles Head.

phone: +44 1792 474555

Parc Tawe. A chisel-shaped hot house in the city centre, complete with three different climate zones and exotic animals.

Singleton ParkSwansea's largest park meandering over several acres of gentle undulating hills and leading down to Swansea Bay botanical gardens near the Sketty end of the park, and Swansea University at the lower end, near the sea front. The main entrance to the park is on Mumbles Road, just past the St. Helen's Stadium.

Clyne Gardens and Country ParkNo doubt the gem in the crown of Swansea parks. Begun as a private garden, Clyne is bursting with flora and fauna meticulously collected from around the world. It has an internationally recognized collection of rhododendrons and azaleas which are at their spectacular best in May. The Japanese style pond, complete with willow trees and oriental bridge is a great place to relax and watch the clouds sail by. Entrance behind the Woodman pub on Mumbles Road at Blackpill.

Cwmdonkin ParkIn the Uplands. A classic Victorian park that was a favourite with Dylan Thomas, and several of his works were inspired here.

Brynmill ParkSwansea's oldest park, in Dylan's Uplands famous for its large swan lake.

Lake FendrodIn the heart of the Swansea Enterprise Park. It has a large population of swans and is stocked with a range of fishes like carp to 20 lbs, skimmers to bream of 8 lbs, tench to 6 lbs, roach to 2 lbs together with crucian carp, dace, orfe, perch & rudd. There are about 75 pegs, some of which are concreted. Lake Fendrod is surrounded by a public footpath.

Swansea Vale Nature ReserveAt the far north eastern end of the Enterprise Park. It is one of the few remaining places of wetland in Swansea and features streams, ponds and woodland. The nature reserve is accessible by bike or on foot and features a board walk and bike paths

Kilvey Community WoodlandThe south side of the woodland offers panoramic views of Swansea Bay right over to Mumbles Head and Port Talbot and also the city centre and docks, while the western face of the hill allows uninhibited views of the lower Swansea Valley, the northern part of the city centre, the Enterprise Zone and the Liberty Stadium. In addition, the hill has a sculpture trail, a number of footpaths and some dedicated white knuckle mountain biking trails.

View over the city and Swansea BayOne of the best locations to gain a panoramic view of the city and the full sweep of Swansea Bay is from Pant-y-Celyn Road in Townhill (near the Townhill Campus of Swansea Metropolitan University). There are bay-facing parking areas along the road that allow the stunning views to be enjoyed from the comfort of your car. The scene is especially spectacular at dusk with the sun setting over Mumbles Head. For the adventurous and those possessing cars with strong brakes, return to the city centre via the 1 in 3 incline of the cobbled street of Constitution Hill.

Blackpill BeachBlackpill Beach and the Blackpill Stream which flows into it are a designated Site of Special Scientific Interest. Many types of gulls can be seen feeding there at high tide.

Crymlyn BogCrymlyn bog is the largest area of lowland fen in Wales to the east of Swansea City Centre. It is a Ramsar site, a Special Site of Scientific interest and a protected National Nature Reserve. There is a visitor centre with car parking.

Swansea beachA 5-mile (8-km) stretch of beach from Swansea Docks all the way to Mumbles with a cycle way and promenade along its whole length.
Do
Swansea Airport

phone: +44 1792 208933

See Swansea and the Gower Peninsula from the air. Flying Lessons and recreational flights are operated by Cambrian Flying Cluband Gower Flight Centre. Skydiving lessons and recreational skydives at Swansea Airport are operated by Skydive Swansea.
Bowls
Swansea Indoor Bowls Stadium

phone: +44 1792 771728

Beaufort Road, Plasmarl, Swansea. The Swansea Bowls stadium is an international standard indoor bowling stadium which hosts the Welsh International Open, part of the World Bowls Tour, annually. The stadium features 6 bowling rinks with a function room and a bar.
Children's activities
Swansea Bay RiderA colourful children's land train runs throughout the summer along the promenade from the St. Helen's Stadium to Southend Gardens, Mumbles.

phone: +44 1792 561617

address: The Kingsway, Swansea West Industrial Park

Enter the world of Willy Wonka at Swansea's own chocolate factory. There are organised tours for schools and members of the public, during which the process of turning cocoa into everyone's favourite snack is explained, and plenty of samples are available to try. In addition, there is a factory shop where souvenirs can be purchased. Reservations are necessary to guarantee admission.

Rowing and crazy golfA boating lake and crazy golf course between the junction of Sketty Lane and Mumbles Road and the entrance to Swansea University.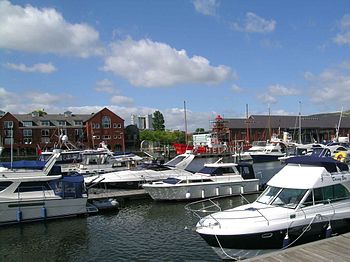 Discovery CentreThe centre offers the opportunity for children to observe and gain first hand knowledge about local wildlife and nature.

The LCA state of the art leisure centre. See 'Swimming' section for more details.
Cruises
phone: +44 845 130-4647

The historic ship MV Balmoral runs day trips to Ilfracombe in North Devon and cruises around the Gower coast - summer only. The paddle steamer Waverley runs similar trips, but less frequently. Certain journeys continue on to Lundy Island.

phone: +44 1792 234502

Motor boat and yacht cruises around the Gower coast - starting points Swansea Marina or Oxwich Bay.

phone: +44 1792 540386

Offers trips around the Gower coast for up to 12 people on their ten-metre sea serpent cruise boat.
Cycling
Swansea is connected to the National Celtic Cycling Trail, and there are four main routes in city.
The Jersey Marine and Fabian Way TrailTraces the main road into the city centre from the east few special sites of interest, it passes the Jersey Marine Tower and offers views of the heavy industrial plants in Baglan Bay and Port Talbot.

The River Tawe TrailRuns along the banks of the river Tawe passing through a former industrial area that has been reforested, skirts the Liberty Stadium, a business district and finally heads out to the Swansea Valley.

The Promenade TrailRuns along Swansea Bay foreshore to the sea-side suburb of Mumbles it passes through the Marina and offers stunning views over Swansea Bay. On a sunny day, with the blue water lapping at the side of the promenade, cycling along this trail must be the nearest thing to poetry in motion.

The Clyne Valley TrailRuns through Clyne Country Park to the North Gower coast, where it rejoins the National Celtic Cycle Trail the first part of the trail passes through a forested area, then meanders through sprawling suburbs before reaching the Loughor Estuary near Loughor. This trail leads from the Promenade Trail at Blackpill (a child's paddling area marks the site). Mountain bike trails are on the sides of the valley.

Mountain bikingKilvey Hill has a dedicated downhill run and several other trails for the mountain bike enthusiast.
Bikes can be
rented
at the following city centre stores:
Cycle Centre

phone: +44 1792 410710

address: 10 Wyndham Street

Action Bike

phone: +44 1792 464640

address: St. David's Square

Will deliver bike to hotel free of charge
Driving
There are some wonderfully picturesque drives in Swansea. Below are a couple of popular ones:
City centre - Mayals - Bishopston - Caswell Bay - Langland Bay - Bracelet Bay - Limeslade Bay- Mumbles - city centre.
To start this drive, take the A4067 Mumbles Road from the city centre and turn right onto B4436 Mayals Road. Follow road over Fairwood Common and take a left at Bishopston Village. From there, follow signs for the above places.
This drive takes in some beautiful coastal scenery. Recommended stops: Verdis café (Mumbles, Swansea Bay sea front), Castellamare café (Bracelet Bay sea front), and Mumbles Village (see listing under 'See').
City centre - Uplands - Killay - Parkmill - Reynolston - Rhossili - Llangeneth - Oldwalls - Killay - Uplands - city centre.
To start this drive, take A4118 through the bed-sit suburb of Uplands and then Killay. Finally, after leaving Upper Killay, the road passes through the heart of the Gower Peninsular. Follow signs for the above places.
This drive passes through some quintessential British countryside and culminates at stunning Rhossili Bay. Recommended stops: Parkmill is the location of the Gower Heritage Centre, with its working water wheel, and Shepards' village store and café is a good place to take refreshment. Near the village of Reynolston, you can take a short detour onto Cefn Bryn to see Arthur's Stone (see listing under 'See'). Also, in Reynolston is the beautifully renovated country inn, 'the King Arthur's Hotel', which is an excellent place for lunch. At Rhossili, there are tea houses, but the attraction here is definitely the stunning views.
As you drive along the beautiful country lanes with the smell of freshly cut grass pervading the air and the vista of a wide blue bay opening before you, the words of a famous Buddhist master - 'the journey is the goal' - will never ring truer!
Festivals
Spring and summer
Autumn and winter



Flights

phone: +44 1792 298599

address: Swansea Airport

See and the Gower Peninsular from the air. Flights from Swansea Airport.




Golf

Swansea has a number of excellent golf courses, many with spectacular sea views:

phone: +44 1792 401989

address: 118-120 Owls Lodge Ln

Mayals. 6323 yard 18 hole course built on moorland, par 70 sss72

phone: +44 1792 297849

address: Blackhills Lane, Upper Killay

6,658 yard 18 hole parkland championship course

INCO Golf Club

phone: +44 1792 841257

Clydach

phone: +44 1792 796528

address: 160 Clasemont Rd

Morriston. 5708 yard 18 hole course

phone: +44 1792 361721

Mumbles.

Pennard Golf Club

phone: +44 1792 233131

address: 2 Southgate Rd

Southgate.6,225 yard, 18 hole par 71 links golf course




Karting

phone: +44 1792 580927

address: Unit 1, Rear of Queensway




Live music

Bars and cafés that provide life music:


phone: +44 1792 301178

address: 1 Bethesda Street.

Primarily a recording studio, but also hosts events and supports the local homeless community.

phone: +44 1792 654366 07527246701

address: 216 High Street

Live music and events. Serves coffee, alcohol and meals

phone: +44 1792 477577

address: 50 Plymouth St

Live music venue, café/bar and recording studio.

No Sign Bar

phone: +44 1792 465300

address: 56 Wind St

A watering hole that dates to the 18th century - relaxed atmosphere and good food - generally 40s+ crowd.

phone: +44 1792 466535

St. James Social Club, St. James Crescent, Uplands. Jazz, jazz and more jazz

phone: +44 1792 602060

Swansea University. Music from around the globe, including high-profile jazz artists and other musicians of international acclaim.

address: 63 Kingsway

One of the largest live music watering holes in Swansea. Large range of local ales.

phone: +44 1792 475147

address: 47 Uplands Crescent, Uplands

Hip-hop, metal, rock and stand-up comedy.

phone: +44 1792 458242

address: 42 Uplands Crescent, Uplands

Rock and folk - attracts student crowd.




Living in nature

phone: +44 1792 547213

address: 53 Woodcote, Killay

Offers unique wilderness survival courses at various locations on the Gower.




Movie theatres




Paintball

phone: +44 845 257 9381

address: Llangyfelach Rd




Puzzle-solving

address: Kingsway

Participants solve puzzles to escape from a room.

Rock climbing




Spectator sports

Cricket: Swansea is one of the home locations of the Glamorgan County Cricket Club, one of the 18 major county clubs which make up the English and Welsh domestic cricket league. Glamorgan play at the St. Helen's Stadium.
Football ie soccer: Swansea City ('the Swans') play in the Championship, the second tier of English / Welsh football. Their home ground (capacity 21,000) is Liberty Stadium in Landore / Plasmarl SA1 2FA, a mile north of city centre.

RugbySwansea is home to two major rugby union teams: 1. the Ospreys a profession team playing in the Celtic League and competing for the EDF Energy, Heineken and European Challenge Cups. The Ospreys play at the Liberty Stadium. 2. Swansea RFC (also known as the 'All Whites'), a semi-professional team playing in the Welsh Premier League. The All Whites play at the St. Helen's Stadium.

Swansea Bay RallyA major event in the UK rally calendar. Held annually in summer at locations near Swansea.




Swimming

Many of the bays on the Gower Peninsular are great for swimming. However, the most popular are the sandy bays of Langland and Caswell. Both these beaches are under seasonal lifeguard supervision, offer changing and toilet facilities and are in easy reach of the city centre.

phone: +44 1792 513513

Sketty Lane (near the university). Serious swimmers will enjoy the waters of this Olympic-size pool.

The LCMaritime Quarter. A cutting edge leisure complex that includes a wave making machine, hydro-slide, artificial beach, children's paddling area, Europe's only indoor surfing centre and the world's first uphill water slide. LC offers an excellent rainy-day alternative to a day at the beach.




Tenpin bowling

phone: +44 871 873 2450

address: Parc Tawe, The Strand

Tenpin is next to an Odeon multiplex. It features 26 tenpin bowling lanes and an amusement arcade, two pool tables, a Wimpey burger bar and a drinks bar.

Theatres

phone: +44 1792 281280

Swansea Institute Campus, Townhill Road. This theater is home to Swansea based and internationally acclaimed Volcano Theater Company

phone: +44 1792 475715

The, Singleton Street. Swansea's largest theater, with everything from pantomime to opera.

Brangwyn HallThe, Guildhall complex, Victoria Park. With its stunning British Empire Panels, commissioned for the British House of Lords, this grandiose concert hall is the focus for the annual Swansea Festival of Music and the Arts - the second largest such festival in the UK.

Dylan Thomas Centre

phone: +44 1792 463980

The Maritime Quarter. Specializing in plays produced by the bard.

phone: +44 1792 473238

The Maritime Quarter. Home to the Swansea Little Theatre group - Where Dylan Thomas was an actor/member as was Catherine Zeta Jones.

South Wales Evening Post Theatre

address: 219 High St

The theatre is part of a so-called creative hub based in the Urban Village.

phone: +44 1792 602060

The University Campus, Singleton Park. This lively venue hosts a broad programme of events including cinema screenings, an average of ten visiting exhibitions per year, and a great variety of live performances, from dance and drama to jazz and world music. The emphasis at Taliesin is on quality and innovation.




Volunteer

phone: +44 1792 480200

address: Old Telephone Exchange, Pier Street, Marina

The centre organises volunteer environmental work in the area - a great opportunity to meet local people and inject more purpose into your stay in Swansea.

phone: +44 1792 578384

address: 2 Pontarddulais Rd

Fforestfach. (Directions: bus numbers 110, 111, 112 and X13 from city centre to Ivorite Arms bus stop). A project that aims 'to provide a sustainable community farm which is stimulating and educational and offers enjoyable and safe activities.' Everyone is welcome to contribute their energy and time to this on-going project (call first).




Walking

Swansea is a great place if you are into walking. Here are a few easily accessible routes:

Swansea Marina to Mumbles Pier - about five miles of flat walking - great views over Swansea Bay.
Limeslade Bay to Caswell Bay - about three miles of cliff path walking - stunning scenery.
Bishopston Valley - about three miles of riverside walking, starting just below Bishopston church - a peaceful and lush valley that spills out onto a storm beach. The return journey can be made over the cliff path to the left of the beach when facing the sea.




Water sports

The calm waters of Swansea Bay and Oxwich Bay are ideal for watersports such as skiing, wakeboarding, kayaking, dinghy sailing and Power boat training - Contact:

phone: +44 1792 234502

address: Bishopston, E-main

phone: +44 1792 369321

address: Southend, Mumbles

Mumbles Motor Boat and Fishing Club

phone: +44 1792 363832

address: The Pier, Mumbles, Swansea, SA3 4EN

Swansea Yacht and Sub Aqua Club

phone: +44 1792 469096

address: South dock, Pumphouse, East Burrows Road, Marina

phone: +44 1792 534858

address: Seafront at the Slip

Lessons in windsurfing and kayaking on Swansea Bay. May to October, seven days a week.

phone: +44 7989 839878

address: The Pilot House, Pilot Wharf, Swansea Marina

Offers training in the following activities at various locations around the Gower Peninsula: powerboating, sailing, kayaking, jet skiing, first aid and sea survival.

address: Prince of Wales Dock, SA1


Some of the best surfing spots in the UK are in Swansea, with Llangenith, Caswell and Langland bays being the most popular - contact:

Gower LiveReal time view of the surf at Langland Bay

phone: +44 1792 362192

Mumbles.

Langland Board Riders

phone: +44 1792 386104

address: 19 Croftfield Crescent, Newton

Yoga

phone: +44 740 1999134

address: Madison House, Orchard Street, City Centre

Karma Fitness Centre and Juice Bar

phone: +44 1792 930019

address: 13 Strand, City Centre

phone: +44 7734 105301

address: Little Gam Steet, City Centre



Learn
Universities
Swansea University has a student population approaching 20,000, and for the past few years has been the successive winner of The Times award for the best student experience in the UK. The university is also listed as one of the top 200 universities in the world according to QS World University Rankings.
University of Wales Trinity St David, Swansea. With several campuses throughout the city, the university is famous for its courses in stained glass design and digital media.
Colleges
Sailing
Sailing lessons are available at several training schools in the Swansea area:
Mumbles Sailing Club

phone: +44 1792 864499

address: Mumbles

phone: +44 1792 467813

address: 14 Cambrian Pl

Marina.

phone: +44 1792 234502

address: 34 Eastlands Park, Bishopston
Buy
What
Welsh Love Spoons - large spoons carved in wood that are traditional gifts between lovers.
Woven cloth - available in traditional Welsh designs and sold as shawls, skirts and purses.
Monopoly - one of the series of this famous game is based on the streets and landmarks of Swansea.
Laverbread - the Swansea specialty dish made from seaweed.

Murroughs Welsh Brew TeaQuality African and Indian teas blended in Swansea

Michton ChocolatesLuxury chocolates made in Swansea.

Salt Marsh Lamb Locally produced Gower salt-marsh lamb, from sheep reared in the salt-marshes of Loughor Estuary is available from many local butchers and in Swansea Market.
Where
Handicrafts
General
The
Quadrant Centre
and
Oxford Street
are the main shopping centres, and host all the usual department and chain stores. Between these two areas lies the much more interesting city
market
. Although housed in a modern building, Swansea Market can trace its history back to medieval times, and is the largest market in Wales. It is also a good place to purchase the local delicacy of
laverbread
(though note that laverbread requires refrigeration to keep fresh. If travelling, request vacuum-packed or canned).
On the edge of the city centre is an array of large, utilitarian shopping centres collectively known as
Parc Tawe
. Within the complex there is also a UCI multiscreen cinema and bowling alley.
Parc Fforestfach
is an out-of-town shopping centre that houses several huge retail stores. And, for night owls, the huge
Tesco
supermarkets between the Quadrant Centre and Oystermouth Road in the city centre, Parc Fforestfach and Llansamlet are all
open 24 hours
.
High Street (near the junction with College Street) has several stores specializing in backpack and hiking equipment. So, if your tent is springing a leak or your hiking shoes wearing thin, this is the best place to replenish your equipment before heading into the wild Welsh countryside. High Street is Swansea's creative hub, and so among the theatres and galleries, there are also niche shops.

Sketty Local Produce Market

address: Bishop Gore Comprehensive School, Del-La-Beche Road, Sketty

9:30AM-12:30PM. Occurrence 1st Saturday each month

Swansea MarketIn the heart of Swansea City Centre, open 6 days a week, it has a number of stalls selling locally sourced produce.

address: Gwydr Square, Uplands and Dylan Thomas Square, Marina

Fully fledged street markets selling fresh breads, fruit, plants and handicrafts
Books
address: King Edward Road.

Second-hand books.

Dylan Thomas Centre

address: Somerset Place, Marina

Good selections of local poetry and history.

Uplands

address: 27 Uplands Crescent

Specialist in maps and guide books, also a selection of novels.

Waterstones
Eat
What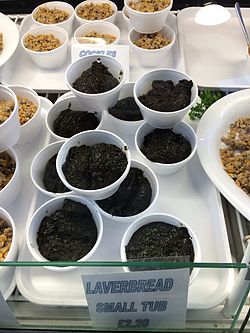 Ice-cream. Due to an influx of Italian families into the area during the early 20th century, Swansea has developed quite a reputation for its tubs and cones. While there are several excellent brands, the nationally acclaimed Joe's Ice-cream is by far the most famous, and their parlours are venerable institutions in the city - in fact it is often said that no visit to Swansea is complete until you've had a Joe's.
Laverbread. This Swansea specialty breakfast made from seaweed is delicious rolled in oatmeal and lightly fried or just heated and served on buttered toast. Request your hotel serve it for breakfast or pick up a can or vacuum pack from Swansea Market.
Welsh Cakes. Scone-like cakes studded with raisins and dusted with sugar. Available at most bakeries, but best served hot off the griddle at Swansea Market.
Welsh Rarebit. Swansea is a good place to sample this Welsh specialty of melted cheese spiced with ale and herbs. It is generally served on toasted bread with a side salad.
Cockles These are harvested from the mud-flats in the nearby Loughor Estuary. Cockles are sold in Swansea Market.
Salt Marsh Lamb This is the meat from lambs which graze in salt marshes. The meat from these lambs have a subtly different taste to lamb sold in supermarkets. Local Gower salt-marsh lamb comes from sheep reared in the salt-marshes of the Loughor estuary. Salt marsh lamb can be bought in many local butchers and in Swansea Market and is served in the premier local-cuisine restaurants in the city like Bizzy Lizzies Bistro and the Fairyhill restaurant. (see below)
Where
Swansea is teeming with quality restaurants - over one hundred in the city centre alone. Wind Street for theme bars and quality
international cuisine
. Quality
Chinese
food on High Street and Princess Way. St.Helen's Road for take away and sit down
Indian
(also quality restaurants on Walter Road and off the Mumbles Road at Blackpill),
Italian, Turkish
and
Indonesian
. Cheap and excellent vegetarian at 8 Cradock Street, off Kingsway. The
Environment Centre
, Pier street, Marina offers cheap and excellent
fair trade
coffee and snacks.
Grape and Olive at the top of the Meridian Tower in the Marina has incredible views over Swansea Bay
Mumbles Road in Mumbles has a wide range of restaurants. Check out Verdi's on Mumbles sea front for great views over a cappuccino.
Joe's Ice-cream Parlours
are on St. Helen's Road, near the Guildhall, and near the post office on Mumbles Road in Mumbles.
Below is a very brief list of popular restaurants in the city centre and marina area.
V = vegetarians catered for
.
Budget
American
Charlie's Chowder

phone: +44 1792 411074

address: 2 Prospect Pl

Marina (near Morgan's Hotel). M-Tu 11AM-5PM, W-Sa 11AM-midnight. Serves up great New England dishes in simple New England style.
Cafes (English Breakfast)
Coffee's Been

address: Ground Floor, 55 Walter Rd

Espresso Bar

phone: +44 1792 653469

address: 65 High Street

This is an unpretentious little cafe opposite Swansea railway station. They serve fry-up breakfasts in the morning. During lunch hours, they serve several British classics like cottage pie and roast dinners. In addition to the plated food, they serve made to order sandwiches and baugettes and coffee. This is an excellent place to fill up when there is some time to kill before the next train leaves.

Kardomah

address: Morris Buildings, 11 Portland St

Sams Café

address: St. Helens Road

address: 69 Uplands Crescent

Home of the "Beast" a massive breakfast, has to be seen to be believed
Cafes (Fish and Chips)
Roma

address: Bryn-y-Mor Road

Windsor Cafe

address: 3 Cradock St
Chinese:
April's Cafe

phone: +44 1792 455422

address: 19 Mansel St

April's Cafe 2

phone: +44 1792 455422

address: 83 Brynymor Rd

China Deli and Cafe

address: 42 St. Helens Rd

tasty authentic Chinese cafe dishes, superb value

Oriental Garden

phone: +44 1792 464600

address: 18-23 Anchor Court, Victoria Quay, Maritime Quarter

Buffet style cuisine - at least 40 dishes on rotation.
Indian:
.
Indian Scooner

phone: +44 1792 649301

address: 18 Anchor Court, Victoria Quay, Marina

Nawab Tandoori

phone: +44 1792 470770

address: 12 Christina St

Anarkali Tandoori

phone: +44 1792 650549

address: 79-80 St. Helens Rd

V

Gulshan

phone: +44 1792 456390

address: 74 St. Helens Rd
Indonesian:
Garuda

phone: +44 1792 653388

address: 18 St. Helens Rd
International:
Cafe Continental

phone: +44 1792 654663

address: 37 Castle St
Thai:
Lemongrass

phone: +44 1792 654764

address: 43 St Helens Rd

Thai cuisine.

phone: +44 1792 652610

address: 400 Oystermouth Rd

Near the Guildhall, the restaurant offers wonderful views of Swansea Bay, and is connected to a lounge bar - good, inexpensive meals.
Vegetarian:
phone: +44 1792 555518

address: 18 Brynymor Road

A vegan restaurant serving mouth-watering dishes.

Khusi Khana

phone: +44 1792 411076

address: 36 St Helens Rd

Indian snacks and fast food.

phone: +44 1792 468469

address: 8 Cradock St

cheap and really excellent food - Indian dishes are a specialty, but the desserts alone are worth the visit. M-Th noon -3PM, F-Sa noon - 6PM. Closed on Sunday.

Retreat

phone: +44 1792 457880

address: 2 Humphrey St

Vegan - small, backstreet cafe.
Welsh/British
phone: +44 1792 367616

address: 626 Mumbles Rd

Mumbles. Wholesome meals made with locally sourced ingredients. Open: Tu-Sa 10AM-4PM, Sa 6:30-9:30PM
Mid-range
American:
Frankie and Benny's

phone: +44 1792 461774

Salubrious Place, Wind Street. - V
Chinese (Cantonese):
Dragons Nest

phone: +44 1792 644868

address: 12 High St

The only Chinese restaurant in the Swansea area to serve Dim Sum. Excellent food and great service.

Evergreen Cantonese

phone: +44 1792 466787

address: 9 St Helens Rd

phone: +44 1792 653300

address: 18-23 Anchor Court, Victoria Quay, Marina

An award winning restaurant overlooking the waterfront. Excellent food. Traditional Chinese decor.

Rendez-Vous

phone: +44 1792 467113

St. Davids Square, Princess Way. French and Chinese cuisine, great food, great service.

Sea Garden

phone: +44 1792 872886

Penclawdd Road, Penclawdd,

The Emperor

phone: +44 1792 652888

address: 206 High St

Wild Swan

phone: +44 1792 472121

address: 14 Orchard St
French:
phone: +44 1792 655780

address: 217 Oxford St

phone: +44 1792 455498

address: 178 Oxford Street
Indian:
Anarkali Tandoori Restaurant

phone: +44 1792 650549

address: 80 St. Helens Rd

Bengal Brasserie

phone: +44 1792 641316

address: 67 Walter Rd

Uplands.

Cafe Saffron

phone: +44 1792 477771

address: 1 Wind St

K2

phone: +44 1792 465015

address: 91-92 Mansel St

Miahs

phone: +44 1792 466244

address: St. Helens Rd

Mumbai

phone: +44 1792 402402

address: Mill Lane, Blackpill

modern and spacious ambiance - amazing food - very highly recommended.

phone: +44 1792 475444

address: Victoria Park, Gorse Ln

phone: +44 1792 462350

address: 3-4 J Shed, Kings Road, Marina

In a converted warehouse. The cozy and warm decor compliment the excellent meals and service

The Seaview Tandoori

phone: +44 1792 361991

address: 728 Mumbles Rd

Mumbles

phone: +44 1792 466658

address: 13 St. Helens Road, SA1 4AW

Excellent value for money, service is a bit slow.
International:
Chelsea Cafe

phone: +44 1792 464068

address: 17 St. Marys St

Popular with young up-and-comings.

phone: +44 1792 449731

address: 68 Brynymor Road

Cafe and bar. Excellent British and Italian food. Warm, cozy atmosphere. Sourdough pizzas a specialty.

Ice

phone: +44 1792 646111

address: 64 Wind St

phone: +44 1792 649060

address: Kings Road, SA1

Chic restaurant and lounge with views over the Sail Bridge. Delicious and innovative cuisine.
Italian:
Ask

phone: +44 1792 477070

address: 6 Wind St

Bella Napoli

phone: +44 1792 644611

address: 66 Wind St

Vivaldi Ristorante

phone: +44 1792 456780

address: 29 Singleton St

Castellamare

phone: +44 1792 369408

address: Bracelet Bay, Mumbles

Built on the edge of cliff, this restaurant offers unrivaled sea views as a backdrop to your pizza and latte. Buses travelling to Limeslade make a stop here. From Mumbles Village, it is a 20-30-minute walk.

La Bussola

phone: +44 1792 655780

address: 217 Oxford St

Pizza Express

phone: +44 1792 474320

address: 40 Castle St

Pizzeriea vesuvio

phone: +44 1792 648346

address: 200-201 Neath Road, Landore

Topo Gigio

phone: +44 1792 467888

address: 55 St. Helens Rd

phone: +44 1792 369135

address: Knab Rock, Southend, Mumbles

Probably the nearest thing the UK has to an authentic Italian sea-front cafe-cum-restaurant, and the huge plate glass windows offer spectacular views over Swansea Bay. Buses traveling to Limeslade stop here. Alternatively, it can be reached on foot via the promenade - a ten minute walk from Mumbles Village.
Mediterranean :
phone: +44 1792 462617

address: Meridian Tower, Trawler Road

A penthouse restaurant in the tallest building in Wales with spectacular views of central Swansea and the bay. Wifi access is available and parties are catered for.

The Mediterranean

phone: +44 1792 363666

address: 640 Mumbles Rd

Mumbles. A small restaurant with loads of character and excellent food.
Japanese:
Wasabi

phone: +44 1792 464999

address: 49 Uplands Crescent, Uplands

Excellent sushi and noodles with sake or green tea to wash it down.
Lebanese/Persian:
Kan Zaman Restaurant

phone: +44 1792 465665

address: 67 Brynymor Rd

Relaxing atmosphere and wide choice of dishes.

Shiraz Restaurant

phone: +44 1792 107760

address: 696 Mumbles Rd

Mumbles. Great selection of Middle Eastern dishes - uninhibited view over Swansea Bay.
Mexican:
Chiquitos

address: 15 Salubrious Pl

Unit.
Pan Asian
Cosmo

phone: +44 1792 456666

address: 16 Castle Street, SA1 1JF

Buffet restaurant. Serves a range of Asian cuisine. Very nice decor.
Thai
phone: +44 1792 650050

address: Ice House, Kings Road, SA1

small but cosy restaurant serving authentic Thai dishes.
Turkish:
phone: +44 1792 654966

address: 22B St Helens Road, SA1 4AP

Non-pretentious but excellent Turkish restaurant with a very friendly staff. Portions are big and cheap.

Mediterranean

phone: +44 1792 363666

address: 640 Mumbles Road, Mumbles

Great, no-nonsense Turkish cuisine.
Vegetarian:
Bizzy Lizzies Bistro

phone: +44 1792 473379

address: 55 Walter Road, Uplands

Crumbs Kitchen

phone: +44 1792 456258

address: 2 Gwydr Square, Uplands

Delicious, healthy and innovative
Vietnamese:
Vietnam Restaurant

phone: +44 1792 650929

address: 36 Uplands Crescent, Uplands
Welsh/British:
Bizzy Lizzies Bistro

phone: +44 1792 473379

address: 55 Walter Road, Uplands

Dylan Thomas Centre

phone: +44 1792 463980

Hanson at the Chelsea

phone: +44 1792 464068

address: Ty Castell House, 17 Mary St

The Gower Kitchen

phone: +44 1792 476344

address: 39 Uplands Crescent

Sketty Hall

phone: +44 1792 284011

address: Sketty Lane, Sketty

In a beautiful white Georgian Mansion within the spacious grounds of Singleton Park, this restaurant offers an especially peaceful and relaxing atmosphere.

The Pump House

phone: +44 1792 651080

Pump House Quay, Maritime Quarter.
Splurge
French:
phone: +44 (1792) 365 040

address: 3 Oyster Wharf, Mumbles Road, Mumbles

High quality French cuisine and seasonal menus. Seafront location, offering stunning views over Swansea Bay.

Didier and Stephanie

phone: +44 1792 655603

address: 56 St Helens Rd

French country cuisine.
Indian
phone: +44 1792 467000

address: 73-74 St. Helens Rd

Swansea.
Italian:
phone: +44 (1792) 456285

address: Unit 3, Fishmarket Quay, Marina

Superb traditional Italian cuisine. on the waterfront at the marina.
International
phone: +44 1792 547246

address: 1A King Edward's Rd
Mediterranean/Spanish:
phone: +44 1792 469683

address: 28 Wind St

A favourite with Catherine Zeta-Jones

phone: +44 1792 464530

address: Unit 5, J Shed, King's Rd
Welsh/British:
Norton House

phone: +44 1792 403210

address: Norton Road, Mumbles

phone: +44 1792 363699

address: Brynfield Road, Langland

A fine modern British restaurant with a fantastic view overlooking Langland Bay. Ingredients are organic when available

Patrick's

phone: +44 1792 360199

address: 638 Mumbles Road, Mumbles

phone: +44 1792 462251

address: Trawler Road, Marina

A chic deli, bar, cafe and restaurant. Great place to to boat-watch over a cappuccino.

Papa Sanchos

phone: +44 1792 454647

address: College St

Stone grill restaurant.

phone: +44 1792 290929

address: 73-75 Eversley Road, Sketty

Excellent dishes made with locally sourced produce and seasonal ingredients. Slice has won two covered 'Which' awards for cuisine

phone: +44 1792 655666

address: Unit 18 Waterfront Museum, Marina

On the waterfront, Swigg functions as a cool café by day and a sophisticated bar by night.
Drink
Swansea's busiest and liveliest watering hole is on historic Wind Street (appropriately pronounced Wined) and surrounding area, which is also the home to many of Swansea's best restaurants.
Wind Street marks the centre of the city's night club and bar area, and on a Friday or Saturday night the words of Dylan Thomas, although originally referring to death, seem somehow appropriate in describing the mood of the revelers: "Do not go gentle into that good night, .... burn and rave at close of day; rage, rage against the dying of the light."
Another popular watering hole is the Brynymor Road area. This area has a more laid-back atmosphere than Wind Street and is popular with the many university students who live nearby. There are also several excellent international restaurants in the area - serving Italian, French, Mediterranean, Thai and Indian cuisine.
Uplands is Swansea's most bohemian area and is the place to find indie restaurants, bars, and cafes, while Mumbles has some lovely old pubs and a number of distinctive cafe, many with sea views.
Coffee
Swansea enjoys a wonderful cafe culture, originally sparked by an influx of Italian families to the city in the early 20th century and later expanded with the establishment of local independents.
City Centre/Marina
phone: +44 1792 468230

address: Prince of Wales Docks, Kings Road, SA1

A waterside jazz cafe/bar serving snacks and tapas live music on Friday and Saturday nights. Open: Thur-Sun 3PM-12midnight, Closed: Mon-Wed.

address: King's Lane

A spacious cafe in an historical building. Micro-roastery, Excellent coffee and meals.

address: 11 St Helen's Road

Relaxed atmosphere, Good Coffee. Specializes in offering Cannabidiol (CBD) supplements.

phone: +44 1792 426199

address: 30 Cradock Street

A lovely little cafe run by a Brazilian couple. Specializes in Brazilian and Italian food and snacks.

Café Nissé

address: 11 Wind St

A cafe-cum-gallery.

address: Trawler Road, Marina

A trendy cafe over looking the marina. Out door seating. Great coffee and snacks.

address: 32 Kingsway.

Exposed wood and concrete gives the cafes an urban charm. Vegan cakes are a specialty.

Gershwins Coffee House

phone: +44 1792 474000

address: 14 Nelson St

Holbrook's

phone: +44 1792 477797

address: 28 Union St

Centrally located with a pleasant and warm atmosphere. Excellent coffee, including Fair Trade, and good selection of cakes.

Java Tading Company

phone: +44 1792 458141

address: 10 Picton Archade

Kardomah

phone: +44 1792 652336

address: 11 Portland St

The original Kardomah was a favourite haunt of Dylan Thomas.

address: Mathew House, 82 High Street

Matt's offers healthy, wholesome meals on a pay-as-much-as-you-like basis

phone: +44 1792 655225

address: Urban Village, 218 High St

A chic bistro-cafe. great coffee, innovative dishes (including a wide selection of vegetarian options) and interesting wines.

Pure Refreshment

address: Ty John Penri Building, St. Helen's Road

A juice and smoothies bar using all natural ingredients.

Strudles Coffee Shop

phone: +44 1792 650011

address: Whitewalls

Starbucks

address: Oxford Street

From Seattle to Swansea, the same standard decor and coffee.

The Sub-Cafe

phone: +44 1792 476334

address: 6 Shoppers Walk Archade

address: Llys Glas

A social enterprise cafe that uses fairtrade and locally sourced products.

Tiffanys

phone: +44 1792 646048

address: 57-58 Plymouth St, City Centre

phone: +44 1792 456100

A large cafe great views over marina huge selection of coffees and teas.
Mumbles
Cafe Valance

address: 50 Newton Rd

The leather sofas, wood flooring, brick walls and open fronting give this cafe a very trendy but homely atmosphere.

The Coffee Denn

phone: +44 1792 360044

address: 34/36 Newton Rd

Simple, but excellent value meals

Ocean

phone: +44 1792 363462

address: 61 Newton Rd

Alcohol served.

Pavilion Bistro

phone: +44 1792 365225

Also Verdis and Castellamare - see Eat listing.
Swansea Beach
360 Beach and Watersports Cafe Bar

phone: +44 1792 655844

address: Mumbles Road

This is a cafe and snack bar near St Helen's Rugby Ground on the beach front.

phone: +44 1792 406000

address: Old Station Building, Mumbles Road

A quaint cafe and snack bar based in a building that was once a station for the historic Swansea to Mumbles Railway.
Also see see Mumbles section above.
Uplands
phone: +44 1792 473276

address: 59 Uplands Cres

Live music and fair trade coffee. Friendly, but uninspiring decor.

Chambers Cafe Bar

phone: +44 1792 480699

address: 87 Brynymor Rd

Modern and cosy serves wholesome beverages and snacks, such as fair-trade coffee, teas, smoothies, local produce, hummus and ciabattas.

Noahs Yard

address: 38 Uplands Rd

An Italian inspired cafe/bar. Live jazz every Monday from 8:30-11PM. Excellent atmosphere. Cosy and earthy artwork, including an original Banksy.

One Shoe Cafe

phone: +44 1792 439595

address: 1 King Edward Rd

In a former cobblers, this small, cosy cafe serves excellent coffees and wholesome snacks - very competitive prices.
Alcohol
City centre: Wind Street vicinity
Bar-Co

phone: +44 1792 460658

address: 8-9 Wind St

Bar SA1

phone: +44 1792 630941

address: 2-5 Wind St

Exchange Bar

phone: +44 1792 510919

address: 10 The Strand

phone: +44 1792 654366 07527246701

address: 218 High Street

live music and events venue

Idols

phone: +44 1792 474240

address: 10 Wind St

La Cantina

phone: +44 1792 472874

address: Wind St

The Cross Keys Inn

phone: +44 1792 630921

address: 12 St Mary's St

Revolution

phone: +44 1792 475189

address: 24 Wind St

Varsity

phone: +44 1792 463520

address: 63 Wind St
City centre: Kingsway vicinity
Eli Jenkins

phone: +44 1792 641067

address: 24-25 Oxford St

The Potters Wheel

phone: +44 1792 465113

address: 85 The Kingsway
City centre: Bryn-y-Mor Road vicinity
Cardamon Lounge

address: St. Paul's Church, St. Helens Road

address: 3 Duke St

The Bryn-y-Mor

address: 17 Brynymor Rd

The Mill

address: 75 Brynymor Rd

address: 1 Brynymor Rd

The Wig

address: 134 St. Helens Rd
Uplands
Noahs Yard

address: 38 Uplands Rd

An Italian inspired cafe/bar. Live jazz every Monday from 8:30-11PM. Excellent atmosphere. Cosy and earthy artwork, including an original Banksy.

Uplands Tavern

address: 42 Uplands Crescent, Uplands

Live bands play on most nights of the week. Features a large fenced outdoor area at the front. This can be a very lively pub at weekends and on special occasions.

phone: +44 1792 649984

address: 76b Walter Rd,Uplands

bar and music venue
Sleep
There is a whole row of
B&Bs
on the sea-facing Oystermouth Road and also many in the spacious suburb of Uplands. Both locations are near the city centre, though lodgings in the Uplands area tend to be of better quality. Mumbles Road in Mumbles also has a wide selection of B&Bs with sea views.
Youth Hostels
Swansea has four youth hostels - three in rural setting (See
Gower Peninsula
) and one in the city area:
Camping/Caravans
Bed & breakfast
Self-catering
Self Catering Accommodation Agencies
Budget
phone: +44 1792 602403

address: Singleton Park, SA2 8PP

Swansea University offers accommodation to the public during Summer and Easter holidays. They can offer a wide range of accommodation ranging from bed and breakfast non-ensuite single rooms through to self-catering apartments. They can accommodate large groups for events and conferences in the local area. Accommodation is available in Swansea University's Singleton Park campus set in beautiful parklands which is 5 minutes walk to the beach.
Travelodge Swansea Central Hotel

phone: +44 870 191 1826

Princess Way. A modern but very basic hotel in city centre.
phone: +44 871 984-6055
address: Swansea West Services, Penllergaer, SA4 9GT
Mid-range
Splurge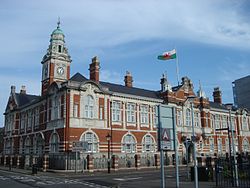 Cope
Media
BBC. The BBC's Swansea and Region-wide news website.
The South Wales Evening Post. The city's main evening paper - available from Monday to Saturday at news stands throughout the city - the best publication for finding out about job openings, events or just for keeping up to date on developments in the city.
Swansea Sound. One of the first local radio stations to take to the air in the UK. Popular oldies music is a regular feature as well as news, current affairs and discussion programs. Welsh language programming is broadcast daily when the station is known as Sain Abertawe. Swansea Sound broadcasts at 1170MW and DAB digital radio.
The Wave. Covers similar ground as their sister station, Swansea Sound, but is aimed at a younger audience by providing a mix of popular music including mainly current chart and contemporary hits, as well as news, local information and entertainment. The station is available on 96.4FM and DAB.
Bay Radio Broadcasts to the same area as The Wave & Swansea Sound. Includes easy listening music as well as an adult orientated format. Available on 102.1FM.
What's On. This is monthly information booklet published by the city council listing up-coming events and movie information. The booklet is available free from the main tourist office or from cafes, restaurants and hotels in tourist areas.
Compass. A bi-monthly booklet issued free and covering the mystical and spiritual aspect of Swansea. A good resource to find information on local Buddhist groups, tai'chi and yoga classes and reiki and shiatsu practitioners. Compass is available from the main tourist office and from cafes and restaurants, particularly those in the Mumbles and bed-sit area of Uplands.
Swansea Life Magazine. A glossy magazine covering all the hot topics in the Swansea area. Sold at most newsagents in the city.
Swansea.com. Information guide on hotels, bars, nightclubs and what to do in the city.
Keep fit
Bishopston Leisure Centre

phone: +44 1792 235040

address: The Glebe, Bishopston

Bishopston features a well equipped gym, a sports hall and tennis courts.

The LCfeatures a comprehensive gymnasium and spa.

Village Swansea Health & Fitness Club

phone: +44 844 847-2970

address: Langdon Road

Offers state of the art leisure facilities on a truly impressive scale. Open to both hotel guests and club members. Features a 25m swimming pool, cardio and resistance training equipment, sauna, aerobic studio and whirlpool spa.
Religious services
There are many religious and spiritual groups meeting in Swansea. Below is just a representative of the most common.
Dzogchen CommunityBuddhist - Nyingma Tradition. Regular meetings in Fforestfach

address: 168 St Helen's Road

Quaker.

The Heyokah Centre

phone: +44 1792 457880

address: The Retreat, 2 Humphrey Street

Native American practices.

Swansea Congregational Jehovah Witnesses

phone: +44 1792 411861

address: Kingdom Hall, Uplands

phone: +44 1792 524282 (Annzella Gregg)

address: 7 Benbow Close, Sketty

Buddhist - Kagyu Tradition

Radha Krishna Temple (Govinda's)

phone: +44 1792 468469

address: 8 Cradock St

phone: +44 1792 652683

address: Convent Street, Greenhill

phone: +44 1792 655489

address: St Mary's Square

joint Anglican and Greek Orthodox

address: 14/15 St Helens Road

phone: +44 1792 208373

address: 5A Beechwood Road, Uplands

Hindu.

Yungdrung Bon Meditation Group

phone: +44 1792 207474

address: 122 Clydach Rd

Morriston.
Stay safe
Beaches and coast
As a coastal city, visitors inevitably come into contact with the sea. Be aware of local conditions before swimming or undertaking boating activities.
Among the popular beaches,
Three Cliffs
is dangerous for swimming due to the strong under currents caused by a tidal lagoon.
Worm's Head
off the tip of Rhossili Bay has also claimed many lives. Ensure that you know the times of the tides before venturing out the island. Many people have been swept away trying to return through a fast rising tide. The cliffs between the
Rhosilli
village and
Worms Head
have also claimed lives, some of the grass and earth on the cliff edge is eroding and walkers should heed local warnings and stick to the path. Indeed, care should always be taken while taking clifftop walks in the Gower.
From the beginning of May,
Caswell
,
Langland
,
Bracelet
and
Port Eynon
beaches are all patrolled by professional
lifeguards
during the weekends. From June until September the beaches are patrolled 7 days a week
Advice for safe swimming
:
A red flag means danger. Do not enter the water if the red flag is flying
Consider bathing at a beach that's under lifeguard protection
Don't swim alone at a deserted beach
Don't use inflatables. They are easily swept away by strong currents
If you see someone in trouble, call 999 and ask for Coastguard
Inquire about swimming conditions at local tourist offices prior to venturing to a beach without lifeguard cover
Read warning notices posted near beach access sites
The area between the red and yellow flags marks the area patrolled by lifeguards. Don't swim outside this area
Crime
Crime occurs in Swansea as in most other cities, and sensible precautions should be taken. As elsewhere in the UK, there can be drink related problems in those areas with high concentrations of pubs and clubs, such as Wind Street. In general, however, Swansea is a very safe city and violent crime is rare.
Hospitals and clinics
In an emergency, dial 999 and request ambulance service.
Morriston Hospital

phone: +44 1792 702222

address: Heol Maes Eglwys, Morriston

the largest hospital in the city - operates a specialist burns centre and accident and emergency unit.

Singleton Hospital

phone: +44 1792 205666

address: Sketty Lane, Sketty

a large hospital but no accident and emergency unit.

phone: +44 1792 479040

address: Ffynone Road, Uplands

a small private hospital in the Uplands area - non-emergency treatment only.

Swansea Clinic of Natural Medicine

phone: +44 1792 644362

address: 20 Walter Rd

phone: +44 1792 472519

address: 40/41 St James Crescent, Uplands

Drug and alcohol rehabilitation centre
Connect
Internet
The city centre is a
Wi-Fi hotspot zone
, with a charge of £10 for 2 hours to access the system. There is also a Wi-Fi hotspot at Crossfire, on the Kezone/BT Openzone network, with single-hour access available for £6 or four hours for £10.
Internet cafes
City Centre
:
Swansea Central Library, Civic Centre, Oystermouth Road. Access is free, but ID required for registration. Closed on Sundays. Use is intended for research, and so some websites may be blocked.
Crossfire Internet & LAN Gaming Centre, on the junction of Kingsway, Princess Way and College Street. Has 58 computers across 2 floors.
YMCA, St Helens Road, near junction with Kingsway. Has six computers on the second floor.
Mike-O-Soft Computers, Swansea Market. Has three computers in a corner section.
Mumbles
:
Mumbles Library, Dunn's Lane - access is free, but ID required for registration.
Post office
City Centre: The city's main post office is above the W.H. Smiths store in the Quadrant Shopping Centre.
Mumbles: The post office is on Mumbles road, between the Tourist Office and Joe's Ice-cream Parlor.
Many other smaller sub-post offices can be found throughout the City and County of Swansea, including in many Gower villages.
Go next
Other places of interest in the Swansea area:
Dan-yr-Ogof Caves are in the Swansea Valley (on the A4067 - main Swansea to Brecon Road). Voted Britain's "favourite natural wonder" in a nationwide competition organized by T.V. Channel 5, it is the largest complex of show caves in Western Europe. There is also a craft shop and restaurant.
National Botanic Garden of Wales, Carmarthenshire (off A48, between Swansea and Carmarthen). For public transport information, call 0870 608 2608.
Brecon Beacons National Park - a short drive from Swansea will take you into this land of lakes, mountain peaks and Celtic mystery.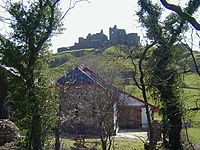 Half day drive from Swansea: Join M4 at Swansea and take until the end. Follow A483 and then A40 through Llandeilo and the market town of Llandovery. Both towns are very picturesque, though Llandovery is larger and has more places to relax and visit. Instead of traveling directly to Llandovery, it is possible to take a detour to the river-side village of Trap and the spectacular Carreg Cennen Castle. There are handicraft gift shops and cafes at the castle and near Trap. From the castle there is the option of returning to Llandeilo and rejoining the A40 or traveling through the lanes to Llandovery. From Llandovery, follow signs for Sennybridge and then take a right onto the A4067. This road leads to the Dan-yr-Ogof show caves and back to the M4, (Head west for Mumbles and Gower and leave the motorway at 'Exit 47', 'Swansea West,' or head east for Swansea City Centre and leave the motorway at 'Exit 42.' Follow signs for 'The National Waterfront Museum'). During this half day journey, you will pass through some of Wales' most breathtaking pastoral scenes, and along the way take in quaint villages and towns, mountains, caves, lakes and waterfalls.
Pembrokeshire Coast National Park — stunning coastal scenery a 90+ minute drive (longer at vacation times)
Tenby — a medieval walled town - great beaches - 90+ minutes by car, bus or train.
Cardiff — Wales' capital city - castle - shopping - around 50 minutes by car, bus or train - frequent connections by bus and train.
Ffos Las Race Course — a brand new horse racing course that opened in 2009.
Pembrey Circuit — a racing circuit that is deemed to be the home of Welsh motorsport. Has held the British Touring Car Championship twice and has been popular with F1 testing. Sometimes has monster truck rallies and other events. A 40min drive away (also, on the X11bus route to Carmarthen)
Gower Peninsula — The beautiful Gower Peninsula is the United Kingdom's first designated Area of Outstanding Natural Beauty. It is in Swansea, and is famous for its stunning coastal scenery, wide sandy beaches and medieval castles. Llangennith, in particular, is very popular with surfers and is considered to be one of the best surf areas in the UK.