Sydney Airport
Sydney Kingsford Smith International Airport
(
SYD
) is the main airport of Australia's largest city, Sydney. It is the main hub for Australis's flag carrier Qantas and has one of the world's busiest air routes from Sydney to Melbourne.

Understand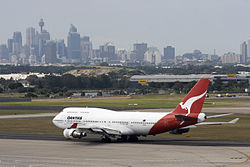 Sydney Airport is Australia's busiest airport and the main gateway to Australia. It is 9 km from the
CBD
(city centre) on the northern shores of Botany Bay. Being close to the city centre and also one of the oldest commercial airports in the world means this airport is space constrained and hemmed in by residential areas.
Sydney Airport has three terminals divided into two precincts:
Terminal 1
All international flights and some domestic flights. Check your itinerary and flight number because check-in, connections and customs will take longer when arriving or departing from the International Terminal, even on a domestic flight. You do not need a passport (only an identification document) when travelling domestically, just hang on to your boarding pass - but be aware that the international boarding and check-in times apply to domestic flights leaving from the international terminal.
Terminal 2
The largest domestic terminal. Airlines using this terminal include Virgin, Jetstar, Tiger and Regional Express (Rex).
Terminal 3
Qantas and Qantaslink domestic flights and is a short walk from Terminal 2.
Terminal 3 check-in closes 45 minutes before flights depart.
The terminals are notoriously busy at peak periods, whether approaching it by land or by air. If you're going to the airport by car or taxi in the morning (7-9AM), allow some time for traffic jams especially if leaving the CBD. If you arrive in the international terminal when a few big A380 planeloads of people do (usually early mornings), then immigration, customs and then the taxi queue can take well over an hour. The first and last days of holiday periods can see the traffic surrounding the terminals grind to a halt.
Flights
As Australia's premier airport, Sydney has extensive connections to many Australian and worldwide centres.
There are direct connections to South Africa, and North and South America, South-East Asia, Japan and the Middle East. European, North African and other Asian centres are primarily served through regional hubs in
Dubai
,
Doha
,
Abu Dhabi
,
Kuala Lumpur
,
Singapore
,
Bangkok
and
Hong Kong
.
North America is connected via
Los Angeles
,
San Francisco
,
Dallas-Fort Worth
,
Honolulu
and
Vancouver
. Travellers from
South America
can fly direct from
Santiago
, while those from southern Africa can catch a flight from
Johannesburg
.
There are also direct flights to the South Pacific Islands and New Zealand, with multiple daily flights to the New Zealand cities of
Auckland
,
Wellington
,
Christchurch
and
Queenstown
. There are also daily flights to
Nadi
, from which you can connect to other Pacific islands.
You can fly to Sydney directly from all other Australian capital cities and from many major regional airports. Otherwise, you need to fly to the state capital and transfer to a Sydney flight. Sydney can be reached within 1½ hours from
Melbourne
and
Brisbane
, 45 minutes from
Canberra
and just under 4 hours from
Perth
and
Darwin
. The popular tourist cities of
Alice Springs
and
Cairns
are reachable within 3 hours.
Ground transportation
Sydney Airport is 9 km from the city centre and reaching the city centre or other suburbs is easy, whether it be by suburban rail, bus or car.
By train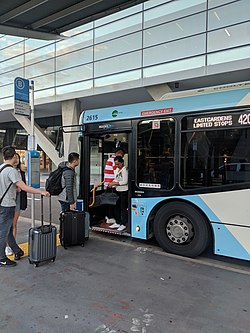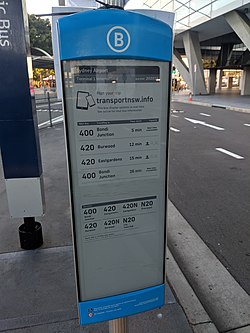 Sydney Trains
have two stations at Sydney Airport. Domestic station services T2 and T3, and International station serves T1. Each station is connected to its airline terminals via lifts and pedestrian subways.
The fare consists of two components. A gatepass component (that is a premium for using the airport stations) and the normal train fare. The gatepass (also known as the "station access fee") is $14.87, capped at $30.16 in a Monday-Sunday week (on a reusable Opal Card) (as of Oct 2019). These prices increase yearly. The train fare component is $3.61/$2.52 (peak/off-peak) if you have a reusable Opal card or contactless credit-card, or $4.50 for a single-use Opal ticket. The train fare component is also subject to the normal day-caps and weekly rewards on a reusable Opal Card or contactless credit-card. So a single-use opal ticket from the airport to the city will be $18.80, with some reductions if you purchase an Opal Card, contactless credit card, travel off-peak, or travel frequently in the same M-Su week. There is a minimum of $35 to purchase or top up an Opal Card at the Sydney Airport stations.
The airport is on the
T8 Airport line
and trains run at least every 10 minutes between 6AM and 10PM. Passengers for the city centre should take a train from Platform 1. From the City, trains leave from Central platform 23. Trains leave from the other city circle stations too, but check the indicator boards, because not all trains from city circle platforms go via the airport.
The trains form part of the commuter train network, and during peak hours you may not get a seat at the airport stations, but you should still be able to board the first train to arrive. If boarding in the city heading towards the airport with baggage, try to avoid Town Hall Station. You may not be able to get on a train with baggage at this station during peak time.
By bus and train
To skip the GatePass fee, taking the
Route 400 or 420 local bus
in conjunction with a train is an option. The 400 bus travels towards Bondi Junction, and the 420 towards Burwood. If going to the CBD, hail the bus at one of the stops located outside T1 and T3 (but not T2), heading towards
Bondi Junction
. Get off at the next stop after the domestic terminal, then take a 300-m walk straight along the road in the direction the bus went, towards Mascot station, crossing to the other side of the road. If heading to the airport, exit Mascot station, turn left (heading south) along Bourke Rd, cross Coward St (next street) and turn left. There is a bus stop half a block down. You will need the 400 bus heading towards the airport. The bus costs $2.10 and the train $2.36 off-peak, $3.38 peak (using Opal Card). On an Opal Card you'll get a $2.00 transfer discount so the whole trip cost $2.46 off-peak, $3.48 peak. There is limited luggage space on the bus, but if you can manage backpacks or suitcases by yourself, it should not be a problem. Only consider this option if you have
ample time
to spare, as buses can be infrequent, late or cancelled. Buses are usually at 20 minute frequency and real-time location information is available via the Tripview, Arrivo, TransitTimes+ and TripGo smartphone apps - you can make a decision whether to get the bus after you check the real time information.
By bus
Catch the 400 bus (towards Bondi Junction) to Mascot shops (not mascot station), and from there catch the M20 to the City. Transfers from bus to bus are free if using an Opal Card, so the total amount charged to your card will be only $3.50. It also contributes a trip towards your weekly reward, and value towards the day-cap. On a Sunday Opal Card journeys are capped at $2.70, so that's the most you will pay.
By shuttle bus
Shuttle buses will drive passengers to the city and deliver them to the door of their hotel. There is no regular scheduled service that you can depend on to leave frequently and on time, and if you are the last drop-off you can count on spending over an hour in the bus. You can buy a ticket for a shuttle bus to your hotel from the information desks for around $15. It can be cheaper to book online in advance, but you're then committed to wait until that particular brand of shuttle turns up. Buying a return ticket is always risky.
By car
The airport is roughly 13 km (8 miles) south of the Sydney CBD via the M1 Eastern Distributor Motorway. This road is often heavily congested during peak periods. The M5 South Western Motorway links the airport to the South Western Suburbs of Sydney and onwards to Canberra and Melbourne, it is tolled west of the Kingsgrove Road exit.
There are a variety of
vehicle rental
companies at all terminals (see Sydney Airport website for current list). After you rent a vehicle, you will be directed to pick it up at a parking space in the adjacent parking garage. You can return the vehicle to any terminal.
Have someone pick you up
. You can't pick up kerbside at any of the terminals. At T1 (International) - there is a pickup area within the main carpark. if you complete your pickup and exit with 15 minutes, there is no parking charge, otherwise the extortionate rate of $7 for another 15 minutes and $8 for the next half hour applies. At T2 and T3 there are two pickup areas in two different parking areas. There is a premium pickup around five minutes walk from the terminal, and a free pickup about 10 minutes walk - follow the signs. The charge is $4 for the premium pickup area, and the normal pickup area is free for 15 minutes. Exceeding the 15-minute period will cost $8 for the next 15 minutes. The pickup areas can be complete chaos, with people stopping as soon as they are through the entry gate to load up, blocking queues of traffic behind them. The system (obviously) only works if everyone moves to a parking space before picking up, but if only takes a few people to disrupt the flow. Take your calm pills.
Fines apply for waiting at the arrivals areas or for picking up at the departures areas. Leaving your car is out of the question. The parking officers can photograph your car and licence plate and fine you without warning you to move along. If a wait of longer than 15 minutes is expected at T2 and T3 (perhaps due to a delay), a way to avoid the car park fee is to wait at the nearby McDonalds restaurant which has a free carpark near the domestic terminal. Once the passenger is waiting at the pickup area, it takes less than 2 minutes to drive from the McDonald's to the pickup if there is no congestion.
Dropping off passengers for all terminals can be done at the kerbside, and is free of charge.
By taxi or rideshare
Taxis
to the city centre should cost approximately $40 (including tolls), and more to other Sydney destinations (The Rocks $40-45, North Sydney $45, Manly $50, Parramatta $80-100, etc.) You can expect to pay a $4.10 airport taxi levy and a $7.09 Eastern Distributor toll on top of the metered fare. If you are arriving on a Friday evening, you may face a long queue for taxis. Asking the driver to take O'Riordan Street is a little slower but shorter and cheaper than the Eastern Distributor tollway which frequently experiences traffic congestion during peak times.
For about three travellers, the cost of the taxi is about the same as the equivalent train tickets. During rush hour a train into the CBD will probably be quicker than taking a taxi, although you may not get a seat on the suburban train.
Rideshare
drivers pickup in the premium pickup area at Domestic (T2/T3) and the Express Pickup at International (T1). Use the app in the normal way and a $4 airport access fee will be added automatically.
Maxi-Taxis are available on request from the taxi rank attendance. These taxis can carry up to 11 people, and charge a 50% surcharge over a normal taxi.
On foot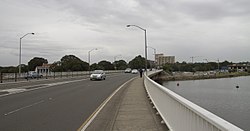 Walk and train from T1
. T1 (the international terminal) is less than 2 km from Wolli Creek Station, from where a train to the city costs $2.36 off-peak, $3.38 peak. The walk isn't signposted all the way and may be very quiet after dark. It is all surfaced, has no steps, and takes in some nice scenery by the Cooks River. Exit straight from the international terminal (T1), follow the pedestrian path signposted from Level 1 of the multistory car park following the cycleway sign, and continue on the overbridge until it returns to ground level next to the canal. Follow the path ahead, and then 'up to your right' around back up to the Marsh Street bridge. Cross the Cooks River on the footpath on the right of the bridge and then proceed along the cycleway next to the Cooks River (signposted to Tempe), keeping the river on your right. When you reach the Princes Hwy (6 lane road), cross at the pedestrian crossing lights, and continue straight on, past the apartment blocks, to the roundabout with the funny green artwork, then turn right up to Wolli Creek Station. The walk will take about 20 minutes and will save you $13.40 (
gatepass fee
) on the train fare. Trains from Wolli Creek are even more frequent than from the airport since East Suburbs & Illawarra line trains also stop there. There is a vending machine at Wolli Creek station that sells Optus SIM cards, travel plugs, and charging cables.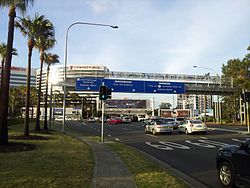 Walk and train from T2 & T3
. The Domestic terminals (T2 and T3) are about 1.7 km from Mascot train station. The walk along suburban pavements takes about 20 minutes. Follow the road out of the domestic terminal and on to O'Riordan Street. Follow O'Riordan Street and then veer left onto Bourke Street. Cross Coward Street and then John Street, Mascot train station is on your right. An single adult fare to the city (Central) from Mascot is $2.36 off-peak, $3.38 peak, with no airport station surcharge. This walk is mainly through industrial precincts, and you'll probably pass a few flight crew shunning the staff bus to walk to and from local hotels.
Walk
. It's around 8-km walk to central station, and the walk is easily accomplished in 2 hours. If you're fit, broke and have time on your hands, load up your navigation app, and hop on shank's pony.
By bike
The western airport cycleway runs in front of the carpark to T1. Bicycle parking is located on Level 1 of the main carpark, at the end of the cycleway/pedestrian footbridge. Inside the terminal, luggage storage will hold your bike for $25 per 24 hour period. Follow the cycleway west and over the canal to Wolli Creek and eventually to Sydney Olympic Park. Follow the cycleway east to Mascot and the City. There are showers in T1 as described below.
T2 and T3 are more problematic for bicycle access, because of the busy multi-lane road that loops the terminals with buses, taxis and cars dodging and vying for road space. Bourke Road gets you within 400 m of the terminals, and there is footpath from there to the bike parking to walk or ride if you are with a child under 12 years. Bicycle parking is in the main carpark, next to the pickup area, on the opposite side of the carpark to T2. There is no luggage check option, and no showers in the terminals.
Get around
You can must walk between domestic terminals T2 and T3. Follow the signs either via the railway station underground, or across the car park.
Transfer between T1 and T2/T3 is 4 km by road, as the terminals are on opposite sides of the airport tarmac. You should ensure you have sufficient time to transfer. There is no guarantee if you do not have a protected transfer - but it is normal to allow 3 hours to transfer from an international to a domestic flight in Sydney.
You will have to use one of the following methods to transfer:
An air-side shuttle is available free of charge if you are connecting through with Qantas or a Oneworld partner airline or with transferring Virgin Australia and a codeshare flight or other international Virgin Codeshare Flight.
If you aren't to an airside shuttle, you can catch a suburban train ($6.10). It is a 2-minute journey between Domestic and International stations with around 10-minute frequency. Follow the train signs from the terminal and board any train on platform 1 for International to Domestic transfers and any train on platform 2 for Domestic to International. Travel one stop only, as the train continues to the city or into suburban Sydney. To buy a transfer ticket, you can only use the ticket machines, that accept Visa, Mastercard or Cash.
T-bus (free) outside the terminal building is a dedicated terminal shuttle and uses the normal roads. It is scheduled to take around 10 minutes but can be stuck in Sydney traffic at peak times. Runs at a 10-20 minute frequency. This method is slower than the train, but it stops close to the terminal and has plenty of room for baggage.
Taxi ($20). The trip will take around 10 minutes, though the wait for taxis can be long at peak times. Drivers may also give you attitude as they have to line up for a long time and generally want bigger fares.
Walk. If you have little luggage and some time to kill, the walk will take around an hour. There is a footpath most of the way, and has good views of planes taking off metres above your head, and of the Alexandra Canal. However, towards the domestic terminal some of the walk is across grass. From T1 take the pedestrian bridge from level 1 of the carpark. Keep the canal on your left, and airport on your right. Where the canal deviates to the left from the road, follow the dirt path straight ahead following the road. From T2/T3 follow the road out of the airport, and turn left on to the far side of Qantas drive, and keep the airport and the road on your left, and the canal on your right.
Tips if you have a short connection time at Sydney Airport from International to Domestic and you don't have a transfer with your airline (i.e you are using a LCC)
# Smartgates can be faster, but not always; The normal queue processing can sometimes be shorter.
# Stop at the first smartgate passport processing machine with a short queue. Often the longest queues are at the first one you see, and the last ones before the immigration gates
# Use all the smartgates. Often the queues are towards the smartgates on the left for no apparent reason.
# Don't check-in luggage, so you can move straight through baggage claim.
# The are usually multiple queues to going into quarantine. Often the queue to the left is completely empty.
# If you need an Opal Card, get it in advance. There are always queues for tickets at the airport stations. And download tripview for train times between the two terminals. If you have to buy an opal card, the newsagent may be quicker.
# Check for trackwork in advance on the Sydney Trains website. If there is trackwork, be prepared to get a taxi.
# The train station can be a five minute walk even at a quick pace.
# There are two terminals at Domestic. You'll need to follow the airline signs as soon as you exit the train station so that you know which one you are going to.
# Have your domestic boarding pass already printed or on your phone if you don't have luggage to check-in. You can then move directly through security to your gate.
# The Qantas Domestic terminal has a smaller and less obvious security entrance on the left hand side of the departures hall. The queues can be much shorter.
Wait
Overnight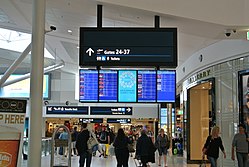 No planes arrive or depart between 11PM and 5:30AM due to an airport curfew.
The domestic terminals (T2 and T3) close after the last flight has cleared (around 11PM) are scheduled to reopen at 4AM, but often it can be a little later before the doors actually open. The terminal is cleared and locked after the last flight arrival, and you can't pass through security after the last flight departure.
The international terminal T1 also closes around 11PM and reopens at 4AM - but there is a small transit area with basic facilities that you can remain in if you are already in the terminal (landside). This is located on level 1 near the entrance to the train station. There are limited seats and it fills up quickly when security starts herding people out of the terminal. The last train service departs at 11:45PM.
Lounges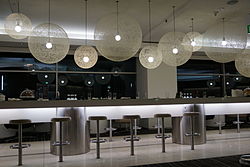 Qantas has lounges in T1 and T3. In Terminal 1 (International) there is a Qantas First Lounge in addition to The Qantas Club. The T3 lounge gets incredibly busy with business travellers at the beginning and end of the working day, with people in suits swarming over sausage rolls and pastizzi like seagulls around chips. The Qantas lounge in T2 closed when Qantaslink flights moved to T3, but eligible people can still use the T3 lounge when flying Jetstar from T2. You can check-in in the T3 lounge for domestic Qantas flights, but you have to check in in T2 at the Jetstar counters for Jetstar flights (if you haven't checked in online before arrival). Access to the Qantas lounges is only for Qantas Club members, those members with appropriate status, or those travelling business or first class. Reciprocal benefits apply, but there is no paid admission or equivalent scheme.
Virgin Australia has a domestic lounge in Terminal 2. If you're travelling Virgin then paid admission is an option for you.
Rex Airlines has a lounge in Terminal 2.
Air New Zealand has a lounge in Terminal 1 near gates 50 - 63. Paid access is available for $55 for up to 4 hours.
Singapore Airlines has a SilverKris Lounge in Terminal 1 near gates 50 - 63.
Emirates Airlines has a lounge in Terminal 1 near gates 50 - 63. Passengers flying on Qantas International business or first class may use this lounge.
Etihad Airways has a lounge in Terminal 1 on the way to gates 50 - 63.

American ExpressIt's lounge in Terminal 1 near gate 24 and is accessible to those with select AMEX cards. The type of card will determine how many visits and how many guests. With a $0 annual fee card, you'll definitely be left standing outside. Inside, you can get a cooked breakfast, or a basic buffet style lunch or dinner. Free drinks including alcoholic.

Skyteam has a Plaza Premium managed lounge in Terminal 1 near gate 24. Paid access is priced at $77 for two hours and $132 for five hours.
Eat and drink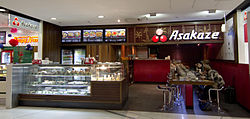 T1
(International terminal) has food and shopping both before and after immigration and security. There are cafes on both departure and arrival levels. Good coffee and food can be had for a reasonable price, but it is easy to buy poor overpriced coffee and food too. Departures has cheaper prices than downstairs at arrivals.
There is a large food hall in the central area before going through security - as this is your best choice for diversity and lower prices. If you're looking for a place to sit a bit longer to farewell friends and family with higher quality food, there are a couple of cafes too.
Mach2
Airside after security there are a couple of bars, cafes and restaurants in the atrium area after duty free. There is a McDonald's fast-food outlet in the terminal link area, next to the travelator, offering the cheapest coffee and food airside.
T2
has a large food and shopping area, with a large selection of food outlets located airside to the right after you go through security.
T3
(Qantas domestic) has an expensive food hall airside with a variety of food and coffee. Chinese is available for around $15 or Hungry Jacks for normal prices. Sumo Salad, sushi and a few cafes are also available.
Everyone is welcome through security at T2 & T3, so take your non-travelling friends as the best selection is airside. None of the eateries stay open for late arrivals. If you're on one of the last domestic arrivals before curfew, you shouldn't count on anything being open at all.
Buy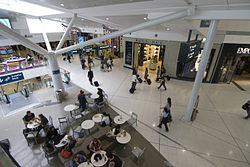 Terminal 1
When arriving, there are some liquor and perfume stores before customs. For departure, once you check in and get past customs, you are funneled through a large maze like duty-free shop selling alcohol, cigarettes, perfume and electronics, but there's a small shortcut at the side to bypass the shopping. You can buy every type of spirit here, some wines, and no beer. Prices are usually around 30% of Sydney street prices - but you can check the price of everything (and even order online) before you arrive.
Cigarettes are sold in a walled-off section in departures. Duty free allowance for cigarettes is very limited.
Currency exchange offices can charge around 20% more than the best rates in the city. (see the
Currency exchange
section).
Terminal 2
There are also gift shops, bookshops and some clothing stores. There are nice views over the tarmac from the eating area. There are ATMs before and after security. Everyone is able to go through security, regardless of whether they are travelling or not.
Terminal 3
There are a smaller range of shops in T3 than the other terminals, but you'll still find the usual newsagents, cafes, pharmacy and gift stores to browse. As with T2, everyone is able to go through security, whether travelling or not.
Connect
Terminal 1: There is free (ad-supported) WiFi internet throughout the terminal, as well as several free and pay internet terminals. A post office is at the back of the check-in area, but it is only open during business hours. Post boxes are available after customs.
Terminal 3: There is free Wi-Fi provided by Qantas for 30 minutes ("Qantas Free Wifi"), although it doesn't seem to run out.
In T1 arrivals there are Optus and Vodafone shops by each of the two arrivals exits as soon as soon as you pass quarantine and exit into the terminal landside. Each of these shops will sell you their full range of SIM cards for your phone, as well as personal Wi-Fi devices, phones, etc. There is a small Lebara booth near the outside exit in the centre of the terminal. Selling SIM cards. Telstra SIMs (and some others) are available from WH Smith. At busy times there is a little Telstra booth manned inside the WH Smith to sell these SIMs.

Cope
Trolleys are available both airside and landside and are free.
Free showers are available at the rear of check in bay A and check in bay K on the departures level in T1 (International). There are no towels supplied. The showers next to bay A are renovated and fairly nice. The single one next to bay K is older and a bit grotty.
SmartCarte have luggage storage in every terminal. They will also transfer your luggage between their storage in Sydney City and the airport.

Sleep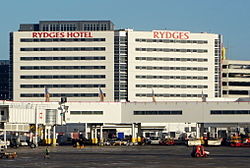 phone: +61 2 9313 2500

address: 8 Arrivals Court, Sydney International Airport

The hotel is a 2-minute walk from the International Terminal T1 and includes a restaurant, bar and cafe in addition to a 24 hour gym. There is also a free shuttle bus to the T2/T3 Domestic Terminals for hotel guests.
Near the airport
Botany Bay
phone: +61 2 9556 5111

address: Cnr Grand Pde and Princess St

By far the largest hotel in the district, opposite Brighton Beach on Botany Bay. It's in the heart of the restaurant area along Bay Street.
Nearby
Central
Sydney
is a short train journey from the Airport, and you can be at the Opera House in under half an hour. If you have 4 or more hours transit, you can think of making a trip into the city.
If you escape the loop road and carparks around T2/T3 you'll find yourself in the middle of the Mascot industrial area. Adjacent to Mascot station (around 20 minutes walk) you'll find a small choice of cafes, and food stores. On the way you'll pass the Stamford Plaza. There is a restaurant and bar there, if you fancy a change of scenery or a leg-stretch during a layover.
If you are at T1 you'll have a better aspect - if you take the pedestrian footbridge from Level 1 of the carpark, keep the canal on your left, and then cross the canal on the footway to your left, you'll find a large outdoor playground with flying fox in the sports field - a good option if you have kids that need some outdoors time. If you walk the other way over the Marsh St bridge and follow the pedestrian signs you'll come to another new playground in around 20 minutes walk by the river, across the main road from the playground is a large supermarket and a few take-away places.