Sylhet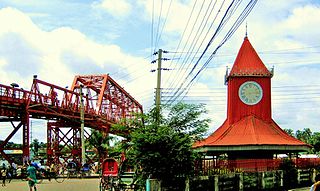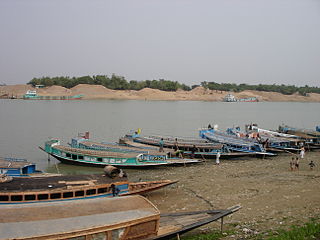 Sylhet
is the capital of
Sylhet Division
in
Bangladesh
.
Understand
Nestled in the picturesque Surma Valley amidst scenic tea plantations and lush green tropical forests, greater Sylhet is a prime attraction for all tourists visiting Bangladesh. Sylhet has developed due to remittances from the expatriates living in Britain. Laying between the Khasia and the Jaintia hills on the north, and the Tripura hills on the south, Sylhet breaks the monotony of the flatness of this land by a multitude of terraced tea gardens, rolling countryside and the exotic flora and fauna. Here the thick tropical forests abound with many species of wildlife, spread their aroma around the typical hearth and homes of the Mainpuri Tribal maidens famous for their dance.
The Sylhet valley is formed by a beautiful, winding pair of rivers named the Surma and the Kushiara both of which are fed by innumerable hill streams from the north and the south. The valley has good number of haors which are big natural depressions. During winter these haors are vast stretches of green land, but in the rainy season they turn into turbulent seas.
These haors provide a sanctuary to the millions of migratory birds who fly from Siberia across the Himalayas to avoid the severe cold there. Sylhet has also a very interesting and rich history, Before the conquest by the Muslims, it was ruled by local chieftains. In 1303, the great Saint Hazrat Shah Jalal came to Sylhet from Yemen with a band of 360 disciples to preach Islam and defeated the then Raja Gour Gobinda.
An interesting feature of Sylhet region is the aboriginal tribes such as the Tipperas, the Monipuris, Khasis and Garos who still live in their primitive ways in the hills, practising their age-old rites, rituals, customs and traditions. During festivals such as Rash Leela (Full-moon night in February) and Doljatra, the attractive young girls dressed in colorful robes, dance with the male members of their choice and love. The Monipuris perform their famous dance, based on allegorical love themes of the ancient mythology.

Get in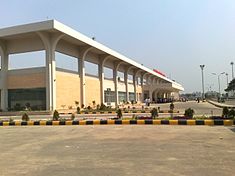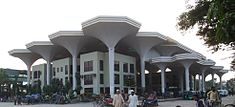 By plane
Osmani International AirportServed by all major domestic carriers, Biman Air, GMG Airlines, Regent Airways, and Royal Bengal Airlines. Please check the airline's website for latest schedule.
By bus
There are many luxury coach and bus services from Dhaka to Sylhet. Some notable services are Hanif, Shohag Poribahan, Green Line, etc. These services are available from 7:30AM to 10:30PM. For latest schedule it is recommended to contact with particular company.
For budget travellers, there are non-AC bus services available from the Sayedabad bus terminal (locally known as a Jonopath mor, near sayedabad hujur's mosque) which depart every half hour from 6AM to midnight. Efficient budget bus service companies are Hanif, Unique Service etc.
By train
There are train services from
Dhaka
,
Chittagong
and
Comilla
to Sylhet every day. From Dhaka, there are four trains named
Joyontika
,
Kalni
,
Parabat
and
Upoban
that depart at morning, noon and evening. From
Chittagong
there are two trains named
Udayan
and
Paharika
that depart at morning and night.
See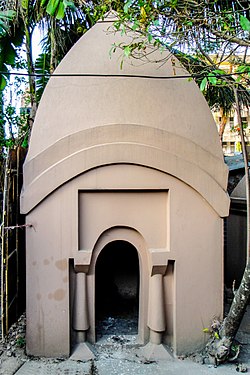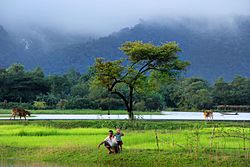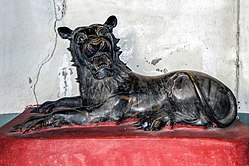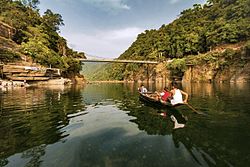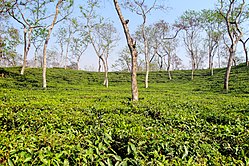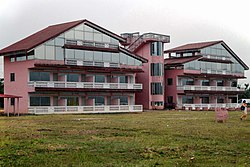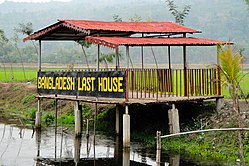 Tea Gardens, shrines of Hazrat Shah Jalal Yamani and Hazrat Shah Farhan (rahmt.), Shahi Eidgah, Chandni Ghat, Ali Amjad's Clock Tower, Keen's Bridge, Shah Jalal Bridge, Osmani Museum, Jaflong, Parjatan, Shah Jala University, Osmani Medical College and Hospital, Sylhet Polytechnic Institute, Theme Parks, etc.
address: Hadarpar, Goainghat

It is known as "the Big Ben of Sylhet", is the oldest clock tower located on the bank of Surma River. The tower was constructed around 1895 under the supervision of Nawab Ali Amjad Khan, the landlord of former Prithimpasha estate in Sylhet.

address: Hadarpar, Goainghat

This is the excellent place for travellers who love nature. Near Bangladesh-India border; famous for crystal water, stone, hills, green & wide landscape.
Greeva Peet - Mahalakshmi peet: About 4 km south of Sylhet is a place named Joinpur (Dakshin Surma - Surma is the river that flows through Sylhet). Sri Mahalakshmi temple is situated there. As every shakthi peet has its bhairav temple and for this peet Bhairav temple is situated 1 km away from this sakthi peet.
Kalibari @ Jaflong: Kalibari temple which is one of the 51 Sakthi peet is situated near Jaflong. This place is not maintained, due to the reduced local Hindu population.
Lawacherra Rain Forest: Lawacherra Rain Forest is one of the important & well-reserved forests in Bangladesh. Here visitor may see gibbons swimming through the trees and birds like bee-eater owls parrot. It is a good habitat of deer, leopard, wild chicken, squirrel, and python. Don't miss it especially if you are bird watcher. The terrain is hilly and vegetation is fairly thick. Only one rare Chloroform tree of Asia is here and a prime attraction of travel
Madhabkunda: Madhabkunda surrounded by lush tea estates and full of waters lilies is a unique one. Magurchara ruined gas & oil reserved field, which was inadvertently blown up while digging and was burning a height for more than 3 months. A lot of burnt trees now carrying the symbols of disaster. Ever where a lot of rubber & lemon plantation form a beautiful landscape. And you can have a visit to Madhobkundo waterfall.

address: Raja-Kunjo, Zinda Bazar

Huge and rare collection of folk musical instruments, artifacts of Hason Raja movie (recipient of the best movie award 2002) and various folk and mystic poets.
Sri Mangal: Sri Mangal is famous for the largest tea gardens of the world covered by lush green carpet. One can have a look into the spectacular tea processing at Tea Research Institute. Bangladesh produces and exports a large quantity of high quality tea every year. Most of the tea estates are in Sri Mangal. It is called "The land of two leaves and a bud". It is also called camellia, green carpet or Tea Mountain. There are a lot of tea estates including the largest one in the world. Make sure to take the taste the seven layer tea at Sri Mangal. The terraced tea garden, pineapple, rubber and lemon plantations from a beautiful landscape. It is known as the tea capital in Bangladesh. Just offer entering into the tea estates the nice smells and green beauty will lead you many kilometres away. Also, visit the Mini Zoo created by Sirishranjan in 1972. The best time to see the tea plantations is during rainy season, which is when the tea is harvested by women in bright saris. Photographers often visit during this time.
Tamabil-Jaflong: Situated amidst splendid panorama, Tamabil is a border outpost on Sylhet-Shilong Road about 55 km away from Sylhet town. Besides enchanting views of the area one can also have a glimpse of the waterfalls across the border from Tamabil. Jaflong is also a scenic spot nearby amidst tea gardens and rate beauty of rolling stones from hills.The natural view has gotten effected due to rock quarring. It's located in the Bangladesh-India border

TilagorIt is a place with small and big hills which are cut or not. There are poultry farms, and dairy farms and houses on cut hills. There is a tea garden also there.

Ratargul

address: North side of Saheb Bazar of Goainghat

Ratargul Swamp Forest is a freshwater swamp forest located in Goainghat, Sylhet. It's known as 2nd sundarban of Bangladesh. It is the only swamp forest located in Bangladesh and one of the few freshwater swamp forest in the world.
Do
At day time you can visit all the major attractions. There is no night-life in Sylhet although some bars are available in major hotels and the Station club. Drinking is strictly prohibited in public areas.
At evening it is a must see recommendation to visit Chadnighat area where you will enjoy a beautiful view of Surma river, Ali-Amazad clock along with iron made Kean bridge built in 1854.

Buy
Sylhet has a variety of malls and bazaars which offer shoppers plenty of goods for sale. The relatively new influx of expatriate money has rapidly transformed Sylhet into a shoppers city. Hand-made textiles are a speciality. Zindabazar is the shoppers paradise where most of the big mall are located. For famous local fabric manipuri fabric, all the good shops located in Lamabazar area. Be aware of your personal belongings as you walk around, pickpockets are rampant and unnoticeable among large crowds.
Places to shop:
Al Hamra
Blue Water
Millennnium
Aarong
Monorom
Artisti
Westex
Kumarpara
London Mansion

Manipuri Bazar

address: Lamabazar

A big area with lots of shopping mall for famous hand weave Manipuri Shari and fabrics.
Learn
Eat
Sizzling Restaurant

address: Rose View Hotel

Silver Palace

address: noya sorok

Eatopia

address: Barutkhana, Zindabazar

Chiangmai Chinese Restaurant

Chicken Hut

Pizza Shop

Alpine Restaurant (traditional)

Prithiraj (traditional)

Paktoon

address: Rose View Hotel

Pearl Orient

address: Rose View hotel

Four Season

address: Rose View Hotel

Sizzling Restaurant

address: Rose View Hotel

Exotica Restaurant

address: Hotel Supreme

Dinette Restaurant

address: Hotel Fortune Garden

Manipuri bazar

address: Lamabazar Point

A big area with lots of shopping mall for famous hand weave Manipuri Shari and fabrics.

Woondal Restaurant

address: east Zindabazar Free wifi!
Eatopia East Zindabazaar (amazing chicken reshmi)
Spicy Restaurant

address: Sylhet City Centre, 10th floor, Zindabazar

Sylhet Monipuri Sharee Ghor

phone: +880 1924330175

address: Lamabazar Point

All types of monipuri sarees, salwar & other clothes for both man & woman.Quality of clothes are high & medium & price is not much.

address: Zindabazar

It is located at the heart of the city and is known for its cheap and delicious food.

Cafe La Vista

address: Zindabazar
Drink
Sylhet Station ClubGood for drinking water and juice only.

Club Royale

address: Rose View Hotel

Panshi

address: Mirzajangal,Sylhet

It is one of the most popular restaurant at Sylhet. It is located at Mirzajangal, near Zindabazar at the heart of the city.vIt is known for its cheap and delicious local food. It has large space to welcome huge number of customers.
Sleep
Sylhet has many hotels which offer decent accommodations at reasonable prices. Bargaining always helps.
Hotel Supreme
Hotel Palash
Hotel Gulshan
Hotel Western
Hotel Anurag
Hotel Al-Amin
Hotel Garden's Inn
Hotel Firdous
Hotel Panama
Hotel Hilltown
Hotel Rose View

phone: +880 821-726379

East Zindabazar.

phone: +880 821-727640

address: Mirza Jangal Rd

Modern hotel in centre of town. Air conditioned. Air conditioning in rooms can be too effective and beds are a little hard. Restaurant has very good reasonably priced food. Indoor pool on ground floor. Wireless Internet is available throughout.

Richmond Hotel & Apartments Sylhet

phone: +880 1721509598

address: Al Hamra Tower

Hotel suite and apartment with restaurant.