Tababela
Tababela
is in the
Andean Highlands
of
Ecuador
, significant to travelers for being the closest town to the
Aeropuerto Internacional Mariscal Sucre
(
UIO
) which opened in 2013 to serve the capital, Quito. The airport is about an hour and a half from the center of the capital by bus (with no stops) so Tababela's proximity makes it an important layover location for travellers arriving or departing at extremely early or late times.

Understand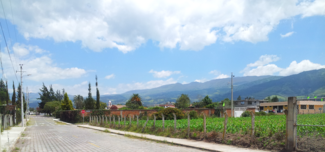 Tababela is not a large town but serves a growing demand for accommodations for travellers arriving and departing the airport. Some knowledge of Spanish will help you to navigate the town during the day. Aside from some of the lodging operators, very few people speak English. The locals are friendly and eager to point you in the right direction about town.
Get in
By plane
Aeropuerto Internacional Mariscal SucreMost will arrive in Tababela from the airport. It is the busiest airport in Ecuador and one of the busiest airports in South America. Mariscal Sucre International is the largest hub of TAME, the flag carrier of Ecuador, with an average of over 220 daily flights. From the airport the average travel time by taxi is about 10 minutes with a fare of about US$10 (January 2014). The fare will be higher than most travellers in Ecuador are used to because most taxi drivers would greatly prefer to take a fare back to Quito.
By bus
Aeroservicios
offers direct transportation from Quito to the New Mariscal Sucre International Airport. Buses leave every 30 minutes, 24/7, all year round, without intermediate stops. The buses are new, comfortable, have air conditioning and provide free WiFi for passengers. The bus terminal in Quito is at the old airport in the former domestic departures area. The ticket price is US$8 per trip, per person and can be purchased through their website. Tickets can also be purchased at the terminal of Aeroservicios (old airport) or at the counters in the arrivals hall at the New Mariscal Sucre Airport. Cash, credit and debit cards accepted.
Get around
Tababela is small enough to be easily traversed on foot, so no car will be necessary. Should you need to return to the airport, taxis can sometimes be found on Calle 24 de Septiembre close to the center of town, about a block northwest of El Parque Central.
Most of the streets have names but are neither marked on the street nor labeled on maps. The town is small enough that getting lost is not at all an issue. During the day wear sunscreen or repurpose your travel umbrella as a parasol.

See
There is nothing of special note to see in Tababela, however the town is quite peaceful if simple, and the mountain vista quite nice. Consider a short hike after consulting with someone knowledgable about the area from your hotel or inn.
For some, the opportunity for a little plane spotting may be nice though the frequency of arrivals and departures feels a bit light for the busiest airport in the country.

Do
Your stay in Tababela will not be action-packed. Go for a walk or read a book. Continue practicing your Spanish.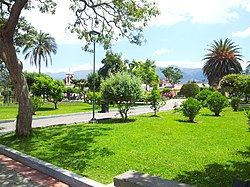 Sit in the square with the church. It is quite clean and well gardened.
Buy
Mall del CieloA mall attached to the airport. Various retailers. SIM chips for unlocked phones may be purchased here.

Various TiendasMany small tiendas may be found in town. They stock the regular items: milk, eggs, beer, fruit, packaged foods, gum and other sundries. Some sell SIM chips and reloads for prepaid accounts. Photocopying and basic stationery supplies are also available.
Eat
There are more than a handful of nice places to eat in Tababela. Those listed below represent the portion that have decided to put a name on the door. Many others simply will hang a sign advertising
desayunos, almuerzos, or chocolate caliente.
Dely Pan CafeteriaReasonably priced bread and breakfast pastries baked on site. Cold air conditioning.

Helados Los ChelosIce cream. Popular with local school children.

Cotohurco RestaurantSimple family establishment serving lunch and dinner.

Restuarant La Negrita

address: Parque Central

Breakfast, lunch, and hot chocolate. Located along the park.

Topoly's RestaurantLunch plates.
Drink
Aside from the few restaurants mentioned above, there is no place to go for drinks after around 8PM. Beers are available at the various tiendas to return to your lodging with for the evening.

Sleep
Some accommodations in Tababela provide a shuttle service to their property from the airport if arranged in advance. The fee is usually $5 each way per person (Jan 2014).
phone: +593 98 889 9774

address: 971 Alfonso Tobar y Tulio Garzon, Tababela

Nice, social atmosphere with full dinner menu, Wi-fi in-room, breakfast included, satellite TV, and English-speaking staff.

Hosteria San Carlos Tababela

phone: +593 98 701 1484

address: Justo Coella y Pedro Vicente Maldonado

Simple, clean hosteria for travelers who need a place to crash. Private bathrooms. Simple rooms. Airport transfer available for $5 per person each way. One standard meal option per night. Swimming pool with slide. Free WiFi. Large peaceful courtyard.
Connect
WiFiMost lodgings offer free Wi-Fi to their guests.

Phone/SMS/3G/4GSIM cards are available as discussed in the Buy section above. A working understanding of Spanish may be necessary to pick the right card, plan, and setup voicemail. Service can be spotty from time to time as in most of the world.

PostCheck with someone from your accommodation for advice if in need of postal service.
Stay safe
Tababela is generally free of any criminal element, although common sense should always be used. At night the town is fairly dark and only a few tiendas and restaurants are open past 8PM. Because the town does not have good street lighting care should be taken when walking in the evening. There can be serious irregularities with the pavement and there are a few large openings for storm runoff. Take a flashlight if you're returning after dark.

Go next