Taliparamba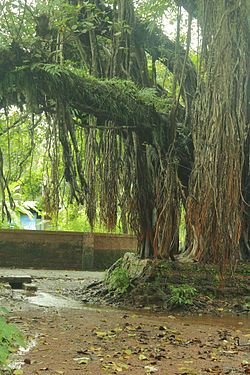 Taliparamba
or
Thaliparamba
is a town in
Kannur District
, in the
Malabar
region of
Kerala
,
India
.
Understand

Taliparamba is an important trading station of spices and hill produce. The undulating hills that surround this little town make it exceptionally beautiful. The surrounding villages of Pattuvam, Kuttikkol and Karimbam are filled with lush green fields and little rolling hills. The rivers of Kuppam and Valapattanam surround the towns from all sides and the Arabian sea is only 14km to the western side. Taliparamba is not known as a tourist destination even though it is a very scenic place. So you can expect a lot of attention without any touristy prices.

Get in
Taliparamba is 10 km from the nearest railway station of
Kannapuram
. There is an airport at
Kozhikode
some 120 km to the south.
Buses are available from
Kannur
and
Payyanur
.
Get around
Autorickshaws charge ₹15.00 per km
Buses charge only ₹7.00 for three km.
Walking is impossible as numerous motorcycles pester you even in village roads.
See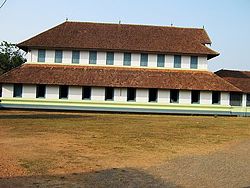 Athiyadam Ayyappan Kavu

address: Pariyaram

Aivar Paradevadha Temple

address: Kupam

Scenic surroundings.

District Agricultural Farm

phone: +91 460 2249608

address: Karimbam

Established in 1905 by Sir Charles Alfred Barber, this is the oldest continuously-operating government farm in Kerala. The farm has a rich bio diversity in 56 acres. The crops include coconut, areca nut, cashew, mango, sapota, jack, coffee, cocoa, nutmeg, clove and pepper and the adjoining paddy field attracts many nature lovers and environmentalists to the farm. Recognizing the importance of the flora and fauna of the station, Kannur District Panchayat established a Biodiversity Centre and an Indigenous Technology Knowledge Centre at the farm in 2005.

Krishna Temple

address: Trichambaram

A temple mentioned in many Malayalam devotional songs.

Manna Maqam and Dargah

address: Near Seethi Sahib High school

syvan compound and mystic trees with a magic well

ParassinikkadavuRiverside Temple, Snake Park, Water Theme Park.

Pepper Research Station

address: Panniyoor

Pookoth Kottaram

address: Manenkavu, Pookoth Nada

Raja RajeshwaraTemple

address: Mukkola

World famous pilgrim center.

phone: +91 460 2205866

address: Karimbam

Magnificent campus with many gardens and laboratories. Visitors can make an appointment with the Principal over the telephone. The Botany Department of the college is worth a visit as they have advanced research facilities. Contact person: Dr. Khaleel Chovva: +91 94473 00189

Syed NagarSyed Nagar village is a very beautiful place with cute undulating open landscape ideal for a peaceful evening walk. Tagore Higher Secondary School and the pretty Syed Nagar Masjidh are located here. The road to Kuttiyeri hanging bridge starts from here, and it is 3 km from here.

Valiya Juma MasjidhInside Taliparamba Market. Very old building.

Kanjirangad Vaidyanatha Temple

address: Kanjirangad

SreeDakshinamurthy Temple Vellavu

address: Vellavu
Do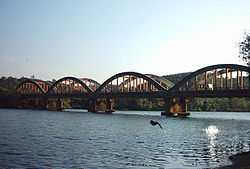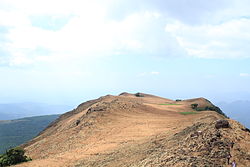 Cross the River

address: Bridge, Kuttiyeri

Access from the Pacheni Road and come back through the Mukkola Road. You have seen all the greenery now.

Island Walk

address: Kolthuruthy Island, near Bavuparamba

All coconut and arecanut. Beautiful bridge wide enough for a small car.

Madakkara Bridge

address: Mattool

Take a bus to Payangadi, then to Mattool and then to Madakkara and Irinavu. A lot of water bodies and scenic places can be seen on the way. You can come back through the Dharmasala route.

Riverside Paddyfield Walk

address: Ezhom village

Wide, wide stretch of paddy fields. Take a bus going to Payangadi via Kuppam junction. Get down at the most beautiful spot. Continue the journey in another bus. After reaching Payangadi, you can come back through a different route.

River Walk

address: Muthukuda Road, Kuppam

Turn left at Kuppam before the bridge

Climbing the Paithal Mala Hills

address: Naduvil Village

Spectacular flat space on the top ideal for camping. Basic accommodation is available. Look for leeches and elephants.

Trekking at Seven Hills

address: Kuppam Bridge

The seven hills or Ezhu Kunnu in Malayalam can be seen from the Kuppam bridge, 3 km from Taliparamba. The trekking can begin from Kuttiyeri Hills, three km to the east.

Vellikkeel Eco Park

address: Vellikkeel Bridge

Travel from Pattuvam to Bakkalam in an Autorikshaw and stop some time at the Vellikkeel Bridge area.

Village Walk

address: Muyyam. 5 k.m.

Muyyam is a very scenic village with a lot of vegetable cultivation.

Water sports

address: Vismaya Water Theme Park, Parassinikkadavu
Buy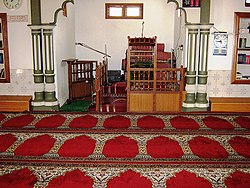 Jowhar Bakery

address: Main Road

Mussel Fry is called 'Arikkaduikka' or 'Kallummakkaya' here.

Lebanese Bakery

address: Highway

MuttayappamSome people consider eating the Muttayappam an experience in itself. Muttayappam is a kind of rice preparation in oil without adding any 'mutta' or egg into it. Only the shape resembles a huge fried egg. It goes well with chicken curry. It is not available in standard restaurants and you have to ask in roadside stalls. They have a tendency to disappear in minutes. It is difficult to get this snack elsewhere in Kerala.This unique Taliparamba food with a very plain taste can become quite addictive. Remember: you were warned !
Eat
There are many good restaurants in the national highway.
Bamboo Fresh Food Village

address: Ezham Mile

C. K. Hotel

address: Near Punjab Bank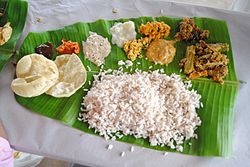 Manu's Hotel

address: Iritty Route

Feast House

address: Near Marina Shopping Complex

Foodies Restaurant

address: Payyannur Road

phone: +91 460 2206053

address: National Highway

Jowhar Bakery & Restaurant

address: Near Busstand

Lebanese Bakery

address: Opp Bus stand

Lebonne Restaurant

address: opp. Medical College, Pariyaram

Motel Aaram, Dharmasala,

phone: +91 4972780220

Plaza Family Restaurant

address: Highway

Spacious day and night restaurant.

Sujith Hotel

address: Near Busstand

Thakkaram Restaurant

address: Near Alinkeel Cinema

Top in Town Restaurant

address: Near Lourde Hospital

Le Bonne Restaurant

address: Pariyaram

Chembarathy Restaurant

address: Seventh Mile

Tharwad Restaurant

address: Manna
Drink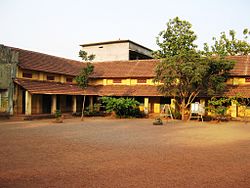 Samrat Bar

address: Highway
Sleep
C.M.Lodge

address: opp. Medical College, Pariyaram

City Residency

address: National Highway

Raja Rajeshwari Guest House

phone: +91 460 220 6929

address: Near Shiva temple on Payyanur Road

Royal Tourist Home

phone: +91 4602209300

address: Main Road

Sea Land Tourist Home

address: Near Busstand, Taliparamba

Shams Tourist Home

phone: +91 460 220 4478

address: Near Federal Bank

Dream Tourist Home

address: on Muncipal office hill
Go next