Taman Negara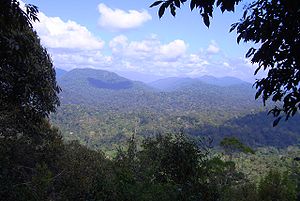 Taman Negara
- Malay for "national park" - is the largest national park in
Peninsular Malaysia
. It is famous for its rainforest, birds, and insects.
Understand
Admission is RM1, a camera permit RM5. If you also want to fish, it is an additional RM10 for your entire length of stay. Permits can be bought at the park headquarters, just across the river from the village in the park, Kuala Tahan.
Climate
The dry season runs from February to September, which is the best time to visit the park. The peak tourist season is from April to August.
Talk
The local language is
Malay
(
Bahasa Malaysia
or colloquially,
Bahasa Melayu
)
Get in
By public transport
If you do the trip yourself, first take a bus or a train to
Jerantut
(RM19 from
Kuala Lumpur
), and then take a taxi from
Jerantut
to the jetty at
Kuala Tembling
, costing RM16.
The river boat leaves from the jetty at
Kuala Tembling
at 09:00 and 14:00 for Kuala Tahan. The 60 km journey takes 2-3 hr, and costs RM35.
Or for a cheaper option without the boat, take the public bus from Jerantut directly to Kuala Tahan (2 hr, RM7) at 08:00 or 15:00; and back to Jerantut at 10:00 and 17:00.
A taxi can be taken directly from Jerantut to Kuala Tahan which will take 1 hr and cost RM70. Ensure that the price is understood prior to departure.
The easiest way to get to the park is through an arranged service from the Chinatown in
Kuala Lumpur
with 3 companies :
Ivy Holidays Taman Negara Van Transfer

phone: +6 010-900 8699, +6 016-555 8921, +60 3 2022 4112 (Petaling street)

address: tour counter in Petaling Street Chinatown

They offer comfortable, spacious and modern vans that run daily to Taman Negara at 08:30 from the main entrance of Wisma Selangor (Selangor Building) at Petaling Street.

NKS Hotel and Travel Coach

phone: +60 9 260-1777, +60 9 260-1773, +60 9 266-4488, +60 9 266-4499, +60 3 2072-0336 (Petaling Street)

address: their Jerantut office at Hotel Sri Emas

The coach departs from Hotel Mandarin Pacific, going to Jerantut, then change to another smaller bus to Kuala Tembeling jetty, finally take a boat to Taman Negara (Kuala Tahan) from Tembeling jetty. KL (08:30) - Jerantut (12:00) - Kuala Tembeling (14:00) - Taman Negara (17:00). On the way back the boat starts at 09:00 at Taman Negara and you arrive at 16:30 in Kuala Lumpur Chinatown.

HAN Travel CoachSame package as the NKS one although the bus goes straight to the jetty. Bus leaves a 8:30 near The Mariamman Building (behind Mariamman Hindu Temple) Pasar Seni LRT station. The Boat leaves a 13:30 and drop you off at the Han Rainforest Resort. You can book either of these coaches online - choose a bus from Kuala Lumpur to Taman Negara.
By car
If you have your own transport, you can drive to Kuala Tahan; although you would miss the river boat trip, which is an important part of the experience. Parking is available at the hotels. From East Coast Expressway, exit at Temerloh and proceed to
Jerantut
. You will reach a T-junction. Turn right to Kuala Tahan - 75 km). The journey is 3½ hr from
Kuala Lumpur
.
There are plenty of roadsigns so you shouldn't get lost. You will drive across estates of palm oils and winding roads. Beware of cows and buffalos. There is no phone signal in the estates.
Get around
It is easy to get around without any guide. You can explore the forest on your own. However, if you go into the deep jungle, especially by the Keniam, Tenol, or Tahan Mountain trails, it is better to go with guide, as you will learn a lot about the jungle and reduce the risk of becoming lost or disoriented.

See
Lata Berkoh & Waterfall CascadesA famous spot for swimming in clear and cool water. Beware of strong currents and not stray too far from the bank. You can reach Lata Berkoh by boat ride for RM160. The boat ride itself is a unique experience. You can ask the boatman to turn off the engine (on your way back only) and enjoy the sound and sights of the jungle. It is like being in a Rambo movie. Half way to Lata Berkoh you can stop by the Kelah Sanctuary.

Kelah Fish SanctuaryThe Kelah fish is a culinary delight of the locals. They are known for their sweet flesh and is absolutely delightful when steamed fresh. You can feed these friendly fishes here with food that be bought from the Rangers. Stand bare footed in the river and watch as they come to nibble at your feet.

Videos on Indigenous flora & faunaShown at the Interpretive Room at 20:45 daily

Tahan Wildlife Observation HideYou may see some wildlife at the salt lick. It is best to stay overnight.
Do
Jungle TrekkingJungle treks of various duration, some up to nine days, are possible. Trekking requires considerable preparations, a lot of water and a guide must be taken on all long trekking journeys. Although challenging, the jungle treks prove to be an equally rewarding authentic jungle adventure.

Climb Bukit Teresek (Teresek Hill)334-m high hill. The trail is relatively easy until the foot of the hill. Then it turns to a moderate climb among ropes and tree roots. Get lucky and spot various wildlife including wild hog, rare birds, scorpians and others. Smell and drink the native Seranti tree, which is similar to a cola. When you finally reach the view point, you will be able to see almost the entire national park.

Canopy WalkWalk across the longest Malaysian suspension bridge in the world, at 530 m. Walk across the canopy 25-40 m high, and view the rich and diverse flora and fauna at the summit of the forest. There's no need for a guide to get there. In March 2013 an important part of the walk was closed for renovation.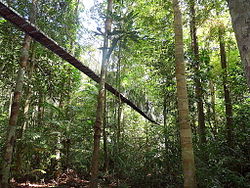 Visit the Orang Asli Settlements"Orang Asli" means "original people" in Malay. The Orang Asli live a nomadic lifestyle in Taman Negara. Their settlements are found along the trails. Some settlements are accessible by boat. Let them teach you how to make a blow gun and shoot it. Some background: the local travel agencies negotiated with the very shy Orang Asli group to abandon the nomadic lifestyle and settle down next to the river (in face of the canopy walk) so that they are easily accessible. Everyday about 10-15 tourists come to the settlement, and the travel agencies pay them RM5 for each visitor.

Night Walking SafarisView nocturnal plants and animals in an easy hour guided trek from the Ranger's headquarters. See flowers that only bloom at night, water dragons, snakes, glow in the dark fungis, stick insects other weird and wonderful creatures.

Night 4WD SafarisA guided drive through a palm plantation to view owls, wild cats, snakes and birds. You could see kingfishers, hornbills, otters, monitor lizards and more. One or more guides will shine spotlights on any wildlife they can find. Note that the tour does not take place in the park, but on the developed side of the river 15 minutes out of Kuala Tahan. This means there isn't a rainforest backdrop but at best palm trees and at worst the remains of cut down palm trees. It is not offered by the park but by private companies such as Han Travel.

FishingIt is estimated there are as many as 300 species of fish in the rivers. You may only fish the waters of Sungai Tahan below Lata Berkoh and Sungai Keniam below Kuala Keniam Kecil. Fishing tends to be best in the drier months of February to April and June to August. Permit costing RM10 per rod is necessary.

Cave ExplorationGua Teliga (Ear Cave) has rock formation in the shape of an ear. Gua Kepayang and Gua Daun Menari (Dancing Leaves Cave) are some of the few limestone outcrops that you can explore along with animals and insects that live in the caves.

Shooting The RapidsTravelling upstream on Sungai Tembeling from Kuala Tahan is an exhilarating experience. One must be prepared to get drenched as the boat has to negotiate 7 sets of rapids.

Bird watchingThere are over 350 species of birds in the park

Climb Gunung Tahan (Tahan Mountain)You will need to carry your own food and tent on this 4-7 day journey to the top of the highest mountain in Peninsular Malaysia at 2,187 m. There is a slim chance of seeing elephants in the wild. Needless to say, guides are necessary. Months of physical fitness training is needed before most trekkers would attempt the climb.

SwimmingYou can swim at Lubuk Simpon, the most accessible swimming hole in the park. It is a nice place to cool down after a day jungle trekking, and you can spot some fishes.
Eat
There are floating restaurants at the riverside of Kuala Tahan, including Family Restaurant, Wan Cafe, and LBK. These cafe serve local delicacies such as toasted bread with kaya jam (weird but tasty combination of egg and coconut), fried rice, drinks, sandwiches, and soups.
Outside of Kuala Tahan there are not many restaurants.

Drink
There are no bars in Kuala Tahan as it is a Muslim village. Chess Corner, near the Tembeling Riverview Guesthouse is a nice bar style cafe where locals sing songs and play the guitar at some nights. However, this 'bar' does not serve alcohol. There are also several cafes across the Tembeling River which a reachable by a quick boat ride.
You can still buy alcohol from the shop across the Teresek View motel. The alcohol is "hidden" in a separate room near the cashier. Can of beer RM12, small bottle of spirit RM20.
One local drink you should try is the "Sirup Bandung", which is a blend of rose syrup and milk. It is a tasty concoction to drink after a day's trek.

Sleep
Apart from Mutiara Taman Negara, which is next to the park entrance, all accommodation is across the Tembeling River at Kuala Tahan. Most are within walking distance of the river and there are many boats to take passengers across to the park entrance. Cost is RM1 per person, per crossing.
phone: +60 9 266 1122

Book at the park headquarters.

phone: +60 9 266-9570

address: Kuala Tahan

phone: +60 9 2668940

address: Kuala Tahan

10 chalets.

Ekoton Chalet & Dorms

phone: +60 9 266-9897

address: Next to the park entrance at Kuala Tahan

Liana Hostel

phone: +60 9 266-9322

address: Kuala Tahan

Basic hostel with 4 bed dorms. The place is clean and has great view over the river from the café next-door. Probably one the cheapest to stay in Taman Negara

Mutiara Taman Negara

address: Next to the park entrance at Kuala Tahan

Upmarket resort. Wild hogs are a regular sighting and can be seen scavenging for food in the evening. Also features a restaurant.

phone: +60 1 9773 1661

address: Kuala Tahan

phone: +60 9 266-7888

address: Across the river from the park entrance at Kuala Tahan

No coffee or tea-making facilities, although can request an electric jug. Comfortable rooms, standard hotel-like facilities.

Rippi hostel

address: Kuala Tahan

dorms-only place with a friendly cat and lizards, mosquito nets, nice sitting for a chat, travel books to read and a guitar teacher if you will, next door is an internet access point.

Teresek View Motel

phone: +60 9 2669744

address: Across the river from the park entrance at Kuala Tahan

Travellers Home

address: Across the river from the park entrance at Kuala Tahan

Homestay style accommodation but with new, clean rooms at affordable rates. Owner may be rude.

phone: +609 266 1111

address: Across the river from the park entrance at Kuala Tahan (close to Rainforest Resort)

Standard (fan) and air-con (deluxe) rooms with TV. Has karaoke. Questionable service, pool and room cleanliness standards.

Nusa Holiday VillageUpriver in beautiful and quiet surroundings.Few waterfalls and hill trekkings only accessible from there. They have an office at the Jerantut Bus Station to book in advance.
Stay safe
There is no violent crime in Taman Negara. As anywhere, do not leave valuables lying around unguarded. Beware of theft from hotel rooms and always monitor and secure your belongings.
Wear footwear when outside. If you make a jungle trek on your own inform the park headquarters where you are going and at what time you will be back. People sometimes get lost or disoriented in the jungle.
Leeches are common in the park but are not as dangerous as they are made out to be. They're fairly annoying, although after a few days, you'd get used to them.

Go next
Schedule information and boat ticketing is available from the travel booths at the floating restaurants.
Boats run to
Kuala Tembling
at 09:00, 10:00, and 14:00, costing RM35. From there, you can catch a quite worn-out bus to
Kuala Lumpur
(RM40),
Penang
,
Cameron Highlands
, or other destinations - try not to sit on the bumpy back seats.
A cheaper option is to catch a public bus to
Jerantut
RM7. From
Jerantut
, there is air-conditioned bus and train service to
Kuala Lumpur
RM17 and other destinations such as
Cameron Highlands
RM23 or the East coast