Taos
Taos
(pronounced "touse", rhymes with "house" or "mouse") is a prominent town in
North Central New Mexico
, about a two hour drive north of
Santa Fe
. While much more laid-back than Santa Fe, Taos has become a popular travel destination in its own right, noted for its art colony, its New Age community, excellent skiing, and Taos Pueblo, a photogenic American Indian community that is open to visitors under controlled conditions.
Understand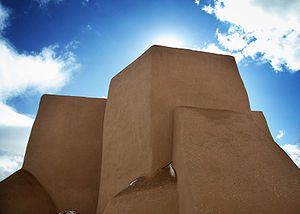 The Town of Taos is one of several places with "Taos" in their name, all part of the region and contributors to its attractiveness but differing in just what the attractions are.
Ranchos de Taos
is a small village south of Taos proper that is notable for a spectacularly scenic and much-photographed church.
Taos Pueblo
is just north of town, and is an ancient American Indian community (and
UNESCO World Heritage Site
) in a particularly beautiful setting.
Taos Ski Valley
, also known as Twining, is about 20 miles (32 km) north of town in the
Sangre de Cristo Mountains
. Finally, the
Taos Box
is a section of the nearby Rio Grande known for its superb whitewater. Before setting out for an attraction, know exactly which Taos you're visiting; there are attractions outside Taos proper in Ranchos de Taos, Taos Pueblo and Taos Ski Valley, all of which are covered below with those for the town.
History
It's not clear exactly when the first humans arrived in the Taos area, but samples taken from the main structure of
Taos Pueblo
found it to likely have been built somewhere between 1000 and 1450 AD, which would make it one of the oldest continuously inhabited communities in the Americas. Situated in a tributary valley of the Rio Grande, Taos marked the northernmost extent of the Pueblo Indians. It would also mark the northernmost extent of Spanish settlement in the Southwest following the arrival of Spanish conquistadors and missionaries in the 17th century. Of all the pueblos, Taos may have been the most resistant to the brutal treatment they received from the Spanish, leading the Pueblo Revolt in 1680 and keeping up armed resistance to the Spanish long afterwards. Over time, the Spanish eventually began to fight alongside the Pueblo Indians against other tribes in the region, which led to the creation of the Spanish village of Taos in the 1790s.
In the early 1800s, many mountain men and fur trappers arrived in the area, many of them Americans who had arrived in New Mexico via the Santa Fe Trail. The transition to American rule was marked by violence in Taos; following the U.S. takeover of New Mexico in 1846, a group of Hispanics and Taos Indians led a revolt against the American government, killing the newly-appointed U.S. Governor, Charles Bent. The U.S. military responded in force, laying siege to Taos Pueblo and crushing the revolt, burning down the pueblo church in the process. In the years that followed, relations between natives and American settlers cooled down significantly.
Taos came to widespread attention in the early 1900s, when a group of prominent artists, lured by the region's scenery and culture, formed the Taos art colony and promoted the town within artist and writing circles. Their work typically focused on the landscape and the culture of Taos Pueblo and the Hispanic farming villages in the area. Modern artists and photographers would follow in the decades to come, as would Hippies and New Age practitioners, laying the groundwork for the thriving art scene that persists to this day and serves as arguably the town's main draw.
Get in
By plane
No commercial airlines serve Taos. However, it has had intermittent service by commuter lines flying from
Albuquerque
in the past. The Albuquerque Sunport, three hours' driving time distant, is the nearest airport with extensive commercial air service.
By car
Taos' position on the west slopes of the
Sangre de Cristo Mountains
restricts road access somewhat, as there are few passes through the mountains and the ones that exist may be closed in the winter due to snow. Coming from
Denver
and other points north, there are two options: either follow Interstate Highway 25 to
Raton
and then US Highway 64 over Palo Flechado Pass and into Taos, or follow
Colorado
state road 159 south to the New Mexico border, at which point it becomes New Mexico state road 552 and continues to Taos.
There are also two routes into Taos from Santa Fe and Albuquerque. The most direct route follows US Highway 285 through
Pojoaque
to
Española
, then New Mexico state road 68 along the banks of the Rio Grande to Taos. There are a number of scenic viewpoints on this road; it's worth stopping to see if river runners are on the Rio, particularly during high water (spring) at which time this stretch of river is one of the finest whitewater experiences in the continental United States. The slower and higher, but even more scenic, "High Road to Taos" diverges at Pojoaque and first follows New Mexico 503 to Chimayo, then New Mexico 76 and New Mexico 75 to Peñasco, and then New Mexico 518 to outlying Ranchos de Taos and finally the Town of Taos. This is a beautiful drive in the spring and summer; the Sangre de Cristos are snow-capped until June or so, while later in the summer, the thunderstorms that build over the mountains provide a different kind of elemental beauty.
By bus
Faust Transportation (+1 575 758-3410) provides local taxi, regional and airport shuttle, and charter bus service to the North Central NM area. Its airport shuttle is no longer operating. Twin Hearts Express Shuttle Co. (+1 575 751-1201) also provides shuttle services to and from the Taos area. The
NCRTD
provides weekday commuter bus service that links Taos to the surrounding communities of the region, and a weekend service, the
Taos Express
, to Española and Santa Fe.
Get around
With little traffic Taos is easy to drive around in, seeing as there is really only one main road stretching from the beginning of town to the end. the downtown area is great for walking, with many restaurants, shops, and galleries to visit.
Taos Trolley Tours
runs bus tours that reach most of the main attractions. The trolley-style bus won't move any more quickly through traffic than your car will, but using it will at least save you some aggravation behind the wheel, and reduce the congestion slightly for the other drivers. Call +1 575 751-0366 for details; usually closed during the winter.
For those without a car, it's relatively easy to hitchhike in and around town. For nearby northern towns, such as Arroyo Seco, Valdez, and Arroyo Hondo, walk north toward the gas station where Paseo del Pueblo (US-64) forms a fork with highway to the Taos Pueblo. Other established hitchhiking spots are at the Junction of US-64 North (Airport/Manby Spring), State Highway 522 (Arroyo Hondo/Stagecoach Spring), and State Highway 240 (Arroyo Seco), and north on Highway 240 at Old Blinking Light.
Taos also has an official form of public transportation, and that's the
Chile Line
shuttle service, +1 866-206-0754, which operates a free, fixed-route service on weekdays with designated stops along the main street of town (Paseo del Pueblo) up to the pueblo and a shuttle service from many of the hotels in Taos to the Taos Ski Valley.
See
Downtown Taos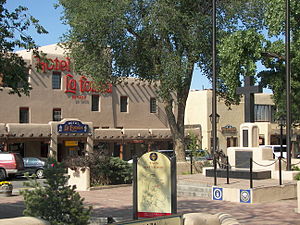 The historic district at the center of town, this is where you'll find the majority of traveler attractions in Taos. , the historic center of town, is a shady town square surrounded by adobe architecture about half a block west of the intersection of Paseo del Pueblo and Kit Carson Road, which gets clogged with tourists in the summer months. The buildings surrounding the Plaza hold many of the town's finest restaurants and hotels, as well as a number of houses that belonged to founders of the art colony or other significant personages which have since been turned into museums and galleries.
phone: +1 575 758-4945

address: 113 Kit Carson Rd

The Taos home of Kit Carson, a 19th-century frontiersman, Indian agent, and Army officer who played a prominent role in the Indian Wars. The house has been lovingly preserved, with artifacts from Carson's life and period furnishings illustrating frontier life in Taos, including one room done up to look like a frontier trading post.

Governor Bent Home

address: 117 Bent St

The former home of Governor Bent, the first Governor of New Mexico when it was territorial United States, who was killed here in a raid by angry residents who objected to American rule. This small museum has some artifacts from the uprising, as well as some works from local artists.

Kit Carson Park & Cemetery

address: on Paseo del Pueblo

A lovely, shaded public park with fields, trails, a playground, and a cemetery with the graves of Kit Carson, his family, and other notable Taos citizens.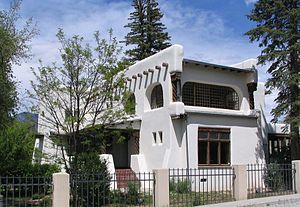 Taos Art Museum at Fechin House

phone: +1 575 758-2690

address: 227 Paseo del Pueblo Norte

Located in the former home and studio of Russian born artist Nicolai Fechin, the Taos Art Museum has works from famous Taos artists, most notably a collection of paintings from the Taos Society of Artists from the early 20th century, of which Fechin was a member. The building is a wonderful example of Southwestern adobe architecture, with interesting ornamentation and examples of Fechin's own handcrafted furniture, and the collection offers a good insight into the work of the artists who brought artistic renown to Taos.

E.L. Blumenschein Home & Museum

phone: +1 575 758-0505

address: 222 Ledoux St

The former home of Ernest L. Blumenschein, who became captivated by the scenery in Taos when he and a friend were traveling through and a wagon accident forced them to stay in Taos. Blumenschein told other artists of the beautiful scenery and returned to Taos, where he helped create the Taos Art Colony. Today, you'll find the home furnished with many of Blumenschein's original belongings and paintings.

phone: +1 575 758-9826

address: 238 Ledoux St

A vast collection from Taos artists dating from the 18th to the 20th century, with particular focus on Hispanic artistic traditions and paintings from the Taos Society of Artists.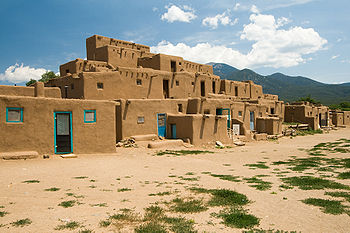 phone: +1 575 758-1028

address: 120 Veterans Highway
A
UNESCO World Heritage Site
and one of the oldest continuously inhabited communities in the Americas, Taos is the northernmost of the
New Mexico Pueblos
and the most iconic, with two large adobe structures that are around 1,000 years old. A large plaza sits between the two structures, with a small creek running through the middle. While most inhabitants of the pueblo live in modern housing on the outskirts of the reservation, there are still a sizable number who live in the historic village and keep the traditional ways alive.
Guided tours take visitors around a portion of the village, including into the San Geronimo Chapel and past the ruins of the old church, both on the grounds of the village, with the guide explaining some of the history and culture of the village. For anyone interested in learning about Native American culture, the tour is a very rewarding experience. Handmade wares are available from some curio shops run by local artisans in the village, with moccasins, boots, drums, mica-flecked pottery and silver jewelry being specialties.
Photography and sketching is strictly regulated, with a separate fee required. Don't photograph residents without permission, and don't enter doors or homes that are not clearly marked as businesses. The pueblo also operates a small casino near the entrance to the historic village, which is mainly notable for being entirely non-smoking.
Outlying attractions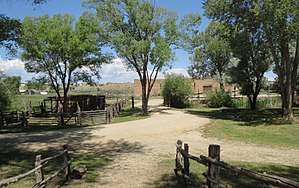 phone: +1 575 758-1000

address: 708 Hacienda Rd

One of the few existing Spanish Colonial haciendas, or "Great Houses", you can take a self-guided tour of this wonderful old place, with its numerous rooms surrounding two courtyards. Besides being a good representation of architecture from the time, the numerous examples of period furnishings and interesting artifacts such as wagons, a recreated blacksmith shop, a collection of religious art, and a weaving room give you a sense of what frontier life was like here in the early 19th century.

phone: +1 575 758-2462

address: 1504 Millicent Rogers Rd

Famed artist Millicent Rogers lived here in Taos and amassed a huge collection of Southwestern art, and this superb museum continues her legacy. The museum is particularly noted for its jewelry collection, assembled and worn by Millicent Rogers, which represents all the major Native American jewelry traditions. However, you'll also find excellent examples of other Native American art, including a collection of Native pottery (with a set of pots from noted Pueblo potter Maria Martinez), textiles and baskets, as well as a collection of Spanish Colonial furniture, tinwork, blankets, and religious art.

Church of San Francisco de Asis

address: 60 St Francis Plaza

An incredibly photogenic example of the churches founded in New Mexico during the Spanish mission period. It's a short drive from Downtown Taos on New Mexico 68 and close enough to the highway that you won't have to spend more than 15 minutes getting to and from it if you want to settle for a quick visit. For serious photography and painting, you may have to join a crowd of other aspiring artists. Tours of the interior are available except around times of worship services.
Do
Outdoor recreation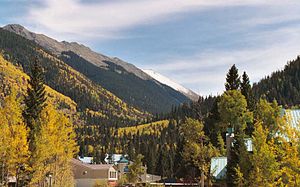 address: NM 150, north of town

A major downhill ski locale, usually with the best snow in New Mexico if not the entire Southwest. The slopes usually open on Thanksgiving weekend and close in early April, although early season snow can be sparse and spring conditions slushy. This is a challenging hill, and beginners may feel more comfortable on one of the nearby areas listed under "Get out," but the expert skier can have a fantastic time here. One caution: there is Nordic (cross-country) skiing up-valley from the downhill area, but the valley is prone to avalanches, and Nordic skiers have died there. If the locals warn you against skiing (downhill or Nordic) outside the safe areas due to avalanche hazard, take them seriously.
There are a number of fine hikes in the mountains after the skiing ends and the snow melts, with trailheads at Taos Ski Valley and elsewhere. Wheeler Peak, the highest summit in New Mexico at , is on the ridge opposite the main ski runs and is a popular hiking destination. Do not underestimate this mountain; in addition to the avalanche hazard during the winter, bad weather can strike at any time of the year and turn what is normally a hands-in-the-pockets walk into a life-threatening, and sometimes -ending, experience.
The Taos Box, within the Rio Grande del Norte National Monument, offers superb river running on the Rio Grande during the spring and summer. Several outfitters and guide companies operate out of Taos, and there are others based in small towns between Taos and Española. Some with acceptable credentials are:
address: 207 Paseo del Pueblo Sur

address: NM 522, just north of Ski Valley Rd

Also runs trips on the Rio Chama and Colorado's Arkansas River.

address: 4003 Highway 68
Most trips on the Rio Grande take a full day, with some outfitters offering overnight outings that extend beyond the Taos Box. Pickup/dropoff, gear selection, etc., all vary according to the outfitter and trip; contact the outfitter directly to make arrangements. Reservations are a "must" for most trips.
Events
Throughout the year, Taos Pueblo hosts ceremonial dances that are sometimes open to visitors; see the website for dates and details. Of note is the Taos Pueblo Pow Wow, a gathering of Indian tribes that takes place annually on the second weekend in July, and the Feast Day of San Geronimo (the pueblo's patron saint) on September 30th.

Fiestas de TaosTakes place in mid-late July and is a major community celebration centered on the Taos Plaza, with lots of food, music, and parades.

Taos Fall Arts FestivalOne of the largest arts festivals in the area, it takes place over the last week of September, with art shows, craft fairs, music, and installations throughout Downtown Taos.

Taos Wool FestivalA fun event that takes place annually on the first weekend of October that brings together the many weavers and sheep and alpaca growers in the region. Besides the numerous booths that sell handmade weavings, fiber, yarns and wool, there are also demonstrations of sheep shearing, wool dyeing, and food stands selling locally grown lamb.

Though nowhere near as large as the Balloon Fiesta in Albuquerque, the Taos Mountain Balloon Rally brings dozens of hot-air balloons to Taos, with mass ascensions, balloon glows, and a parade.
The holiday season brings plenty of events and local color, including a light parade in early December, luminarias on many Taos streets, and a Christmas Eve procession at Taos Pueblo, which involves massive bonfires and the Procession of the Virgin accompanied with rifle salutes. Also keep an eye out for Las Posadas, a traditional Hispanic play about Joseph and the Virgin Mary seeking lodging which takes place at local churches and parishes in the days leading up to Christmas.
Learn
The "Taos Hum"
Taos is a well-known center for "spiritual" activities of various kinds, some of them relating to the curious and possibly mythical phenomenon of the Taos Hum. Many visitors claim to be able to hear a persistent, low rumbling or buzzing sound not attributable to the traffic of town or other obvious sources. Possible explanations have been posed ranging from the pedestrian (static discharges in the mountains, power lines that are heard but not seen) to the outlandish (secret government facilities nearby, some manner of UFO nexus). Sober-sided skeptics insist that there isn't really a Hum at all and that its perception results from visitors from noisier lands being unused to the general solitude and silence of the rural area. If you want to try to hear the Hum, get out of the downtown area, which is too congested to hear a "hum" of anything but traffic, and spend some time in the forest, particularly early in the morning or at night if you're equipped for it.
The Taos School of Music is a well-regarded summer program for the aspiring (age 18 and up) professional musician. The focus is on chamber music, with a very favorable student/faculty ratio and performance opportunities. A concert series involving significant chamber ensembles is part of the program. Admission into the program is highly competitive.
Buy
Taos Pueblo, like other New Mexico pueblos, is known for American Indian arts and crafts. Its pottery differs considerably in appearance from that of other pueblos owing to differences in the clay of the region. Good Taos pottery has a unique "sparkle" caused by tiny flecks of mica. Many shops in town carry this pottery, along with jewelry and other folk art from pueblos along the Rio Grande, but it's worth your time to look for pottery and jewelry at the pueblo itself.
More traditional "Anglo" (and Hispanic) art is available from all manner of galleries in the downtown area, as well as at gift shops associated with most of the museums. The places on the Plaza itself, unfortunately, tend toward tacky and schlocky, but you don't have to get far off the Plaza to get very good material. The Taos Gallery Association hosts a web site with info on most of the more reputable galleries. Be warned: some of the work at these galleries is seriously expensive (5 figures), but you get what you pay for.
If you want to update your ski equipment, many shops at Taos Ski Valley and in Taos itself will be happy to help you empty your bank account on the latest and greatest skis, boots, etc.
Most shopping on the plaza closes down from 5-6PM. During slow periods (such as in May, which is after ski season and before major summer travel season), some establishments go on extended breaks.
Eat
Many restaurants in Taos double as art galleries/outlets. You won't find any of the really good stuff there (unless it's art gallery first, restaurant second), but the prices on the workaday material are competitive with the galleries, and you'll have both a more interesting dining experience and an opportunity to browse or even buy the art without feeling guilty about not going for the big-ticket items. In the following, "Budget" restaurants have entrees up to about $10 (exclusive of drinks, desserts and tips), "Mid-range" between $10 and $25, and "Splurge" greater than $25. There are many more restaurants in Taos than shown here, some of them quite good; add your favorite.
Budget
phone: +1 575 758-2121

address: 121 Teresina Ln

Right near the plaza, as much bar as restaurant. "Delicious fish and chips, margaritas" according to some reviewers; barely edible tourist fare, according to others. Try it and offer an opinion.

phone: +1 575 758-4142

address: 819 Paseo del Pueblo Sur

More of a local hangout than a tourist place, being well south of the center of town. Acceptable New Mexican fare, with some "American" items.

phone: +1 575 758-4178

address: 304C Paseo del Pueblo Norte

A long-time local favorite, casual and busy. Great for breakfast, which is served all day. The New Mexican lunches are variable. Also has a nice bakery.

Taos Pizza Outback

phone: +1 575 758-3112

address: 712 Paseo del Pueblo Norte

Locals are divided about this pizzeria, some proclaiming it the best pizza in town, others sniffing that it doesn't serve "New York style" pizzas. Chacun à son gout.

phone: +1 575 758-5787

address: 120 Bent St

"European-style," beautiful patio dining and yes, it rocks. Excellent menu selections, wonderful sandwiches, accommodating and gracious waitstaff. Licensed, with a good selection of beers. A local favorite, popular with visitors and regulars alike. Great for people-watching. On the pricey side of "budget".
Mid-range
phone: +1 575 751-4800

address: 122 Dona Luz St

The menu combines "New Mexican" with "old" Mexican.

phone: +1 575 737-5859

address: 402 Paseo del Pueblo Norte

Eclectic menu, with a fine Saturday/Sunday brunch that would be outstanding but for the road noise (most tables are outdoors and Paseo del Pueblo is incredibly busy on weekends). If you can stand the racket, give it a try.

phone: +1 575 758-8484

address: 1032 Paseo del Pueblo Sur

Grilled sandwiches and panninis, fresh salads, sides, desserts, beer & wine.

address: 103 East Plaza

Overlooking the Plaza. A large dining room, a large patio with intense late afternoon sun and prime sunset dining. A moderately priced menu with quality preparation. A large bar with a good selection of wine, draft and bottled beer.

Guadalajara Grill

address: Two locations

Order at the counter, which will give you an uncomfortable feeling that you're about to consume fast food, but the meal brought to your table will dispel any such concerns. Mexican/New Mexican, with some excellent seafood dishes; the Camaron a la Diabla (shrimp in a very spicy red sauce) is recommended.
Guadalajara Grill

phone: +1 575 751-0063

address: 1384 Paseo del Pueblo Sur

Guadalajara Grill

phone: +1 575 737-0816

address: 822 Paseo del Pueblo Norte
Orlando's New Mexican Cafe

phone: +1 575 751-1450

address: 1114 Don Juan Valdez Ln

Locals disagree on where in town you can get the best standard New Mexican cuisine, but this one is always in the discussion. North of the center of town, and not a convenient walk from the Plaza.
phone: +1 575 776-1050

address: 23 Highway 150

Serves New York style pizza, pasta, sandwiches, appetizers, such as blue corn calamari and fish & chips, and delicious salads. Beautiful views from the patio!
Splurge
Many of the better restaurants in Taos decline to give "closing" hours for dinner, opting instead to stop serving when they feel like it. Practically speaking, "closing" usually works out to something like 9PM M-Th, 9:30 or 10 on Fridays and Saturdays. If you're anticipating a late dinner, it's good to call for information and make reservations.
phone: +1 575 758-2233

address: 125 Paseo del Pueblo Norte

Exclusive Chef Zippy White, selections from the spectacular wine list of 400. Excellent seasonal menu additions and desserts. American cuisine with a Southwest twist; breakfasts are also creative. Renown for chile rellenos appetizer. The inn has a garden for fresh and organic ingredients. Live music in the adjacent Adobe Bar nightly.

Lambert's of Taos

phone: +1 575 758-1009

address: 309 Paseo del Pueblo Sur

An old standby with mainly American cuisine.
Drink
phone: +1 575 758-2233 ext 191

address: 125 Paseo del Pueblo Norte

Bills itself as "the Living Room of Taos," and with good reason; passersby wander into this comfortable watering hole (half in the hotel's lobby, half on the sidewalk) as though it's home away from home. Live entertainment every evening is complimentary- open mike on most Mondays. Excellent magarita and wine list.
Alley Cantina (see above under "Eat") often has country/western music and dancing.

phone: +1 575 758-1517

address: 106 Des Georges Ln

Offers "guest beers" from other microbreweries as well as their own selection, including "Green Chile Beer". Also acceptable meals (generally "American").

phone: +1 575 776-2894

address: Taos Ski Valley

One of several watering holes at Taos Ski Valley, open for much of the year beyond ski season. Food is nothing to write home about, but the raucous apres-ski atmosphere persists into the rest of the year and provides a pleasant environment for relaxing after a hike into the mountains.
Sleep
There are many hotels and B&Bs in this area, owing to the thriving tourist trade, and many of them are quite good yet not on this list; if you've stayed at a notable one, please add it, with comments.
Budget
Budget lodging in Taos can be a somewhat dicey proposition, and some hotels get extremely negative reviews. If you're really on a budget, one of the national chains may be the way to go, at the expense of "local color."
phone: +1 575-776-8298

address: 476 State Highway 150, Arroyo Seco

A cozy, sociable hostel in the style of a ski lodge. They offer dorms, rooms, teepees, and tiny cabins. Guests can pay a nominal fee to use vegetables from the garden, and staff will occasionally cook for donations. The town of Arroyo Seco is hitchhiker friendly, and it's easy to catch a ride into Taos and back just south of the hostel.

phone: +1 575 758-1088

address: 1347 Paseo del Pueblo Sur

A typical Super 8, generic rather than colorful, but OK for a night's sleep. South of the downtown area and a bit too far to walk, but satisfactory restaurants are nearby.

Taos Valley RV & Camping Park

phone: +1 575 758-4469

address: 120 Este Es Rd

Friendly place, nicely landscaped with privacy fences and shelters at most of the tent sites.
Mid-range
Splurge
phone: +1 575 758-4777

address: 405 Cordoba Rd

Perhaps the best -- and most expensive -- of a number of B&Bs in the region. Non-smoking rooms only, 2 night minimum.

phone: +1 575 737-9880

address: 317 Kit Carson Rd

A resort with luxurious themed suites, a spa, a restaurant & bar, meeting space, and wedding facilities.
Connect

There is free Internet access at some sites around town, but most (supplied by laplaza.org) are nominally for town residents. Public wireless access for travelers is reported to exist at Taos Municipal Airport. Most major hotels offer wide-band services.
The Town of Taos has cellular service, and was recently added to the list of Verizon 4G LTE support. There are no street pay phones available in Taos.

Stay safe
The areas of and near Taos of most interest to the traveler generally have little crime, although the potential for petty theft from unlocked cars always exists, particularly in remote areas (e.g. at trail heads in the national forest). The main concerns are weather and road hazards. Winters can be harsh, particularly at higher elevations, and the wise motorist uses snow tires and has chains or 4 wheel drive available from November through March. Keeping warm clothing and an emergency kit in the car during this time is a good idea. Heavy snow creates hazards for outdoor recreation as well; use extreme caution in the mountains, as avalanche conditions are frequent. During the summer a different hazard appears: lightning. The Sangre de Cristos generate thunderstorms that produce frequent cloud-to-ground strikes. If you go hiking in the high country during summer, make sure you're off the high summits by 1PM at the latest, and keep an eye out for earlier-than-normal electrical activity.
Another contributor to safety concerns on the roadways is the unfortunate but undeniable fact that
northern New Mexico
has severe problems with drunk driving. Taos has less problems itself with this than some nearby areas, but vigilance on the highways is still a good idea, particularly after dark and on the highways into and outside the town.
Another safety hazard along the road to Taos are rock slides that may leave large rocks in the roadway capable of damaging the undercarriage of your vehicle. Take curves with caution and be prepared to slow to avoid hazards. In the Taos area, the danger of rock slides exists primarily on New Mexico state road 68 between Espanola and Taos.
Cope
If you're planning on visiting Taos in the winter be prepared for very cold temperatures. High temperatures reach only 30-40 degrees Fahrenheit in the winter, whereas they reach 70-85 degrees in the summer.

Go next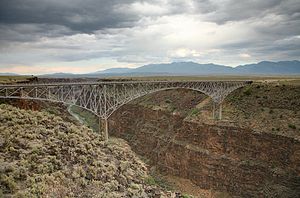 The Sangre de Cristo Mountains above town contain a portion of the Carson National Forest and offer all manner of hiking, backpacking and horseback riding opportunities. Besides Taos Ski Valley (described above under Do), there are major ski areas at Angel Fire and Red River on the eastern side of the range not far from Taos, as well as the smaller and more rustic Sipapu to the south on NM 518. All are in general somewhat easier skiing than the notoriously "challenging" Taos Ski Valley, and see more beginners (Sipapu specifically bills itself as "family-oriented"). Red River also has a developed commercial site for Nordic (cross-country) skiing on groomed trails. The drives to these areas are scenic even if you don't ski.
Virtually every road leading out of Taos is a scenic drive, but of note is the Enchanted Circle, a loop road that connects Taos to many of the nearby ski resort towns and passes through some beautiful mountain scenery. From Taos, you can drive north on NM 522 to the village of Questa, then east on NM 38 through Red River and the Sangre de Cristos to Eagle Nest, before returning west on US 64 past Angel Fire back to Taos. The drive takes anywhere from 2.5 hours to a full day if you take the time to make stops along the way.
If you happen to be a fan of author D.H. Lawrence (one of the contributors to the Taos mystique in the early 20th century), his ashes are preserved at a curious "shrine" at the D.H. Lawrence Ranch, a property of the University of New Mexico about 20 miles from town via SR 522. It's open for visits during daylight hours.
The Rio Grande del Norte National Monument, administered by the BLM, covers the spectacular Rio Grande Gorge west of Taos. There are three primary sites of interest for visitors: the closest to Taos is the Rio Grande Gorge Bridge, on US Highway 64 about 10 miles west of town, which spans the Rio Grande a dizzying 650 feet above the river. There are observation platforms at each end of the bridge, and it's definitely not for the acrophobic. North of Taos, near the village of Questa, is the Wild Rivers Recreation Area, at the confluence of the Rio Grande and Red River, with camping and picnicking sites on the rim of the gorge, spectacular views, and hiking trails down into the gorge. South of Taos, on NM Highway 68 towards Española, is the town of Pilar, situated within the gorge itself on the banks of the Rio Grande. In town proper is the Rio Grande Gorge Visitor Center as well as whitewater rafting companies offering trips on the river, and nearby are camping and picnic grounds along the river.
Picuris Pueblo, south of Taos at the west end of the town of Peñasco, is one of the highest of the American Indian pueblos of New Mexico and can be toured during daylight hours. There is a small tribal museum. As at most Native American pueblos open to the public, a small fee is charged for photography, sketching, etc.