Taymyria
Named after the Taymyria Peninsula on the Arctic Sea,
Taymyria
(
Russian
: Таймы́рский автоно́мный о́круг
tigh-MYHR-skee uhv-tah-NOHM-nyh OH-krook
) is an impressively remote, vast region in
Krasnoyarsk Krai
,
Russia
. To the north, Taymyria borders the Arctic Ocean, to the southeast
Yakutia
, to the south
Evenkia
, and to the southwest the
Krasnoyarsk region
and
Yamalia
.
Other destinations
— a UNESCO World Heritage site encompassing subarctic and arctic ecosystems in an isolated mountain range, including pristine taiga, forest tundra, tundra and arctic desert systems, as well as untouched cold-water lake and river systems. A major reindeer migration route crosses the property, which represents an exceptional, large-scale and increasingly rare natural phenomenon.
Understand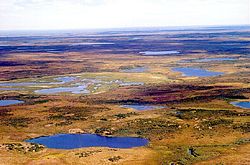 Although over half of Taymyria's population is ethnic Russian, about one quarter of the population is comprised indigenous Siberians, including Dolgans, Nenets, Nganasans, Evenks, and Enets. Taymyria's lone incursion into American pop culture occurred when parts of the American film
White Nights
took place in
Norilsk
.
Get in
Special visas may be necessary for all nationals wishing to travel to Taymyria.