Telemark
Telemark
is a county in
East Norway
. It is a rugged area with many big lakes ("inland fjords") and picturesque valleys. The county stretches from the industrial towns along the ocean through the forested hills and secluded valleys to the barren, unpopulated
Hardangervidda
. Most of Norway's ancient wooden buildings are in Telemark. The big contrasts between the Norway's industrial heartland and the rugged interior makes Telemark a Norway in miniature.
Towns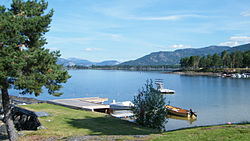 – a seaside town with a bacallao festival.
– a seaside town which attracts many tourists in summer.
– a seaside town with many concerts at Wrightegaarden in summer, also has a fish festival and a sea shanty festival.
– holds a yearly blues festival in August.
– a town with a yearly street theatre festival.
– a town deep in a valley that the sun doesn't reach there during winter. Also the home of the Vemork hydroelectric plant, the Industrial workers museum and the heavy water sabotage mission during WWII
– a town where the famous author Henrik Ibsen was born
Other destinations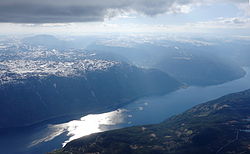 – a small village in the heart of Telemark. Major attraction is Bø Sommerland.
– an iconic mountain with an impressive panorama of large parts of South Norway
– mountain village in the east of Vinje municipality; huge ski destination during winter
– a municipality
– mountain village in Vinje municipality
– a village with ski centre and other outdoor activities
Understand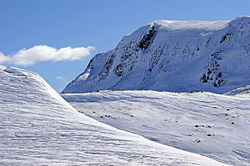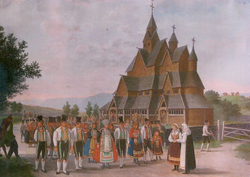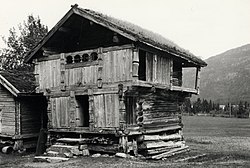 Telemark is a county of fascinating contrasts – a miniature Norway with everything inside one county. Telemark is a picturesque area with countless lakes, rivers and valleys, and Mt Gausta landmark overlooking vast areas. Telemark has about 60 notable lakes, which cover more than 5 % of the county's area. Tinnsjå lake is 460 meters deep and the third deepest in Europe. Even if the lake surface is 190 meters above sea level, close to half of the lake is actually below sea level. Rivers flow rapidly from the high plateau to the valleys and lakes below, some in the shape of fine waterfalls. The most notable waterfall is Rjukan waterfall; Rjukan simply means "smoking one" from the mist created by falls. Rjukan waterfall is used for hydro power production and is rarely seen as it was.
Traditional culture such as
Hardanger fiddle
music is kept alive in Telemark. It is also home to the largest stave church, Heddal at Notodden. Excellent skiers from Telemark played a key role in developing modern skiing. Many Norwegians spend their vacation along Telemark's coast at Kragerø. Telemark is also Norway's industrial heartland. Telemark's hydro power and fertilizer factories began modern heavy industries around 1900. Timber and paper were also important industries along Telemark's rivers. The Skien-Porsgrunn area is still dominated by heavy industry. Norway's only major canal, the Telemark canal, was constructed between Skien and Dalen to allow transport of goods and passengers from the deep interior to the ports. The canal still stands out as an engineering achievement.
The town of Rjukan was developed from scratch to serve the new fertilizer factory and hydro power there. An elaborate transport system was constructed to transport fertilizer from Rjukan to Skien. A short railway was constructed from the factory to Tinn lake, where a railway ferry (unique in Norway) carried the train to Tinnoset. From Tinnoset by rail to Notodden, and finally by barges across the lake and through the canal to Skien and Porsgrunn.
The hydro power at Rjukan's Vemork facilities was used to produce heavy water during
WW II
, the allies used vast resources to destroy the production capacity at Vemork. A group of Norwegian commandos completed one of the war's most daring and successful sabotages against Vemork facilities. Later the ferry (loaded with heavy water bound for Germany) at Tinn lake was sunk.
Telemark gave name to particular type of turn while skiing downhill, the Telemark turn or simply "Telemark". To this day a specific type of landing in ski jumping is also named after the region.
Get in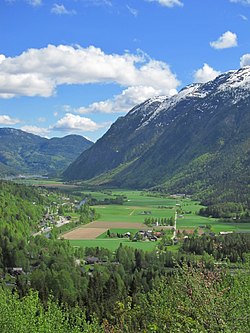 By plane
Nearby Sandefjord's Airport Torp has direct flights from many European cities. From there, take the free shuttle bus to the nearby train stop ("Torp Sandefjord Lufthavn") and the train to Porsgrunn or Skien.
Oslo Airport, a major international airport, is 180 km north-east of Skien. See below how to get in from Oslo.
By train
There are trains from Oslo along the coast to Skien, sometimes with a change in Larvik in Vestfold county. Search on nsb.no.
Sørland line Oslo-Drammen-Kongsberg-Kristiansand stops at Nordagutu, Bø and Lunde in Telemark. Connections to Notodden.
By bus
By car
By boat
Color Line car ferries from Hirtshals in Denmark to Larvik.
Car ferries from Strömstad to Sandefjord is a shortcut from Sweden, bypass the drive through Oslo.
Get around
Local buses, tickets and info by Vestviken (Norwegian only). Route info on rutebok.no (also in English).
Lower Telemark is served by two railway lines:
Sørlandsbanen (Oslo-Drammen-Kongsberg-Kristiansand), stations at Nordagutu, Bø, Lunde, Drangedal and Neslandsvatn
Bratsbergbanen a short line for local traffic with main stations at Notodden, Nordagutu and Porsgrunn
See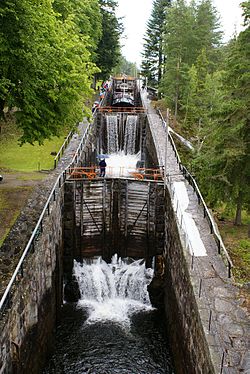 address: Gaustaområdet

Highest summit south of Hardangervidda and highest in Telemark, a distinct profile rising from the surrounding plateau. About 1/6th of Norway can be seen on clear days. 30–40.000 hike to the summit every year, taking approximately 2 hours from Stavsro, where you can park the car. You can also take the Gaustabanen Cable Car inside the mountain.
Ibsen's Venstøp, Skien – The place where the world-famous writer Henrik Ibsen was born.

TelemarkskanalenTelemarkskanalen was hewn out of the rocks by hand, and stretches 105 km from Skien to Dalen in west and to Notodden in east. The Canal consists of eight locks with a total of 18 lock chambers, and a difference in height of 72 metres. At Vrangfoss boats are lifted 23 meters through five locks. The first part was completed in 1861 (Norsjø–Skien) and the Bandak Canal in 1892. The canal attracted attention internationally at the time and was celebrated as an engineering achievement. This is the only major canal in Norway. M/S Henrik Ibsen, M/S Victoria and M/S Telemarken sail daily between Skien and Dalen in the summer season (late May to early September). The trip takes a full day from around 8AM to around 6PM. Note: Coordinates are for the locks at Vrangfoss.

RjukanA small town in the narrow valley beneath Gausta. Important industrial site included on UNESCO's world heritage list. Famous heavy water sabotage during World War II. Rjukan waterfall is now used for hydro power and is seen only occasionally.

Heddal stave church

address: Notodden

The largest and perhaps most impressive of the existing stave churches. These wooden buildings were designed and constructed during years 1000 to around 1350. While there are some similarities to Roman basilicas on the continent and in Britain and Ireland, technique and decoration are unique. Close to road E134.

Eidsborg stave church

address: Tokke

One of the smallest stave churches. Erected 13th century, reconstructed in the 19th and 20th. Next door to West Telemark open air museum.
Do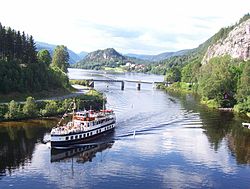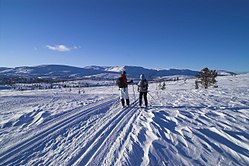 Hike to summit of mountain Gausta (see details under "See" section), 2–3 hours from the parking at Stavsro.
Stay safe

Telemark is considered extremely safe, regarding people. There is really no need to avoid any places at any time, although you should probably not provoke drunk people in taxi lines around 2AM–3AM.
Many rivers are used for hydro power and water flow can change rapidly without warning. Normal warnings apply regarding mountains, weather and the sea.

Go next