Thanjavur
Thanjavur
(or 'Thanjai' or 'Tanjore'), the headquarters of the district with the same name, is 342 km from
Chennai
, the capital of
Tamil Nadu
,
India
. Thanjai is considered to be the granary and 'rice bowl' of Tamil Nadu.
Understand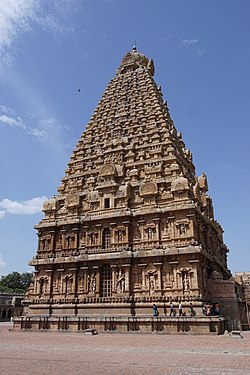 Thanjavur thrived as the ancient capital of the Chola kingdom, later of Marathas and Nayaks. Thanjavur was at the height of its glory during the Chola period between the 10th and the 14th century and became a great centre of learning and culture. The Chola Empire eventually grew into one of the most powerful empires India had ever seen under the rule of Rajaraja Chola I, also known to many Tamils as Rajaraja the Great, and his son, Rajendra Chola I. Under Rajendra Chola I, the capital was moved from Thanjavur to the nearby Gangaikondacholapuram..
The important landmark in Thanjavur is the great Brahadeeswara Temple, also known as the Big Temple, built by Rajaraja Chola I. It is one of the most magnificent pieces of South Indian temple architecture. Established in 1011 AD in celebration of the victory of Chola kingdom that extended till Ceylon and some parts of the Malaya archipelago. Now it is a world heritage site.
Even today Thanjavur is not only considered the rice bowl of Tamil Nadu but also a cultural headquarters, and the Tamil spoken here is considered by many linguists to be the purest form of the language. Though the Thanjavur district is dominated by agriculture, the town itself is diverse, having a literacy rate of more than 75% and a heterogeneous mix of population of all religions.
Tanjore is very famous for its fine paintings done with studded gems and gold leaf.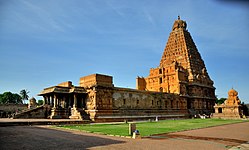 Get in
By plane
The nearest airport is Tiruchirapalli International Airport (57 km on road). There are direct flights from Chennai.
By rail
Thanjavur is also reachable by train from other Indian cities. 'Thanjavur Junction' is the station to alight. There are daily trains from/to
Chennai
,
Bangalore
,
Mysore
,
Ernakulam
,
Palakkad
,
Thrissur
,
Coimbatore
,
Tiruchirapalli
,
Madurai
,
Erode
,
Salem
,
Tirupur
,
Tirunelveli
,
Rameswaram
and weekly trains to
Tiruchendur
,
Bhubaneswar
,
Varanasi
,
Allahabad
,
Jabalpur
,
Vijayawada
,
Vizianagaram
and to all main cities. For train timings and on-line reservations (within India) visit the
IRCTC's
website.
By bus
There are several state and private buses that ply daily from
Mannargudi
,
Pattukkottai
,
Kumbakonam
,
Pondicherry
,
Bangalore
,
Chennai
,
Coimbatore
,
Madurai
and
Tiruchy
. The journey from
Bangalore
and
Chennai
takes about 9 hours and there are over-night buses. Some buses (from Madurai or Trichy) arrive at Thanjavur; a new bus stand, located at 3 km from the centre. There you can take another bus for the centre for ₹4, you can ask for the "old bus stand".
Get around
Auto Rickshaws - negotiate a rate with the driver beforehand. Any Place with in city doesn't cost more than ₹40 and a minimum is ₹20.
Tourist Cabs - Are the best choice in case you want to tour the temples around Thanjavur. Drivers don't follow a fixed method for charging. But its wise to negotiate at least the rates that are applicable in Chennai
Cycle rickshaws - Though not popular among the locals, foreign travellers usually hire cycle rickshaws to go around Thanjavur. One can inquire the hotel's service desk for help.
The stopping name is Cholan silai where you can see the Raja-raja Cholan's statue
See
address: East main road

Art exposition of bronzes and statues of the Chola period. The ticket gives also access to a construction of the palace with a nice view on the town.

Brihadishwara Temple

address: Hopital road

This is the most important place to see in Thanjavur. This UNESCO World Heritage Site is a must see. One can enjoy the architecture of the whole temple and also the cute little garden on the temple's backyard. The temple is dedicated to Shiva. Hundreds of lingams are in the pillared cloister. The sanctum sanctorum has a huge Shiva lingam and an immense stone Nandi and two live elephants to bless the pilgrims. The temple gopuram is 63 m high.
Thanjavur Palace & Saraswathi Mahal Library - Possesses very old manuscripts mostly in Tamil and Sanskrit. The library is situated inside the Saraboji Palace which contains many rare paintings depicting various Indian cities during the reign of King Saraboji.
Ragavendra Temple
Sangeetha Mahal
Schwartz Church - This church was constructed by Rev. Schwartz more than 200 years ago. Though there is nothing much great about the artistic work, the church is still operational under the CSI Trichy-Tanjore Diocese. The morning service which is conducted in English takes place every Sunday at 7:00.
Siva Ganga Garden - A cute little park sandwiched between the Brihadeshwara Temple and the Schwartz Church. There are children playing area at the heart of the park and it is very pleasant to watch the innocent laughs and smile. The park has a cute little train and also a theppakulam ( a temple in the middle of pond). Boating is also available in the pond.
In and around Thanjavur there are other ancient temples like Vellai Pillaiyar Temple, Thiruvanajozhi, Lord Murugan Temple, Swami Malai, Chandra Bagawan Temple, Thingalur Moon temple, Sukkiran Temple, Kanchanur, Kethu Temple, Keelaperumpallam, Sani Bhagawan Temple, Thirunallar, Mercury Temple, Thiruvenkadu, Raaghu Temple, Thirunageshwaram, Guru Baghawan Temple at Alangudi, Thirumananjeri.
Buy
Thanjavur is famous for its 'Thanjavur dancing doll' (Thanjavur thalai attu bommai), Tanjore Paintings (Lord Krishna paintings are the best) and Tanjore art plates (Lord Balaji are the best).
There is an outlet inside the palace where old and new art works are sold. You can pay with your credit card too.
There is a Phoompuhar art Gallery, which exhibits and sell a wide range of artistic bronze idols, Thanjavur paintings and artistic plates.Its been a hot spot for the foreign travellers.

Eat
Budget
Sree Aariya Bhavan

phone: +91 9042026277

Very good traditional, authentic vegetarian restaurant. In the morning, delicious dosas & idly are served; for lunch, the thali is served on a banana leaf.

Venkata LodgeVery good traditional (especially pongal, adai, aviyal), authentic vegetarian restaurant.
Mid-range
Dheen Garden - The only place where you can get grilled chicken. The food is decent. Tandoori chicken is delicious and the portion they serve is very good. Check out their murthapa.
Hotel Sangamam
Popular - This is the cheapest among the lot and the Chinese dishes are nice.

Raja's curry

phone: +91 4362270007

address: Court road

Very good veg, non-veg and halal restaurant. Indian and Chinese food.
Rice Bowl (pla) - They serve awesome Chinese food and their starters also pretty good.

Sathars

address: Gandhiji road

They are good at Mughal dishes. Very rich gravies. Try this out if you are not too worried about your waist line.
Thevars- The best biriyani in town
Splurge
Marutham

address: Srinivasam Pillai Road

Vegetarian South Indian cuisine.

Mullai

address: Srinivasam Pillai Road

Multicuisine, one of the few places place here where you get continental food but the food is overpriced.
Snacks
Bombay SweetsVery good sweets and special spicy savouries.

Sri Krishna SweetsGhe murukku and good Indian-style cakes.

Sri Divya SweetsExcellent vada and bhajjis; also cheap wholesome sweets and savouries.
Drink
Banam bub

address: Srinivasam Pillai Road
Sleep
Budget
Hotel Karthik has double rooms at ₹370 and single at ₹200. Air conditioned rooms cost ₹600. This is somewhat old hotel and cleanliness is about 3 on the scale of 5, but it is just a 5 minute walk away from Bridhadeeswara Temple and 10 minute walk from the palace. Has a restaurant in the ground floor where food is good south Indian vegetarian cuisine.
Mid-range
Hotel Ramnath

phone: +91 4362272567

address: South Rampart

Clean and modern, it offers a good price quality ratio. A/C and non-A/C rooms are available with TV and hot water.
Hotel Sangam - Near Ramanadhan Hospital
Splurge
phone: +91 4362-278501

address: Anna Salai

Located in the center of the town. Only A/C rooms.
Ideal River View Resort A little out of town but well kept and quiet.

Oriental Towers

phone: +91 4362-230724

address: Srinivasam Pillai Road

Parisutham a perfectly adequate hotel with a nice pool area and good food.
Temple Tower near Membalam
Go next