Three Parallel Rivers National Park
Three Parallel Rivers National Park
is a
UNESCO World Heritage
site in
Yunnan
,
China
, in part of the same complex of mountain ranges as the
Himalayas
, at the eastern end of the Himalayas. Descending from
Tibet
, three mighty rivers here run parallel to each other for over 200 km (125 miles), carving out vast canyons, before diverging halfway across Asia, nourishing billions and giving rise to splendid civilizations.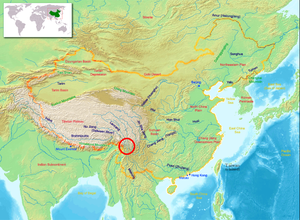 The three rivers (listed east-to-west) are:
Their mouths are thousands of kilometers apart, flowing into different oceans. Their headwaters are also fairly widely separated. However, in this region they are quite near each other, flowing along three enormous more-or-less parallel gorges which wind through a region of large mountains.
The Irrawaddy River follows a similar path but is not included in this park area because its gorge lies across the border in
Myanmar
.
The three rivers have different names in this region than downstream and the names in Chinese do not sound anywhere near their names in English. To avoid confusion when communicating with locals, it is advisable to memorize the Chinese pronunciations. The Salween is Nu Jiang (怒江), the Mekong is Lan Cang Jiang (澜沧江), and the Yangtze is Jin Sha Jiang (金沙江).
Understand
These are
large rivers
running through
large mountains
. The scale is absolutely mind blowing; the gorges are 3000 meters deep (twice the depth of the
Grand Canyon
). Due to the isolation of the valleys, the area is
remarkably diverse
in many ways: climate, plants, animals, ethnic groups, languages and culture.
The mountains
India and the rest of Asia are on separate continental plates which are colliding, and the impact creates the world's largest mountains. The truly huge ones (many over 7,000 meters and 14 over 8,000) are further west, in the main
Himalaya
range along the India-Tibet border in areas like
Nepal
,
Ladakh
or
Gilgit-Baltistan
. However, the parallel rivers region also has many quite substantial peaks, more than 100 above 5,000 m and several over 6,000.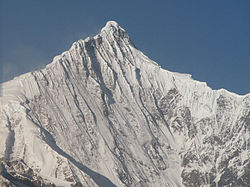 For comparison,
Mont Blanc
(the tallest mountain in Western Europe) is 4,810 m and
Mount Whitney
(highest point in the 48
contiguous United States
) 4,421. Alaska has one mountain,
Denali
, at 6,200 m and three others above 5,000. Canada has none over 6,000 and five above 5,000. Eurasia's highest mountain outside the Greater Himalayan region is
Elbrus
in the
Caucasus
at 5642 m.
The tallest peak in this region at 6,740 m (22,100 feet) is Kawagarbo (or Kawa Karpo or several other spellings); it is comparable to
Aconcagua
in Argentina, the tallest in the
Andes
and tallest outside Eurasia at 6,961 m. As the crow flies, Kawagarbo is only 20 km (about 12 miles) from the town of
Shenping
which is on a highway. The mountain is sacred to Tibetans and pilgrims often make a circuit around it on foot.
Kawagarbo has never been climbed, and an attempt would be illegal (see
#Respect
).
The rivers
All three rivers in the park, and the Irrawaddy across the border, are on Wikipedia's list of the world's largest rivers. Here is a summary, comparing them with some other well-known rivers:

Rank River Discharge (m 3 /s) Largest in


6 Yangtze
30,000 China


10 Yenisei
19,600 Siberia


14 Saint Lawrence
16,800 North America


15 Mississippi
16,800


18 Mekong
16,000 Southeast Asia


22 Irrawaddy
13,000 Burma


28 Volga
8,060 Europe


32 Danube
7,130 Western Europe


36 Indus
6,600 Pakistan


60 Salween
4,876


91 Nile
2,830


122 Rhine
2,330


The area has gorges several thousand meters deep as the rivers cut through the mountains. Downstream, in level lowland territory, these rivers become relatively gentle, but here in the mountains they are quite vigorous and dangerous.

Climate
The climate is very diverse. The latitude is almost tropical, but the region is at quite a high altitude, so the basic climate is temperate. In winter, much of the area can get quite cold, especially at higher altitudes.
However, with the complex structure of mountains and valleys, there is a huge range of micro-climates. Two valleys only a few miles apart may have quite different weather because one gets more sun or the pattern of wind and rain is different.

Flora and fauna
Large parts of the area are forested, mainly with conifers, and some of the highest peaks are covered in snow year round, but other areas have different micro-climates so the variety of both plants and animals in the region as a whole is unusually large. The UNESCO citation adding this region to the World Heritage List describes it as "an epicentre of Chinese biodiversity ... one of the richest temperate regions of the world in terms of biodiversity".

People
Mountainous terrain tends to protect minorities from either conquest or assimilation, so the population in this area is also quite diverse. China has 56 officially recognized ethnic groups, of which about half can be found in Yunnan and several in this region.
The Hengduan mountain range which includes this park corresponds roughly with the old Tibetan province of Kham, and Khampa Tibetans are still the largest ethnic group in the region. However, Kham is no longer used as an administrative division; all of its former territory is now considered part of the Tibetan Autonomous Region or the Chinese provinces of Yunnan and Sichuan. The sub-range which includes Kawagarbo now forms a part of the Yunnan/Tibet border.

Get in
Being on the northern edge of Yunnan bordering Tibet means all access has to come from the south. This usually starts in one of the three Tea Horse Road cities:
Dali
,
Lijiang
and
Shangri-la
. Each city has an airport with Lijiang usually being the cheapest, Shangri-la a close second and Dali ridiculously expensive. There are also trains to Dali and Lijiang, and buses to all three cities.
For the Jinsha (Yangtze) and Lancang (Mekong) valleys, take a bus on the national road G214. (See
Yunnan tourist trail
)
For the Nu (Salween), take a bus up the provincial road S228. Starting from Dali usually require a change in bus in Liuku.
Treks into the region, most taking a week or more, are organised by various agencies.
Treks to the Lancang (Mekong) and Jinsha (Yangtze) valleys mostly start from either
Lijiang
or
Shangrila
.
Treks to the Nu (Salween) valley mostly start from
Bing Zhongluo Xiang
.
Nearly all travellers should expect to join a trekking group or at least to hire a local guide. The area is remote and isolated, the terrain is difficult, almost no-one speaks any foreign language, and there are several different local languages none of which travellers are likely to know. Some of the locals speak Chinese or Tibetan, but often with a heavy local accent that will be difficult for travellers.
Fees and permits
National Park tickets in China are never cheap. Set aside ¥300 for a single park.

Get around

Having three enormous valleys going in parallel means all roads must follow the valleys. Going north or south is easy. Going east or west is hard.
The Jinsha (Yangtze) and Lancang (Mekong) valleys are separated by the Bai Mang mountain (白茫雪山). National Road G214 connects between the two in a three-hour drive over a 4300-meter high pass (白茫雪山垭口).
The Lancang (Mekong) and Nu (Salween) valleys are separated by the much higher Meili mountain (梅里雪山). Driving between the two requires going south to Dali, east to Liuku, north to Bengzhongle. The other option is a two-day hike of a 5000-meter pass. Bring a guide and be prepared for the unexpected.

See
zha laqueniMain peak of Bai Ma mountain (白马雪山) aka Bai Mang mountain (白茫雪山).

KawagarboMain peak of Meili mountain (梅里雪山). Best viewed from Fei Lai Si (飞来寺) at sun rise.
Do
Hike into YubengThe premier hike in the Lancang (Mekong) valley.
Sleep
Feilaisi is the major hotel strip in upper Lancang valley.
Bing Zhongluo Xiang is the major tourist town in the Nu valley.
Guest house comfort levels quickly deteriorate once outside of these tourist centers. Expect clean sheets, hot water and clean toilets to be hard to find.

Lodging
Camping
Backcountry
Stay safe
There is some risk of
altitude sickness
. Anyone heading into this region should get well acclimatised to altitude before setting out. Most travellers can easily do this along the
Yunnan tourist trail
;
Kunming
is at 2000 m (nearly 7000 feet) and all the other towns on that route are higher.
More generally, the area is remote, mountainous and not much touristed; be certain your health, skills, and equipment are adequate for the conditions. Consider taking an organised tour or hiring a guide.
The entire park is geologically active. Landslides can happen during and after heavy rain. Avoid being on the road in such weather.
Respect

Kawagarbo is sacred to Tibetans; an attempt to climb it would be sacrilegious. It would also be illegal; in 2001, local government passed laws banning all climbing attempts on cultural and religious grounds. This applies to both Kawagarbo and a number of nearby mountains.
There are many other mountains in the area that can legally be climbed. Consult local guides if you want to find them.

Go next
The treks here all start from towns along the
Yunnan tourist trail
, so the rest of that route is the obvious place to go.
Once out of the mountains, there are many other possibilities. From
Kunming
there are trains to anywhere in China and planes both in China and beyond. On the ground, some routes east from the area are described in
Hong Kong to Kunming overland
, and west in
Overland to Tibet
. One could also head south toward the
Banana Pancake Trail
through Southeast Asia, or north to link up with the
Silk Road
.