Thunder Bay
Thunder Bay
lies at the far northwestern point of the Great Lakes of
North America
, and is a transportation bridge between the rich agricultural
Prairies
of
Canada
and the Atlantic Ocean and the rest of the world. The population of Thunder Bay is approximately 108,000 (2016).
Understand
European settlement in the region began in the late 17th century with a French fur trading outpost on the banks of the Kaministiquia River. It grew into an important transportation hub as its port was an important link in the shipping of grain and other products from western Canada, through the Great Lakes and the Saint Lawrence Seaway, to the east coast. Forestry and manufacturing played important roles in the city's economy. They have declined and been replaced by a "knowledge economy" based on medical research and education. Thunder Bay is the site of the Thunder Bay Regional Health Research Institute.
The city takes its name from the immense Thunder Bay at the head of Lake Superior, known on 18th-century French maps as Baie du Tonnerre (Bay of Thunder). The city is often referred to as the "Lakehead", or "Canadian Lakehead", because of its location at the end of Great Lakes navigation on the Canadian side of the border.
Thunder Bay developed until 1970 as two rival towns: Fort William and Port Arthur a few kilometres apart. Today the town names are used for districts.

Climate
The Thunder Bay area experiences a humid continental climate that is influenced by Lake Superior, with especially noticeable effects in the city's north end. This results in cooler summer temperatures and warmer winter temperatures for an area extending inland as far as 16 km. The average daily temperatures range from 17.7 °C (63.9 °F) in July to −14.3 °C (6.3 °F) in January. The average daily high in July is 24.3 °C (75.7 °F) and the average daily high in January is −8.0 °C (17.6 °F).
Thunder Bay holds Ontario's record for coldest day with wind chill, 10 January 1982, when the local temperature dropped to −36.3 °C (−33.3 °F), with a wind speed of 54 km (34 mi) per hour for a wind chill temperature that dipped to −58 °C (−72.4 °F).
The city is quite sunny, with an average of 2121 hours of bright sunshine each year, ranging from 268.1 hours in July to 86.2 hours in November, sunnier than any city in Canada located to the east of it. Winters are comparatively dry with the snowfall being very limited and temperatures much colder than in Houghton, Michigan on the U.S. side of the lake, where the climate is marked by heavy lake-effect snow.

Get in
By plane
Thunder Bay International AirportThunder Bay International Airport, 15 minutes west of the downtown centre, has scheduled service to Toronto, Montreal, Ottawa, Winnipeg, and various small communities in northern Ontario; it also has seasonal service to Calgary and a few Mexican and Caribbean destinations. The airport doesn't have any direct flights to the US. One local transit bus passes each 30-40 minutes daily; the Airlane Travelodge and Valhalla Inn operate hotel shuttle buses.
By train
Thunder Bay has not been served by passenger rail since 1989 due to a right-of-way dispute between Via Rail and Canadian Pacific Railways. The closest rail service is in
Armstrong
or
Longlac
, 250-300 km distant.
By car
Thunder Bay is on
Trans-Canada Highway 11 and 17
. From the east, it is a 7-8 hour (700 km) drive from
Sault Ste Marie
and from the west, it is a 7-8 hour (720 km) drive from
Winnipeg
.
Do not expect to hitchhike in from Winnipeg - this stretch of the
Trans-Canada Highway
is notorious for drivers not stopping to pick up anyone.
There is no easy way to
Duluth
, across the US border, other than driving there.
By bus
Kasper Bus
runs intercity buses west to Winnipeg and east to
White River
.
Get around
Thunder Bay isn't known for being a walkable city. This is largely due to its Twin-Cities heritage which causes the city to be very spread out. Until 1970, the city was two separate large communities (Fort William and Port Arthur) separated by a swamp that has since been built up into an area of suburban big-box stores, shopping malls and chain restaurants known as "Intercity". City council seems to be developing the north end (Port Arthur) into an entertainment district with the Marina Park as its centrepiece, and the south end (Fort William) into a business district. Within each of these districts (North end and South end downtown cores) walking is certainly viable in the non-winter months. During the winter months, your face will freeze off.
As a result of this, your best way to get between these two zones is by bus. Up-to-date schedules are available on the
Thunder Bay Transit
website. There are several taxi services.
The city is increasingly focused on expanding its network of bicycle paths as well. Transport by inline skates can work well on these paths, but sidewalks are often too mottled to afford any speed or efficiency on skates.
See
address: 1350 King Road

A recreation of the days of the North West Company and the Canadian fur trade circa 1815. Over 40 buildings on 225 acres, it offers a look at fur trade life, culture, rafts, medicine, business, domestic life and heritage farming. RVs and tent campsites are now available, and pets are welcome.

Kakabeka Falls Provincial Park

phone: +1 807 473-9231

Kakabeka Falls is the second-highest waterfall in Ontario.

Sleeping Giant Provincial ParkEnjoy a hike along one of the beautiful trails at Sleeping Giant. Take Top of the Giant, a challenging 25-km return trail to a spectacular lookout over Tee Harbour, Lake Superior, and a rugged cliff's edge. In March, Sleeping Giant hosts the Sibley Ski Tour , a Thunder Bay tradition.

Terry Fox Monument

address: 1000 ON-11

This park features the sculpture of Terry Fox and his Marathon of Hope to raise money for cancer research after losing his right leg to cancer. His cross-country trek began in the east coast and would end in the west coast. A site of national importance in the late 20th century, this memorial is the approximate location where he was forced to stop his marathon after the cancer has spread that ultimately costed his life. (The exact spot where Terry Fox stopped is approximately 4km west of the memorial, but not visible from the road). The location provides a panoramic view of Thunder Bay.

phone: +1 807-623-0801

address: 425 Donald St. E

A three-floor museum with varied exhibits, including historical and cultural displays.

Founders' Museum & Pioneer Village

phone: +1 807-475-7424

address: 3190 Highway 61 South

Northwestern Ontario Aviation Heritage Centre

phone: +1 807-623-3522

address: 905 Victoria Avenue East

Their mission is to collect and preserve the aviation history of the eastern half of Ontario.
Do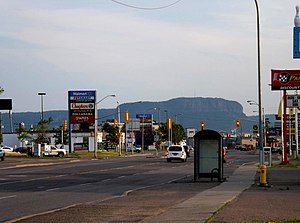 The area has a large Finnish population, so saunas are common and popular.

Silver IsletSilver Islet is a well-kept ghost town, and one of the oldest in Ontario. A huge deposit of silver was discovered around 1845, but the volatile weather of Lake Superior prevented exploitation of the ore deposit for several decades. Breakwaters were built to contain the lake's storms, but they were demolished by storms, ice surges, and a freak tidal wave. Finally, a breakwater of rock and concrete was built that allowed miners to extract silver ore worth $3 million. In 1883, mining operations ceased for lack of fuel for the furnaces and water filled the shafts. Many of the miners' houses have been converted into summer cottages.

Take a walk around the harbour.
Visit the amethyst or agate mines.
Visit Eagle Canyon. Walk across the suspension bridge at Eagle Canyon for beautiful views.
phone: +1 807-977-2526

The gorge is part of Ouimet Canyon Provincial Park (a day-use park with no camping facilities).
Drive west of Thunder Bay to Quetico Provincial Park - some of the best canoeing in the world awaits!
You can also canoe on White Otter Lake, near Quetico and Atikokan. Visit White Otter Castle, a three-storey wooden cabin single-handedly built by Jimmy McQuat on the shores of the lake. Legend is that Jimmy built it for his sweetheart and then got jilted. There is a walking trail from the castle area that leads to an abandoned World War II prisoner-of-war camp, but this has not been restored for tourists. Be careful of rusted metal and sharp edges in the camp.
Eat
South End
Cronos Cafe

phone: +1 807 622-9700

address: 433 Syndicate Avenue South

This is a Greek restaurant that has strayed from a core-Greek menu to include decent burger-and-fry combos. The chicken souvlaki with fries or Greek salad is delicious. They're light on the fries though, so you might want to ask them to double up. You should specify thick for the milkshakes. Popular with high school students and business people alike at lunch, due to its proximity to public and Catholic high schools, city hall and the civic centre.

Norma Jean's Restaurant

phone: +1 807 623-1343

address: 123 May Street South

Burgers, fries, milkshakes, and a few other dishes. Nothing will blow you away, but sometimes when travelling that's a good thing. A nice way to eat locally. ~$13

Up In Smoke BBQ and GrillA fabulous little Cajun gem. Take home a family pack, as it is both delicious and plentiful.
North End
phone: +1 807 343-9277

address: 220 Red River Rd

Popular pub, the menu features North American pub faves with some added flare (like duck confit poutine), as well as a variety of Continental cuisine. Whatever you like to eat, wash it down with something nice from the cellar or choose from the best selection of beer in the city.

address: 314 Bay Street

For a unique dining experience, visit Thunder Bay's famed Finnish restaurant, The Hoito. On weekend mornings, it is packed with locals of all ages, families and friends eating together, delicious Finnish pancakes. The Hoito is a beloved Thunder Bay institution and feels just like eating at your grandma's house!

Calico Coffee House

phone: +1 807 766-9087

address: 316 Bay Street

Calico is a charming independent coffee shop next door to the Hoito, with fair-trade coffee and locally baked treats.

phone: +1 807 345-1707

address: 36 Cumberland Street S

Originally a caterer for special events, this husband-and-wife operation has been a reasonably-priced local Thai restaurant since 2007. Both owners speak Thai (one is an immigrant from Northern Thailand) and most of the main dishes are $9 (including rice or noodles). Try the Kaeng Penang (#33). This establishment is busy at dinner (5-5:30PM) on Friday and Saturday nights, so arriving early may provide more prompt service and provide the cooks more time to spend on your food.

Bistro Oneoffers excellent fine dining.

ProspectorA fantastic steakhouse with an amazing cut of Prime Rib, fantastic sides, and a delicious soup and salad bar.

WasabiThunder Bay has a couple of sushi places: Wasabi and Sushi Bowl. They are tasty, but visitors from larger cosmopolitan centres or the coast will likely be disappointed as sushi is much more expensive than they may be accustomed to. Sushi is approximately twice the price here as in Toronto for example.

Sushi Bowlsushi

Persian ManThunder Bay is also famous for a unique pastry called a Persian. A Persian is similar to a cinnamon bun with a mysterious pink icing. Some say the icing is strawberry, others say it is raspberry, but it certainly is pink. Locals eat their Persians just as they are, but for a special treat, have yours cut, buttered and grilled/toasted. You won't find the Persian outside of Thunder Bay, and can only have it at the Persian Man, which has two locations.

phone: +1 807 577-3699

address: 1345 Mountain Road

Signature dishes include a succulent Rack of Lamb, juicy selection of steaks, and White Fox Salad. A wonderful place for a night out. Beautiful scenery surrounding the restaurant in the countryside.

Organic Garden Cafe

phone: +1 807 344-1917

address: 415 Fort William Rd

Amazing vegetarian food. Ovo-, lacto-, vegan-friendly, organic, western, take-out. Small organic café using some fresh produce grown by the owners.

Naxos Grill & Bar

phone: +1 807 475-3886

address: 610 Arthur Street West

Greek food. Great for lunch or dinner!
Drink
International House of Tea

phone: +1 807 626-0130

address: 899 Fort William Rd

Loose leaf tea.

phone: +1 807 476-0698

address: 122 May Street N

A tea house.

Seattle Coffee House

phone: +1 807 577-3355

address: 588 Arthur Street West

A local coffee house that serves unique drinks along the lines of Starbucks. A wonderful café experience with cosy fireplaces and bench seating.
Sleep
Thunder Bay International Hostel

phone: +1 807 983-2042

address: 1594 Lakeshore Dr

Longhouse Village, RR 13, 1594 Lakeshore Drive, +1 807 983-2042. Located 18 km east of the city. If travelling by Greyhound, tell the driver ahead of time to drop you off at the hostel; call Greyhound ahead of time to be picked up. Beds are $20 per night. Camping is $12 for one person or $19 for two people. Cash only.

Sleeping Giant Guesthouse

phone: +1 807 683-3995

address: 139 Machar Avenue

Located on the north side of downtown Thunder Bay. Beds start at $21 per night.

Eldorado Beach on Lake Superior Bed and Breakfast

phone: +1 807 983-2276

Located just east of the city, for those driving along Highways 11/17. Full breakfast, family friendly, starting at $65 per night inclusive.
Go next
Isle Royale
, a wilderness park, lies within sight in Lake Superior. Commercial ferries from
Grand Portage
,
Minnesota
provide the nearest official access to the island, but it's accessible from Thunder Bay by private boat.