Tiraspol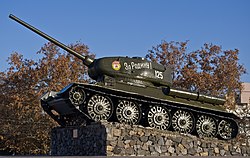 Tiraspol
(
Russian
: Тирасполь;
Ukrainian
: Тираспіль) is the capital and largest city in
Transnistria
.
You might enjoy a visit to the main street with its parliamentary building boasting a relatively new Lenin statue. Opposite, a T-34 tank from the Great Patriotic War era forms part of a monument which also contains soil from the pivotal battle of Stalingrad.
Understand
Tiraspol has relatively modern infrastructure. The state-run bus service is a simple, fairly accessible method of transportation operating at peak hours during the day, made up of trolleybuses and maxi taxis (the latter cost 3.95 rubles), you pay on board. Night-time operations were halted due to an increase in criminal drug trafficking, which became rampant on the bus system during the mid-1990s. Subsequent reforms by ex-President Smirnov and other officials enabled the bus system to remain open for at least the better part of the day, restoring a much needed public service to the Transnistrian population.
Tiraspol is landlocked and is largely closed off from the outside world due to a lack of transcontinental infrastructure. There is neither an airport nor a seaport in Transnistria. The nearest international airport is located in neighbouring Moldova.
The local sewer system and electrical grid is state of the art. Recently adapted from models based in western Europe, the Transnistrian basic infrastructure was built in the mid-1990s with the profits gained after the war of independence in 1992.

Get in
Border issues
As of September 2019 there were no issues with border officials for North American / European / Australasian passport holders, either upon entry or exit. A piece of paper is provided with details of your visa to keep with your passport, this will be required upon checking in to your hotel.
By bus
There are bus and maxi-taxi services from
Chişinău
every 30 min through most of the day. They leave from the northeast corner of the Chişinău Autogara (at Tighins St.). Buy your ticket at the
Cada de Peron
window on the platform, not inside the station. (2 hr 20 min, 36.50
Moldovan lei
in Sep 2018).
There are also regular services from
Bendery
,
Causeni
,
Odessa
, and other
Ukrainian
and
Moldova
cities. The main bus/train station is about 1 km from the city centre and has clearly posted schedules.
The Tiraspol bus/train station does not have a luggage depot.
There is a bank/exchange office, which is closed on Sunday. And no, you cannot pay for the toilet in the station with Moldovan lei.
See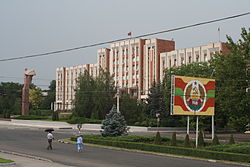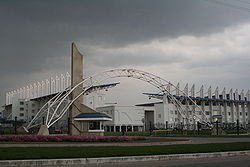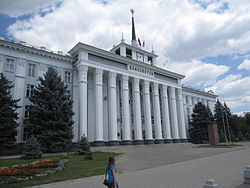 You can see most of what there is to see in Tiraspol by walking along 25 October, the main street. There are several nice parks in the city, including the Culture Park near the university. This has abundant trees and a mixture of abandoned and enthusiastically used amusement park rides, and is a good place for people-watching. Most of the big monuments are at the south end of the city, about 2 km from the Palace of Soviets. It is also worth taking a small detour off the Main Street and going down to the Dniester river, where locals tend to gather in the summer.
Supreme Soviet

address: 45, Strada 25 Octombrie

An impressive government building like not many others from soviet era. The building can be found on the back of 50 rouble note of Transnistria.
Lenin MonumentComrade Lenin in front of the parliament building.
T-34 Tank MonumentLike many former Soviet cities, also Tiraspol has a tank on display—a Russian depiction of Soviet Power and symbol for the halt of the expansion of the Ottoman Empire.
House of SovietsCity Hall in a impressive Soviet era building with a bust of Lenin in front
The Christmas CathedralA beautiful Russian-Orthodox church. Nice interior with colorful paintings.
Mig-19 MonumentErected in 1975 and surrounded by beautiful pine trees.
Do
Visit the Soviet monuments that remain in Tiraspol. You may also want to visit the local drama theatre and local museums (closed Mondays) near the centre of the city. There are cheap boat tours on the Dniester which take about 30 minutes; just board the boat, the guide will collect the money after the ship departs (25 rubles).
Iceskating - near where the mashrutkas from the Ukrainian border arrive is an ice rink. 65 rubles.
Sheriff Casino - inside the Russia Hotel
A point of interest is that although there are no foreign embassies in Transnistria, both South Ossetia and Abkhazia have representative offices in Tiraspol and Russia itself has a consulate.
The information office on the Main Street has friendly, English-speaking staff. It also doubles as what is apparently the state's only souvenir shop, offering a range of postcards, shot glasses and other goods.
Buy
Money
In order to purchase goods, services or souvenirs in Tiraspol, or in any Transnistrian locale you must exchange your outside currency into Transnistrian rubles. The Transnistrian central bank sets their own exchange rate and prints their own money, so the number of rubles you will get on any given day for your euros varies significantly from week to week. Currency exchanges are everywhere, including inside many popular stores, and will change most local and major currencies. Some exchange booths will ask for your passport. You can't pay with credit or debit cards in Transnistria.
Shopping
Piața centralăA great and central produce market where you can buy everything like walnuts, honey, poppy seeds, meat and much more.
Shopping centre Intercentre Lux

phone: +373 533 55202

address: 25 October St., 97 a

Multi-brand store of women's and men's clothing, where you can buy jackets, raincoats, coats and down jackets of the local manufacturer Intercentre Lux.
Eat
Andy's PizzaA Moldovan chain serving amix of Western-style foods such as the "English Breakfast" and other Eastern European favourites. The menu is in English and Russian, and some waiters may speak good English also. The atmosphere is clean and modern, but the toilets are the Eastern European squat variety, which starkly contrasts with the rest of the restaurant. Décor is on par with restaurants in countries much further West. Free Wi-Fi.

Bottle Museum Tourist complex where you can taste wines and brandies produced in Moldova and the Moldovan sample dishes of national cuisine, decorated in the Moldovan national style.

Cafe Eilenburg

address: Sverdlov Street 1

German-style restaurant with view over the main square with monuments and government buildings. The menu is in Russian, English and German, with the staff being fluent only in Russian.

phone: +373 533 72034

address: Sverdlov Street 37

Traditional Ukrainian food set around a garden. English menu. Has smoking and non-smoking rooms. Prices are higher than in other Tiraspol restaurants.

address: Ul. Svedlova at its east end

Another Moldovan chain with a branch in Tiraspol. Provides traditional Moldovan food at reasonable prices and free Wi-Fi. Menu in Russian but with pictures.

7 Пятницъ

phone: +373 533 92 210

address: 25. October Street 112

Western-style restaurant on the main street. Very modern and clean, with some English-speaking staff and a comprehensive menu with various international dishes of high quality including a wide selection of sushi, but no local specialities except for the local cognac (Tiras). Free Wi-Fi. There is another branch on maxi taxi routes 2 and 3, behind Sheriff Supermarket/Andy's Pizza, whose menu has a picture of every dish on offer.
Drink
The famous Transnistrian 'Kvint' vodka and cognac can be purchased at several liquor stores throughout the city, as well as the Kvint factory (the latter being an attraction in itself). The vodka is approximately US$3/litre.
There are many shops and markets to purchase local food, drink and their famous Transnistrian brandy, Kvint.
Kvint
's factory is at ul. Lenin, 38 (+373 533 9-61-70), and it has several shops around town. Transnistria is also known for a vodka drink commonly referred to as a "smirnovka" - appropriately named after president Igor Smirnov.
Further along the river in the city centre are a handful of bars and restaurants which usually are open until about midnight.
There are several large and modern discos in the centre. They are usually open until late, seven days a week. Tourists are rare and the few English-speakers that might be around are often very happy to communicate with foreigners.
Sleep
In some hotels hot water and showers are not standard. They often cost extra on top of the price of a basic room, although often no more than a few dollars on top of the base price.
phone: +373 533 38 000

address: Svedlova, 67

A modern business hotel with restaurant, terrace, casino. Breakfast 95 roubles.

phone: +373 777 57 005 or +373 68 188 352

address: Lenina 28

Free WiFi, free breakfast, hot water, shower/toilet, cosy well equipped kitchen, mini laundry, souvenirs.

phone: +373 68 571-472

address: Mira 36

There are a number of bars within walking distance, with centre reachable by public transport, or just a few dollars in a taxi. (As of June 2015 the owner was running homestays for 200 rubles per night per person. He meets guests at the bus/train stations and takes them to the accommodation).

phone: +373 533 83676 or +373 778 06002

address: v. Ternovka st. K. Marksa, h. 13

Part of Butylca Muzei complex.

Hotel Aist

address: Naberezhnyi 3

Soviet museum of a hotel but is well located near the main square and overlooks the river. Do not expect the comfort of a decent hostel or even hotel. The showers are barely dripping and there is no laundry service, etc. The "luxury" rooms are equipped with a TV set and a fridge. There's a bar on the second floor with a terrace that overlooks the river Dniestr. Do not expect anybody to speak English.

Hotel Timoty

address: 395A, Karl Libknecht str

Rooms at Hotel Timoty with standard western amenities are available for around US$50, depending on the size of the room, the date of your reservation, and your nationality. Note that many hotel rooms at cheaper hotels may not havd a private bathroom. And even if you have a private bathroom, hot water is not guaranteed. Ask in advance.
A cheaper alternative to staying in a hotel is to rent a private apartment.
Connect
Don't expect your Moldovan SIM to work in Tiraspol. Moldcell and Orange don't, for example.

Go next
The last bus to
Chişinău
leaves at 18:35 from the main bus/train station. The bus timetable can be found at this website: by selecting "AB тирасполь" from the drop-down menu, choosing the departure date, and looking at the times for "Тирасполь - Кишинев". A taxi from the city centre to there costs 50 rubles (39 if you speak Russian without an accent) and the price for the bus will be 40 rubles. Bus tickets to
Chişinău
have to be bought inside the bus station, and not from the driver. There is an exchange office at the station.
If you miss the last bus, you can take a taxi to anywhere in Chişinău for US$30.
If you're heading the other way, there's a train to
Odessa
which leaves at 15:58 - and a bus to
Kiev
(if you ask nicely, the driver will let you go as far as the Ukrainian border where you can get a bus to Odessa) leaves around 16:30 - after that, there is no scheduled transport to the Ukraine; you might get lucky with a maxi-taxi, but don't count on it. If you get to the bus/train station too late, a taxi to Odessa will cost about US$50: a lot in local terms, but 125 km for US$50 is a bargain by western standards, and is a lot less hassle than finding a place to sleep and getting an extension on your visa.
There is a bus to Odessa which leaves about 14:00. It should be booked earlier in the day if possible as it will only take as many passengers as can be seated and, as it starts from Bendery, it can already be quite full when it arrives at the train-station in Tiraspol. Tickets for the bus can be booked in the train-station, and the bus leaves from outside it.
You may go to the Ukraine border by bus which goes to
Pervomajsk
(it has no railway station, but has a bus station near the Park of Victory and swimming pool. Cross the border and take another bus in the direction you need. Besides, it's a bit cheaper.