Tiruchirappalli
Tiruchirappalli
(Trichy, Trichinopoly or Tiruchy) is a city in the state of
Tamil Nadu
in southern
India
. With a population of 916,857 as of 2011 Census. The climate in the city is extremely hot and low humid.
Understand

Trichy is an ancient city of South India and it was the capital of Chola and Naicka kings for many centuries. The battle between the British (East Indian Company) & French with the help of locals marked the beginnings of the British Raj in the southern part of India.

Get in
Trichy is well connected to
Chennai
the capital city of
Tamil Nadu
. Geographically located in the centre of Tamil Nadu, Trichy provides good connectivity between all major towns and cities in Tamil Nadu both by road and rail.
By car
Major national highways pass through Tiruchirappalli leading to well-connected road network to rest of India. Grand Southern Trunk Road (GST Road) or National Highway 45 (NH45) is one of the busiest National Highways in Southern India with a total length of 472 km (293 mi). The highway exactly starts from Kathipara junction in Guindy, a very busy confluence of five roads in south Chennai and extends up to Theni. It connects Chennai to its airport and the southern suburbs. The two important cities connected by this highway are Chennai and Trichy and the two important towns connected by this highway are Dindigul and Theni in Tamil Nadu. The highway has a 4 lane (2 lanes each direction) system between Chennai and Trichy, though a complete change to 6 lanes is being planned. And Dindigul - Theni part is under four-lane construction. The Chennai International Airport is located on this highway within the Chennai City limits.
By bus
The highest number of buses leaving Chennai is towards Trichy and vice versa. One can either take the State Government run buses (State Express Transport Corporation or Tamil Nadu State Transport Corp.) or private buses. The private buses run by the following operators are very convenient and timely and comfortable:
#
KPN Travels
#
Parveen Travels
#
SRM Travels
#
MJT Travels
#
City Express Travels
#
ABT Travels
#RKT Tours and
Travels
#
SRS Travels
or
#
RPN Travels
#
Sri Renganathan Travels
All these have Internet bookings so you can plan your trip in advance.
By plane
Tiruchirappalli International AirportTiruchirappalli is a convenient, low-cost entry point to India from South-East Asia; Air Asia has flights from Kuala Lumpur via Singapore. Tickets booked in advance cost around ₹3,000 (US$60, for a four-hour flight), but can be well below ₹2,000 during frequent sales. This is quite a good option even if you fly from Thailand or Malaysia to South India. Singapore-based Low-Cost Carrier (LCC) Scoot Tigerair provides a service from Singapore daily. Air India Express (an LCC subsidiary of Air India) flies to and from Dubai, Kuala Lumpur, Singapore daily and Abu Dhabi weekly twice. Air India Express also operates a daily domestic service to Chennai and weekly service to Mumbai. Sri Lankan Airlines gives connection to rest of the world through Colombo as the transit point. Trichy is also connected to Colombo by Mihin Lanka. Spicejet flies to Chennai.
By train
Trichy Railway Station is well connected to all cities and most of the major towns in India. Located at the middle of Tamil Nadu makes it one of the busiest railway stations in Tamil Nadu. It is one of the major junctions which has trains to Trivandrum, Chennai, Mumbai, Delhi, Bangalore, Mysore, Kochin, Madurai, Coimbatore, Tirunelveli, Howrah and other parts of India. Rail tickets can be booked online via Indian Railway Catering and Tourism Corporation website - www.irctc.co.in .
Get around
Commonly used modes of local transport in Trichy is the state government-owned Tamil Nadu State Transport Corporation (TNSTC) buses, Taxi and auto rickshaws.

Talk

Tamil is the language spoken in Trichy. The accent of Tamil spoken here is neutral (unlike the cities of Chennai, Madurai, Coimbatore and Tirunelveli, which have their own characteristic and heavy accents).
English is understood by most of those in the city.
The headquarters of Dakshina Bharat Hindi Prachar Sabha located at Trichy has contributed a lot towards growing the Hindi language.

See
Trichy district is famous for many ancient and popular
temples and religious institutions
. The bus network of Trichy is very developed and most of the city readily accessible by bus at reasonable prices.
All Saints Church

address: Salai Rd, Puthur.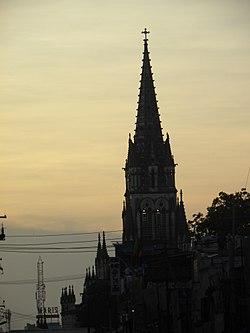 Basilica of the Holy Redeemer

Gunaseelam - Vishnu Templededicated to Lord Srinivasa.

Jaamiya Masjidbuilt by the Nawab of Arcot more than two centuries ago.

Jambukeshwara TempleFamous Shiva temple and One of the five Pancha bootha kshetras (five elements namely water, earth, air, fire and ether). This one is appu sthala (representing water).

Perumal Malai

address: Thuraiur

Another Temple for Lord Vishnu.
The Rockfort TempleThe temple complex has many temples. Thayumaanavar, Uchchi pillayar and Maanikka vinayagar are the most important temples. One can feel the icy chill of the wind when getting to the top of the rock. (The temple is housed on the top of a famous rock). One also gets a splendid view of the city and the Cauvery river from the top. Enjoy the bird's eye view of Trichy, SriRangam, Cauvery and its surroundings in the morning or in the evening. A must-visit place of anyone in South India.

St. John's Churchone of the oldest churches in India.

St. Joseph's Church

address: 200 year old place

Of worship.

St. Lourd's Church

address: Theppakulam.

Samayapuram Amman TemplePeople walk in from the surrounding districts to offer their prayers. Popular with the masses. Can be crowded on Fridays.

Sri Brahmapureeswarar Temple

address: Brahma Sthalam at Tirupattur.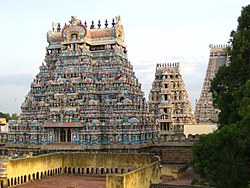 Sri Ranganathaswamy templeThis temple has the sleeping form of Lord Vishnu. It has 21 gopurams and the biggest of them is 73 m high. The temple complex area is 2.5 sq.km. Non-Hindus can only go up to the sixth wall but not inside the gold topped sanctum sanctorum.

T.E.L.C Holy Trinity Cathedral

address: Melapudur.

Thablay Aalam Baadsha DhargahThe mausoleum of a Muslim saint who came to Trichy centuries ago.

ThiruvellaraiSendamarai kannan temple which was built before Srirangam Renganadhaswami temple and Thiruvanaikovil Jambukeshwara temple.

Vayalur Murugan TempleIt is one of the six Hindu temples dedicated to Lord Muruga

Viralimalai Murugan Temple

Woriyur with Vekkaliamman TemplePopular with the masses. Can be crowded on Fridays.
Apart from temples, there are also some destinations, ideal for picnics, day trips or just looking around.
Kallanai2,000 yr old dam built on the Kallanai river, (an offshoot of the Cauvery river) by Karikala Cholan.

Mukkombua tourist spot at

PuliyancholaiA green hideout around a pretty waterfall. On the Foot hills of Kollimalai - Kolli hills near Thuraiur.

SriRangamIt is bounded by the Kaveri River, an island and a part of the city of Tiruchirapalli - important industrial and educational hub of central Tamil Nadu

Thillai Nagarbusy commercial and residential district.

Tiruchirappalli Cantonmenta residential that originated as a cantonment of the Madras Regiment in the 18th century. Most of the hotels and restaurants Tiruchirappalli Junction, and the main tourist office, and post office of Tiruchirappalli are located here.

Butterfly Park

phone: +91 431 241 4265

address: Tropical Butterfly Conservatory Campus, Srirangam Taluk

Large park featuring a glass butterfly house, landscaped gardens, a fountain and an eatery. There are many huts made of hay, so it is convenient to sit and have fun along with family even on a sunny day. There is a small boating pond and play areas for kids. Many plants are labelled properly with their local name and biological name, so it is educational.
Significant industrial landmarks
BHELBharat heavy electricals manufacturer.

GoldenRockThe factories of the Golden Rock Locomotive Workshops and the residential quarters of its employees are located here.

HappThe Heavy Alloy Penetrator Project or HAPP is an Indian defense establishment operated by the Ordnance Factories Board.

OFT,Ordnance Factory TiruchirappalliOrdnance Factory Tiruchirappalli (OFT) also called Ordnance Factory Trichy is a defense company based in Tiruchirappalli, Tamil Nadu. It is one of the 41 Indian Ordnance Factories functioning under the Ordnance Factories Board of the Ministry of Defence, Government of India.
Buy
Chinna Kadai Street,(NSB Road): The main shopping centre is the "Chinna Kadai" street that runs along the "teppakulum" (temple tank) of the Uchchi Pillaiyar Rock temple. The street is packed with apparel, jewellery and household merchandise stores interspersed with restaurants and snack bars.
The most popular stores for apparel shopping are
Saradhaas - very old store famous for silk saris and biggest store. Cheap and best quality
Krishna Readymade Hall - cramped shop with good selection of readymade salwar and western wear
Lakshmi Silks - further down the street beyond the Uchchi pillaiyar temple, good collection of wedding saris
The Chennai Silks - variety of modern styles
Ahmed Bros - variety of modern styles
Traditional jewellery can be found in
Mangal and Mangal-Good collection of jewellery.
Gopaldas - good quality, traditional designs
Sampath jewellers - Gold ornaments collections and silver collections
Shree Lakshmi Kreations -Good source of Natural Diamonds and Diamond jewellery, Traditional Jewellery and coloured gemstones.They also manufacture jewellery according to your design.
Thillainagar This is a well-developed area where we can shop for the branded items
Manghalam Towers A Popular mall spread over 60,000² ft at the heart of Trichy. "Reliance Hypermart" occupies 2 floors, has products ranging from groceries, household utensils, apparels, furniture, electronics, luggage, foot wears and so on. The mall has "Vijay Food Court" having various food brands including Tandoor Xpress, Noodle King, ifruit and Baskin Robbins
Femina Shopping Mall Hypermart in the centre of the city. Over 40,000² ft of shopping space, with all products from jewellery to chocolates, clothes, high-end sarees and garments, a food court and children"s arcade, most products are imported from various parts of the world. catering to clients of all different classes, the moto here is to make sure everyone enjoys shopping as an experience to actually shop, so that they walk out knowing for certain they have got a good deal, this is made possible by our dedicated purchasing team who go all out to shelf products that are new, attractive and of the highest quality yet affordable.
Learn

There are some very popular schools with high educational standards in the area, including The Higher Secondary School for Boys (Srirangam),Campion, St. Joseph's Anglo Indian Girls Higher Secondary School, Holy Cross Girls Higher Secondary School, St. John's Vestry, Sri Akilandeshwari Vidhyalaya, Mahatma Gandhi, RSK, Montfort School and Kamakoti Vidhyala, Sacred Heart Higher Secondary School Ponmalaipatti.
There are several colleges in Tiruchy including Mookambigai College of Engineering, JJ College of Engineering and Technology, approximately 20 km from the central bus stand, St.Joseph's, Jamal Mohamed College, Bishop Heber's College, National College, Holy Cross College, SRC, IGC, EVR and the Law College of Trichy.
The National Institute of Technology & the Bharathidasan Institute of Management are located near Tiruverumbur, 14 km from Trichy.
BharathiDasan University is 2 km from Trichy towards Pudukkottai Road.
Dakshina bharat Hindi prachar sabha located near Tennur High road,Trichy is a portal for those who are eager to learn Hindi.

Eat
Budget
Andavar Sweets

address: Chathiram Bus Stand, Trichy.

Big chick

address: Fort Station Road, Thillainagar

Chick punch

address: Spencers hyper mart food court

Cappuccino

address: St Joseph College shopping complex, Chatram bus stand

The coffee shop

Hotel Aananth

address: Trichy-Tanjore highway near Thiruverumbur

Newly opened veg & non-vegetarian restaurant, serves high-class food with great taste.

Ice Blue Restaurant

address: Trichy-Tanjore highway near Thiruverumbur

Newly opened non-vegetarian restaurant, serves high-class Chettinad food with great taste.

Khurunji, Hotel GuruPure vegetarian restaurant. Good quality food and fast service. All items are made fresh. Lunch meals priced at ₹45 are available from 1PM-4PM. A typical meal for two can cost about ₹70-₹100. A/C dining room for an extra ₹5 per person.

Marrybrown

address: Williams Rd

Sangeetha

address: Racquet Court Ln

Vegetarian restaurant of the Hotel Aanand

phone: +91 431 241 2333

address: # 27,Rockins Rd

Established 1964, traditional South Indian food with prompt service from 5:30AM-11:30AM. then lunch from 11:45AM-3:30PM. Evening snacks and meals up to 10:45PM. A/C dining service available at minimal extra cost. Home delivery and outdoor catering available.
Mid-range
Banana LeafNon-vegetarian restaurant.

BuhariNon-vegetarian restaurant.

BreezeNon-vegetarian restaurant.

Domino's Pizza

address: Tillai Nagar

Hotel Femina

phone: +91 431 241 4501

address: Williams Rd

Restaurant inside the hotel of the same name.

Kannapa Chettinad restaurant

address: Mannarpuram, Tillainagar

Non-vegetarian restaurant. Here you get high-class Chettinad food with a traditional taste.

Kulathur Briyani hotelNon-vegetarian restaurant. Famous for Sunday afternoon biryani with good taste.

Sangeetha

address: Racquet Court Ln

Vegetarian restaurant of the Hotel Aanand.

Seakings Ice Creams

phone: +91 431 270 0731

address: 6 RR Sabha Buildings, W.B. Rd

A 33 year old ice cream parlour with a wide range of in-house ice cream sundaes to choose from. Includes signature dishes like Triple Treat and Falooda.

Sree Krishnas

address: Rockin St

A nice vegetarian restaurant which offers Indian and Chinese food. The morning, a continental breakfast is available.

Thanco's Fresh Fruitsz Ice-cream

phone: +91 431 4200750

address: Yummy Naturals, No.5,Parasakthi Complex, 2nd Cross, Thillainagar Main Rd

First ever fresh fruit icecream in Trichy, provided without artificial flavours, preservatives or chemicals. Wide variety of unique flavours like tender coconut, guava, sitaphal and chikoo.

Vijay food court

address: Manghalam towers, Cantonment

Baskin Robins, Noodle King, Tandoor Express, Adayar shree bhavan, El bustan, Royal feast, Chennai Fried Chicken, Pizza Corner, Vijay Cinemas.
Splurge
phone: +91 431 404 5000

address: 22-25, Mannarpuram Junction

Multicuisine restaurant
Drink
Birmanda Sarbat Stall

address: Palakarai Main Rd

Serves sarbat, an ayurvedic nanari juice. In the city for more than 3 decades.
Sleep
Budget
Hotel Anand

phone: +91 431 2415545

address: Racquet Court Ln

Hotel Arun

phone: +91 431 241 5021

address: State Bank Rd

A/C and non-A/C rooms.

Hotel Meega

phone: +91 431 241 4092

address: 3 Rockins Rd

Clean hotel with TV in every room. No hot water is available.

Mayavaram Lodge

address: Near Teppakulam

Decent hotel.

phone: +91 431 400 2000

address: # 27, Rockins Rd

Newly renovated, cable TV in all rooms, running cold and hot water. Travel desk assistance and hygienic veg restaurant at the ground floor.
Mid-range
Femina Hotel

phone: +91 431 241 4501

address: Williams Rd

phone: +91 431 404 5000

address: 22-25, Mannarpuram Junction

Jenny's Residency

phone: +91 431 246 1301

address: McDonald's Rd
Splurge
phone: +91 431 241 4414

address: McDonald's Rd

phone: +91 452-4244526

address: Hotel Sangam, Collectors Office Road, 620001

Sangam Hotel is a well-known hotel in Trichy (Tiruchirapalli)
Cope
Stay healthy
Hospitals
Apollo Speciality Hospitals,Ariyamangalam Area, Chennai - Madurai Highway, Tel:0431-3307777
CSI Mission Hospital, Woriur, Tel:0431-2761927
Kauvery Hospital Heart City, No-12/52, Alexandria Road, Cantonment, Tel:0431-4003500 Emergency Tel:0431-4022555
Kauvery Medical Centre, No.1, K.C.Road, Tennur, Tel:0431-4022555
KMC Specialty Hospital, No.6 Royal Road, Cantonment, Tel:0431-4077777
Tiruverumbur Medical Centre, is located at Tiruverumbur nearly 10 km from Tiruchirappalli
Pharmacies
Vasan Medical, All Over the City
Apollo Pharmacy, All Over the City
Med Plus, All Over the city
Thulasi Pharmacy India, Thillai nagar, Cantonment, Thiruvanaikovil
Go next
Jayakondam — 120 km, important historical place
Kulithalai — on your way to Kulithalai, you can enjoy the road journey virtually on the banks of Cauvery, unforgettable experience
Karur — 80 km, industrial town for handlooms and woven fabrics and you can find few temples
Madurai — one of the oldest continuously inhabited cities in India
Pudukkottai — 45 km from Trichy; near Sithannavasal, famous for its carvings & paintings dated back centuries
Thanjavur — another Historical city away from 60 km, Important tourist centre in South India, famous for its Brihadeeshwara Temple (Big Temple), Don't miss it. There are many interesting places and temples in and around Thanjavur
Kumbakonam — This is called City of Temples. away from 90 km, Important tourist centre in South India, famous for the Sarangapani Temple,, Chakrapani Temple,,Kumbeswarar Temple,,Mahamaham Tank,etc. There are many temples in and around this city.On the way from Thanjavur to Kumbakonam you can visit madeup Thiruvalanchuzhi (White Pill made up of sea froth)"Swamimalai(Murugan Temple)",Patteeswaram Durga Temple, Saththimuththam Temple etc.Navagraha Sthalams are worth visiting.