Toronto/Downtown East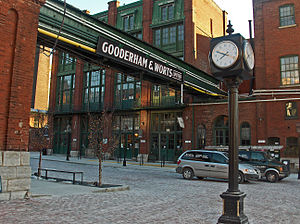 The
Downtown East
covers an area south of Bloor Street roughly between Yonge Street and the Don River. Most points of interest are clustered either in the north or south ends of this district.
Understand
Here are some of the neighbourhoods in Downtown East:
Get in
By public transit
Subway line 1
along Yonge St provides access to the western side of the district; stations of note are:
Wellesley - One block east is the Church-Wellesley Village.
King - One block east is the St. Lawrence Market neighbourhood.
Union - Two and half blocks east along Front St will bring you to the St Lawrence Market.
Streetcar 504 King
has two branches which overlap along King Street. Branch 504A runs from downtown to the Distillery District while branch 504B continues to Broadview Station on subway line 2 (Bloor-Danforth). Both branches connect with the U-shaped subway line 1 at St. Andrew and King stations.
Streetcar 506 Carlton
runs through
Cabbagetown
from College Station on subway line 1 at Yonge St.
Bus 65 Parliament
serves Parliament Street through Cabbagetown to Castle Frank Station on subway line 2 (Bloor-Danforth).
Bus 121 Fort York-Esplanade
runs from Exhibition Place via Front Street and Union Station on subway line 1 (King St at Yonge St) and continues past St Lawrence Market to the east entrance of the Distillery District on Cherry Street at Mill Street.
Both
streetcar 504B
and
bus 65
come within 2 blocks of the Distillery District, but streetcar 504A and bus 121 will deliver you right to its east entrance. There is more frequent service on route 504 than on routes 65 or 121.
By car
The main streets are Carlton and Parliament.
See
Sites of interest are mostly clustered north of Gerrard Street or south of Queen Street.
North of Gerrard Street
address: 19 Horticultural Ave

Allan Gardens is a conservatory containing six greenhouses on large landscaped grounds. Admission is free and the greenhouses are open to the public year-round. The greenhouses contain plants native to many different countries and from different climactic regions of the world. Countries represented include Australia, Brazil, China, Mexico, and many others. On any given day one is likely to come across frolicking squirrels or birds that have found their way in through the doors. The ponds are home to turtles and fish and, if you look up, you just might see a snoozing raccoon. Allan Gardens is wheelchair accessible.

Cabbagetown residential areaThe best area to see a concentration of Victorian residences is east of Parliament Street and 1 block north of Gerrard Street. The Cabbagetown Preservation Association describes the area as "one of the largest areas of continuous, preserved Victorian housing in North America." Many of the residences have a heritage building plaque by the front door.
Winchester StreetWinchester Street is the main route from Parliament Street to Riverdale Farm, and is lined with Victorian houses with attractive front gardens. The street's landmark is the former St Enoch's Presbyterian Church built 1891 in Romanesque Revival style. Since 1979, the former church has housed the School of Toronto Dance Theatre.

Millington Street/Sackville PlaceMillington Street and Sackville Place are two names for the same street which is a laneway lined with an eclectic mix of old and new small houses.

Salisbury AveThis narrow street (virtually a lane at its western end) is lined with Victorian residences circa 1887.

Laurier AveA short, narrow street lined with 3-storey Victorian townhouses (circa 1888) each having a second-floor balcony over each entrance.

Wellesley CottagesWellesley Cottages is the name of a street and three cottage-style buildings built in 1886-1887 by William Hooker from the plans that won him an architectural award in 1851 at the Crystal Palace Exhibition in London. The cottages in the middle are row houses for labourers while the two cottages at each end were for supervisors. Wellesley Cottages is a private street not owned by the City of Toronto but by its residents who are responsible for its maintenance such as for sewers and snow removal.

Alpha AvenueA short, narrow street lined on each side with a row of two-storey Victorian townhouses circa 1887.

Wellesley AvenueWellesley Avenue (not to be confused with Wellesley Street) is a short, narrow street lined on both sides with semi-detached Victorian houses (circa 1888). There is a quaint decoration at the end of the street.

Dermott PlaceThis narrow street, only one lane wide, has a variety of small residences in different styles on both sides of the street, some with narrow front gardens.
phone: +1 647-435-5858

address: 500 Church St

A small collection of sculptures to promote local artists. The collection changes every several weeks which might result in additional closed days. (Two founders of the Sculptors Society of Canada were Frances Loring and Florence Wyle who have a small park, Loring-Wyle Parkette, named in their honour.)
address: 635 Parliament St

Chapel of St. James-the-Less, erected in 1860 and opened in 1861, sits atop a knoll at the highest point in the St. James Cemetery. This small funeral chapel is an example of Victorian Gothic design with stone walls, enveloping roofs, and a soaring spire. It is a designated National Historic Site of Canada.
address: 111 Carlton St

In summer 2018, artist Okuda San Miguel erected a very colourful, 23-storey mural on the east side of the Parkside Student Residences building. The mural has an LGBT theme.
phone: +1 416-977-1077

address: 80 Gerrard St E

This small contemporary art gallery has changing displays in five rooms. The gallery is located in a heritage building built in 1858 for a local barrister.
address: 201 Winchester St

Riverdale Farm is a turn-of-the-20th-century Ontario farm and the site of Toronto's first zoo. Attractions include demonstrations of milking, cream separating, butter-making, egg collecting, sheep sheering, wool spinning and dying, amongst others. There is no parking on the grounds, but street parking is available near by.
address: 200 Winchester St

This cemetery is the resting place of many prominent Torontonians, and has a chapel at its entrance built in 1872 in Gothic Revival style.
South of Queen Street
Bank of Upper Canada Building

address: 252 Adelaide St E

This building was built in 1827 for the Bank of Upper Canada, a bank that failed in 1866. It is a National Historic Site and one of the few buildings in Toronto that predates the city itself, known as the Town of York until 1834. The building is used today for commercial office space.

De La Salle Institute

address: 258 Adelaide St E

De La Salle Institute built a Catholic school here in 1871. The institute took over the First Toronto Post Office building in 1874 and the Bank of Upper Canada Building about 20 years later. The institute left all three buildings in 1916.
address: 49 Wellington St E

The Gooderham Building, generally known as the Flatiron Building, is a five-storey, wedge-shaped building at the intersection of Front, Church and Wellington Streets. It was built in 1892 and was the first flatiron building in a major city. Until 1952 the building housed the offices of Gooderham & Worts Distillers, whose distilling buildings now make up the Distillery District several blocks to the east. Also, take a look at the trompe-l'œil mural on the rear of the building from the adjacent Berczy Park.
address: 252 Queen St E

For fans of the CBC TV comedy Kim's Convenience. With a switch of name on the exterior signs, Mimi Variety Store became Kim's Convenience to appear in the like-named sitcom. Mimi's/Kim's is still a functioning variety/convenience store.
Old Toronto Street Post Office

address: 10 Toronto Street

This Greek Revival building was the Toronto Street Post Office (1851–1872) and a Bank of Canada branch (1872-1959). It was later owned by Argus Corporation which came under the control of Conrad Black. It was here that Conrad Black got in trouble with the U.S. justice system by removing boxes of documents from this office. The building is a designated National Historic Site of Canada.
phone: +1 416-392-7809

address: 157 King St E

This ornate, Renaissance Revival building was built in 1850 to be Toronto's main meeting space and was a major centre for political speeches and concerts. It is now used for a diverse range of uses, from weddings to art shows.
phone: +1 416 392-7120

address: 92 - 95 Front St E

A city market has been on the southwest corner of Front St East and Jarvis St for over 200 years. The current incarnation of the Market Building contains over 200 permanent food-related vendors on two floors, including butchers, fishmongers and numerous specialty and takeout businesses. The Market Building is open daily Tuesday to Saturday. Another market, in a temporary location south of the Market Building, opens only on Saturdays for a farmers' market, when farmers from surrounding townships sell their wares, and on Sundays for an antique market.

phone: +1 416-515-9658

address: 115 King St E

Toronto Sculpture Garden has a changing exhibit of sculptures. The small park is nestled between two buildings and has a waterfall fountain along its east wall.

address: Lower River St at Trolley Cres

Underpass Park is located under bridges for an expressway ramp, a location one would normally associate with ugliness. However, artists have created a colourful mural gallery at the east end of the park (at Lower River St) painting bright murals on all the pillars and crossbeams supporting the bridges. There are also a few similar murals nearby where the same expressway ramps cross King St E at Virgin Pl.
Do
Church-Wellesley Village
phone: +1 416 392-6874

address: 519 Church Street

City-funded LGBTQ community centre hosts various community, athletic and cultural groups.

address: 557 Church St

An urban boutique spa that is natural, modern, and environmentally responsible. Elm spa treatments are designed to de-stress, relax, and revitalize your soul.

phone: +1 416 260-2363

address: 105 Carlton St

A men's bathhouse open 24/7/365. Clean, well kept w/ friendly staff. Wide demographic - probably the best of 6 or 7 baths in Toronto. Open daily 24 hours. A short distance outside of Church-Wellesley Village but still in the spirit of the village.
Stage theatres and concert venues
Events
address: Parliament Street, Cabbagetown

This is a local street festival with a number of activities. On the chosen festival week-end, Parliament Street is closed off to traffic between Gerrard Street and Wellesley Street.

Pride TorontoPride Toronto is the annual LGBT festival which includes the very popular Pride Parade which draws crowds of straight people to discover how LGBT people have fun. During the last weekend, Church Street is closed off in Church-Wellesley Village for festivities.

address: Distillery District

Many vendor stands are set up in the Distillery district with a Christmas theme offering food and merchandise. Buy tickets online to avoid the line-up on Sa and Su.
Buy
Church-Wellesley Village
phone: +1 416-961-4161

address: 499 Church St

Lesbian, gay, bi and trans bookstore, cafe and wine bar.
South of Queen Street
Ontario Spring Water Sake Company

phone: +1 416-365-7253

address: 51 Gristmill Lane

An example of Toronto's multicultural nature, this is a craft sake brewery in the middle of the Distillery District. The on-site store sells many different varieties of sake, ceramic and glass serving ware, a few foods, and the usual assortment of promotional clothing. Tours of the brewery are available on the weekends - these are limited to people age 19 or older because of provincial liquor laws.
Eat
Church-Wellesley Village
On Church Street between Isabella to the north and Carlton to the south you will find more restaurants than just about anywhere in the city in a comparable distance (comparable to Greektown). The restaurants often suffer in Toronto's tourist districts, this is no exception. If you have to eat here, the take-out often beats sit-down, and you get to walk. There are several good "sub" joints north of Wellesley on Church. The key here is that you are eating as part of a larger plan to be out with friends for drinks, socializing, dancing and having a wild time.
Elsewhere
Snap Coffee

phone: +1 416-923-3469

address: 86 Gerrard Street East

Espresso and espresso based drinks.

phone: +1 416 369-9048

address: St. Lawrence Market

Good selection of seafood dishes

phone: +1 416-924-7583

address: 186 Carlton St, Cabbagetown

Typical diner fare including breakfast meals. There is a breakfast special for those dining before 11AM. The restaurant has a railfan atmosphere including a large, colourful train mural on the exterior wall.

address: 601 Parliament St

Serves good, reasonably priced meals, heavy on the comfort food. They also have great nightly specials.

George's Deli & BBQ

phone: +1 416-964-6393

address: 254 Dundas Street E

Whole barbecued chicken and fries with gravy. No seating. No whacking people ahead in line.

phone: +1 416-504-5426

address: 251 King Street East

Hakka cuisine is Chinese food with Indian spices.

phone: +1 416-362-7373

address: 55 Adelaide St E

Sushi bar, robata grill & tabletop hot pots. (Robata is a method of cooking, similar to barbecue, in which items of food on skewers are slow-grilled over hot charcoal.) Kimono-clad servers add to the traditional atmosphere of the restaurant.

phone: +1 416-962-8190

address: 507 Parliament St, Cabbagetown

Restaurant with a fireplace & patio, serving French, Italian, Canadian & Cajun dishes, plus brunch.

address: 154 Wellesley St E at Homewood Ave

Finding a branch of this eclectic space-themed cafe is not hard; look for the red circle with the white rocket inside. Licensed by LLBO, serving wines from Niagara Region, beer from the Mill Street Brewery, and Waupoos cider from Prince Edward County.

phone: +1 416-995-1530

address: 568 Jarvis St

Three-location chain serving espresso-based coffee. NOW Magazine Readers' Choice 2016.

phone: +1 416-995-1530

address: 343 King St E

Three-location chain serving espresso-based coffee. NOW Magazine Readers' Choice 2016.

phone: +1 416-815-7662

address: 32 Tank House Lane

Artisan chocolate factory with viewing area crafting treats from bars to spicy cocoa. Try the spicy Maya hot chocolate.

phone: +1 416-972-0003

address: 537 Parliament St

What distinguishes this Tim Hortons outlet from hundreds of others is its setting in the former Winchester Hotel, built in the Second Empire style in 1888. The coffee shop, located in the former hotel lobby area, has bare brick walls adorned with large historic photos.
Drink
Church-Wellesley Village
address: 12 Alexander St

A theatre by day, club by night.

address: 508 Church Street

The quintessential gay bar/club in the gay village. 2 floors, 3 rooms, and weekly drag shows makes for a great night to town.

address: 467 Church Street

The biggest bar in the city. Very friendly. Hosting nightly DJs & men's competitions on weekends, this lively, cavernous gay club boasts 5 bars.
Elsewhere
address: 67 Front St East

A homey subterranean bar that has been open for over 25 years offering Toronto's largest selection of exclusively Canadian microbrews, a varied menu, and a live music stage that has showcased many of Canada's independent musicians before they became famous.

phone: +1 416-681-0338

address: 21 Tank House Lane

Spacious brewpub with several beers that are only available on-site plus bar food.

phone: +1 416 362-1957

address: 9 Church St

A wine bar with tapas-style menu, casual atmosphere, open kitchen. A good place to dine alone if you sit at the bar.
Sleep
Connect
Cabbagetown
phone: +1 416-925-4121

address: 467 Parliament St

Post office outlet within the store.

phone: +1 416-393-7663

address: 269 Gerrard St E

Wi-fi, computers with internet access.
Old Town
phone: +1 416-203-3700

address: 18 Lower Jarvis St

Post office outlet within the store.

phone: +1 416-393-7655

address: 171 Front St E

Wi-fi, computers with internet access.