Toronto
Toronto
is the most populous city in
Canada
and the provincial capital of
Ontario
. It is located on the northwestern shore of
Lake Ontario
. Toronto has a population of 2.7 million, and is the heart of the
Greater Toronto Area
(GTA) containing 6.4 million people. It also anchors the
Golden Horseshoe
region, which wraps around Lake Ontario from Toronto to Niagara Falls and totals over 9.2 million residents, approximately a quarter of Canada's entire population. Toronto is the fourth largest city and fifth largest urban agglomeration in
North America
.
Spawned out of post-glacial alluvial deposits and bluffs, the area was populated at different times by Iroquois and later Wyandot (Huron) peoples. European settlement began in the mid-1700s when the French built a seldom-occupied fort near today's Exhibition grounds. The city then grew out of a backwoods English trading post established as York in 1793 (reverting to the current name Toronto in 1834). Later in the 19th century, it grew to become the cultural and economic focus of Canada. Owing largely to the country's liberal immigration policies starting in the 1960s, and the region's strong economy, Toronto has become one of the most culturally and ethnically diverse cities in the world. More than 80 ethnic communities are represented, and over half of the city's residents were born outside Canada.
Districts
When Metropolitan Toronto was amalgamated in 1998, its six former municipalities became one new "mega-city". Toronto is made up of varied and unique neighbourhoods. Covering more than 600 km², Toronto stretches some 32 km along the shores of Lake Ontario. The city is laid out on a very straightforward grid pattern. Streets rarely deviate from the grid, except when topography interferes, such as the curving Don River Valley, and to a lesser degree the Humber and Rouge valleys at opposite ends of the city. Some main thoroughfares intersect the grid at angles. For travel purposes, we have divided Toronto into twelve districts:
Central Toronto
The dense urban core of Toronto. It includes many of the city's attractions and hotels.
Outside Central Toronto
These are the older suburbs that ring the downtown followed by an outer ring of post-war suburbs. There are fewer attractions here, but if you have the time, some of the neighbourhoods are well worth visiting.
Yonge Street
Begun in 1794,
Yonge Street
(pronounced "Young") is one of the oldest streets in Toronto, but few of its current buildings date back to much before 1900. It divides the city into east and west - street numbering for east-west streets begins at Yonge Street and increases in either direction. Within the City of Toronto, Yonge Street is roughly long.
Under Yonge Street runs the eastern branch of Line 1 Yonge–University, serving nearly the entire length of the street in Toronto. You can drive along this street if you want (give up trying to find parking), but the smart way to explore Yonge is on foot, with a TTC day pass to whisk you between the spots you want to see.
Until 1999, the Guinness Book of World Records repeated the urban myth that Yonge Street was the longest main street in the world, running from
Toronto's harbour
to Lake Superior, a distance of . It was erroneously assumed that Yonge Street ran the full length of provincial highway 11 (actually, it only runs a distance of to
Barrie
, Ontario on Lake Simcoe). Nonetheless, the myth is enshrined by a bronze map set into the sidewalk at the southwest corner of
Yonge and Dundas Streets
.
Here is a brief description of Yonge Street as it passes each district from south to north:
Understand
In 1998, the cities of Toronto, Scarborough, North York, Etobicoke, and York and the Borough of East York amalgamated to form the current City of Toronto. This is also known as Metropolitan Toronto; "the 416" after its area code (although now there are some new area codes, the overwhelming number of landline phone numbers in the Toronto area are still "416"); or more recently "the 6" (representing both the area code and the six cities involved in the amalgamation), and has a population of over 2.6 million people. More than half of these were born in some country other than Canada: a fact obvious to any visitor immediately, as the city has many vibrant bustling neighbourhoods with street signs in several languages.
Toronto and its surrounding suburbs are collectively known as the
Greater Toronto Area
(GTA). Outlying suburbs are also known as "the 905" after
their
area code, although this code is also used in the
Hamilton
and the
Niagara Region
, stretching from
Cobourg
and Colborne in the east to the border in
Niagara Falls
to the southwest. The entire area including Toronto is known as the "Golden Horseshoe" and has a population of over 8 million people. Distances between cities in the area can be great as it sprawls along, outward and even wraps around the western end of Lake Ontario; public transit is not always effective enough to make it a quick or seamless trip. Many suburban residents rely on private cars to get around.
A popular urban myth has it that the United Nations rated Toronto as "the most multicultural city in the world". While the UN and its agencies are not in the habit of rating cities, it remains a fact that Canada is a nation of immigrants, and Toronto demonstrates this abundantly. A UN agency lists Toronto as second only to Miami as the city with the most foreign-born residents, but Toronto's residents represent far more cultural and language groups, which is arguably a better measure of multi-culturalism. Most immigrants either pass through Toronto on their way to other parts of the country or stay in Toronto permanently. Many people born abroad consider themselves Canadian as much as native-born Canadians and will be offended if treated otherwise. This contributes to the overall cultural mosaic that is Toronto today. Within Toronto, most ethnic groups will work their way into the fabric of Canadian society but some still retain their distinct ways such as language, dress (if only for special occasions), customs, and food.
As a result of this cultural mosaic, Toronto is home to many ethnic festivals throughout the year. Toronto also has several radio stations that broadcast in various languages, and two multilingual television channels. The City of Toronto officially deals in 16 different languages while the Toronto Transit Commission (public transit) has a helpline that deals in 70 languages. Even large department stores such as The Bay in downtown Toronto proudly advertise service in 9 languages. The lingua franca of Toronto, however, remains English.
Climate
Toronto's climate is on the whole on the cool side, and variable conditions can be expected. Come prepared for winter: winters are cold (temperatures average -3.8°C (25°F) in January), mostly cloudy, at times snowy and uncomfortably windy. However, the type of extreme cold experienced further north in Canada usually lasts for no more than a couple of days at a time. The city experiences warm and humid summers with an average high of 27°C (80°F) and a low of 18°C (65°F) in July/August with many muggy evenings but rarely extreme heat. On average, the temperature exceeds 30°C (86°F) only 12 days per year, but hotter air masses often arrive with moderately high humidity levels. Late spring/early summer and early fall are generally considered to be the best times to visit for weather and less crowds, mid-summer is the peak tourist season, but visitors will find that Toronto's vibrancy extends through the winter with outdoor skating rinks and bundled up club-goers, etc. Toronto's public buildings are nearly all air-conditioned and fully heated.
Sometimes during the winter, severe storms can slow down transportation and activities in the city for a day or two. In the summer, thunderstorms occur from time to time, most lasting less than an hour.
Areas closer to the downtown core are generally 1 to 1.5°C warmer in winter due to the urban heat island effect. For the rest of the year, areas close to Lake Ontario are warmer by about 1°C due to the moderating effects of the lake. This is especially prominent in March and November when the city receives rain while areas just north of the city receive snow.
Visitor information
Get in
By plane
Toronto Pearson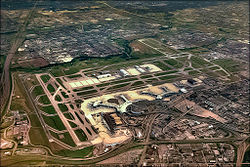 Toronto Pearson International Airport
(
YYZ
) in Mississauga is about 30-50 minutes by car from downtown Toronto (depending on traffic) and is served by most major international carriers. There are two terminals: Terminal 1 hosts all Air Canada flights and a few other international (mostly Star Alliance) carriers while Terminal 3 hosts all other airlines. When travelling from Toronto International (and other major Canadian airports) to the United States, travellers will go through United States immigration and customs pre-clearance in Toronto, and should leave some extra time to account for this. The airport has free WiFi internet access.
The main article describes ground transportation to and from Toronto Pearson.

Billy Bishop Airport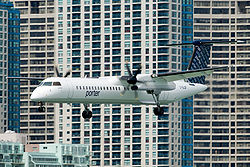 Billy Bishop Toronto City Centre AirportShort-haul flights only. Its main tenant is Porter Airlines, a short-haul carrier that operates turboprop planes to many cities in eastern Canada (Ottawa, Montreal, Quebec City, Halifax and St. John's) and parts of the United States (Boston, Chicago, New York/Newark, Washington, DC, Myrtle Beach and others). Air Canada provides service to Montreal. Porter is aggressively fighting for market share and you can take advantage of it by getting really low fares (often lower than Westjet - if booked 2 weeks or more in advance) combined with complimentary drinks and a waiting lounge with amenities.

One of the main benefits of flying into Billy Bishop is its proximity to the downtown core. Upon landing, you can be downtown within ten minutes. A tunnel under the channel takes you to the city. A free ferry service also makes the short crossing: it is just 121 metres, the world's shortest regularly-scheduled ferry route. It operates between TCCA and the mainland every 15 minutes: see full schedule. Once on the mainland, a free shuttle bus connects the terminal with the Fairmont Royal York Hotel, across the street from Union Station.
TTC streetcars are available a short walk north from the mainland ferry terminal. Route 511 Bathurst provides service north along Bathurst, to Bathurst subway station. Route 509 Harbourfront travels east along the waterfront (Queens Quay) to Union Station. Both routes end a short distance to the west at Exhibition Place. However, the most convenient connection to TTC subway and GO Transit services are via the free shuttle to Union Station.

Other airports
Hamilton International Airport, (YHM), located about 80 km from downtown Toronto and Niagara Falls, is served by WestJet and CanJet. See section on John C. Munro Hamilton International Airport for ground transportation including buses to Toronto.
For frugal travellers coming from the United States, Buffalo-Niagara International Airport, (BUF), is another option. Flights to Buffalo tend to be significantly cheaper than to Pearson, but then you still have to get to Toronto. Megabus, the airline-type coach service with varying prices and required early booking, runs a daily bus that takes 3 hours, including the border crossing. Several private livery agencies will drive you there for a fee (usually in the $200 range, give or take), or rental cars are available at the airport if you prefer to do the drive yourself.

By bus
Bus terminals
There are two bus terminals in downtown Toronto:
Toronto Coach Terminal

address: 610 Bay Street

The main bus terminal in Toronto serves Greyhound, Megabus, Trailways and Ontario Northland. The terminal has two buildings: the Bay Street terminal for departures and the Elizabeth Street terminal for arrivals across the street. The Bay Street terminal has ticket counters (Greyhound and Megabus) which can have 20-minute lineups during busy periods. The Bay Street terminal provides baggage lockers for storage during the day ($5/locker).

Union Station Bus Terminal

address: 141 Bay St

Union Station Bus Terminal serves GO Transit and Can-ar Coach buses with connections to rail services and TTC Union subway station (Line 1).

Here is a list of minor terminals and stops in various parts of the city. Check the Wikipedia link for a list of bus routes serving each terminal.

Bus operators
By train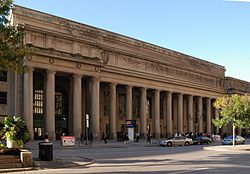 address: 65 Front Street West

Opened in 1927, Toronto's Union Station is one of the grandest, most impressive train stations in North America, with the ceiling of its enormous Great Hall rising to a height equivalent to seven stories. The Grand Hall accommodates the VIA Rail ticket counters and gives access to VIA train platforms via the branching VIA Concourse. The is 250 metres west of the Great Hall via an enclosed pedestrian corridor. The GO York Concourse on the lower level at the west (York Street) end of the station has GO Transit ticket counters and access to GO train platforms. (A food court is located below the GO York Concourse.) Union Station Bus Terminal is to the east across Bay Street. The TTC Union subway station is at the north-east corner of the main building, and serves subway Line 1 and the 509&510 streetcars through the Harbourfront district.
The following are the railway services operating out of Union Station:

By car
Major highways leading into Toronto are the Queen Elizabeth Way (QEW), the 404, the 401, the 400, and the 427. Toronto is the largest city in Canada, so signs pointing you to Toronto are common. Traffic on incoming highways can be extremely heavy especially during rush hours. In the downtown core there are many turn restrictions, particularly from main thoroughfares to other main thoroughfares (e.g. Yonge to Dundas Streets).
The main streets in Toronto are laid out in a grid pattern that makes it one of the easiest cities to get around in by car. Getting from point to point anywhere in the city can be achieved with only a few turns. Parking in the downtown core can be expensive and hard to find, but tends to be plentiful and inexpensive or free in the outer districts of Etobicoke, North York and Scarborough. Although there is an extensive grid of local bus routes, travel by automobile may be more faster and more convenient in the outer districts.

Transit bylaws
Toronto follows some bylaws related to the transit system (especially streetcars) that often confuse or surprise visiting drivers:

Yield to public transit buses signalling to merge left into traffic from a bus stop.
Stay out of reserved public transit lanes during the rush hours, except to make a right-hand turn at the next cross street. A few transit lanes have restrictions from 7AM-7PM. While the restrictions are in effect, only transit vehicles, taxis and bicycles may use these lanes.
Avoid King Street between Jarvis and Bathurst streets as no through automobile traffic is allowed; such traffic must turn right after travelling a few blocks as per signage. Through traffic in this zone is allowed only for streetcars (trams) and bicycles.
Never pass a streetcar running in your direction that is stopped in the middle of the street with its doors open. Passing is illegal and dangerous for passengers boarding or leaving the streetcar. Also, you should yield to people entering the street to board an approaching streetcar. Continue only after the streetcar doors close. Exception: You may pass a streetcar where there is a boarding platform between the streetcar and traffic lane, but watch out for pedestrians walking between the platform and the sidewalk.
Give wide berth to streetcars turning at a street intersection; streetcars have a wide overhang on curves, which is indicated on the road by dashed white lines. If your car is stopped too close to a streetcar curve, you may be forced to back up or squeeze more to the right.
Give wide berth to emergency vehicles with sirens or flashing red lights, and pull over to the side of the road safely but quickly.
Get around
Toronto is huge, and most roads run for very long distances. Streetcar rail, subway rail, and intercity rail services are clean and efficient, and it's entirely possible to get around Toronto without a car, especially downtown. You may find it quicker and easier to drive, but the highways regularly backup during rush hour (7AM-10AM and 4PM-7PM). Toronto has plentiful parking garages downtown, but they are very expensive.
Many in Toronto travel by bicycle (especially in the warmer months) and this mode is very convenient for getting around the downtown district. Not all motorists will give way to cyclists, and not all cyclists comply with the rules of the road; caution is recommended.
Transit
The
Toronto Transit Commission
(TTC) is the city's main
transit system
and one of the most heavily used in North America. TTC consists of buses, streetcars and subway lines. The numbers for automated information are +1 416-393-4636 (INFO) or +1-866-642-9882, 8AM-6PM daily except for holidays.
Fares
This article does not describe fare media (such as tokens) to be phased out by the end of 2019.
Cash fare: Regular $3.25, senior (65+) $2.20, youth (13-19) $2.20
Presto card: Regular $3.10, senior $2.15, youth $2.15
Presto tickets: One-ride $3.25, two-ride $6.50, day pass $13.00
Children (12 or younger): Free
Child, youth and senior riders must be prepared to show government-issued proof of age for reduced fares.
Paying by Presto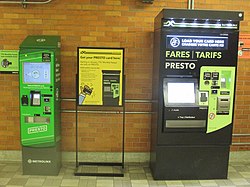 Presto card
is a multiple-use, electronic fare card with a stored balance; it is used by most public transit services in the Greater Toronto Area, including the TTC. Presto cards can be purchased for $6 plus a $10 minimum balance at the
UP Express service counter
at Pearson International Airport, from Presto vending machines at subway stations and Pearson International Airport, at the GO Transit ticket counter at Union Station, TTC head office at Davisville station and at Shoppers Drug Mart stores across the city. Presto cards are automatically configured to deduct adult fares. For reduced child or senior/youth fares, have the card's fare type changed at the UP Express service counter, the GO Transit ticket counter, TTC head office or at Shoppers Drug Mart stores; a government-issued proof of age may be required.
Presto tickets
are single-use, electronic tickets with no stored balance. They are not reloadable, can only be used for TTC services, and expire 90-days from the day of purchase. They are sold from Presto vending machines and at many Shoppers Drug Mart locations across Toronto and come in three varieties: one-ride, two-ride and day pass.
Presto users must tap their Presto card or Presto ticket each time they enter a subway station, or board a streetcar or bus.
Customers using a Presto card or a 1-ride Presto ticket are entitled to two hours of unlimited travel on all TTC services, allowing unlimited stopovers or a round trip. The 2-ride Presto ticket grants 2 separate two-hour travel periods. The Presto day pass allows one person unlimited travel from first tap until 3AM the next morning.
GO Transit
and the TTC have a
co-fare discount
for Presto card users only. If you need to transfer between the TTC and GO Transit (or
Union Pearson Express
) to complete your trip, your Presto card will be credited $1.50 for adults and $0.55 for seniors/youth
after
completing the transfer. The discount does not apply to Presto cards loaded with a TTC monthly pass.
Paying by cash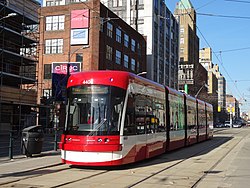 Ideally, you should buy a sufficient number of Presto tickets or a Presto card (see previous section) to avoid the complications and restrictions described below, and Presto fare media is available from vending machines at all subway station entrances.
On buses or older streetcars (top photo), deposit the cash fare (no change provided) into the fare box at the front door of the vehicle. After paying your fare, always ask the driver for a transfer ("Transfer, please").
On newer streetcars (bottom photo), there are payment machines near the second and third doors of the vehicle. After you insert your fare (exact coin only, no change provided) into the machine, it will give you a paper transfer (also called a POP ticket) which you must retain as proof of payment until the end of your TTC trip. Similar payment machines are also available on the platform at most stops along the 509 Harbourfront and 510 Spadina streetcar routes, allowing you to pay your fare before boarding a streetcar.
Important: When paying the fare by cash, remember to obtain a paper transfer when you pay your fare which serves as proof of payment when transferring between vehicles or to/from a subway station, as well as to show to fare inspectors. Paper transfers are free once you pay your fare, and will allow you to complete a one-way trip on multiple TTC routes using a single fare.
Note: Paper transfers are valid only for one trip rather than a specific duration of time. It cannot be used for stop-overs or round trips. Walking away from a transfer point instead of waiting for a bus or streetcar will invalidate your transfer from further use as your stroll will be considered to be a stop-over. At subway stations, paper transfers are accepted only at primary subway station entrances where a TTC subway station attendant is present.
Subway
Note: sections of the subway system will close on most weekends for maintenance and construction projects, with buses replacing each closed section. Thus, expect a longer travel time during such closures; staff will be on hand to direct passengers. Most weekend closures will affect Line 1 Yonge-University.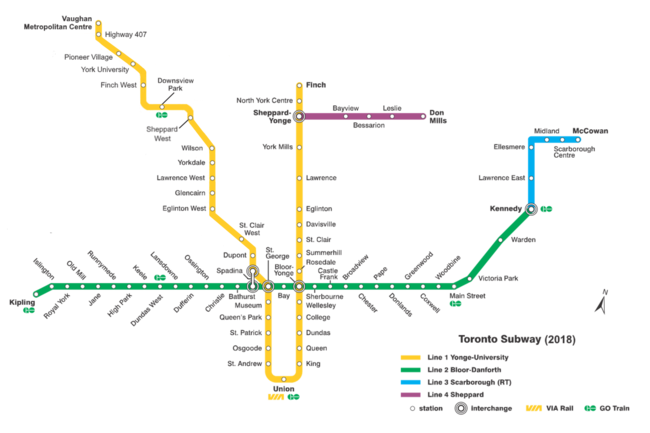 The subway is the fastest means to move across the city, with trains typically arriving every few minutes. Trains operate M-Sa roughly 6AM-1:30AM, and Su 8AM-1:30AM; the
TTC website
gives more precise first and last train times by subway station.
The subway system has four lines:
Line Yonge-University runs in a 'U' shape, travelling from North York south along Yonge Street, through the downtown area to Union Station, then travelling north through North York to Vaughan.
Line Bloor-Danforth runs east-west along Bloor Street and Danforth Avenue.
Line Scarborough runs from the eastern end of the Line 2 at Kennedy Station to McCowan Station via Scarborough Town Centre.
Line Sheppard runs east from Line 1 along Sheppard Avenue to Fairview Mall at Don Mills Station.
Several TTC subway stations act as gateways to other local and regional public transit systems. You need to pay a separate fare for each system listed below as they don't accept TTC transfers. All accept the
Presto card
for fare payment. The main subway stations for transferring between the TTC and a neighboring regional public transit systems are:
Don Mills Station: YRT and Viva buses in Richmond Hill and Markham
Finch station: YRT and Viva buses to York Region, GO Transit
Highway 407 station: GO Transit
Islington station: MiWay buses to Mississauga
Pioneer Village station: YRT buses in Vaughan
Scarborough Centre station: GO Transit
York Mills station: GO Transit
Yorkdale station: GO Transit
Vaughan Metropolitain Centre: YRT and Viva buses in Vaughan, Züm buses to Brampton
Streetcars
Toronto is one of the few cities in North America (and the only city in Canada) to have kept any of its streetcar routes, and the TTC is expanding its network. See the district articles for detailed information on getting around by streetcar. Most streetcar lines serve the south, central part of the city.
To clarify the
streetcar route map
: Streetcar route 504 King operates as two overlapping branches with 504A running from Dundas West Station to the Distillery District, and 504B from Broadview Station to Dufferin Gate at Exhibition Place. Only half of the southbound streetcars on route 510 Spadina go to Union Station; others turn back north at either Queens Quay & Spadina Avenue or at King Street. 502 Downtowner has been suspended indefinitely. Route 503 Kingston Rd does not operate evenings, weekends and holidays during which times the
22A Coxwell bus
replaces it along Kingston Road. Route 508 Lake Shore operates only during rush hours. Due to a streetcar shortage, replacement buses serve some streetcar routes.
The 501 Queen route is an attraction in itself passing through a wide range of ethnic and cultural neighbourhoods. It received special recognition from
National Geographic
magazine for being the longest streetcar route in North America (and one of the longest in the world).
Caution: when getting on and off streetcars, make sure that the traffic is stopped in the lane next to the streetcar. Also, be aware of pickpockets in crowded rush hour situations.
Other services
From roughly 1:30AM to 6AM (8AM on Sundays), the subway system and all day-time streetcar and bus routes are replaced by the
Blue Night Network
. Night bus and streetcar routes are all numbered in the 300-series, and use the same fares as day-time routes. Night route 320 Yonge replaces the subway line 1 and offers frequent service. Most other night routes have 30-minute frequency. Night routes often have shorter travel times than corresponding day routes due to a lack of street traffic.
Express bus routes
(numbered in the 900 series) often follow local bus routes but with fewer stops, stopping mainly at transfer points. For example, bus route 925 Don Mills Express follows the 25 Don Mills bus route but makes fewer stops. Perhaps, the most popular 900-series bus for visitors is
900 Airport Express
which has no local bus equivalent. Some express routes operate all day, every day; others may run only during rush hours. The 900-series buses uses the same fares and transfer privileges as most other TTC routes.
Downtown Express routes
(141–145) operate only during the rush hours, and only in peak direction (to downtown in the morning, returning in the evening). Unlike the 900-series express bus routes, the downtown express buses charge double fare which can be paid by cash or Presto card.
Taxis
Taxis are plentiful and safe, but not cheap. The base rate is $4.25, with an average 5 km trip costing $13. As with most big cities, driving a car downtown can be annoying; parking is often hard to find and expensive, and traffic along certain streets can make vehicle travel slower than mass transit. However, travelling longer distances, when not close to subway lines is often significantly faster by car or taxi.
Uber
's UberX service is available via smartphone app throughout the city with fares running roughly half the price of a taxi. An average 5-km trip costs roughly $8.25.
By bicycle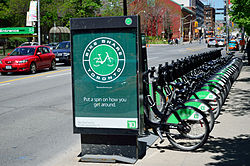 Toronto is trying very hard to become a bike-friendly city, with dedicated bike lanes being added all the time. There are many casual cyclists out all the time. And it is fast: door to door, in all of downtown Toronto, a bike beats a car or transit nearly every time.
There can be hostility between automobiles and cyclists. Generally speaking, if you are on the road, you are expected to obey the same laws as cars, and you are not allowed to ride on the sidewalk.
The city is predominantly flat, aside from a general climb away from Lake Ontario and the deeply indented, forested Don Valley and Humber River Valley. Post-and-ring locking posts are present throughout the city. There are many bike-only lanes on major roads and threading through various neighbourhoods and parks. The city publishes a cycling map, available on the
city website
.
Bike Share Toronto
provides a public bike system with 1,000 bikes available at 80 stations throughout downtown. Subscriptions start at $5 for 24 hours and allow you to use a bike for 30 minutes or less, as much as you like (usage fees apply for trips longer than 30 minutes). It operates 24 hours a day, all year long (but see the warning below about winter biking). Several businesses also offer
bicycle rentals
.
It is a provincial law that cyclists under 18 must wear a helmet, and all riders must have a bike with reflectors and a bell. This tends to only be enforced when the police go on their annual "cycling blitz".
Some dangers:
Beware of parked cars - often accidents are not caused by moving cars, but rather by careless drivers or passengers who unexpectedly open their driver's side door.
Be cautious of streetcar tracks as bike wheels can be easily caught and cause a spill.
Although you will certainly see many locals riding the streets year-round, biking in the winter months is enjoyable only with proper equipment and reasonable skills; winter weather is cold, it can be quite windy, and snow removal is often imperfect.
Some recommended cycling routes:
By far one of the most popular bike paths is the Martin Goodman Trail, the east-west route that hugs Lake Ontario, spanning the city from Etobicoke to the eastern ends of the city. This path is also often used by pedestrians and rollerbladers.
The Don River trail system begins at the lake (near Queen and Broadview) and travels very far north and east. During or after heavy rains, avoid lower sections of the trails.
A special treat for bikers of all levels is a tour through Tommy Thompson Park (Leslie St Spit) to the lighthouse and bird sanctuaries (no cars!), which is open on weekends only. Start at Queen and Leslie and head south.
A visit to Toronto Islands from the ferry docks at the southern end of Bay Street is a great way to spend a bike-friendly, relaxed afternoon by bike. There are no private cars on the Toronto Islands.
By ferry
The trip to the
Toronto Islands
from the downtown core (Bay St and Queens Quay) is a pleasant 15-minute ferry ride, with frequent summer service and the best views of the Toronto skyline.
There are also guided sailing vessels that take tours of the inner and outer harbours, and circumnavigate Toronto Islands. Ticket booths are found behind Harbourfront Centre in the
Harbourfront
district.
See
Museums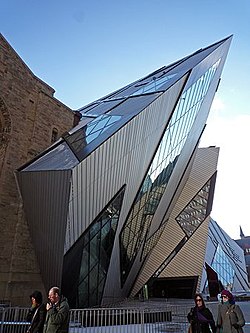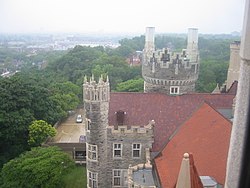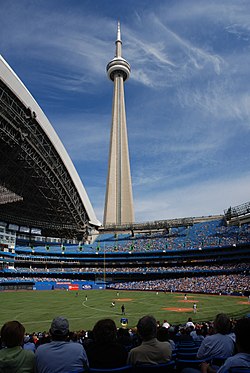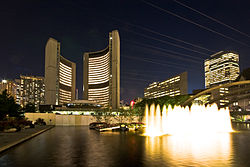 Art Gallery of Ontario. The largest art gallery in Canada, redesigned by architect Frank Gehry. It has a great Canadian paintings exhibit and the world's largest collection of Henry Moore sculptures. The European paintings exhibit has a few excellent pieces including Ruben's The Massacre of the Innocents.
Bata Shoe Museum. This offbeat museum is devoted to shoes and footwear from cultures all over the world.
Black Creek Pioneer Village is a recreation of life in 19th-century Ontario and consists of over forty historic 19th-century buildings, decorated in the style of the 1860s with period furnishings and actors portraying villagers.
Casa Loma is a step back in time to a period of European elegance and splendour. The museum has decorated suites, secret passages, a 250-metre-long tunnel, towers, stables and beautiful 5-acre estate gardens.
Gardiner Museum of Ceramic Art. Dedicated to ceramics in an exquisite contemporary building.
Hockey Hall of Fame is both a museum and a hall of fame dedicated to the history of ice hockey.
Ontario Science Centre. This child-friendly museum has several hundred exhibits, many of them hands-on.
Royal Ontario Museum is a museum of art, world culture and natural history. It is one of the largest museums in North America, and the largest in Canada.
Spadina House Museum is in a historic mansion dating from the 1860s. The grounds contain a beautiful garden.
Textile Museum of Canada. Shows drawn from a 13,000-piece collection of textiles from around the world and from other collections.
Landmarks
CN Tower. At 533 metres tall, the CN Tower is the third tallest free-standing structure in the world, and the tallest in North America.
Rogers Centre is a large multi-purpose stadium with a retractable roof. It is home to the Toronto Blue Jays of Major League Baseball.
Toronto City Hall. Two buildings forming a semi-circle overlooking Nathan Phillips Square. Architecturally stunning, and next door to Old City Hall (now a court house) which has a more classical architecture.
Parks
Toronto Zoo is Canada's premier zoo showcasing over 5,000 animals and 460 species.
Do
Outdoors
Toronto is "the city within a park", with miles and miles of parkland following the streams and rivers that flow through the city. Edwards Gardens and the Toronto Botanical Gardens in the neighbourhood of North York might just be the place to start exploring this natural environment.
The City of Toronto has designated various Discovery Walks which highlight the natural and human history of the region. These can be found with brown circular signs along the route and highlight other regions such as the Belt Line, Garrison Creek and the Humber River as well as the downtown core.
Beaches. Toronto has three main sections of beach along Lake Ontario. The most popular of these is in the aptly-named Beaches neighbourhood. A less popular alternative is the beaches in the western end of the city in the Parkdale neighbourhood; this was once Toronto's Coney Island, with an amusement park and numerous beach-style attractions; however in the 1950s the city built the Gardiner Expressway along the lakeshore, effectively separating the beaches from the city and causing the demolition of the amusement park; over the years attempts have been made to re-energize this area, but the Gardiner remains a major barrier, as well as a source of noise and pollution to keep away would-be beach-goers. On the plus side, the beaches are largely empty most of the time, providing solitude for those who seek it. The third major beach area in the city runs along the south shore of the Toronto Islands. This area is pleasantly secluded, with most of the islands covered with parkland and a small amusement park. Hanlan's Point Beach on the western shore of the islands is the City of Toronto's only officially recognized clothing optional beach, and a popular gay hangout. Despite these options, many Torontonians prefer to leave the city for beach trips; the most popular beaches are those in the Georgian Bay area north of Toronto, Wasaga Beach in particular is very popular during the summer.
Arts & entertainment
Comedy. World-renowned Second City comedy/improv theatre has a location in Toronto. See great improv and situation comedy performed live with audience participation over dinner and drinks in the heart of the club district of downtown Toronto.
Theatre. Toronto has a great theatre scene for every taste and budget. Check out the big theatres on Yonge Street for the big splashy shows. Small theatres in the Annex and elsewhere offer smaller productions that range from original Canadian works, avant-garde, experimental theatre, small budget musicals to British murder mysteries. A variety of theatre festivals such as the New Ideas, Rhubarb and Fringe festivals are the seed for many commercial success such as The Drowsy Chaperone. Also try to check out the Four Seasons Centre for the Performing Arts, the new home of the Canadian Opera Company and the National Ballet of Canada. The Toronto Symphony plays in the acoustically renovated Roy Thomson Hall. TO Tix in Yonge-Dundas Square is the best place to get full-price advance and day-of discounts on shows across Toronto. It also offers theatre and dining packages, partnering Toronto's theatre, dance and opera companies with local downtown restaurants and cultural attractions.
Annual events
address: Exhibition Place

The Ex is a annual fair offering an amusement park (the Midway), a casino, live entertainment, an international market, agricultural exhibits including livestock and a variety of other exhibits. It is Canada's largest fair and the fifth largest in North America, with an average annual attendance of 1.3 million.
Exploring neighbourhoods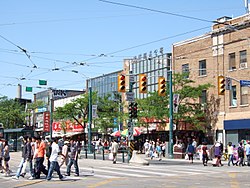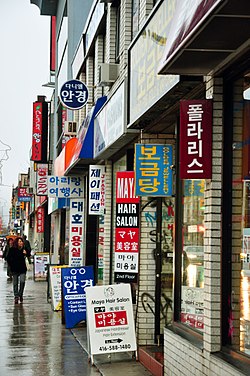 Toronto has so many eclectic neighbourhoods that a random walk is fascinating in its own right. You might start in the Downtown area and then try other neighbourhoods around the city. Here are a few suggestions of neighbourhoods to visit. More details and more examples are found in the
district
articles.
Distillery District. The former Gooderham & Worts distillery lands have been rejuvenated into a pedestrian-only village dedicated to the arts and entertainment. It has fantastic restaurants, festivals, and art galleries housed in its 19th-century distillery buildings.
Harbourfront, Toronto's former industrial port, is today largely parkland with biking and walking trails and excellent views of the harbour. Harbourfront Centre is situated right by the lake, and is home to numerous cultural events of which most are free or relatively inexpensive. Take in some of the worlds most critically acclaimed performing arts productions, or enjoy one of the many world festivals that take place every weekend.
Toronto Islands. A short inexpensive ferry ride from the foot of Bay Street and you leave the bustle of the city behind. Visually, the views of the skyline from the islands are stunning, and for cycling, walking, picnics or just relaxing, the Toronto Islands are hard to beat. There is even a small amusement park for kids, Centreville. On hot summer days, temperatures here will often be about 2-3C lower than the mainland providing relief. By mid-summer the water is warm enough to swim at Hanlan's Point or for the more adventurous, a nude beach is located nearby.
Little Italy is the spot to get a sense of the Western Mediterranean. Sit at one of the many coffee shops and watch the world go by on the weekends. A great time to visit is during the men's FIFA World Cup competition (in football/soccer), regardless of where in the world it is actually being held as local communities face off and rivalries reach a fever pitch. Support can be passionate and even in adjacent communities and it is not unusual to see them draped in a mind-numbing variety of flags once every four years.
Toronto's Chinatown is a great way to sample a tiny bit of cities like Hong Kong, without spending the airfare. Vast crowds crush the sidewalks as vendors sell authentic Chinese and Vietnamese food, and not-so-authentic knock-offs. It is one of North America's largest Chinatowns, and with many shops aimed at tourists, it is a good place to pick up some unusual and inexpensive souvenirs. The area is also home to a growing number of Korean and Vietnamese shops and restaurants. Toronto's multicultural mosaic never stops evolving. For a complete tour, travel along Spadina (north/south) starting at College Street in the north or Queen Street in the south.
Kensington Market was once a centre of Jewish life that has morphed into the centre of Toronto's bohemian scene. Visitors will be assaulted by sounds and smells unlike anywhere else in the city, as narrow streets bustle with immigrants, punks, and yuppies alike. Stores include surplus shops, coffee houses, small restaurants (including vegetarian), clothing vendors, and record stores. Fish and fruit markets are also present in great numbers, and the area is experiencing a boom of South American food stalls of late.
Koreatown has many Korean retail businesses and restaurants where Korean is as prominent as English in the signage. (There is also another Koreatown in North York.
Gerrard India Bazaar (Little India) If you want to get a sense of Toronto's vibrant South Asian community, this is where you want to be; not only is Indian culture represented - visible Pakistani and Afghan communities are also alive along the street.
The 501 Queen streetcar has been recognized in National Geographic magazine for being the longest streetcar route in North America (one of the longest in the world). The journey from one end to the other takes a couple of hours and passes through a wide range of ethnic and cultural neighbourhoods.
Sports teams & arenas
Toronto has several major league and minor league sports teams:
The
Scotiabank Arena
, 40 Bay St. It was called the Air Canada Centre (or "the Hangar") until 2018.
The
Rogers Centre
, 1 Blue Jays Way. Most often referred to by its original "SkyDome" name.
The
Maple Leaf Gardens
, 60 Carlton Street. Historic arena in Toronto, on the northwest corner of Carlton Street and Church Street in Toronto's Garden District; now converted into a Loblaws supermarket and an athletic centre for Ryerson University, the Mattamy Athletic Centre at the Gardens.
The
Aviva Centre
, 1 Shoreham Drive. A tennis complex that serves mainly as a training facility, but also includes a main stadium court that frequently hosts seasonal concerts. The most notable use of the complex is for the annual Canadian Open (sponsored as the Rogers Cup), a high-profile event on both the men's ATP Tour and women's WTA Tour. The Aviva Centre hosts the ATP event in even-numbered years and the WTA event in odd-numbered years, alternating with Montreal in both cases.
Buy
Toronto has ample opportunities for shopping, and nearly any section of the city has unique places to shop: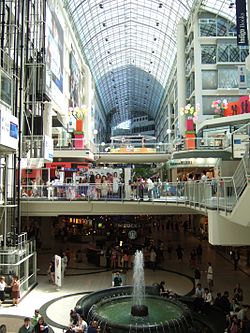 Toronto Eaton CentreAt Yonge-Dundas Square. Over 285 shops and services, including most of North America's most popular brands, and two food courts catering for every taste.

The 'PATH' SystemLinking 1,200 stores and 50 buildings, The PATH is an underground shopping mall has been created for all the commuters to get from Union Station to their offices and back without ever going outside. In a city of Toronto's summer heat and winter cold, this is essential.

Mink Mile. If you head west from the corner of Yonge and Bloor, you are in the most upscale of Toronto's shopping districts, easily accessible from the Bloor-Yonge or Bay subway station. Bloor Street between Yonge and Avenue is regarded as Toronto's version of Fifth Avenue, with upscale names such as Hermes and Louis Vuitton, and the flagship Holt Renfrew department store.
Yorkville. This high-end shopping district just north of Bloor Street and west of Bay Street is home to many designer boutiques. It also has many galleries selling art.
Kensington Market provides a bohemian shopping experience especially along the southern end of Kensington Avenue. There houses lining both sides of the street have been turned into shops with racks of clothes displayed in the front yard.
There are many local, neighbourhood shopping districts in the inner city. These are mostly located along major thoroughfares lined on one or both sides with shops in low-rise buildings. A few examples are Queen Street West (especially east of Spadina Avenue and extending westward into the West End), Uptown Yonge north of Eglinton Avenue on Yonge Street, and Roncesvalles Village. There are many more areas with store-lined streets within the inner city but few in suburban districts such as Etobicoke, North York and Scarborough which tend to prefer malls. Consult the district articles.

Yorkdale Shopping CentreA shopping centre in the north of the city, accessible from Yorkdale subway station. This is a full-service, upscale mall with hundreds of stores, but which is also rife with packs of roving teenagers who use the facilities as a social scene. Make use of the subway if possible on weekends, as locals pack the parking areas to capacity.
Money
Changing money
at a recognized bank or financial institution is best; there are a few specialized
bureaux de change
in Toronto's financial district and in Mississauga in the airport terminals. Some hotels, souvenir shops and tourist offices exchange money, but their rates won't put a smile on your dial. Many places in Toronto accept US dollars for small transactions – with a rough 1:1 exchange rate – and it is advised to obtain some Canadian dollars if you will use cash. US coins are often mixed in with Canadian coins at stores since they are similar in appearance.
Travelex (www.travelex.com/ca) has branches in the Financial District (+1 416-304-6130; First Canadian Place, Bank of Montréal, 100 King St W; M-F 8AM-5PM) and at the airport in Mississauga.
Calforex Currency Services (290 Queen St West) give good rates for cash, buying and selling GBP, USD, EUR; on substantial sums can be as little as 1% from interbank rates.
American Express branches in Toronto only function as travel agencies and don't handle financial transactions.
Cheque-cashing firms such as Money Mart (+1 416-920-4146, multiple locations) can usually exchange US to CAD, but the rates tend to be worse than at other financial institutions.
Eat
Toronto is generally considered to be one of North America's top food cities. It has the same variety as New York or San Francisco and the compact and safe downtown keeps them closer together. As one of the most (if not the most) multicultural cities in the world, Toronto has authentic ethnic cuisine like no other city in North America. It is easy to eat out in Toronto and have a superb meal for cheap.
Farmer's markets
Surrounded by the extensive fertile farmlands of Southern Ontario, Toronto has an abundance of farmer's markets - one is happening, in season, almost every day. Several markets are year round, while others are seasonal, generally running from May to October.
St. Lawrence MarketHas been bringing the freshest foods into the city for Torontonians and visitors alike since 1901. Located at Jarvis and Front, the St. Lawrence Market stretches over 2 buildings, a main building on the south side of Front St., and a temporary building to the south of the main building. The temporary building is home to a Farmer's Market, open Saturdays year round. It features fresh vegetables in season, preserves, spices and herbs, and direct from the source foods, such as honey direct from the beekeeper or maple syrup from the people who tapped and boiled it, and quality Ontario wines. The larger main building has over 50 specialty vendors, with a large seafood section, a dozen butchers, several bakeries, and three very extensive cheese shops. In the basement, there is also a specialty area for handcrafters, and an extensive foodcourt, with merchants often cooking food that they bought fresh that morning from upstairs. The main building is open year round, Tu-Th 8AM-6PM, F 8AM-7PM, Sa 5AM-5PM.

address: 201 Winchester St

A year-round producing farm owned by the City of Toronto as part of its extensive park system, open daily for tours, education, and more 9AM-5PM. The Friends of Riverdale Farm operate an onsite store and restaurant, Shop at the Farm and Farm Kitchen, in Simpson House (daily 10AM-4PM), and a weekly Farmer's Market (Tuesdays, May 10 - Oct, 3:30PM-7PM. Riverdale farm is a working farm, with barns and outdoor paddocks, and animals of all types. In an attempt to provide education about farming, the staff is approachable, and will discuss chores as they go through the daily tasks of keeping a farm running. Tours are available, or you can wander the 7½ acres freely.
Other
farmer's markets in Toronto
:
City Hall, Nathan Phillips Square, 100 Queen Street West. Wednesdays, 1 June-5 October, 10AM-2:30PM (except June 29 due to Jazz Festival).

East York Civic Centre

address: 850 Coxwell Ave

Etobicoke Civic Centre, 399 The West Mall. Saturdays, 4 June-29 October, 8AM-2PM.
North York Civic Centre, Mel Lastman Square, 5100 Yonge St. Thursdays, 16 June-20 October, 8AM-2PM.
Scarborough Civic Centre, Albert Campbell Square, 150 Borough Drive. Fridays, 3 June-14 October noon-5PM.

The Dufferin Grove Farmer's Market

address: 875 Dufferin St

Thursdays, year round (outdoors around the rinkhouse in summer and in the rinkhouse in winter) 3:30PM-7PM.
Green Barn Market, 601 Christie St. Saturdays 8AM-12:30PM (located within the restored Artscape Wychwood Barns).
Interesting food districts
Cabbagetown is a designated Historic District in the eastern half of the downtown core.
University District: small section of Baldwin Street (east of Spadina, north of Dundas) has many small outdoor cafes ideal for summer lunches.
Chinatown also has many Vietnamese and Thai restaurants.
Hakka Food is a style of Chinese food that originated in India with the migrant Chinese of Kolkata. Also known as India-Style Chinese food, outside of India and certain Southeast Asian countries, Toronto is the only city in the world to have such a variety of Hakka restaurants.
King Street between University Avenue and Spadina Avenue has many restaurants appealing to theatre goers.
Queen Street East between Empire and Leslie has a number of casual, trendy restaurants that match the vibe of Leslieville.
College Street to the west of Bathurst has a cheaper set of eclectic restaurants popular with university students from nearby University of Toronto.
Bayview Avenue south of Eglinton is the location of some of Toronto's best French pastry shops.
Bloor Street to the west of Spadina in the Annex has a similar set of restaurants to College St, with a particularly heavy concentration of budget-friendly Korean and Japanese restaurants. Most restaurants tend to be very laid back.
Yorkville: it's more about being seen than actually eating but there are a few hidden gems, and this area is famous for sightseeing celebrities. Restaurants often charges premium for otherwise mediocre meals.
The city's largest newspaper, the Toronto Star, once chose the Downsview Park Flea Market food court as the best in the city. Although it is open only on weekends and rather remote, it offers a variety of authentic food from Afghan to Trinidadian and lacks the chain restaurants that dominate the city's food courts. It is located north of downtown, but is accessible from the Downsview subway station on the Spadina line and shares space with over 400 independent retailers.
Cafés
Check the district articles for independent coffee shops.
Aroma Espresso BarThis cafe chain has locations throughout the city. Aroma might be the best of the large coffee chains for espresso coffees and rivals the quality at many independent coffee shops. The coffee is served in a cup and saucer with a metal spoon (you might not get the spoon at some other places), and you get a piece of chocolate (a nice touch).
Balzac'sBalzac's is a small chain of cafes in interesting neighbourhoods. It serves only organic, Fair Trade coffee, cocoa and sugar, and its milk is locally sourced and organic.
Vegetarian
Some districts with vegetarian restaurants are
Kensington-Chinatown
,
The Annex
, and
Chinatown East
.
Drink
The majority of nightlife in Toronto is centred on the appropriately named
Clubland
and in the
fashion district
on Queen Street West. Nearly everywhere is packed to the brim with pubs and bars, but none so much as Adelaide and Queen Street in those districts. Clubs tend to operate on Richmond and Adelaide streets (both run east-west, 1 block apart); names change frequently, but the district keeps on going. Three other clubs of note outside this district: The mega club/ultra lounge Muzik Nightclub (by Exhibition Place), and The (long-lasting) Phoenix (on Sherbourne) and the Docks (literally operating on part of Toronto's commercial port, but this place has an outstanding view of the city on warm summer nights, and boasts an extensive entertainment complex).
Some of Toronto's newest and hottest nightclubs have opened up in the King Street West/Liberty Village area. This area tends to attract a more mature (25+ years old) crowd; however this comes at a cost as drinks and admission into the venues are typically a bit more expensive here than in
Clubland
.
Hip art and music oriented crowds tend to gravitate towards Parkdale (Queen West past Bellwoods Park). The hipsters hangout in the wide array of bars, galleries and clubs that dot the area - in particular Stones Place (mostly Indians and sometimes gay crowds), The Social (a mixed bag), and the Drake and its poor cousin Gladstone Hotels. The same folks also frequent the Annex and Kensington Market areas of the city at night for club nights, casual drinks and art and music events. One of the main "corsos" of the city is
Little Italy
: College Street, between Bathurst and Ossington flows over with music, sidewalk cafes and excellent food and a crowd that enjoys the summer heat and the offerings. College Street, east of Bathurst, is home to many student hangouts, including Sneaky Dee's which is famous among locals for its nachos. The legal minimum drinking age is 19.
Toronto has over a dozen
microbreweries
. One popular microbrewery is Steam Whistle Brewing (south of the CN Tower in the
Entertainment District
) which offers tours of its brewery located in a former locomotive roundhouse. Unlike Steam Whistle, most microbreweries in Toronto are
brewpubs
serving in-house brews with pub fare. About half of the brewpubs are in the
West End
district. Other districts having a brewpub are
Harbourfront
(Amsterdam BrewHouse),
Distillery District
(Mill St. Brew Pub),
Midtown
(Granite Brewery) and
East End
(Left Field Brewery).
Sleep
Most hotels and hostels are situated directly outside the downtown core. Prices for rooms generally range from $150 for a standard hotel, $60–80 for a motel, and $20–40 for a bed in a hostel.
Hotels
Toronto has a wide variety of hotels that can suit every budget.
Hostels
Toronto has several youth hostels, including ones in the downtown area, such as
HI-Toronto Hostel
located at the foot of Church Street.
Bed & Breakfast
Another popular alternative for over nighters are bed & breakfasts, of which Toronto has hundreds, many of them in the downtown core. Prices range from $60 to several hundred dollars depending on the house and amenities offered.
Learn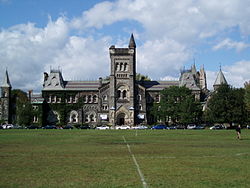 International students often prefer to study in Toronto because of its safety, proximity to other tourist destinations, and favourable exchange rates and visa policies. However, despite its status as the largest city in the country and Canada's economic centre, it is surprisingly under-served by universities. This lack of post-secondary education has led to the development of major universities in the mid-sized cities that surround Toronto: the University of Waterloo and Wilfrid Laurier University in
Waterloo
, the University of Guelph in
Guelph
, McMaster University in
Hamilton
, Brock University in
St. Catharines
and Trent University in
Peterborough
. The universities in Toronto remain some of the best in the country:
The University of Toronto. Canada's largest university, is spread out all over the city (including the main downtown campus, an east-end Scarborough campus, and University of Toronto at Mississauga (UTM) in the neighbouring city of Mississauga). This university is consistently rated among the top three in the country and is part of the "Canadian Ivy League." Due to its size, the University of Toronto's downtown campus, known as the St George campus, after the street that runs through it, has its own "sphere of influence," turning the surrounding neighbourhoods into miniature college towns, with plenty of bars, restaurants, bookshops, grocery stores and cheap take-out joints. Click the link for a guide to the U of T campus.
York University. The third largest university in Canada, York University has two campuses - the Keele Campus near Keele Street and Steeles Avenue West at the northern border of the city, and the original Glendon College at Lawrence Avenue East and Bayview Avenue. York University station on subway Line 1 Yonge–University is located within the Keele campus. Buses 124 and 162 connect Lawrence Station (also on Line 1 Yonge–University) to Glendon College.
Ryerson University. In the heart of the downtown core. It was once a polytechnic, but is now Toronto's third university. The university is particularly well known for its school of management, and for its journalism program. Its campus is centred on the Kerr Hall, which forms a square around a central quad, it fills the block bounded by Gould, Gerrard, Victoria and Church streets. Ryerson also has buildings throughout this section of the city, including the Ted Rogers School of Management, at Bay and Dundas streets.
OCAD University. The university focuses exclusively on art and design. The campus is on Dundas Street West near Spadina.
Seneca College. Canada's largest college is spread out over the city with over 16 campuses of varying sizes.
George Brown College. Three campuses: St. James (downtown), Casa Loma (midtown) and Waterfront (Harbourfront).
Humber College. Two campuses: Lakeshore and North.
Toronto, like other Canadian cities, also has dozens of
English as a Second Language
(ESL) schools. The largest association of private English and French language schools is the
Canadian Association of Private Language Schools
.
Connect
Calling
For life-threatening emergencies or crime in progress, dial
9-1-1
on any landline, mobile or pay phone (toll-free).
Local calls at pay phones cost 50 cents. Toronto's local calling area extends roughly from
Oakville
to
Ajax
;
Oshawa
,
Hamilton
and their adjacent suburbs are long-distance. Local calls are not metered, so you can talk as long as you want. Due to the popularity of cellphones, there are fewer pay phone booths than in previous years, so they can be difficult to locate. Most large public facilities still have ample pay phones to use. In malls, pay phones are usually located between the inner and outer doors at the entrances. Payphones are also routinely provided in TTC subway stations, including on the platforms, as a safety feature. Cellular service is generally unavailable in the subway, except in outdoor or above-ground areas. In other underground areas, such as the lower levels of malls and in the PATH, reception is generally available, if somewhat weaker.
In addition, many public facilities (such as shopping malls) now also have phones which provide free local calls, which are funded by advertisements run on colour LCD screens. Watch for large, wall-mounted ovals in high-traffic areas.
Toronto has three area codes: 416, 647, and 437. These area codes are all associated with the same geographic area. The suburban areas outside of the city have three overlapping area codes: 905, 289, and 365. As a result, Toronto has
10-digit local dialling
. You must always dial the area code as part of the number you are trying to reach.
International calling cards are widely available to many countries for reasonable rates. As coin-paid long distance calls are overpriced (Bell payphones charge nearly $5 in the first minute and a lower rate thereafter, competitors are $1 for three minutes), if you must place toll calls from telephone booths, it's best to buy prepaid cards.
Internet
Toronto has many Internet cafés, especially on Yonge Street around Bloor and also Bloor Street between Spadina and Bathurst, although their numbers are declining. Most major hotels offer high-speed Internet in their rooms and in their business centres. Most coffee shops, a few hamburger joints and many food courts and restaurants in the city offer wireless Internet (more often free, sometimes not). On repeat visits to the city, the Internet café you used last time often will have disappeared, a casualty of widespread high-speed Internet availability elsewhere. Once you find a place to call home, costs are normally around $3 for 30 minutes.
Free internet access is available on computers at
Toronto Public Library
branches, and the
Toronto Reference Library
also provides free wireless access on the first two floors. Also visit
Toronto seo expert
All TTC subway stations have free Wi-Fi; the ad-based service uses network name TCONNECT. See the
TTC wi-fi webpage
for more details.
Mail
Generally stamps are purchased and parcels are weighed and shipped, at a postal outlet located in a retail store such as a variety store or a drug store. It seems that most Shoppers Drug Mart stores have a postal outlet at a special counter often at the back of the store. Postal outlets may sell philatelic items (recent issues only).
Newspapers
Free weekly newspapers, distributed from boxes on street corners and in racks in stores and restaurants are good sources of information on cinema, dining, music, theatre, and other events as well as local news:
Now alternative news and comprehensive listings; published on Thursdays.
Xtra!
, which provides gay and lesbian news and listings, had stopped publishing a print edition, but continues online.
Depending on where you go in Toronto, you will be able to find locally printed newspapers in a variety of languages. For example, in Chinatown, you will find Chinese newspapers. In "Little Italy", you'll find Italian newspapers. You'll also find newspapers in French, Spanish, Portuguese, Persian, Arabic, Tagalog, Greek, Urdu and more.
Stay safe
Crime

Toronto is remarkably safe and the streets are vibrant with pedestrians and bicyclists, even at night in most neighbourhoods. If you use common sense, you should have no trouble at all.
The overall violent crime rate in Canada, and particularly in Toronto, is much lower than that found in major cities in the United States. Petty crime is generally not a problem in Toronto, but as always is the case, keep vigilant with your possessions. Car and bike theft are comparable to other large North American cities.
There are neighbourhoods which are known in the media and on the street as being more dangerous, though police statistics are not commonly used to justify these beliefs. Nevertheless, while assaults and other crimes can happen anywhere, especially late at night when few people are around, it is reasonable to avoid certain areas (again, generally late at night). These areas include in the old city and inner bouroughs: Crescent Town, Regent Park, parts of Parkdale, parts of St. Jamestown, Moss Park, Alexandra Park, Flemingdon Park/Victoria Village and Weston-Mount Dennis. Outer areas: Jane and Finch ("Jane Corridor"), Lawrence Heights, the Peanut (i.e., Don Mills and Sheppard), Rexdale/Jamestown Crescent, Malvern, Kingston and Galloway, Steeles-L'Amoureaux, Dorset Park, Westminster-Branson and Eglinton East-Kennedy Park. Stay away from dodgy looking areas, where drugs, prostitution and violent crime such as armed robberies can occur. These neighbourhoods become noticeably worse from a visual standpoint, giving ample warning to turn around.

Homeless
Toronto has a visible homeless population, many of whom will ask you for money. Beggars in Toronto have been known to ask for handouts on the pretext that they need TTC (Toronto Transit Commission) fare. When offered TTC tokens, they will accept them and then approach other passers-by in an attempt to resell these tokens for cash. If a street person offers to sell you a token they claim to have "found" in Toronto, sometimes at less than face value, odds are this fare media was given to them by some well-meaning passer-by who believed their false claim that they needed a TTC fare to get home.
There have also been instances in the past with "squeegee kids" who would jump into intersections when traffic is stopped at lights and solicit money for cleaning windshields. This is becoming less common as this form of interference with vehicle traffic is expressly illegal under Ontario's Highway Traffic Act and may be reported to police.

Pedestrians

Be careful when getting off the streetcars and always look to your right before leaving the car. Although vehicles are supposed to stop when the streetcar doors open, some motorists and cyclists will ignore this and keep going.
The proliferation of mobile data devices has led to "multitasking" in a large percentage of the pedestrian population of this city. If driving, cycling, or even walking, in Toronto do not forget to keep an eye open for a pedestrian who may be more focused on his or her device.

Weather

Avoid river/creek banks or bridge underpasses during periods of excessive rain, during/after heavy thundershowers or melting snow. Flooding can soften soil and cause it to suddenly collapse into the water under any weight.
Occasionally, Toronto will be hit with a severe winter storm accompanied by significant snowfall (quite often mixed with freezing rain/ice/sleet). Avoid driving during and immediately after the storms if at all possible. This is especially true for those unfamiliar with winter driving and controlling a car in a skid. Take public transit, walk, or stay inside.

Consulates
The Office of International Relations and Protocol
This office manages the Government of Ontario's interaction with the largest consular corps in Canada (and one of the largest in the world). Approximately 
100 countries
are represented in Toronto.
phone: +1 416-922-2503

address: 77 Bloor Street West, Suite 1109

phone: +1 416-964-7260

address: 240 St. George St

El Salvador

phone: +1 416-975-0812

address: 151 Bloor Street West, Suite 320

phone: +1 416-515-0133

address: 365 Bloor Str. East, Suite 1800

phone: +1 416-960-0751

address: 365 Bloor Street East

phone: +1 416-977-1566

address: 136 Beverley St

phone: +1 416-363-7038

address: 77 King St West Suite 3300

Macedonia

phone: +1 416-322-2196

address: 90 Eglinton Ave. East, Suite 210

address: 1 Dundas St W, Suite 2106

phone: +1 416-944-8825

address: 110 Sheppard Ave E, Suite 600, North York

phone: +1 416-962-9911

address: 175 Bloor Street East, South Tower, Suite 801

phone: +1 416-593-1290

address: 777 Bay St, Suite 2800

phone: +1 416-595-1700

address: 360 University Ave
Go next
Toronto is a great starting point for exploring southern
Ontario
. There are many golden
sand beaches
along the clean fresh waters of the
Great Lakes
that are ideal for hot summer days. Popular beach destinations within 1½-2½ hours of Toronto include Wasaga,
Sauble Beach
, Sandbanks, Grand Bend, Long Point, and Turkey Point.
Golden Horseshoe
Niagara Region — A lush region known primarily for its orchards and vineyards as well as the thundering waterfalls at Niagara Falls and the beautiful town of Niagara-on-the-Lake. On the American side of the Falls are several outlet malls. 1-1½ hours south along the QEW; a few tour buses make the same-day return trip.
Main Street Unionville, located in the suburban city of Markham north of Toronto, is a historic village developed in the 1840s. As typical of a small village, it has many quaint period buildings in an idyllic surrounding.
Waterloo Region — This area 1-1½ hours west of Toronto has large university campuses, rolling farm hills and Mennonite culture.
The Niagara Escarpment — A world biosphere, protected by UN mandate running from the Niagara Falls west to Hamilton then northward to Georgian Bay. It is covered by forest with high cliff views along the Bruce Trail bordering the western edge of the Greater Toronto Area, at its closest point it is about a ½-hour drive from the western end of Toronto.
Newmarket has its attractive Main Street Heritage Conservation District and many heritage buildings within a walkable area.
Canada's Wonderland is a popular, seasonal theme park operated by Cedar Fair in Vaughan, and is only a 20 minute drive away without traffic.
Ontario
Muskoka, Georgian Triangle and The Kawarthas — All 1½–2 hours north are cottage country areas with more rocky and hilly terrain speckled with hundreds of lakes and waterways. Muskoka and the Kawarthas are known for their country inns, cottages, spas/resorts, provincial parks, and a wealth of outdoor activities including camping, fishing/hunting, snowmobiling, nature viewing, and hiking set among natural beauty. The Georgian Bay area is where the hilly terrain and cliffs of the Niagara Escarpment meet its shores, the area has renowned ski facilities frequently blasted with high snowfall amounts but beaches Wasaga Beach, wineries and golfing are the choices in summer.
Stratford — This cute town 2 hours west of Toronto is host to the world-renowned Stratford Shakespeare Festival (April–November).
Thousand Islands and Kingston — This scenic area and its nearby historic city are 3 hours east, on the way to Ottawa
Ottawa — The Canadian capital is about a 4½-hour drive from Toronto.
United States
Elsewhere in Canada
Montreal is a 6-7 hour drive to the east, or a 4 1/2 hour train ride. Bilingual Montreal is home to French-Canadian culture, nice architecture, and the Laurentians are not far away.