Toronto/Entertainment and Financial Districts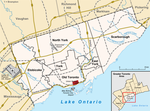 The
Entertainment and Financial Districts
, along with Yonge-Dundas to the north, form the heart of Toronto's downtown. By day, the suits and powerbrokers of the Financial District drive the city's economy from their glass and steel towers. But as night comes, the towers empty and people pour into the
Entertainment District
to catch the show, see the game or party at the clubs. Whether it's day or night, many of Toronto's larger attractions are located here, so it's an essential part of any visit to Toronto.
Understand
Financial District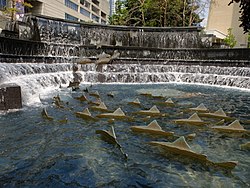 The Financial District is the economic powerhouse of
Toronto
. Dozens of towering glass, concrete and steel monoliths are a must-see for architecture enthusiasts. The district is actually quite compact and walkable, even in inclement weather. That's because of the
"PATH"
- 27 km (16 miles) of interconnecting passageways under the streets that feature more than 1,200 stores and services. Street entrances to the subterranean walkway are indicated with "PATH" signage.
Fashion District
The heart of Toronto's Fashion District is along Spadina Avenue from Front Street in the south to Queen Street in the north. However, hardly any garment manufacturing is done here today as garment industry work has long since left for cheaper places. Along Spadina, you can still see many graceful, multi-storey loft buildings that used to house garment manufacturing operations; buildings of this type also appear north of Queen Street to Sullivan Street at the southern end of
Chinatown
.
The Fashion District overlaps the Entertainment District along the east side of Spadina Avenue. The name "Fashion District" appears on a street sign at the south-west corner of Spadina Avenue and Richmond Street West beside the Fashion Building, a warehouse-loft.
Rogers Centre
Rogers Centre, formerly known as SkyDome, is a multi-purpose stadium, situated next to the CN Tower near the shores of Lake Ontario. It opened in 1989, and is home to the American League's Toronto Blue Jays, and was also home to the Canadian Football League's Toronto Argonauts before that team moved to BMO Field in Harbourfront in 2016. While it is primarily a sports venue, it also hosts other large-scale events such as conventions, trade fairs, concerts, funfairs, and monster truck shows. The stadium was renamed following its purchase by Rogers in 2005, but locals prefer the original "SkyDome". The venue was noted for being the first stadium to have a fully-retractable motorized roof, as well as for the 348-room hotel attached to it, with 70 rooms overlooking the field. A popular venue for large scale rock concerts, the stadium is the largest indoor concert venue in Toronto; it has hosted many international acts including Metallica, Madonna, U2, Depeche Mode, The Rolling Stones, The Three Tenors, Radiohead, Simon & Garfunkel, Garth Brooks, Backstreet Boys, Roger Waters, Black Sabbath, AC/DC, Limp Bizkit, Eminem, Janet Jackson, Avril Lavigne, Jonas Brothers and Cher. The stadium was a centrepiece of the 2015 Pan American Games as the site of the opening and closing ceremonies.
Public tours of the stadium
are sometimes available.
Get in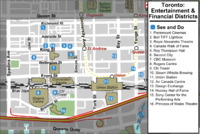 By plane
The nearest airport to Toronto's financial district is the
Billy Bishop Toronto City Airport
, which is located across a narrow channel from the foot of Bathurst Street in the
Harbourfront
district. The main commercial airline serving the airport is
Porter
, operating year-round flights to
New York City
,
Chicago
,
Montreal
,
Quebec City
and
Halifax
as well as winter flights to
Mont-Tremblant
. Air Canada Express also offers service to Montreal. Porter operates a free bus for its passengers between the airport and Union Station; alternately, you can take the 509 streetcar from Queen's Quay and Bathurst, a few blocks from the airport, to Union Station.
By train
Toronto's main railway station, Union Station sits at the foot of the financial district, on Front Street between York and Bay Streets. All commuter rail lines in the city run to and from Union Station and are run by
Go Transit
. Trains run all day on weekdays and weekends on the Lakeshore line from
Hamilton
in the west to
Oshawa
in the east, all the other lines run only at rush hour on weekdays. All intercity trains in Toronto run to Union Station and are operated by
Via Rail
. (
Ontario Northland
no longer runs Toronto-North Bay-Cochrane by rail.) For more information on intercity and commuter rail services to Toronto, see the Toronto city article.
By subway
The financial district is well served by subway line (Yonge-University-Spadina) with Queen, King, Union, St Andrew and Osgoode stations all lying in the district.
By streetcar
Many streetcar lines run through or terminate in the financial district. The 504 King line runs along King street, through the centre of the neighbourhood, The 501 Queen line runs along Queen street at the north end of the district and the 502 Downtowner and 503 Kingston Rd lines terminate in the district.
The subway, streetcar lines and buses are run by the
TTC
and a TTC fare includes transfers between both modes to complete a single trip.
By car
Most of the major highways passing through Toronto pass through the downtown core at some point.
From the DVP: follow the DVP south towards Front Street - the southernmost exit brings you into downtown.
From the Gardiner Expressway: exit at Spadina, next to the CN Tower.
From the 401: follow the 401 until you reach the Don Valley Parkway (just east of Leslie Street), then exit onto the DVP southbound, and follow until you reach Front Street.
Parking in the area is very expensive, and there are always traffic jams late at night.
By bike or foot
The easiest way to find downtown Toronto is to locate the CN Tower, and head towards it. Although many people bike in Toronto, others consider it to be a very dangerous city to bike in, and accidents are frequent. Stick to less travelled roads, and be aware of people and vehicles around you.
See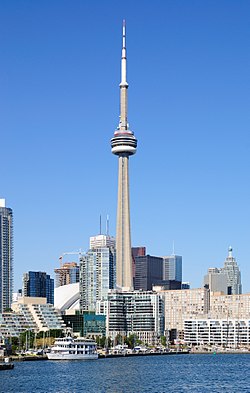 address: King St & Simcoe St

Toronto meets Hollywood where visitors can see plaques for most of Canada's famous names (Martin Short, for example) embedded in the sidewalk. The plaques are stylized stars that look a little like maple leaf.
phone: +1 416-868-6937

address: 301 Front St W

The CN Tower is Toronto's most recognizable and famous feature, and was the world's tallest free-standing structure until the Burj Dubai surpassed it in September 2007. It is still the tallest free-standing structure in the Americas. At a dizzying 553 m high, a visit is worth it for the view of the city alone. A glass elevator will take you up to where you can look out from behind glass windows or from an outside observing area through a metal screen. It attracts large numbers of tourists; best times are weekdays in the morning. You can jump up and down on the thick glass floor in parts of the observatory (the view from the floor downward essentially shows the base of the tower). 360, the revolving restaurant, is in the main deck, but isn't particularly renowned. Restaurant diners with reservations can avoid the queues for the observatory, and at night the lights from distant Rochester, New York are visible over the lake.

phone: +1 416-363-6121

address: 234 Bay St

A museum of design in Canada and around the world. The permanent collection is only open by appointment, but the 3rd floor showcases interesting changing exhibitions, and there's always something on for free on the 1st floor as well.

Draper Street - Victorian houses

address: Draper Street

Draper Street is a small Heritage Conservation District. This short street is lined with over a dozen Victorian-era houses from the 1880s. The houses are private residences.

address: Graffiti Alley, Rush Lane & cross-lanes

Lanes at the rear of commercial buildings have colourful displays of graffiti, a few of which are very artistic murals. A Toronto-themed mural is displayed on the west side of a building on Rush Lane.
phone: +1 416-360-7765

address: 30 Yonge St

A shrine to Canada's pastime in the heart of the city. The Stanley Cup is usually housed here – if seeing it is important, call ahead and ensure it's not in another city before you visit.
Since 1993, the Hockey Hall of Fame has been housed in the former Toronto head office of the Bank of Montreal. Completed in 1885, the building has two fine monumental facades with an impressive entrance bay between them. It continued in use as a bank until 1982, when it closed.
phone: +1 647 351-FISH

address: 288 Bremner Blvd

Home to 13,500 species of sea creatures from habitats around the world. Café, souvenir shop.
address: 255 Bremner Blvd

This public park offers has a number of preserved exhibits: roundhouse and turntable, coaling tower, water tower, signal tower, small railway station and several railway cars and locomotives including a 4-8-4 Northern-type steam locomotive.
address: 255 Bremner Blvd, Unit 15 (Roundhouse Park)

The museum, in the roundhouse building, has railway exhibits, cars under restoration, and a gift shop. When the miniature stream trains are running in the park, you can purchase separate tickets to ride them from the old Don Station building.
address: 79 Wellington Street West

Collection of Inuit art, about 100 items on display.

address: 65 Front Street West

Union Station is the largest and most opulent railway station in Canada and a landmark in Toronto. Designed in the Beaux-Arts style and finished in 1921, this Heritage Railway Station is a National Historic Site of Canada. The main internal feature of the station is the Great Hall which is long and high at its highest point. Materials such as bronze, limestone, marble, tiles, and translucent glass create a sense of enduring quality. On the east side of the station, there is a bridge to the Union Station Bus Terminal where you can get a glimpse of the train shed without buying a train ticket. On the west side is the SkyWalk, an approximately 500-metre enclosed walkway from Union Station to the CN Tower and the Rogers Centre. On the south side, is a tunnel leading to the Scotiabank Arena (formerly known as Air Canada Centre).
Union Subway StationUnion, the subway station, has a major artwork in the form a glass partition running the length of the station. The art piece is called "Zones of Immersion" by Stuart Reid, a professor at the OCAD University, and comprises 166 large glass panels, each measuring more than one by two metres, extending along the length of the platform. Mostly transparent, it is visible from both the Yonge and University platforms. Each panel contains images or words, many based on sketches of commuters that Reid drew while riding the subway.
phone: +1 416-596-1382

address: 73 Simcoe St.

Collection of uniforms and memorabilia of the 48th Highlanders Regiment dating from as early of the Boer War.
Small parks and public squares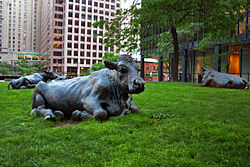 There are several downtown parks and squares nestled between tall buildings that are pleasing to look at or convenient for a rest.
Commerce Court

address: Wellington St and Bay St

This plaza features a fountain and a three piece bronze sculpture by Derrick Stephan Hudson entitled, Tembo, Mother of Elephants completed in 2002. These near life-size sculptures of a mother elephant and her 2 cubs were installed on site in 2005 on loan from the L.L. Odette Foundation of Windsor, Ontario.

Toronto-Dominion Centre

address: Wellington St

Seven life-size sculptures of cows, an artwork by Joe Faford titled The Pasture, lie on a small plot of grass within the TD Centre square which was a pasture long, long ago.

Victoria Courtyard

address: King St E & Yonge St

The small park is nestled between tall buildings away from traffic noise. It contains a number of permanent decorative art objects.
Do
Venues
phone: +1 416-815-5500

address: 40 Bay St

This hockey arena plays host to all Toronto Maple Leafs homes games as well as Toronto Raptors basketball games. It also hosts many of Toronto's large concerts. The arena is directly adjacent to Union Station and there is a passage leading from the underground concourse into the arena, however the passage can be confusing. The facility was renamed from Air Canada Centre to Scotiabank Arena effective July 1, 2018 due to a change in sponsorship.

phone: +1 416-872-1212

address: 300 King St W

Modern theatre for musical productions.
phone: +1 416-341-1707

address: One Blue Jays Way

This large stadium is home to the Toronto Blue Jays baseball team, and also hosts large concerts. It has a retractable roof, allowing games to be played in all weather. To access the stadium from Union Station follow the Skywalk from the western waiting room.
Rogers Centre ToursTours of the Rogers Centre are sometimes available. Consult the website for details.
Tours
Take a historic walking tour of the area. Muddy York Walking Tours, offers "Toronto History: the 20th Century" and "History of Downtown Street Names" tours that cover the downtown area.
Buy
phone: +1 416-368-9644

address: 200 Bay St, Brookfield Place

Liquor store.

phone: +1 416-340-2667

address: 300 Queen St W

Large store for outdoor wear and gear.

address: 401 Richmond St W

This former factory building has a courtyard, a few shops and private art galleries.
phone: +1 416-644-1017

A store having Toronto-themed souvenirs.
The PATHThe PATH is the world's largest underground shopping complex with 27 km (16 miles) of shopping arcades. It is a city under a city and extends from Union Station in the south to Yonge-Dundas Square in the north. The PATH has numerous branches with alternate routes creating an underground maze.
Eat
There are restaurants in attractive row of older buildings along King St W at John St opposite the TIFF Bell Lightbox. There are many restaurants in nearby districts such as
Chinatown
and the Fashion District along Queen Street West.
Budget
address: 218 Adelaide St W

Open until 4AM on weekends. Very tasty burritos. The halibut burrito is especially popular. Arrive early for lunch as there can be a long line-up by 12:30PM. Large burrito $6-8.

phone: +1 416-596-0063

address: 12 Oxley St

Tasty cheesecakes, tarts, etc. Small table area.

Modern Wok

phone: +1 416-364-3840

address: 145 King St W at St. Andrews Station

Chinese & Thai cuisine. Get there at least 15 minutes before noon to avoid a long line-up at this popular under-ground food-court counter.

Shopsy's Deli Restaurant & Catering

phone: +1 416-365-3354

address: 96 Richmond Street W

Diner-style decor, serving fine deli food.
The underground PATH has many food courts for budget meals.
Try the many hot dog stands, also known as "Street Meat," located sporadically around the downtown area of the city. These vendors are conveniently located just outside of subway stations, big buildings, malls and clubs. Prices range from $1 to $4, and most stands offer hot dogs, veggie dogs, sausages, and cold drinks.
Mid-range
phone: +1 416-777-2800

address: 504 Adelaide St W

Taqueria having a small menu with very tasty tacos; Mexican decor.

phone: +1 647-350-6999

address: 42 Yonge St

Good if you have to please many tastes as options include personal pizzas, pasta-of-the-day, sushi, stirfries, seafood, steak, rosti potatoes, soup, sandwiches, crepes, waffles, etc. Casual, cafeteria style.

address: 18 King St E

Open to 2AM Th-Sa. Over 130 ales and lagers. The dinner menu offers a wide range of appetizers and steak frites, mussel bowls, roasted knuckle of pork, seafood chowder and rabbit curry. Patio. Also open for lunch and brunch on weekends. $18-24 dinner mains.

Jules

phone: +1 416-348-8886

address: 147 Spadina Ave

Open M-Sa. Good, inexpensive French bistro fare including quiches, crepes, baguette sandwiches, steak frites and croque monsieur. Very busy at lunch, not so busy at dinner. ~$15 per person lunch.

phone: +1 416-977-4461

address: 297 King Street West

The Kit Kat offers a warm welcome, a quirky decor, and menu choices like: bruschetta, warm scallop salad, fettuccine alberto with four cheeses, rigatoni bolognese, roast lemon chicken, osso buco, baby back ribs, New York striploin, and fish of the day. Vegetarian options adequate. Very near the Royal Alex and Princess of Wales Theatres, and are used to getting you to the show on time. A tall tree grows through the kitchen roof — really.

phone: +1 647 253-6225

address: Ground Floor, 190 University Ave

Offers high quality ramen ($15) and steamed bao. Can also buy cookies from Momofuku's milk bar.

phone: +1 416-861-0514

address: 1 Richmond St W

Breakfast restaurant.

address: 99 Blue Jays Way

BBQ baby back ribs, fire-grilled steak, 1/2lb sirloin burgers, steak sandwiches, wood-oven pizzas and handmade pastas. In the summer, the Oasis rooftop patio features a barbeque menu.
Splurge
phone: +1 416 366-9211

address: 56 York St

Serving only the finest cuts of certified Angus beef, Bardi's does not scrimp on quality. Fresh Atlantic salmon, chicken and ribs are also available and delivered to you with exceptional personalized service. Highly recommended.

phone: +1 416 364-0054

address: 66 Wellington St W (TD Bank Tower, 54th floor)

Regional Canadian cuisine, breathtaking views of the city skyline. The menu offers fresh Canadian fish, game and produce.

phone: +1 416-214-5888

address: 19 Toronto St

Menu of various cuisines, nicely seasoned comfort food.
Drink
The Entertainment District (Clubland) has North America's highest density of clubs, restaurants and bars. Dance clubs are located mostly along Richmond and Adelaide Streets, but there are some on the side streets. The clubs don't generally last very long. In many places, every year a new club opens in the same location with a new name.

phone: +1 416-362-2337

address: The Roundhouse, 255 Bremner Blvd

This large-scale microbrewery provides tours every 30 minutes with options. The $10 tour includes a glass of beer.
Sleep
Budget
Mid-range
phone: +1 416 599-4000

address: 370 King St W

4-star hotel with 425 rooms. Fitness centre, in-room spa services. Pet friendly rooms available.

phone: +1 416 345-9500

address: 30 Mercer St

4-star hotel in the heart of Toronto's Entertainment District, right next to the Metro Toronto Convention Centre.

One King West Hotel & Residence

phone: +1 416 548-8100

address: 1 King Street West

4-star hotel centrally located in downtown. Above the King subway station. All rooms have washer/dryer and kitchenette with dishwasher. Excellent views from upper floors.
Splurge
Connect
phone: +1 416-393-7650

address: Nathan Phillips Square, 100 Queen St W

Wi-fi, computers with internet access.

Toronto Commerce Court Post Office

phone: +1 416-956-7452

address: 25 King St W, Suite 176

Besides stamps, shipping services and money orders, this outlet offers some items for stamp and coin collectors.
Go next
Here are a list of neighbouring downtown districts, most of which are within walking distance: