Toronto/Harbourfront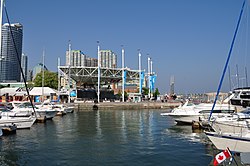 The
Harbourfront
neighbourhood in
Toronto
encompasses the area from the lakeshore corridor railway line in the north down to Lake Ontario in the south and from Exhibition Place in the west to Parliament Street in the east. Nearly the entire neighbourhood is built on land reclaimed from Lake Ontario in the nineteenth and twentieth centuries. Prior to the 1980s, the area was largely industrial, especially the section south of the Gardiner Expressway, which was built in the 1930s and acted as a barrier to development until the 1980s, when a lack of available space downtown led property developers to start building large condominium developments in the Harbourfront neighbourhood. Queen's Quay acts as the main street for the neighbourhood, containing an abundance of fast-food restaurants and convenience stores. Most of the shopping is in Queen's Quay Terminal, a large shopping and condo development which acts as something of a central point for the neighbourhood. On the south side of Queen's Quay is a series of slips separating large piers containing a mixture of condo towers, repurposed warehouses and small parks. In the summer, the neighbourhood is a buzz of activity with small concerts and festivals occurring in the park. While the area west of Yonge Street is full of high rise condo developments and activity at all hours, the area east of Yonge Street is less developed being dominated by the enormous Redpath sugar refinery; despite this, there are George Brown College, Sugar Beach and Sherbourne Common, and new condominiums are being built.
There is a separate article for the
Toronto Islands
across the harbour from Harbourfront.
Get in
By streetcar
The 509 LRT streetcar line runs underneath Bay Street from the Union Station subway station to an underground station at the intersection with Queen's Quay West, at which point it leaves the tunnel and proceeds West along Queen's Quay in a separate right-of-way, making stops at the major intersections; its western terminus is Exhibition Place. The 510 LRT streetcar line follows the same route from Union Station to the intersection of Queen's Quay and Spadina Avenue, at which point it turns and heads north on Spadina, still in its own right-of-way, to Spadina subway station at the intersection of Spadina and Bloor Street. The 511 streetcar line runs with traffic along Bathurst Street from Bathurst subway station to the intersection of Bathurst and Fleet Street, where it turns and follows the same route as the 509 West to Exhibition Place.
By subway and train
The nearest subway station is Union Station. From there you can either take the 509 or 510 streetcars to Queen's Quay or you can walk south along Bay Street from Front Street, underneath the railway tracks and the Gardiner Expressway to Queen's Quay. Union Station is also the main terminus for commuter and intercity trains.
For more information on the subway and streetcar lines, visit the Toronto Transit Commission
website
By car
The Gardiner expressway runs the length of the harbourfront one block north of Queen's Quay and there are exits at Spadina, York, Bay, and Jarvis. There is a large parking garage underneath the Westin Harbour Castle Hotel and several commercial surface lots, including ones at Queen's Quay and York Street, Queen's Quay and Rees Street, on Bay Street across from the Air Canada Centre and on Queen's Quay next to the Redpath sugar refinery.
By plane
Billy Bishop Toronto City AirportThe island airport (Porter Airlines, Air Canada) is accessed by a tunnel from the mainland at Bathurst Street south of Queens Quay West. See the Toronto article for further details.
See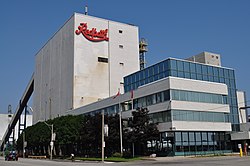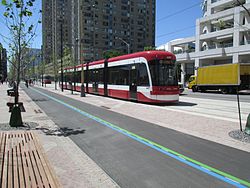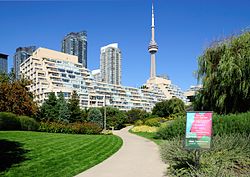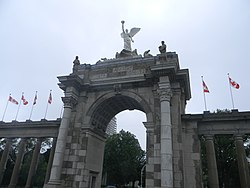 The Waterfront
is massive redevelopment of the city's 46-kilometre waterfront in the city. The redevelopment of Queens Quay West was completed in 2015 providing a bicycle path and a wider pedestrian area. Toronto's waterfront is already quite spectacular, with galleries, walking trails and art, film and theatre complexes. Redevelopment of Queens Quay East is still underway, but there are a few sites to see east of Yonge Street.
Sites are listed from east to west.
address: 61 Dockside Dr

Sherbourne Common is a modern park with a 240-meter long water channel, three nine-metre tall art sculptures, and 182 planted trees. Underground, there is a water filtration plant.

address: 11 Dockside Dr

Sugar Beach has a sandy beach with ornamental lighting, umbrellas, Muskoka chairs, a rocky amphitheatre, and pedestrian areas paved with granite setts arranged in a stylized maple leaf motif. The beach, on a former industrial dock, has sunbathing but no swimming facilities. Across from Sugar Beach, you might see a large ship unloading sugar at the sugar plant.

address: 95 Queen's Quay East

This small museum is in the enormous Redpath Sugar Refinery and details the production of sugar.

Pier 27

address: 29 Queens Quay E

Pier 27 is a condominium development on a former industrial wharf. It contains glass-faced buildings with an unusual design: There are four 10-story towers, and on top of them sit 3-story buildings like large box-like bridges at different angles overlapping and connecting pairs of 10-story buildings. Between the two main buildings there are a series of metal sculptures mostly resembling giant blooming flowers. At the rear of the buildings is a peaceful wharf promenade with benches where you can watch ferries depart to the Toronto Island. On the west side of Pier 27, you can usually get a view of the Trillium, a side-wheel ferry built in 1910 and now in semi-retirement.

Yonge Street plaque

address: Yonge St at Queens Quay

This is the southern end of Yonge Street where there is decorative bronze plaque set in the sidewalk to promote the urban myth that Yonge Street is the longest street in the world. Until 1999, the Guinness Book of World Records supported this myth because it incorrectly assumed that provincial Highway 11, long, and Yonge Street, long, were one and the same. Yonge Street is only a relatively small portion of Highway 11. There is also a Yonge Street map at Yonge and Dundas Streets again to promote this urban myth.

Banksy mural

address: 1 York St

A Banksy graffiti mural, depicting a policeman and dog, is on concrete slabs placed in a glass case. The slabs were carefully salvaged from a demolished building. Banksy created the piece during a 2010 visit, and the work is the only survivor from that visit.

Power Plant Contemporary Art Gallery

phone: +1 416-973-4949

address: 231 Queens Quay W

Exhibitions rotate, consult the website to see what's on display.

address: 235 Queens Quay West

Harbourfront Centre is the arts and entertainment hub of the district. In the summer there is a full schedule of events and performances for the whole family.

phone: +1 416-973-4600

address: 235 Queens Quay W

Art gallery and workshops. On the east side of the building, there is a raised aisle where visitors can look into artist workshops. Sometimes, the art gallery is empty when there is a change in exhibits.

H T O ParkThis public park by the water's edge contains a sandy area with beach umbrellas and lounge chairs. It is used for relaxing, sunbathing but not for swimming. On the west side of the park, one may see two fire fighting boats beside a fire hall. The name H T O is a play on H 2 O and "TO" which is a nickname for Toronto. There is also a H T O West Park, without a sandy area, just across the inlet from the fire hall.

address: 441 Queens Quay W

An urban wildlife sanctuary and wetland restoration site.

address: 479 Queens Quay West

Designed by cellist Yo Yo Ma and landscape designer Julie Moir Messervy, the Toronto Music Garden is an interpretation of Bach's First Suite for Unaccompanied Cello. Wheelchair accessible.

address: Queens Quay W

Ireland Park contains a memorial about the Irish Potato Famine of the mid-19th century. This memorial, depicting life-size statues of hunger victims, is similar in style and identical in purpose to a memorial on the Liffey River in Dublin.

Queen's Wharf Lighthouse

address: Fleet St

This quaint lighthouse was built in 1861, decommissioned in 1911, and moved to its current site in 1929.

Fort York National Historic Site

address: 250 Fort York Blvd

Fort York is a historic site of 19th century military fortifications and barracks. The fort was built by the British Army and Canadian militia troops in the late 18th and early 19th centuries, to defend the settlement and the new capital of the Upper Canada region from the threat of a military attack, principally from the newly independent United States. It was designated a National Historic Site of Canada in 1923.

address: 955 Lake Shore Blvd W

The park has natural-looking landscape with native tree and shrub species, trails, rolling landforms, rock outcrops, pebble beach and a great view of the CN Tower and downtown skyline.
address: 200 Princes' Blvd

In addition to the exposition buildings, there are a few other sites of interest at Exhibition Place, Toronto's fair grounds. Except during the CNE, admission is free. See also Exhibition Place events.
Princes' GatesThe Princes' Gates is a large ceremonial Beaux-Arts monument marking the eastern entrance to Exhibition Place. The gates are named for Edward, Prince of Wales (later Edward VIII), and his brother, Prince George (later the Duke of Kent), who visited in 1927. The monument is a 300-foot-long, 18-column structure with a 41-foot-high central arch, topped by the Goddess of Winged Victory statue. There are nine pillars to either side of the main arch, representing the nine Canadian provinces in existence at the time of construction. Flanking the central arch are various figures representing progress, industry, agriculture, arts, and science.

address: 170 Princes' Blvd

Home of the Major League Soccer team Toronto FC since it began play in 2007, with the Toronto Argonauts of the Canadian Football League joining them in 2016. The current capacity is 30,000, normally restricted to 25,000 for Argos games, but can be expanded with temporary seating. With Canada now confirmed to be cohosting the 2026 FIFA World Cup alongside the US and Mexico, it is likely the stadium will be expanded to 40,000 in time for that event.

Shriners' Peace MemorialLocated in a Rose Garden, this monument depicts a winged angel holding aloft a crown of olive branches and standing upon a globe held aloft by female sphinxes. The Ancient Arabic Order Nobles of the Mystic Shrine (better known as the Shriners) presented the monument to the people of Canada on June 12, 1930 as a symbol of peace and friendship between the United States and Canada. The winged angel faces the Niagara River, which forms part of the Canada-United States border.

Fort Rouillé MonumentA large obelisk marks the site of the French-built Fort Rouillé erected in 1750 and 1751. The governor of New France ordered its construction to establish a French presence in the area, and to intercept the trade of Indians traveling towards an English fur-trading post in present-day Oswego. It was a small palisaded fort with a bastion at each of its four corners, and contained five main buildings: a corps de garde, storeroom, barracks, blacksmithy, and a building for the officers. The French garrison destroyed the fort in 1759, while retreating from invading English forces. The outline of the original fort has been marked out in concrete around the obelisk.

Scadding CabinThis one-room cabin is located adjacent to the Fort Rouillé Monument and behind the CNE Bandshell. It is the oldest building in Toronto. It was built by the Queen's York Rangers in 1794 on behalf of John Scadding, who served as clerk to John Graves Simcoe, the first lieutenant governor of Upper Canada. The original cabin was moved from its original site on the Don River and to its present site just prior to the opening of the Toronto Industrial Exhibition (later the CNE) in 1879.
Do
Ontario PlaceOntario Place is a former theme park built on man-made islands that still hosts summer concerts at 2 outdoor venues:
Buy
Eat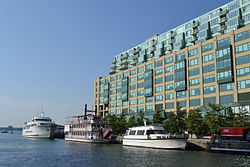 phone: +1 416-203-3269

address: 207 Queen's Quay West

This shopping, restaurant and condo development is in a beautiful art deco warehouse. Since the closure of most shops by December 2015, Queen's Quay Terminal has changed from being a shopping centre to being an eatery centre with the opening of new or renovated eating establishments.
phone: +1 416 603-1212

Supermarket inside Queen's Quay Terminal shopping centre, with entrance off Queen's Quay. There is a salad bar and other prepared food which can be consumed at tables within the mall or on an outdoor patio overlooking a wharf, or to make a picnic to eat in one of the small parks on the waterfront. There is also an aisle for wine and beer, including refrigerated items, for consumption at home or in the hotel room.

Tim Hortons

Pearl Harbourfront Chinese Cuisine

phone: +1 416 203-1233

Cantonese cuisine including dim sum. More expensive than in Chinatown but the quality is generally better and you get a second-floor view of the harbour.

The Goodman Pub & KitchenPub / restaurant with indoor seating plus a seasonal patio overlooking the harbour.

phone: +1 647-977-2767

Chicken-oriented menu; table service with seasonal patio seating overlooking the harbour, plus a food truck for take-out. The restaurant design has a surreal characteristic. If you approach the restaurant from within the mall, you will see the food truck parked next to the restaurant wall. If you look into the side window of the food truck, you will notice that the kitchen within is larger than the truck interior.

phone: +1 647-341-7221

Pasta and pies (but not sweet pies); table service with seasonal patio seating overlooking the harbour; take-out gelato counter on the mall side of the establishment.
Also check the
Drink
section for pubs serving meals.
Drink
phone: +1 416-504-1020

address: 245 Queens Quay West

14,000-sqft lakeside brewery & restaurant serving craft beer with local foods. Patio.

address: 235 Queens Quay W

Seasonal patio bar with a view of the harbour.
Sleep
address: 1 Harbour Square

Indoor pool, gym and spa facilities, on-site restaurants.

Radisson Admiral Hotel249 Queen's Quay West (at Harbourfront Centre). Outdoor pool, fitness centre, business centre, complimentary in-room wireless Internet. Restaurant and bar on-site.
Connect
phone: +1 416-393-6240

address: 190 Fort York Blvd

Wi-fi, computers with internet access.

address: 390 Queen's Quay W

Post office outlet within the store.
Go next