Toronto/Islands
The
Toronto Islands
is a large park with a small residential community in the City of
Toronto
.
Understand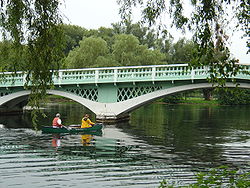 The
Toronto Islands
(also known as the
Toronto Island Park
) are an island community that is a popular summertime daytrip for Torontonians who want to get away from the hustle of the city. They provide a spectacular view of Toronto's impressive skyline, and with no cars allowed, the area a favourite for cyclists, walkers and rollerblade enthusiasts. The many lagoons and waterways are populated by ducks and swans, and some areas are off-limits to people, designated as "wilderness zones" for migratory birds. Their charm extends to the residential neighbourhoods, year-round home to some 250 families, containing cottages from the 1920s and featuring English-style gardens.
There are three major islands, eight islands with names and several without names. Despite its name, Ward's Island is not an island but a peninsula of Centre Island, the main island. To add to the confusion, Centre Island Park is on Middle Island rather than Centre Island.
Each island has its own atmosphere, with Centre Island—which features huge picnic areas, an amusement park, greenspace, a maze, a beach, a chapel and award-winning gardens—the most popular.
Winter
The island ferries are on a very reduced winter schedule from about late October to about mid-April. With the winter schedule, only the ferry to Ward's Island operates. Expect no eateries to be open in winter on the island.
Shoulder season
The shoulder season is from about mid-April to the Victoria Day weekend (in late May), and from after Labour Day to about late October. The ferries service all 3 terminals on the island but not as frequently as in summer. The only eating establishments open may be the Riviera (former Rectory Cafe) and perhaps a Pizza Pizza stand at Centre Island. Bicycle rentals are available from May to September. However, as the month of May progresses, more establishments start opening mostly near the Centre Island ferry terminal.
Get in
Access to the islands is only via ferry, taxi or private yacht, and there is no access between the Toronto Island Airport and the rest of the Toronto Islands.
address: Toronto Ferry Docks

All ferries to the islands depart from the Jack Layton Ferry Terminal. From the mainland Ferry Docks, there are three destinations on the islands. During peak hours, it usually will take between 15 and 90 minutes just to buy ferry tickets. It may be quicker to buy tickets online instead.
Ferries sound a very loud horn just prior to leaving the dock. If you are very close to the ferry slip, you may have a running chance of catching the ferry once the horn sounds. The loud ferry horn may startle some people, but consider it part of the ferry trip experience.
Centre Island Ferry Docks

address: Avenue of the Island

This is the most popular island destination and its dock has the most frequent ferry service. The Centre Island docks are actually on Middle Island. Taking the ferry back at sunset offers a spectacular view.
Ward's Island Ferry Docks

address: Bayview Ave (not the same as Bayview Ave on the mainland)

The small cottage community on Algonquin Island and at Ward's Island uses this route year-round. Ward's Island is not an island per se but rather the eastern-most peninsula of Centre Island.
Hanlan's Point Ferry DocksThe western-most docks on Centre Island. In the shoulder season, the last ferry leaves in late afternoon. If you miss it, you need to take a water taxi to the mainland, or walk to the Centre Island ferry dock (4km).
phone: +1 416-203-8294

is a more expensive alternative to the ferries.
Get around
Walking is the main means of getting around on the islands. The distance between the Hanlan's Point and Ward's Island ferry docks is about or about 90 minutes on foot, but this excludes any detour to visit the Centre Island Park on Middle Island.
Bicycle Rentals
are available on Centre Island south of the Centre Island Ferry docks.
In summer, there is a
Tram Tour
(really a tractor train).
See
Boardwalk

address: Lakeshore Ave

Most of the eastern section of Lakeshore Ave is on a boardwalk over long along the lake's edge. You may see boats entering and leaving Toronto Harbour via the Eastern Gap. On the inland side, between the trees and bushes, you may see short walkways leading to cottages long since demolished; the island community was once much larger.

Cherry tree blossomsJapanese cherry trees were planted in 2011 near the fountain at the south side of the bridge to Centreville. The trees bloom in late April or early May (depending on weather) and blooming lasts for only one or two weeks. There is a web page to find more precise information about when cherry trees bloom in Toronto.

address: 21 Avenue Of The Islands East

A petting farm with over 40 different species of farmyard animals and exotic birds.

Gibraltar Point Lighthouse

address: Lakeshore Avenue

Gibraltar Point lighthouse has stood since 1808 and quickly became home to one of Toronto's oldest mysteries when, in 1815, its first keeper, J.P. Radan Muller, disappeared. A subsequent lighthouse keeper found skeletal remains years later. Believed to have been beaten to death by soldiers from nearby Fort York, Muller is said to haunt the lighthouse, as a plaque on the grounds will attest to.

Ned Hanlan statue and tugboatMonument to champion rower Ned Hanlan (1855-1908) plus a 1902 tugboat named in his honour, now mounted on a pedestal.

Olympic IslandOlympic island offers great views of the Toronto skyline. The island also is home to the Lagoon theatre and has a large field for picnics and BBQ.

St. Andrew's by the Lake Church

phone: +1 416-203-0873

address: 102 Lakeshore Avenue

St. Andrew-by-the-Lake is an Anglican church serving the islands' residents and visitors. This cute church of semi-Gothic/Medieval style was built in 1884.

Toronto Fire Station 335

address: 235 Cibola Ave

Although built in 1995, this fire hall has a quaint old-fashioned look.

Toronto Centre Island Pier

address: at the foot of Avenue of the Island

View of the CN Tower from the lake. View of boats on the lake.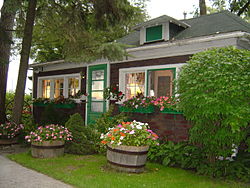 Toronto Island CommunityThis is one of Toronto's oldest residential communities. Island residents own their homes but lease the land. The small picturesque cottage-style homes sport some beautiful gardens and more cats per square metre anywhere, except possibly the Coliseum in Rome. There island community is clustered in two areas as follows:
Ward's IslandWard's Island offers views of the eastern side of the harbour which is more industrial on the other side of the water.

Algonquin IslandThere is a footbridge connecting Centre Island to Algonquin Island. The north side of the island has great views of the Toronto skyline.
Do
Centre Island Beach

address: 1 Avenue of the Island

Main beach on the island.

address: Lakeshore Avenue

A quieter beach according to a blog.

Hanlan's Point BeachHanlan's Point Beach is the only officially recognised clothing-optional beach in the City of Toronto. It was first approved as clothing-optional in 1894 but this approval was repealed in 1930 due to the protests of citizen's groups. The official status was restored in 2002 following a three year pilot project.

Ward's Island Beach

address: Lakeshore Ave
Centreville Amusement ParkAn amusement park geared towards families with young kids, it has some 30 rides, an antique carousel, a petting zoo featuring farm animals and pony rides, and picturesque swan boats circling a small lagoon.
Antique CarouselThe Antique Carousel was built by the Dentzel Company in 1907 and is one of only 125 of its type still operating. The 52 animals used on the ride are all hand-carved.
Franklin Children's GardensA themed garden based on characters from "Franklin the Turtle" stories, it contains many bronze statues of Franklin's friends, many plants, a turtle pond, small benches and paths for kids to explore.
phone: +1 416-203-0009

address: Lakeshore Ave, Centre Island

Traditional bicycles are $8 for the first hour, they also offer two and four seat options. Open only during the summer months.

address: Ward's Island

This is an annual event held on a weekend in June to tour the beautiful gardens maintained by the Island Community. See the website for details. Even if you can't attend the tour, many gardens are in the front yard of cottages and are easily viewed from public walkways.
address: Avenue of the Island

35-minute guided tour of Centre Island and Hanlan's Point operated by Toronto Parks and Recreation. The "tram" is really a rubber-tire tractor train.

William Meany Maze

address: Avenue of the Island

Revived by the namesake, Mississauga businessman William Meany. Meany has always enjoyed this maze as a child and he donated $200,000 towards the revival of the maze. The maze is built with fences between small evergreen trees to prevent shortcuts.
Buy
Despite the presence of the island community, there are no shopping opportunities on the Toronto Islands.

Eat
phone: +1 416-203-0405

address: Centreville Theme Park

Patio restaurant by a water channel. Licensed to serve alcoholic beverages.

phone: +1 647-299-5514

address: 20 Withrow Street, Ward's Island

Light, local fare, plus live music & game nights. Licensed to serve alcoholic beverages.

The Riviera ~ Ward's Island Kitchen

phone: +1 416-203-2152

address: 102 Lakeshore Ave

Lovely place to eat outside in the summer time. Licensed to serve alcoholic beverages.

Pizza PizzaOn weekdays in early May, this pizza kiosk may be the only eatery open between the Centre Island and Hanlan's Point ferry docks.

phone: +1 416-234-2345

address: 17 Avenue of the Island

Waterfront eatery offers BBQ, burgers & brews, plus a patio & city views. Licensed to serve alcoholic beverages.
Drink
Besides restaurants in Centreville and at Ward's Island, here are patios licensed to serve alcoholic beverages.
The Beach HousePatio offering alcoholic beverages.

Hanlan`sPatio offering alcoholic beverages.

The Mermaid Cafe

address: Lakeshore Avenue

Patio offering alcoholic beverages.
Sleep
Some residents of the Toronto Island Community offer "Bed and Breakfast" accommodation; expect to pay around $150-$200 per night.
Cope
There are three winter washrooms open to the public year-round:
Ward's Island Washrooms

address: Lakeshore Ave

Center Island Winter Washrooms

address: 1 The Mall

Hanlons Point Ferry Unisex W/C

address: 760 Lakeshore Ave
Other public washrooms are closed during winter. More washrooms are open in the warmer months especially in summer.
Connect
There is no post office outlet and probably no establishments offering free WiFi on the islands. It's best that you wait until you are back on the mainland to "connect".