Toronto/Kensington-Chinatown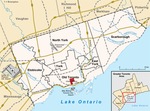 Kensington Market
and
Chinatown
are neighbourhoods in the western side of downtown
Toronto
. Kensington Market is one of the most eclectic and unique locations in the entire city. Everything from fresh food markets to restaurants and bars, vintage clothing boutiques, spice markets, and music shops are all contained in two small north-south streets and a handful of cross-streets. Chinatown, the second largest in North America after New York City, contains many Chinese and East Asian restaurants, shops and businesses. At the eastern edge of Chinatown is the acclaimed Art Gallery of Ontario. And south of these neighbourhoods is Queen St West and the Fashion District, home to both mainstream and independent shops.
Understand
Kensington Market
During the 1920s, Kensington Market was known as the Jewish Market, once a centre of Jewish life. But since then it has morphed into the centre of Toronto's bohemian scene. Visitors will be assaulted by sounds and smells unlike anywhere else in the city, as narrow streets bustle with immigrants, punks, and yuppies alike. Today, you can sense the city's rich, multicultural mix, obvious in the shops packed with goods from Europe, the Caribbean, the Middle East, South America and Asia. A visit to Kensington is like a sensory trip around the world. It's also a treasure trove of vintage and second hand clothing shops, tucked in among eclectic restaurants and cafés.
Shopping in Kensington Market is centred along Augusta, Baldwin and Kensington as well as all along College Street. Many of the shops on Augusta tend to cater to a largely working-class clientele, with multiple shops selling tough, cheap clothing. Baldwin is focused mainly on food, with some of the finest butchers, grocers, bakers and fishmongers in the city. Kensington contains a jumble of Victorian row-houses housing second-hand clothing shops. College Street is packed with discount computer shops, particularly the closer you are to the university; further towards Bathurst Street, College becomes a centre of Latin-American restaurants and shops.
On Sundays throughout the summer the streets are shut down to motorists, and pedestrians take over the streets. There are frequently concerts, exhibitions of art (visual and performance), and occasionally political displays, which generally relate to ecology, going car-free, or anti-globalization.
Kensington Market is, first and foremost, a market: its shops are generally accepted as some of the finest in the city to purchase fresh food (especially cheese and meat), spices, vintage/thrift clothing and almost anything esoteric or exotic. Bring cash; it's taken everywhere and will save you hassles, as many of the smaller stores will not take credit or debit cards. American currency is taken at some stores, but may result in sneers and less-than-kind glances from others.
The Market is also home to an eclectic art community, and there are several galleries, many of them free, offering constant shows of local talent. This is helped by proximity to OCAD (The Ontario College of Art & Design. If you see something in the sky that looks like the offspring of a crossword puzzle and a Rubik's Cube standing on pencil crayons, you're looking at OCAD.) There are no major concert venues in Kensington, but especially in summer, many cafes and restaurants offer live music; in particular, Supermarket (South of College on Augusta) is popular with young urbanites.
If there's one thing you should keep in mind when visiting Kensington, it's that there is no local Starbucks. This is a very friendly but very protected enclave where vegan cran-apple muffins take the place of Big Macs and anyone who so much as says the words "double mocha venti" might get into trouble if the wrong people are listening. While it can be a great place to bring the kids and spend a day exploring the world, this is not a shopping mall. It's gritty, it's real, and it's organic.
Chinatown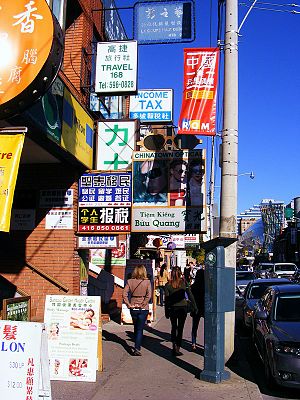 Chinatown
runs along Spadina Street and is one of North America's largest Chinese districts. This ever-expanding area is home to ethnic Chinese from Hong Kong, Singapore, Taiwan, Vietnam, and elsewhere. A wealth of oriental shops and fruit markets spills out onto the street, and a vast selection of authentic Chinese restaurants feature such delicacies as dim sum. Toronto's second Chinatown is located in the Broadview/Gerrard area, and three other distinctive Chinatowns are located in the suburbs.
Queen Street West
The intersection of Queen Street and Spadina Avenue is at the northern end of Toronto's former Fashion District that ran south on Spadina Avenue to Front Street; however, the garment industry jobs have long since left for cheaper places. The area is pretty much gentrified now and is losing its hipsters to up-and-coming
West End
neighbourhoods, such as West Queen West and Parkdale, with fewer Starbucks' and lower rents. The neighbourhood is centred along Queen Street running from University Avenue to Bathurst Street. The section of Queen from University to Spadina has become something of an open air Eaton Centre with chain clothing stores such as Club Monaco and The Gap dominating; despite this, there are still enough diverse restaurants and quirky independent shops to make this section of Queen a worthwhile visit. Immediately west of Spadina still contains remnants of the textile industry: a great many fabric shops. Further west towards Bathurst Street, Queen West shops seem more oriented to serve the surrounding residential neighbourhoods, with cafes and grocery stores.
Get in
By transit
Kensington Market and Chinatown are accessible by a number of streetcar routes, all of which are operated by the
TTC
. The
506 Carlton
runs along College Street from High Park in the
west
to Main Street station on subway line 2 (Bloor-Danforth) in the
east
, it runs through
Church-Wellesley and Cabbagetown
,
Queen's Park, the University of Toronto
and Little Italy and connects to subway line 1 (Yonge-University) at College and Queen's Park subway stations. For Kensington Market, get off at Augusta Avenue or Spadina.
The
510 Spadina
runs from Union Station in the
Financial District
to Spadina subway station in
The Annex
. It has its own right-of-way, making it much faster than other routes and even driving, however it can be extremely crowded, particularly during rush hour. For Kensington Market, get off at Nassau Street.
505 Dundas
runs mainly along Dundas Street between Dundas West and Broadview stations on subway line 2 (Bloor-Danforth), with connections to subway line 1 (Yonge-University) at Dundas and St Patrick stations.
Another option is the
501 Queen
streetcar, which runs along Queen Street through the northern end of the former Fashion District, south of Chinatown. It runs with traffic so it can be extremely slow, and it can also be extremely busy. Just south of that is
504 King
streetcar which runs along King Street. It has two routes with overlapping branches, 504A and 504B, and both routes serve the Kensington-Chinatown area. While 504 King is much further south than 501 Queen, 505 Dundas and 506 Carlton, 504 King can be a good option during rush hour because a portion of King Street (including the entire portion along Kensington-Chinatown) has restricted vehicle movements which provides a faster and more reliable transit experience.
The more adventurous can hike over from
Queen's Park subway station
to Kensington Market. Exit the station by taking a right, then a left, and walk West until you hit Spadina. You can either continue along College, taking you past the border of the University of Toronto campus, or cut Southwest and pass through quiet, but pleasant, residential areas. When you hit the streetcar line, do a block or two more to the West, and you'll be in Kensington.
Chinatown can be reached from the
St Patrick subway station
. It is about two blocks west along Dundas St.
By car
As Kensington is quite comparable to an open-air market, it's not an especially car-friendly place. There are "Green P" (Municipal) lots in the area, and there is street parking on most thoroughfares, but the sheer pedestrian volume (especially on weekends in summer) can make driving a daunting prospect. In particular, Kensington has "Pedestrian Sundays" in the summertime: any cars parked between noon and 7-10:00 PM (Depending on the location) will be towed to a local lot at the owner's expense.
If you must drive, park on Spadina or College instead. If you must drive
through
Kensington, keep an eye out for jaywalkers, and do note that most of the local streets are one-way.
By foot
Kensington Market is one of the most walkable neighbourhoods in the city. It is located immediately next to the University of Toronto and adjacent to Chinatown. College Street or Spadina Avenue are the best ways to access the area on foot as their sidewalks tend to be significantly wider than most in the city.
See
Grange Park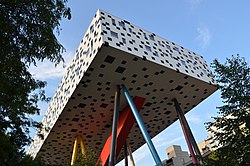 At or near Dundas Street West and McCaul Street.
phone: +1 416 979-6648

address: 317 Dundas St W

The largest art gallery in Canada, recently redesigned by architect Frank Gehry. Home to many famous pieces of art ranging from very recent to artwork hundreds of years old. Artists from Monet to Warhol are represented here and the AGO has one of the largest collections of Henry Moore sculptures in the world. It has a great Canadian paintings exhibit and the European paintings exhibit has a few excellent pieces. The gallery also has one of the world's most expensive paintings on view (Ruben's The Massacre of the Innocents).

Sharp Centre for Design, OCAD University

address: 100 McCaul St

This stunning, fanciful building, designed by British Architect Will Alsop, is a box suspended four storeys off the ground by a series of multi-coloured pillars. The box is connected to the older building below by escalator and elevator shafts.

The Grange

address: Grange Park

The Grange, a national historic site, is a Georgian manor which is today part of the Art Gallery of Ontario. The structure was built in 1817, making it the 12th oldest surviving building in Toronto and the oldest remaining brick house in the city. Visitors to the AGO may be able to view exhibits within the building.
Grange ParkThis grand park used to be the ample front lawn of The Grange before it became a museum. It features a carriage way, water features, a Henry Moore sculpture (Large Two Forms), a playground with an artistic theme and the ruins of a church (at John St).
Uplifting Each Other - Alley muralsThirty women artists created a series of murals on buildings along an L-shaped laneway running from McCaul Street through to D'Arcy Street. The project name was "Uplifting Each Other".
Kensington
| name=Memorial to Al Waxman | alt=
| url=
| address=Bellevue Square Park | lat=43.6535 | long=-79.4029
| directions=Northwest corner of the park
| lastedit=2015-11-28
| content=Kensington Market was the site of the Canadian television sitcom King of Kensington] which aired on CBC Television from 1975 to 1980 and starred
Al Waxman
, who was himself born in the neighbourhood. A life-size statue of Al Waxman was erected following his death in 2001, and depicts him casually standing between two park benches as if to converse with anyone sitting there.
}
Chinatown
The intersection of Dundas and Spadina is the most visible symbol of the Chinatown community. On weekends, especially, the sidewalks are crammed with open-air food stalls, vendors, and thousands of people from all backgrounds eager to shop, eat, and socialize.

Dragon artwork

address: Spadina Ave at Dundas St

Two streetcar stops are decorated with dragons coiled in a figure 8 perched on top of columns. Because the pronunciations of "eight" and "luck" in Chinese are similar (both sounding like "baht"), eight is thus a lucky number to the Chinese community.

Chinatown murals

address: Dundas St W between Spadina Ave and Beverly St

When walking along Dundas St east of Spadina Ave, look down the alleys between buildings as there are 4 long alley murals, 3 on the north side and 1 on the south side, each having a Chinese theme.
Do
Events
Chinese New Year. With the large Chinese population in Toronto, this event grows every year. One of the most accessible ways to celebrate is to attend the Dragon Dance Parade, which winds through the Dundas St. Chinatown (end of Jan. or early Feb.). Colourful dragons, over 20 ft. long and supported by 12 or more people, dance through the streets to bless the shops and restaurants. Drummers, whose constant beat drives away evil spirits, accompany the dragons.
Walking Tours
Because of its interesting history and unique nature, there are several tours covering the Kensington Market neighbourhood. Toronto Urban Adventures has a Chinatown and Kensington Market walking tour, and Tasty Tours offers a Sweets Tour where you get to sample a variety of multi-ethnic sweets from different stores.
Theatre
phone: +1 416-504-9971

address: 125 Bathurst St

Heritage space with 2 stages dedicated to staging Canadian plays, from experimental to traditional.
Buy
Kensington Market
The Kensington Market is a great place to find second hand clothing. There are many second hand and new clothing stores spread out through the market. On Kensington Ave, south of St Andrew St, houses on both sides of the street were converted to shops making the street look very bohemian.
Chinatown
In Chinatown, street signs in the area are written in both English and Chinese, and there are two large shopping malls that cater to a large Chinese clientele – the Chinatown Centre and the Dragon City complex, both near Dundas and Spadina streets.
phone: +1 416 598-7872

address: 454 Dundas St W

Tea lovers will be fascinated with this store, which offers an unsurpassed selection of teas (some unusual to Western tastes), and hundreds of beautifully handcrafted teapots. In addition to green teas, fermented black tea, and ginseng, one of the teas available is called "monkey pick" because it is grown on cliffs that are so inaccessible only trained monkeys can harvest it.
Queen Street West
Stroll along Queen Street West, between University and Spadina Avenues, where there is a mix of unique, eccentric stores and North American chains.
phone: +1 416-599-5858

address: 256 Queen St W

Used-apparel retailer showcasing vintage tees & casualwear. "Everything $10 or less" says the website.

phone: +1 416-979-5633

address: 403 Queen St W

Source for a mix of modern & vintage-style fashions for men & women, plus accessories & handbags.

phone: +1 416-596-7515

address: 231 Queen St W

Adult entertainment store.

Gap

phone: +1 416-591-3517

Clothing store.

phone: +1 416-977-3588

address: 407 Queen St W

Skincare, hair & beauty products for men & women.

phone: +1 416-593-8523

address: 229 Queen St W

Toronto's oldest independent record store; specialty: vinyl.

phone: +1 416-532-0334

address: 215 Spadina Ave

Independent music shop with new & used records, CDs, movies & T-shirts.
Spadina & College
Computer shopsCollege Street near Spadina Ave has several computer, technology, and repair stores. Computer products sold here may be cheaper than what you would find in big box stores elsewhere.
Money/Banking
There are a cluster of major banks at Spadina and Dundas; don't mind the Chinese signage, the tellers also speak English, as do the ATMs. Many of Kensington's smaller shops will not accept credit cards or debit, so visitors are advised to bring at least some cash with them if they plan on doing any shopping.
Eat
Kensington Market
There are many places to buy food.
Kensington coffee shops
Kensington Market has perhaps the highest concentration of independent coffee shops in the city. Here are just a few of them:
Chinatown
The restaurants are a big attraction to visitors, as the familiar "North American Chinese" menu is all but non-existent here. Instead, chefs in the area produce a variety of authentic cuisines, including Szechwan, Hunan, Mandarin, and Cantonese. Their ingredients are purchased fresh from the stalls lining the streets. And it's not unusual to pass dozens of shop windows lined with barbecued pork, duck, steamed buns, and other more exotic fare.
There is an immense (and frequently changing) selection of restaurants in Toronto's Chinatown. Most are cheap, and many use plastic tablecloths that are picked up by the corners along with all the dishes. They may look bad, but the food is frequently excellent. If you're on a tight budget, this is a good way to go. Bakeries are particularly cheap and filling, and do offer many meat and veg options.
North of AGO
North of the art gallery, there are restaurants on the north side of Dundas Street, the west side of McCaul Street and on both sides of Baldwin Street (
Baldwin Village
) within 1 block west of McCaul Street. Baldwin Village is quaint with houses converted into restaurants and shops along a tree-lined street.
phone: +1 416-595-5222

address: 334 Dundas West

This crêpe café shares space with an art gallery, where the gallery is at the entrance and the café is in the rear. The Canadian Breakfast on the menu is a rather tasty way to enjoy a crêpe with two sunny-side-up eggs. After your meal, you can look around the small gallery in front.

phone: +1 416-596-2397

address: 24 Baldwin St (Baldwin Village)

Mediterranean cuisine.

phone: +1 416-621-3636

address: 17 Baldwin St

Staff are friendly and the restaurant is clean and charming, very filling, big portions, outdoor seating a big plus, although some find the food underflavoured.
Queen Street West
Drink
Kensington is a great place to go to find an out of the way quiet bar with cheap drinks and a friendly atmosphere. Spadina and Queen West have some of Toronto's best known bars for live music, like the El Mocambo and Horseshoe Tavern.
Embassy Bar

phone: +1 416-591-1132

address: 223 Augusta Avenue

Cozy place to get a drink, with couches and booths as well as a patio in the summer.

Last Temptation

phone: +1 416-599-2551

address: 12 Kensington Ave

They have reasonable priced pitchers of some popular Ontario beers.

Thirsty and Miserable

phone: +1 647-607-0134

address: 197 Baldwin Street

A punk-rock dive with a well-curated selection of craft beers.

Ronnie's Local 069

address: 69 Nassau St

A small, hip dive with a patio that is usually jam-packed.

address: 60 Kensington Avenue

A compact bar hidden in the back of the Kensington Mall, named after the code phrase that you can use in certain Chinatown restaurants to get a discreet teapot full of beer after hours. Fresh dim sum served until last call.

phone: +1 416-640-9197

address: 136 McCaul St

Belgium-themed pub offering 80 varieties of beer (mainly Belgian and German brands) either on tap or bottled, plus a menu with many choices. Behind the bar is a replica of Manneken Pis in action. The pub is located across from St Patrick's Church. When the church pastor was asked to comment on the pub's name, he replied: "Even God has a sense of humour."

address: 464 Spadina Ave

El Mocambo has frequent musical acts upstairs and is one of Toronto's oldest musical venues. Acts that have performed here include Elvis Costello, who recorded a live album, and the Rolling Stones.

phone: +1 416-977-7000

address: 379 Spadina Ave

Grossman's Tavern is a very unassuming hole-in-the-wall that hides it's truth as one of the most respected blues joints in Canada. Many legends have played this room. Live musicians play most nights of the week. Very casual, almost rustic, if an urban dive bar can be such. They also serve food that is extremely cheap and surprisingly good.

phone: +1 416-975-0909

address: 480 Spadina Ave

The Comfort Zone is perhaps the most notorious club in Toronto. Opening at 6AM Sa&Su, Comfort Zone is the home of the late late LATE night partiers, and some of Toronto's best tribal house music.

address: 408 Queen Street West

This is a Queen West institution and has featured some of the biggest names in Canadian music before they became famous.

address: 542 Queen St W

The is a Queen Street institution west of Spadina. It has no sign or visible window, but can be recognized on the north side of the street by the large selection of metallic junk welded together as what passes for their sign. It caters to an extremely eclectic crowd of people - some with mohawks, some who wear their mohawks inside their head - and plays an eclectic range of music. If you are not scared by the term 'punk' then you should be right at home. Note that the 'Sex' in the bar's name is purely provocative - this is not a strip club or swingers bar.

phone: +1 416-598-4226

address: 370 Queen St W

The Horseshoe Tavern is another Queen West institution, which specializes in quality modern live music. Assorted bands and artists perform almost every night of the week, at a range of ticket prices. Although the name suggests country and western, the entertainment rarely has any relation to that genre, falling instead into the broad category of Alternative Music.
Sleep
Neither Kensington Market nor Chinatown are major hotel neighbourhoods, most visitors stay in hotels in other parts of the city.
Yorkville
is a nearby neighbourhood with many high-end hotels.
address: 222 Spadina Ave

Opened in June 2007, and provides excellent quality.

The Rex Hotel Jazz and Blues Bar

address: 194 Queen St W

This hotel is nearly a Toronto institution, with the restaurant playing host to some of the greatest jazz performers.
Connect
phone: +1 416-393-7653

address: 327 Bathurst St

Wi-fi, computers with internet access.

address: 283 College St

Stamps, shipping services, money orders.
Go next
Here are a list of neighbouring downtown districts: