Toronto/Midtown
Midtown
is a district in
Toronto
north of downtown. It isn't an area with a large number of museums, theatres, or other tourist attractions - although there are a few sights to see. The best way to enjoy it is to pretend that you live there, and enjoy the shops, restaurants, and cafés. For this guide, we look at "Midtown" in a larger geographic sense. It includes what is considered the traditional neighbourhood of Midtown, Leaside, and the old borough of York. Rough boundaries are Davenport Rd in the south, Lawrence Ave in the north, the Humber River in the west and the Don Valley in the east. Midtown has two axes: Yonge Street is the north/south axis along subway line 1, and St Clair Avenue West is Midtown's east/west axis along the 512 streetcar line.
Understand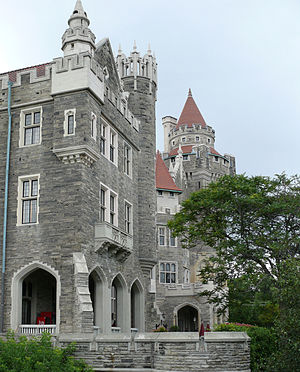 Toronto has many streets, or sections of streets, lined with shops, restaurants and the occasional pub. These streets are attractive walking areas that are easily accessible by public transit. Most are in the older parts of the city. Often the local "business improvement association" (BIA) gives the area a pleasant name and arranges little things such as sidewalk benches, potted plants and street decorations.
Yonge Street
Here are the mid-town retail areas along Yonge Street:
Rosedale/Summerhill/St.Clair
is a 1.6-km section of Yonge Street stretching from Crescent Road at Rosedale Station, passing Summerhill Station to Heath Street, a short distance north of St. Clair Avenue and St. Clair Station on subway Line 1. The former Summerhill railway station at Schriviner Square is a landmark south of the subway's Summerhill Station. The steep slope on Yonge Street north of Summerhill Station was the shore of Glacial Lake Iroquois which existed here 13,000 years ago. If you climb the slope, take a look at Fire Hall 311, a national historic site built in 1911, on Balmoral Avenue near Yonge Street.
The
Yonge & Davisville
area stretches along Yonge Street from Merton Street near Davisville Station to Berwick Avenue in the north, 1 block south of Eglinton Avenue and Eglinton Station on subway line 1. This 900-metre stretch contains a number of restaurants.
The
Yonge & Eglinton
area has 2 strips. One strip runs 1.4 km along Yonge Street from Eglinton Avenue north to Glencairn Avenue.
Uptown Yonge
is cast in plaques at various sidewalk locations. A second, short strip with restaurants and bars runs along Eglinton Avenue East from Yonge Street to about Redpath Avenue.
Yonge-Lawrence Village
is a 1.1-km strip along Yonge Street from Lawrence Avenue (Lawrence Station on subway Line 1) to Yonge Boulevard. (The name is on all the street name signs in the area.) This strip has shops, cafes and restaurants, most of which are north of Bedford Park Avenue. However, take a look at Fire Station 131 built in 1931 at the corner of Wanless Avenue and Yonge Street.
Here are the Mid-town retail areas near Yonge Street:
Mount Pleasant Village
is a 800-metre strip along Mount Pleasant Road south of Eglinton Avenue East. (The name is on all the street name signs in the area.) This strip has shops (some specialty shops) and restaurants including two French-style patisseries. To access Mount Pleasant Village by public transit, take any eastbound bus from Eglinton Station on subway Line 1, or it's close enough from Eglinton Station to walk.
South Bayview
is a 600-metre retail strip along Bayview Avenue one block south of Eglinton Avenue East. (The name is on all the street name signs in the area.) This strip has shops, cafes and restaurants including two French-style patisseries. To access South Bayview by public transit, take bus 11 from Davisville Station on subway Line 1.
St Clair Avenue West
The most interesting parts of St Clair Ave are west of St Clair West Station between Bathurst St and Lansdowne Ave where there are 4 retail areas with many shops and restaurants along the 512 streetcar line. Here are areas from east to west:
Wychwood Heights and Hillcrest Village are 2 contiguous retail areas with shops and restaurants, each with its own BIA. However, from a visitor point of view, they appear as one even using the same style of street name signs to brand the area. Both areas lie between Bathurst St on the east and Winona Avenue on the west.
Going further west after a short gap in the shops and restaurants, we come to Northcliffe Village between Oakwood Ave in the east to Northcliffe Blvd on the west. Most of its shops and restaurants are on the north side of St Clair Ave.
From Northcliffe Blvd on the east to Lansdowne Ave on the west lies Corso Italia which has a dense concentration of shops and restaurants on both sides of the street, and because of that concentration, this area is the most interesting of the four areas along St Clair.
Ethnically, there is a mixture of Italian, Portuguese and Latin American businesses in the 4 areas.
Neigbourhoods
Rosedale
is generally considered to be among the wealthiest neighbourhoods in Canada and its narrow, tree-filled streets are lined with beautiful, turn-of-the-century mansions, with large front gardens. The generally accepted boundaries are: The CP railways tracks to the north, Rosedale Ravine to the south, the Don Valley to the east and Yonge Street to the west. While it serves as the neighbourhood's western boundary, Yonge Street also serves as the area's main street, filled with expensive restaurants and shops, and buzzing with nightlife.
Deer Park
is centred on the intersection of Yonge Street and St Clair Avenue, both of which have a variety of large office buildings and restaurants. The boundaries of this neighbourhood are roughly defined as: the CP railway tracks in the south, the BeltLine trail in the north, Avenue Road and Oriole Parkway in the west and the Rosedale Ravine in the east.
Leaside
is predominantly upper-middle-income families who value the neighbourhood as an ideal place to raise children. Leaside has abundant green space and parkland, a variety of schools, one of Toronto's shopping districts on Bayview Avenue, and access to public transit. Located northeast of Downtown Toronto, in the vicinity of Eglinton Avenue East and Bayview Avenue.
Part of the old borough of York,
Weston
is bordered on the north by Highway 401, on the west by the Humber River, and on the east by Jane St. and on the south by Weston Rd. Weston has a large Caribbean population, and is home to some of the best authentic Caribbean food in Toronto. The town's symbol is an old-fashioned bicycle, outlines of which are hung on streetlights on Weston Road. This originates from Weston once having a CCM bicycle factory, and being a manufacturing centre.
Get in
By subway
Taking subway line 1 along Yonge Street to Rosedale, Summerhill, St. Clair, Davisville, Eglinton, or Lawrence station will put you in Midtown Toronto.
Castle Frank station, on subway line 2 (Bloor-Danforth), provides connections to the Rosedale neighbourhood of Midtown.
Rail fans might want to view the Davisville subway yard at Davisville subway station from a pedestrian bridge crossing over the yard. The bridge is part of the Kay Gardner Beltline Park which runs along a former railway right-of-way.

By bus
Bus 82 runs from the Rosedale subway station, travels the neighbourhood and terminates immediately north of Rosedale; bus 75 terminates in the eastern end of Rosedale after serving Sherbourne Street through downtown.

By streetcar
The 512 Streetcar runs along St Clair Avenue from St Clair station to Weston Road. It operates in its own right-of-way with a raised curb between the streetcar tracks and regular traffic and a limited number of stops compared to regular services. As a result, the 512 Streetcar is an excellent way to see St Clair Avenue. The 512 Streetcar is often described as the midtown streetcar line.

By car
Coming from the 401, Yonge Street will take you through the heart of Midtown. Other exits, like Bayview Ave and Avenue Rd, will also provide access to the district. Eglinton Ave is the main east-west crossroad.

See
Alexander Muir Memorial Gardens

address: 2901 Yonge St

Nice rose gardens. The gardens provide access to the Blythwood Ravine and Sherwood Park, which are forested areas with trails that are good for running or a leisurely walk. The park is named in honour of Alexander Muir who composed the rousing British-Canadian song "The Maple Leaf Forever".

address: 525 Avenue Rd

This small park features a replica of a fountain in the Peace Palace (Vredespaleis) in The Hague. The fountain consists of a U-shaped wall with a small lion head emitting water from its mouth. (It might be easier to see the replica in Amsterdam Square than the original at the fenced-off Peace Palace.) The park received its current name in 1974 when Toronto and Amsterdam became twin cities. There is also a wall along the Avenue Road side of the park with an inscription about Jewish survivers of the Holocast in the Netherlands.

phone: +1 416-653-3520

address: 601 Christie St

The Wychwood Barns is a former streetcar depot converted into an establishment for art organizations. The area is now a public park, and the public may enter the main corridors of the building. The roof on the southern section of the building has been removed and the area is an experimental fruit and vegetable garden. Off the building's main corridor is a cafe and a WC. Outside of event days, the site is fairly quiet, and usually art is not displayed in the public areas. The building was built in stages from 1916 to 1921 and the facility once had over 20 tracks for the storage and maintenance of streetcars. On the western side of the "barns", you can see curving black-coloured sidewalks; these trace the path of the former streetcar tracks that used to circle the building. Inside, there are a few old photos of streetcars.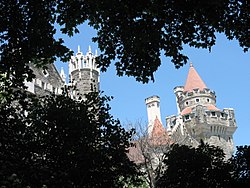 phone: +1 416-923-1171

address: 1 Austin Terrace

In 1911, financier Sir Henry Mill Pellatt decided to construct Canada's largest private residence. The resulting European-style castle is now a Toronto landmark and popular tourist attraction. Casa Loma has decorated suites, secret passages, a 250-metre long tunnel, towers, stables and beautiful 5-acre estate gardens. A self-guided digital audio tour in 8 languages (English, French, Japanese, German, Italian, Spanish, Mandarin and Korean) is available.
address: 328 Walmer Rd

The Castle Loma stables are located on the north side of this tiny park. The stable building is a fanciful, castle-style building. There was a underground passage between Casa Loma and the stables.

Ernest Hemingway's former residence

address: 1599 Bathurst St

From October 1923 to January 1924, Ernest Hemingway lived in a top-floor unit of this attractive, four-storey, brick and stucco apartment building, renamed The Hemingway after its former resident. While in Toronto Hemingway worked as a journalist for the Toronto Star newspaper. Although the building is not open to the public, there is a small oval historical plaque by the building entrance.

address: 550 Bayview Ave

The Evergreen Brick Works is a former clay quarry in the Don River valley that has been converted into a large, attractive and distinctive city park. There are naturalized ponds and wetlands while the former brickworks buildings have been restored and opened as an environmentally focused community and cultural centre by Evergreen, a national charity dedicated to restoring nature in urban environments. The wetlands have attracted many species of birds as well as mammals, reptiles and some fish.

address: 110 St Clair Ave W

Famed Canadian pianist Glen Gould had a penthouse apartment in the Park Lane Apartments, an art-deco building. Although the building is not open to the public, there is a historical plaque in front of the building.

Glen Gould Park

address: 480 Avenue Rd

The park features a cast metal statue of Peter Pan along with other fairy tale figures. The statue, consisting of seven castings, was created in 1929 and is a duplicate of a statue in Kensington Gardens in South Kensington-Chelsea, London, England. The park has no mementos related to pianist Glen Gould other than its name.

Glengrove Substation

address: 2833 Yonge St

Nicknamed "the castle", this Toronto Hydro substation resembles a chateau rather than the industrial building it is. Built in 1930, the building features ivy-covered stone walls, oak doors and leaded glass windows. The huge oak freight doors on Glengrove Avenue resemble a grand entrance for carriages.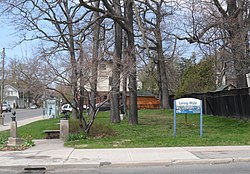 address: 276 St Clair Ave E

This tiny park was built in 1984 to honour artists Frances Loring (1887–1968) and Florence Wyle (1881–1968). The parkette contains 4 of their sculptures. The two artists had a studio in a converted church schoolhouse, the building still standing one block south of the parkette at 110 Glenrose Avenue. Near the sidewalk there is a plaque honouring the artists.

Mount Pleasant Cemetery

address: 1654 Yonge St (main entrance)

The cemetery has miles of walking paths and is the resting place of many famous people, including former prime minister William Lyon Mackenzie King, pianist Glenn Gould, the co-discoverers of insulin Frederick Banting and Charles Best, and Timothy Eaton. The western side of the cemetery contains a number of mausoleums including the , a structure resembling a miniature residential castle, and the , resembling a temple with two lions guarding the entrance. Walking tours of the cemetery are available (Muddy York Tours).

address: 1 St. Clair Ave W

UK artist Phlegm painted what was once thought to be the world's tallest mural (8 storeys) on the side of a building. However, since then, a 23-storey mural named the Equilibrium Mural was erected in Toronto's Downtown East district.

North Toronto railway station

address: 10 Scrivener Square

The station, constructed in the Beaux Arts tradition, consists of a 43-metre (140-foot) clock tower and a three-storey main terminal. The tower is modelled after the Campanile di San Marco in Saint Mark's Square in Venice. The main terminal gallery has an 11.6-metre (38-foot) high ceiling supported by marble walls and with elegant bronze suspended light fixtures. Opened in 1916, closed 1930, the building serves today a very elegant liquor store.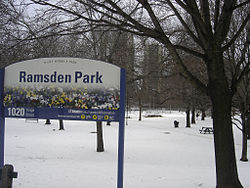 address: 1020 Yonge St

Ramsden Park is a relatively large, urban park, on the western edge of the Rosedale neighbourhood, with its entrance right on the west side of Yonge Street. In summer this is a very nice place to have a picnic and in winter there is a large skating rink, there are also tennis courts.

Rosedale Valley

address: Rosedale Valley Rd

Rosedale Valley is an enormous green space separating Rosedale from the Yorkville neighbourhood in downtown Toronto. The view from the north side of the valley is absolutely breathtaking, with skyscrapers giving way to a very steep, tree-filled slope. The best view is from the bridge that carries Sherbourne Street across the valley. It is also a pleasant place to stroll during the day, a green oasis just north of the hustle and bustle of downtown, however, like the rest of the ravines in the city, it is unsafe at night.

St. George Lofts

address: 65 Sheldrake Blvd

St. George Lofts is a former church converted into 33 condominium dwellings. Dormers added to the church's sloping roof, and balconies facing the street give the building an interesting look. There is also a colourful flower garden between the building and the street. The location is private property, but it can be easily viewed from the public sidewalk.
phone: +1 416-392-6910

address: 285 Spadina Rd

Adjacent to Casa Loma, this museum gives a more authentic version of Canada's history. It's also a cultural centre, hosting music and art events. Hours and admission vary with the season. Check the website for what's on, or call their event hotline at +1 416-338-3888.

address: 750 Davenport Rd

This 1835 cottage housed the family of a tollkeeper who collected tolls along Bathurst St. The cottage contains period furnishings. In the south-west corner of the park, there is an exhibit of 19th century road paving materials using logs.
Toronto has a number of older, classic-looking
fire stations
located mainly in the central districts. If you are in the area as a tourist, you should take short detour to view their exteriors. One of the mid-town stations is a designated National Historic Site.
Toronto Fire Station 131

address: 3135 Yonge Street

This attractive Tudor-style, 2-bay firehall was built in 1931. It was retrofitted in 2003 to accommodate a taller aerial ladder truck which, if you are lucky, might be parked outside.
Toronto Fire Station 311

address: 20 Balmoral Ave

Balmoral Fire Hall was built in 1911 when horses pulled hose wagons through its double doors. Still visible along the east wall is a second-storey projecting beam and doorway where hay was hoisted into a loft for feed. In the rear, a tower capable of drying 50-foot hoses still stands. The building was designated a National Historic Site of Canada in 1990, for its rare adoption of the Queen Anne style.
Toronto Fire Station 342

address: 106 Ascot Avenue

This fire station can be difficult to spot as it is in a residential area and, surprisingly, looks just like another house in the area. Built in 1912 in the "residential" style, the station has two storeys with one small bay.
Toronto Fire Station 343

address: 65 Hendrick Avenue

Built in 1916, this cute "Amsterdam"-style fire station has a three-storey main section with two bays and a tower located at the rear.
Yonge Eglinton Centre - Rooftop patio

address: 2290 Yonge St

This attractive rooftop patio has plants, small trees, a water feature, tables and benches. On the west side are five panels describing local history including public transit. Looking over the patio ledge, one can see below construction for the underground Eglinton Crosstown line described in one of the five panels. One could buy a coffee from the food court (elevator level P1) and take it up to the patio. The patio is open to the public even though there is no signage to direct visitors to it.
Do
Take a self-guided
Discovery Walk
through the area's parks, the Don Valley Ravines and Mt Pleasant Cemetery (
Central Ravines, Belt Line & Gardens - PDF map
). This walk is 11 km long and takes about 3 hours to complete. You can just do a portion of the walk if you prefer. There will be signs along the way to indicate that you're on the Discovery Walk route. For safety in the ravines, take a friend with you.
phone: +1 647-708-1478

address: 556 Mt Pleasant Rd

Japanese-style Cat café where for the purchase of a cup of coffee, you can pet cats for one hour. The café provides the cats.
Buy
Summerhill
phone: +1 416-922-0403

address: 10 Scrivener Square & Yonge St

This liquor store is in a very elegant, former railway station with features of its railway heritage preserved. The store has a very large stock of liquor and wine. A new craft beer section was recently opened offering the products of various small breweries within the Province of Ontario. A limited variety of craft beer is available refrigerated, and single bottles (as opposed to a case) can be purchased here.
Yonge & Eglinton
The "
Uptown Yonge
" area along Yonge Street from Eglinton Avenue to Blythwood Road tends to have more of the larger stores than other Midtown commercial districts.
Yonge-Lawrence Village
phone: +1 416-487-9807

address: 3278 Yonge St.

Paradise for comic book fans.

phone: +1 647-428-7122

address: 3251 Yonge St

Retailer of fantasy board games also selling miniatures for painting.
Mount Pleasant Village
There are several specialty shops in this area south of Eglinton Avenue.
South Bayview
Bayview Avenue south of Eglinton forms its own little village with some specialty shops.
Millwood Road
There are a couple of specialty shops located along Millwood Road east of Bayview Avenue.
phone: +1 416-489-7180

address: 862 Millwood Rd

Specializes in doll houses. Judging from the detailed models in the display window, these are not just for little girls.

phone: +1 416-483-3111

address: 907 Millwood Rd

As it names suggests, the shop specializes in mystery novels.
Saint Clair Avenue West
There are clusters of shops along Saint Clair Avenue west of Bathurst Street, all lying along the 512 St Clair streetcar line.
phone: +1 647-975-8800

address: 1684 St Clair Ave W

French book store.
Eat
There are a lot of restaurant choices in Midtown, ranging from some of Toronto's best (and priciest) restaurants to neighbourhood establishments. Midtown also has some of the best pastry shops in the city.
Yonge & Davisville
Yonge & St. Clair
Yonge & Eglinton
Yonge-Lawrence Village
Mount Pleasant Village
South Bayview
St Clair West
St Clair Ave west of Bathurst St; see also Yonge & St Clair.
phone: +1 416-656-6959

address: 36 Vaughan Rd

This ice-cream parlour offers about 60 flavours. As a distinctive touch, a few pieces of fresh fruit and some candy floss are added on top of the ice cream scoops on each cone. The shop itself is a site to see as it is decorated with many Dutch-themed knickknacks, and the piped-in music consist of Dutch songs. A few packaged goods imported from the Netherlands, such as stroopwaffels, are on display. There is interior and patio seating.
address: 653 St Clair Ave W

Mexican cuisine. The restaurant has a Mexican decor with Terra-cotta tile floors & traditional art. There is a seasonal patio in the rear.
phone: +1 416-656-9900

address: 1357 St Clair Ave W

La Paloma, located in Toronto's Corso Italia neighbourhood, specializes in gelato producing over 75 flavours (although not all may be available when you visit). Espresso-based coffees are also offered. There is an interior seating area.
phone: +1 416-654-8960

address: 1311 St Clair Ave W

Italian delicatessen, bakery, pastry shop and coffee shop. (Tre mari means three seas.) The coffee shop offers espresso-based coffee, and has a small interior seating area plus a seasonal sidewalk patio.
Leaside
Drink
Mount Pleasant Village
phone: +1 416-322-0723

address: 245 Eglinton Ave E

Beer brewed in house, outdoor patio.
Yonge & St. Clair
phone: +1 416-922-3737

address: 11 St Clair Ave W

A vibrant pub with an excellent and heated patio.
Yonge & Eglinton
phone: +1 416-485-9507

address: 2315 Yonge St

Has extensive patios.
Sleep
To say that there are very few accommodation options in the area would be an understatement. It's better to choose a downtown hotel and travel to midtown.
phone: +1 416-487-5101

address: 808 Mount Pleasant Road

Fitness center, heated rooftop pool. Expect to pay at least $100/night.

Toronto Don Valley Hotel & Suites

phone: +1 416-449-4111

address: 175 Wynford Dr

Slightly outside our definition of Midtown. Close to the Ontario Science Centre. Indoor pool, whirlpool, sauna. On-site café and restaurant. 9-hole golf course nearby. In-room internet access.
Connect
phone: +1 416-393-7610

address: 40 Orchard View Blvd

Wi-fi, computers with internet access.

phone: +1 416-393-7730

address: 3083 Yonge Street

Wi-fi, computers with internet access.

address: 2300 Yonge St

Post office.