Toronto/West End
The
West End
of
Toronto
is bounded roughly by Bathurst St to the east, St Clair Avenue to the north, the Humber River to the west and Lake Ontario to the south. The West End covers a vast swath of Toronto and includes ethnic enclaves and quiet, residential neighbourhoods inhabited largely by recent immigrants to Canada. The West End has undergone explosive growth and gentrification, and is quickly becoming one of the hottest areas in the city in which to live.
Understand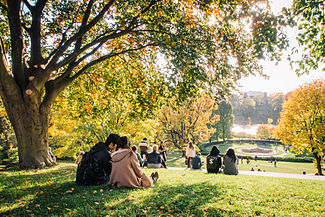 The neighbourhoods of the West End are some of the most diverse in the city, owing to its significant immigrant population and also to the gentrification of former industrial areas and formerly rundown neighbourhoods.
From the early 1900s, Italian immigrants who worked in railway and road construction began buying up affordable Edwardian-style homes and opening up shops along College Street, in the area now known as
Little Italy
. The neighbourhood has become popular with young professionals because of its great restaurants and cafes, vibrant nightlife, and proximity to the downtown core. More recent Italian immigrants have chosen to settle a little farther north, along St. Clair Avenue, in an area known as
Corso Italia
.
Little Italy also has a strong Portuguese presence. However, that presence is more visible along Dundas Street with neighbourhoods marked as
Little Portugal
and
Rua dos Açores
(street of the
Azores
) on the local street name signs. You can find authentic
churrasqueiras
(Portuguese BBQ restaurants) in these areas.
Ossington Village
is an area of shops and restaurants between Queen Street and Dundas Street. Prior to gentrification, this was a semi-industrial area with a number of automotive servicing shops of which the only one is still in business; another has been converted into a restaurant with the dining room in the former service bays. Some Portuguese businesses are found towards the north end of the area.
High Park
is a huge park on the west side of the district having gardens as well as naturally wild landscapes. There is also a pond big enough to be considered a small lake. The 506 streetcar ends just inside the park in a rustic setting.
Just east of High Park lies
Roncesvalles Village
, named after a valley in northern Spain, which, oddly enough, is the heart of the city's Polish community where you will find Polish restaurants and pastry shops.
North of High Park, centred on the corner of Dundas Street and Keele Street, you'll find
The Junction
, so named because of the railway lines that meet in this neighbourhood.
Along Queen Street west of Bathurst Street, formerly run-down neighbourhoods have been gentrified becoming very trendy locales. East of Dufferin Street is the ultra-hip
West Queen West
neighbourhood, an area home to many of the city's hottest bars, lounges and cafes, including the ever-popular Drake and Gladstone Hotels. Going west of Dufferin Street, we pass through
Parkdale
, the new "it" neighbourhood, with its antique shops and quaint Victorian-style homes.
South-east of King Street and Dufferin Street is
Liberty Village
, a former industrial area that used to be crisscrossed with railway tracks that served the many factories in the area. With gentrification, the factories in the eastern part of Liberty Village were demolished and replaced by condominiums. The central portion of the area became a small shopping area. On the western side, the factories have largely been preserved but converted to house numerous small businesses.
Adjacent to Mirvish Village is
Koreatown
, located between Bathurst Street and Christie Streets (just west of
The Annex
and north of Little Italy). The neighbourhood is home to dozens of Korean (and Japanese-Korean) restaurants and bars, as well as Korean grocery, clothing and bookstores.
Much further west, past High Park, lies
Bloor West Village
, an area with quaint shops, lovely grocery stores with fruits and flowers piled high outside and a wide variety of restaurants line Bloor Street from Jane Street to Runnymede Road, while older houses, many in the American Craftsman style, line the area's side streets. The area has a Ukrainian presence with its Annual Ukrainian Festival in September.
Get in
By subway
The West End is served by Bloor-Danforth
subway line 2
. Dundas West station is a major transit hub for the area, providing connections to streetcar lines, buses, and GO Transit commuter trains at the Bloor GO station.
By streetcar
Streetcars run across much of the West End, making it easy to get around.
The
501 Queen
route runs along Queen Street from
The Beach
, through the downtown core, the West Queen West and Parkdale neighbourhoods, and out to
Etobicoke
and the Mississauga border in the west.
The
504A King
route runs along King Street, through Parkdale's southern edge, and north through Roncesvalles Village to the Dundas West subway station. (Route 504B King terminates on Dufferin Street at Exhibition Place.)
The
505 Dundas
route serves Little Portugal and connects to the Dundas West subway station.
The
506 College
route runs along College Street and passes through Little Italy on its way to High Park. It has connections to Main Street in the
East End
, and the College and Queens Park subway stations.
By car
Bloor St, Dundas St
and
Queen St
provide east-west transit across the breadth of the West End and connect it to Etobicoke in the west and downtown and the East End to the east. From the 401, heading south on
Dufferin St
or
Jane St
(via the 400) will bring you to the West End. From the Gardiner Expressway, the Jameson Ave exit will put you in Parkdale.
By bus
Bus 63 runs along Ossington Ave and Bus 29 runs along Dufferin St.
Bus route 47 runs from Yorkdale Mall to Parkdale along Lansdowne Ave, also serving Lansdowne station on Bloor-Danforth subway line 2.
By train
Some GO Transit trains stop at the Bloor GO station, adjacent to the Dundas West subway station. UP Express, the train that operates between Toronto Pearson Airport and Union Station in downtown Toronto, makes a stop at the Bloor GO Station as well.
By bicycle
College St has bicycle-only lanes on either side of the street, one of the only major streets with bicycle lanes downtown. There are numerous poles to which you can lock your bike all along College St. The bike lanes run next to parked cars, therefore it is important to watch for drivers opening doors.
See
High ParkHigh Park is a large recreational and natural park. One-third of its area, spanning , remains in a natural state, with a rare oak savannah ecology. The park features:
Cherry blossomsRoughly during the first week of May, the cherry trees bloom for a short time in High Park. A good place to see them is at a grove along the West Road near the north end of the park. Check the website for accurate predictions of when the cherry trees start to blossom. Parks elsewhere having cherry blossoms are on the Toronto Islands and beside the Robarts Library on the U of T campus and in Trinity Bellwoods Park, the latter also being in the West End but closer to downtown.

Grenadier Pond

Landscaped gardens

just south of the

Grenadier Restaurant

High Park Children's Gardencastle-like playground

High Park ZooThe zoo's nine paddocks are home to a variety of animal species from around the world including bison, llamas, peacocks, deer, highland cattle and sheep.

address: 11 Colborne Lodge Dr

A City of Toronto historic site, this rare Regency picturesque cottage is a graceful monument to John and Jemima Howard, the couple who founded High Park. John Howard, one of Toronto's first architects, as well as a City engineer and surveyor, built Colborne Lodge in 1837. The museum features many original furnishings and artifacts and some of John Howard's own watercolours depicting images of early Toronto. A guided tour is included in the admission price.
phone: +1 416-395-0067

address: 158 Sterling Rd

The museum's facility is located in a former industrial, multi-storey building. Sometimes the museum is only partly open due to a change in exhibitions at which time the admission fee is reduced. The first floor of the museum is always free.
Roncesvalles Carhouse

address: 20 The Queensway

For railfans: the Roncesvalles Carhouse, at northwest corner of the Queensway and Roncesvalles Avenue in Toronto, is the oldest of the Toronto's streetcar depots opened in 1895 but the older building is from shortly after 1921 and there is a much more modern addition on the east side for the new low-floor streetcars. The south side of the facility is viewable from the public sidewalk.
Sunnyside BoardwalkSunnyside Boardwalk is a 2-km pedestrian path running through parkland along the shore of Lake Ontario. Along the way, there are beaches and monuments with the Martin Goodman Trail for cyclists running parallel. The following are points of interest along the boardwalk.
Freedom For Hungary MonumentA memorial dedicated to the 1956 Hungarian Revolution.

Marilyn Bell plaqueA plaque commemorates Marilyn Bell, who was the first person to swim across Lake Ontario. The plaque marks where the 16-year-old swimmer came ashore in 1954 after her marathon swim. Beside the plaque, there is a small but attractive flower garden.

Sunnyside Bathing Pavilion

address: 8046 Martin Goodman Trail

The Sunnyside Bathing Pavilion is fanciful structure and a remnant of the former Sunnyside Amusement Park, demolished in 1955. The arches and towers on the south side of the building seem similar to Mexican Colonial architecture. The south side overlooks a beach. On the west side of the pavilion there is an entrance to a courtyard containing plants and a water fountain. Be sure to go around to the north side of the building to see the rather grand-looking entrance. WC is available from the courtyard.

Monument to Sir Casimir GzowskiThe monument is dedicated to Sir Casimir Gzowski, a Polish-born engineer who produced a number of engineering works in Canada. Inside the monument, there are plaques about his life and engineering accomplishments. Because he was considered a railway builder, there are a short section of railway track at each of the three portals of the monument.

Joy Gas Station

address: Martin Goodman Trail

Built in 1937, this fanciful structure is probably the cutest gas station you will ever see. It has a Château style of architecture with one corner of the building having a castle tower. No longer in use as a service station, it was moved to Sir Casimir Gzowski Park for preservation.

Queen Elizabeth Way MonumentThis monument commemorates the opening of the Queen Elizabeth Way by King George VI and his wife Queen Elizabeth in 1940. The highway was named after the mother of the Queen Elizabeth II. The monument has a stone lion positioned under a cameo of the royal couple.

Humber Bay Arch Bridge

address: Martin Goodman Trail

The Sunnyside Boardwalk ends here at this very attractive pedestrian/bicycle bridge, but the Martin Goodman Trail continues on into Etobicoke's Humber Bay Shores neighbourhood, where there is a series of attractive lakeside parks The bridge is over the mouth of the Humber River, and offers a good view of the CN Tower on its south side.
address: Queen St & Strachan Ave

This is one of the largest and most pleasant parks in central Toronto. It has the feel of a communal back garden, with families picnicking, students reading while getting a tan, pickup baseball and frisbee games and children playing in the large playground. The park also has tennis courts and a dog run in the last remaining section of a dried up ravine.
Cherry blossomsThere is a grove of Japanese cherry trees on the SE corner of Trinity Bellwoods Park. It is possible to take a photo of the trees with the CN Tower in the background. The trees bloom in late April or early May (depending on weather) and blooming lasts for only one or two weeks. There is a web page to find more precise information about when cherry trees bloom in Toronto.
Liberty Village
phone: +1 416-599-7339

address: 64 Jefferson Ave

This private museum displays many old televisions including a few from the late 1920s plus many from each of the 1930s, 1940s and 1950s. Sometimes the museum is reserved for private events; so call ahead of time to confirm.

phone: +1 416-533-3000

address: 67 Mowat Ave

The Toronto Carpet Factory is a former carpet manufacturing facility, a full city block in size, built between 1899 and the 1920s. This turn of the century office complex features several buildings clustered around internal courtyards and laneways that visitors may walk. In the internal laneway one would see the remains of a railway spur for the delivery of carloads of coal to an on-site power and heating plant that still stands intact but out of use. There is a café at the back. Today the building is a "centre of creativity" providing space to a variety of small businesses. History.
Little Italy
College Street United Church

phone: +1 416 929-3016

address: 452 College St

This church, built in 1885 fell into hard times in the 1990s was partly demolished to build condominiums preserving only the original church tower. However, the church is still in operation, utilizing the ground floor of the condo building.

address: Grace St at College St

In this small park, there is a memorial consisting of two life-size statues depicting Johnny Lombardi chatting with a young boy both seated on a park bench. Johnny Lombardi promoted multi-culturalism in the city through broadcasting.

Luís de Camões Way

address: College St at Crawford St

Little Italy has a strong Portuguese presence, an example of which is this tiny square dedicated to the Portuguese poet Luís de Camões (1524-1580) who wrote the epic poem Os Lusíadas in Homeric fashion to interpret the Portuguese voyages of discovery during the 15th and 16th centuries. (The bust of Camões winks showing the effect of losing the right eye in a battle at Ceuta in 1549.) Behind the square is a mural composed of blue tiles (azulejos) depicting historical events of Portugal.
Do
phone: +1 416 533-3553

address: 1601 Lakeshore Blvd W

This former big band hall has been renovated and reopened. It hosts a number of different events, from comedy to swing music. It also serves gourmet seasonal food.

address: 1151 King St W

This 9000-seat stadium remains largely unused, hosting mainly field hockey games and soccer camps. However, it is being renovated and may soon host major soccer games.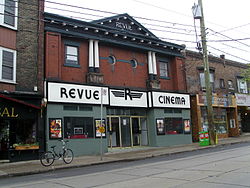 phone: +1 416-531-9959

address: 400 Roncesvalles Ave

The Revue Cinema, completed in 1912, is Toronto's oldest operating movie theatre. This community-run theatre is operated by the not-for-profit Revue Film Society since 2007. It shows 2nd-run Hollywood films & regular special-interest screenings.

address: High Park

Live theatre for Shakespeare fans in the summer.
Buy
address: 28 Bathurst St

This temporary shopping centre is constructed mostly from retired shipping containers. A shop might fit into one container, or use two adjacent containers. The centre includes a micro-brewery (Belgian Moon Brewery) occupying 3 shipping containers. The shopping centre is temporary until September 2020 when either the lease with the City for the land is extended, or the centre moves to another location.
Little Italy
phone: +1 416-516-5863

address: 662 College St

Compact record store offering a mix of classic, new & collectable records & audio equipment.

address: 462 College St

You'll never want to take your hat off at this famed milliner shop which sells all sorts of hats from fedoras, strawhats to tailored hats.
Roncesvalles Village
phone: +1 416-598-0509

address: 394 Roncesvalles Ave

NOW magazine: "The Toronto-based design duo behind Damzels' retro-flirty frocks have one of the biggest cult followings in town."

phone: +1 416-671-0420

address: 2227 Dundas St W

Record store specializing in vinyl LPs.
Eat
Bloor West Village
Dundas Street West (downtown)
Dundas Street West (The Junction)
Little Italy
Queen Street West
Roncesvalles Village
Drink
Bloor Street West
phone: +1 416-546-4033

address: 1184 Bloor St W

Brewpub with Canadian fare & craft beers and a performance space for live music.

The Swan & Firkin

address: 2205 Bloor St W

British-style pub with rooftop patio.

phone: +1 416-535-7486

address: 838 Bloor St W

Alehouse specializing in local craft beers, plus creative pub food.
Koreatown (the Bloor-Bathurst and Bloor-Christie area) has a heavy concentration of karaoke lounges.
The Junction
The Junction is the area around Dundas Street West and Keele Street north of Bloor Street.
phone: +1 416-760-9691

address: 2876 Dundas St W

Small brewpub with unusual beers, seasonal snacks & hearty meals.
Ossington Village
Bellwoods Brewery

phone: +1 416-535-4586

address: 124 Ossington Ave

Brewpub with patio with limited seasonal dishes & a rotating selection of experimental beer. One of the brews is Jolly King, a sour beer described as not bitter but tart with a fruity flavour.
Roncesvalles Village
phone: +1 416 535-6225

address: 396 Roncesvalles Ave

A fun local pub with a large selection of Ontario based micro brews. Live independent music every night after 9PM and Sunday afternoons. Ron Leary plays every Wednesday night.
Queen Street
phone: +1 416-588-1086

address: 1346 Queen St W

Brewpub with on-site brewery and snacks.
College Street
phone: +1 416-533-7272

address: 928 College St

Brewpub with Belgian-style ales, plus a comfort food menu.

phone: +1 416-588-1641

address: 303 Lansdowne Ave

Brewpub, set in a converted warehouse, serving local ales, snacks & heartier fare.
Sleep
Howard Johnson Inn Toronto Downtown West

phone: +1 416-532-9900

address: 14 Roncesvalles Ave

Modest rooms with free Wi-Fi & continental breakfast. Near the walkable districts of Roncesvalles Village and Queen Street in Parkdale with shops and restaurants.

phone: +1 416 531-5042

address: 1150 Queen St W

This hotel was opened in 1890 as "Small's Hotel". The hotel eventually fell on hard times, along with its neighbourhood. In the 1970s and 1980s, it was variously a punk bar, a rave den and a flophouse. It was renovated in 2001 and has subsequently become one of Toronto's most talked-about nightclubs and arts venues, a popular hang-out spot for those who want to see and be seen. The hotel contains nineteen rooms including an upstairs lounge, a dining room, a cafe, a rooftop patio named the Sky Yard, and a music bar called the Underground.

phone: +1 416 531-4635

address: 1214 Queen St W

Like the Drake, this hotel was built at the end of the 19th century and fell on hard times in the 1970s. It was renovated in 2001 into a boutique hotel with each room designed by a different artist in a different style. The hotel bar's weekend karaoke nights are extremely popular.
Connect
phone: +1 416-393-7686

address: 1303 Queen St W

Wi-fi, computers with internet access.

address: 1488 Queen St W

Post office outlet.
Go next
Here is a list of adjacent districts: