Toronto/Yonge-Dundas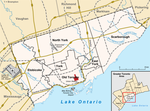 Yonge-Dundas
is the very heart of downtown
Toronto
—in more ways than one. After all, the major arterials of Yonge Street and Dundas St meet here, and the resulting intersection may be the city's busiest (at least for pedestrians). Virtually every visitor to Toronto passes through here at some point.
Yet more than just the physical heart, the Yonge-Dundas area also represents the commercial and political heart of the city. Shop at the Eaton Center and relax at Dundas Square; take in a show at the Mirvish Theatre, or visit two magnificent City Halls (one classic, one modern).
There may be crowds, but they're all here for a reason. The heart of Toronto holds an important place in the hearts of Torontonians and visitors alike.
Get in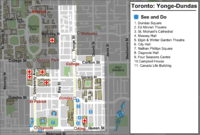 By subway
Subway line
runs under Yonge Street from Front St to North York, with stations at Queen St, Dundas St, College St, and Wellesley St. The Dundas station puts you in the middle of the district with connections to the Eaton Centre and Dundas Square.
Being U-shaped,
Subway Line
also runs under University Avenue along the western edge of the district. The district is served by two stations: Osgoode (at Queen St) and St Patrick (at Dundas St).
Subway line 1 is also called the Yonge-University line.
Subway line
(also called the Bloor-Danforth line) stops just north of the district at the intersection of Yonge St and Bloor St.
By streetcar
The 501 Queen streetcar line runs along Queen Street at the south end of the district.
The 505 Dundas streetcar line runs along Dundas Street passing through Dundas Square somewhat resembling Times Square. You can take the westbound 505 streetcar to Chinatown.
The 506 Carlton streetcar line runs along Carlton Street on the east side of Yonge Street and College Street on the West. You can take the westbound 506 streetcar to Little Italy and High Park.
By intercity bus
Toronto Coach Terminal

address: 610 Bay Street

The coach bus terminal provides connections for multiple bus operators: Megabus to New York and Montreal via Kingston, Coach Canada to Niagara Falls and Buffalo, Greyhound to Detroit and between the Windsor-Ottawa corridor and Ontario Northland to Sudbury and North Bay via Barrie.
See
phone: +1 416-597-0223

address: 14 Elm Street

The Arts and Letters Club of Toronto is in a very attractive Victorian-era building built in 1891, which is a designated National Historic Site of Canada. The club brings together writers, architects, musicians, painters, graphic artists, actors, and others working in or with a love of the arts.

phone: +1 416-597-0227

address: 160 Queen St W

This is one of the oldest remaining buildings in Toronto and is one of the few examples of Georgian architecture in Toronto. In 1972 it was under threat of demolition and a campaign started to save the house. It was at this time that it was moved to current location, restored and opened as a museum.

Canada Life Building

address: 330 University Ave

This building, built in 1931 by the Canadian Life Insurance Company, is one of the finest examples of Beaux-Arts architecture in Toronto. The building is perhaps best known for its weather beacon, installed on August 9, 1951. The beacon shines red for rain, white for snow, and lights running up or down it indicate a change in temperature. Normally, the building is closed to the public; however, its 17th floor observation deck is usually featured during the annual Doors Open event.
City Hall and Nathan Phillips SquareToronto's modernist City Hall designed by Finnish architect Viljo Revell and was completed in 1965. Nathan Phillips Square features a reflecting pool that turns into a skating rink in the winter. The Peace Garden is on the middle west side of the square just beyond the elevated walkway. If you walk further west between the rear of Osgoode Hall and the modern Superior Court of Justice, you will see a park with a few sculptures and a fountain at University Avenue.

address: Trinity Square

This modest Gothic Revival church was built in 1847. It is approximately five storeys tall, and though the scale of the church is modest, its height is emphasized through details which point upward. With the rectory building, the church gives Trinity Square a rustic look despite the modern buildings around it. The square has densely planted trees along walkways, a decorative fountain of water falling from a wall into an ornamental pond, and an artificial stream.

address: 420 Yonge St

This small, attractive park sits amid tall buildings on all four sides. It has walkways, benches, flower beds, a water feature and five large bronze statues of frogs. In winter, an oval "trail" in the park can be frozen for ice skating. The trail is named after Barbara Ann Scott, a Canadian figure skater and a gold medal winner in the 1948 Olympics. You can buy a coffee in the shopping mall at the north side and enjoy it in the park.

address: 82 Bond St

Mackenzie House, built in 1830, was the last home of William Lyon Mackenzie, the city's first mayor. Mackenzie lived here from 1835 to 1837. Today the house has period furnishings and there is an exhibit of many 19th century printing presses in a nice mock-up of an old printing office. (Mackenzie was editor of his own newspaper, The Constitution). Mackenzie abandoned the house after participating in a failed rebellion in 1837.

Masonic Hall

address: 601 Yonge St

This very attractive 5-storey, Victorian-era building was built in 1888 as a Masonic Hall. The building has a distinctive tower-like fifth floor with a peaked-cap roof.
address: 60 Queen Street West

This landmark, built in the Romanesque Revival style and completed in 1899, has a distinctive clock tower which can seen along Bay St from Front Street. The architect was E. J. Lennox who also designed Casa Loma. Old City Hall was home to Toronto's city council from 1899 to 1966. The building is a National Historic Site of Canada, and will continue to serve as the York County Court House until 2021 when it will be converted to a new purpose.

phone: +1 416-947-3300

address: 130 Queen St W

This beautiful building was built in 1832 to house the Law Society of Upper Canada. It now houses the Ontario Court of Appeals and the Superior Court of Justice in addition to the Law Society. The building is open to the public; call ahead to arrange a tour.

Ryerson University Student Learning Centre

address: Yonge St at Gould St

Yonge Street's newest landmark is the Ryerson University Student Learning Centre opened in 2015. The eight-story building features a glass façade, an elevated plaza and a rather distintive entrance. The glass façade has a distinctive glass skin to reflect a variety lighting throughout the building interior.

St Michael's Catholic Cathedral

phone: +1 416-364-0234

address: 200 Church St

Gothic-style cathedral that is one of the oldest churches in Toronto.
phone: +1 416-599-5321

address: 55 Centre Ave

This museum is dedicated to the collection, exhibition, and documentation of textiles. It has displays on historic & ethnographic fabrics, plus contemporary art & hands-on exhibits.

Toronto Police Museum & Discovery Centre

phone: +1 416-808-7020

address: 40 College Street

Occupying 3,000 square feet in the atrium at Police Headquarters building, the museum reflects the tradition and history of policing in Toronto.

Toronto Fire Station 314

address: 32 Grosvenor St

This Tudor-style fire station was built in 1929. Toronto has a number of attractively-styled fire stations built before 1940 in the older parts of the city.

Tower of former Fire Hall 3

address: 484 Yonge Street

All that is left of Fire Hall 3, built in 1872, is its elegant clock tower, the main structure having been demolished and replaced a retail building, which by 2019 has been demolished leaving the tower standing alone within a construction site

address: 1 Dundas St E

Dundas Square is a bustling outdoor public space & live-event venue hosting free concerts, movies & community events. The square has fountains and sitting areas and is surrounded by buildings with colourful electronic billboards.

Yonge Street map

address: Eaton Centre, Yonge St

There is bronze map of "Yonge Street" set in the sidewalk across the street from Yonge-Dundas Square to promote the urban myth that Yonge Street is the longest street in the world. Until 1999, the Guinness Book of World Records supported this myth because it incorrectly assumed that provincial Highway 11, long, and Yonge Street, long, were one and the same.
Do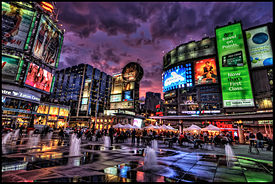 Cineplex Cinemas Yonge-Dundas and VIP

phone: +1 416-977-9262

address: 10 Dundas Street East

One of the first new movie houses along Yonge St in decades.

Elgin and Winter Garden Theatre Centre

phone: +1 416-314-2901

address: 189 Yonge St

These two theatres are the last remaining Edwardian stacked theatres in the world. They were opened in 1913, showing mainly Vaudeville acts. After the decline of Vaudeville, the upper level Winter Garden closed and the lower level Elgin was converted into a cinema. By the 1970s the Elgin was showing a mixture of B-movies and pornography, but in the 1980s the Ontario Heritage Foundation bought both theatres and restored them to their original glory. They now show mainly Broadway plays and musicals and serve as venues for the Toronto International Film Festival.
Tours of the Elgin & Winter Garden TheatresThis 1½-hour tour will recount the history and restoration of this National Historic Site of Canada. You will see the original and new lobbies, a backstage exhibit housing the Winter Garden's original Simplex Silent Film Projector, a dressing room containing artifacts from the time period, and samples from the world's largest collection of vaudeville scenery.
phone: +1 416 872-1212

address: 244 Victoria St

This theatre opened as the Pantages Theatre in 1920, hosting films and Vaudeville acts. In the 1970s it was split up into several cinemas to form a modern multiplex. It was restored and reopened as a theatre in 1989, most famously hosting Andrew Lloyd Webber's The Phantom of the Opera for more than ten years.
Four Seasons Centre for the Performing Arts

phone: +1 416-363-8231

address: 145 Queen St W

See a performance of the Canadian Opera Company, or the National Ballet of Canada.
phone: +1 416-872-4255

address: 178 Victoria St

A performing arts theatre with renowned acoustics, Massey Hall opened in 1894 and is today a designated National Historic Site of Canada.
Buy
Large stores and shopping centres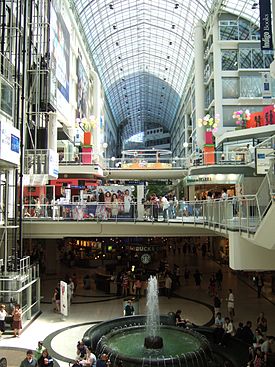 Here is a listing of some large stores and shopping centres listing them from south to north:
address: 220 Yonge St

The Eaton Centre is the city's (and perhaps the country's) best known shopping centre and Toronto's most-visited tourist attraction. In large part, this is due to the mall's simply massive size, demonstrated by the eight-storey glass-roofed atrium running nearly its entire length between Dundas and Queen Streets. The complex boasts more than 285 shops and services, including most of North America's most popular brands, and two food courts catering for every taste. The flock of fibreglass Canada geese suspended from the ceiling are a popular photo op. In 2014, the Eaton Centre acquired the large, elegant Hudson's Bay department store building on the south side of Queen Street, with portions of the building dating from 1895. A tunnel, a footbridge and a street level crosswalk connect the Hudson's Bay building to the rest of the Eaton Centre.
address: Dundas St between Yonge St and Bay St

The Atrium on Bay has a small, 2-level shopping centre.
address: Atrium on Bay, basement level
College Park

phone: +1 416-260-2144

address: 444 Yonge St

A small shopping mall in the former Eaton's College Street store.
address: College Park (ground floor)

Winner's is a favourite of Toronto's bargain hunters looking for brand name clothing.
Maple Leaf Gardens

address: 50 Carlton St

Maple Leaf Gardens is a beautiful early-20th century hockey arena and was the home of the Toronto Maple Leafs from 1931 to 1999. The building has been converted into a sports arena for Ryerson University and into a Loblaws supermarket.
address: Maple Leaf Gardens, ground floor

In addition to the expected grocery store selection, this Loblaws supermarket also features an 18-foot tall wall of cheese, a tempting pastry counter, a cooking school, open concept food preparation areas and a seating area to enjoy foods prepraed in the store.

address: Maple Leaf Gardens (2nd floor)
Downtown Yonge
Downtown Yonge
is the shopping/restaurant area along Yonge Street from Richmond St in the south and to Bloor St in the north. (Officially, "Downtown Yonge" ends just 2 blocks north of College St at Grosvenor and Alexander Streets, but from a visitor's point of view, it continues seamlessly to Bloor St.) There are many small shops and restaurants mostly lining the sidewalks along Yonge St.
From Richmond St to Dundas St, there are small shops and restaurants lining the east side of the street opposite the Bay and the Eaton Centre on the west side.
Dundas St north to Gerrard St, is is a favourite of Torontonians looking for bargains despite being a little rundown and sleazy (with strip clubs and porn shops both being part of the ambience).
From College St to Bloor Street there are dozens of small shops, including several used book stores, comics stores, used record stores, dollar stores and just about everything else you can imagine. Although the stock may be a little run down, the area is safe, clean, busy and popular day and night.
Eat
phone: +1 416-977-9899

address: 108 Chestnut St

Dim sum at lunch, a la carte menus at lunch and dinner, take-out available. Luxurious, Hong Kong-style dim sum.

phone: +1 416-366-3600

address: 253 Yonge St

Middle Eastern restaurant serving barbecued halal meats, house-baked pitas & baklava made on-site.

phone: +1 416-977-6677

address: 312 Yonge Street

A large menu of North-American cuisine. It also has a selection of dishes from further afield, their take on traditional English fish and chips is a nice surprise using halibut instead of cod or haddock. Reasonable prices, decent food but nothing fancy. Nowhere near as much fun as any of the above places.

phone: +1 647-748-1500

address: 24 Wellesley St W Rear

Japanese restaurant specializing in ramen, a noodle soup with a choice of meats and ingredients.

phone: +1 416-593-0333

address: 340 Yonge St

Some of Toronto's best Thai food in a very convenient location; just don't come here to relax. Often with a considerable line at meal times, the funky-cafeteria style seating certainly won't give you much privacy, but you'll see why people subject themselves to it. Try the golden curry chicken.

address: 362 Yonge St

Despite its name, this restaurant chain was started in Toronto. The specialty is barbecued chicken with chalet sauce. As an appetizer, try garlic cheese loaf. Wheelchair accessible.

phone: +1 647-351-2666

address: 191 Dundas St W

Japanese-style maid café featuring desserts (specialty: cheesecake) with coffee. There is a limited performance schedule to see the cute "maids" sing and dance.

Uncle Tetsu's Japanese Cheesecake

phone: +1 416-591-0555

address: 598 Bay St

The cake has a light, delicious taste with an eggy rather than a cheesy taste. This shop can be quite busy, originally having 2 hour lines, but lately the line is shorter. Take-out only.

Bubble Republic on Bay

phone: +1 647-748-9188

address: 637 Bay Street

Authentic Taiwanese food and bubble tea
Drink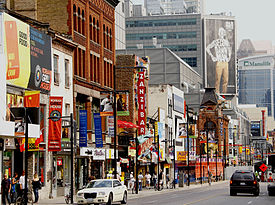 phone: +1 416 961-9704

address: 649 Yonge St

Great no-nonsense English pub. Good selection of beer at reasonable prices. Not much in the way of food, though.

phone: +1 647 347-6286

address: 275 Yonge St

Great brewpub across the street from the Eaton Centre. The beer is excellent and the food is in the style of the Alsace region of France, where the chain started.
Sleep
Connect
phone: +1 416-393-7650

address: Nathan Phillips Square, 100 Queen St W

Wi-fi, computers with internet access.

Toronto Atrium on Bay Post Office

address: 595 Bay St

Stamps and shipping services, money orders.
Go next
Here is a list of adjacent districts: