Tourrettes-sur-Loup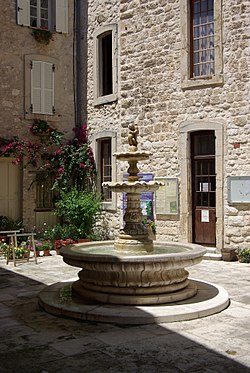 Tourrettes-sur-Loup
(population 2400) is a medieval village perched on a rocky spine overlooking the
French Riviera
between
Vence
and
Grasse
.
(The final P is not pronounced.)
Get in
Get around
See
Do
cycling : Tourrettes-sur-Loup is very popular with cyclists.
boules : Tourrettans play boules in the Place de la Liberation.
paragliding
hang-gliding
canyoning
climbing
fishing
horseriding
skiing : The nearest ski station is at Gréolières-les-Neiges 39 km (24 miles).
beaches : The nearest beach is at Cagnes-sur-Mer 14 km (9 miles),
Events
March
Fête des Violettes. Provençale market and a procession with carnival floats.
June
Fête de la Musique, around the summer solstice;- with music in the streets.
Fête Feux de la St Jean with barbecues and bonfire.
Fête du Terroir, market selling local products.
July
Fête Patronal, nearest Sunday to Ste-Madeleine (22 July).
September
Marché Potier (pottery market).
Eat
Tourrettes has the best ice cream in the region.
Baccanales, 21, Grand Rue, 04 93 24 19 19. One of the better restaurants in the region. Christophe Dufau left the Auberge de Tourrettes in 2004 to start his own small "bistrot gourmet" in the tiny back streets of Tourettes. The menu is very limited, often with no choice at all, but the cooking is top class and often inventive. €24-€70

Le Relais des Coches

address: 28 Route de Vence, 06140, Tourrettes Sur Loup

A restaurant that can talk the talk and walk the walk. This family run establishment is on the outskirts of the village in picturesque surroundings. The owner/restaurateur, Wayne, is extremely welcoming as are all of his staff (many of whom are family). The menu is small but well chosen to suite all tastes. Whilst the service is friendly the food is exceptional. Perfectly cooked and well executed the food lacks for nothing. The desserts to finish are good but the Irish coffees are a devine. Over the weekend there is live Jazz but impromptu session can happen at any point. Book if you can but extra seating with a great view is available outside. If in the area this place should be avoided!
Sleep
Camping and caravanning
La Camassade, Route de Pié Lombard. Open all year round.

Les Rives du LoupRoute de La Colle (D6). Open May to September.

La BergerieChemin de la Sine, 06140 Vence.
Go next