Townsville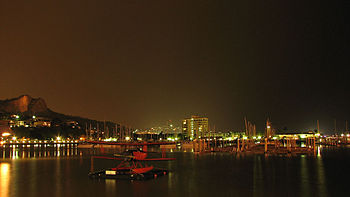 Townsville
is a laid-back coastal city of around 200,000 people in
North Queensland
,
Australia
.
Understand
Townsville is on the coast and enjoys an average of 320 days of sunshine a year. It is an appealing place for locals and a great jumping off point for visitors, especially to
Magnetic Island
which is only 25-45 minutes by passenger or car ferry. A great spot for visitors wanting a taste of outback
Australia
while not venturing far from the coast. It offers a quiet cosmopolitan feel with its good choice of restaurants & bars but also has a relaxing siesta style during the hottest parts of the day in high summer. Townsville takes great pride in being the unofficial Capital of North Queensland.
Get in
By plane
phone: +61 13 67 89

flying from Sydney, Brisbane and Melbourne.

phone: +61 8 8920 4001

flying from Darwin

TigerairOffering direct flights between Townsville and Melbourne
By car
Townsville is on the Bruce Highway (A1) between
Cairns
in the north,
Mackay
and
Brisbane
to the south. The city is also served by the A6 (Flinders Highway) to Charters Towers and
Mt Isa
to the West.
The Northern Beaches district (part of former Thuringowa) is also on the Bruce Highway (A1).
As stage 2 of the Townsville-Thuringowa Ring Road (known as The Ring Road) is completed, it will become the new National Highway route through the city. The first stage, the 5.3 km Douglas Arterial Road, opened to traffic in April 2005, and stage 2 was to be opened by late 2008.
By train
phone: 1300-131-722 (local rate call)

operate the Spirit of Queensland Tilt Train services to both Cairns and Brisbane five times a week each direction. The Inlander to Mt Isa is operated twice a week.
By bus
Public transport in Townsville and the former Thuringowa city consists of bus services run by Sunbus. Sunbus provides services for most parts of the city with runs from the Thuringowa CBD, Townsville CBD and most suburbs throughout Townsville, plus special services for the football nights at Willows Sports Complex (1300SMILES Stadium), Tony Ireland Stadium at Riverway and any major events at Black River Stadium or the Townsville Entertainment centre, for bus times and runs please visit the Sunbus website at or Phone: +61 7 4725 8482. There is also a bus service available from the Townsville's Hermit Park Bus Service, running from Bushland Beach in the Northern Beaches area to the Townsville CBD, For more information, visit the Hermit Park Bus Service website at or phone: +61 7 4779 1658 or 1800 351 225. Detours is another bus service that can take care of your charter or tour needs.
By taxi
Taxis operate 24 hours and service all areas of Townsville.
There are several ranks in which to catch taxis (Airport Rank, at all major shopping centres; in town, Flinders Street East Rank, Cowboys Leagues Club Rank, Palmer Street Rank and Seaview Rank).
To book taxis with your phone, dial 13 TAXI (13 8294).
Tour Operators
North Queensland River and Road Tours
Pop Sullivan Tours
Tropical Tours
David and Justine Olsen's 4WD Tag-Along Tours
Get around
The
Sunbus
bus route operates 7 days a week with 7 main lines going around the town
See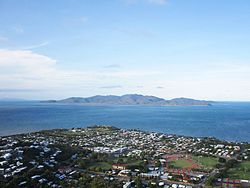 phone: +61 7-4760-7590

address: Golf Links Drive, Kirwan

If you have the chance to see a football (rugby league) match while you're in the area and are into sports, it's recommended that you do so. The atmosphere in the Stadium, the home of the North Queensland Cowboys, is abuzz at all home matches. The stadium was previously known as Stockland Stadium, Malanda Stadium and Dairy Farmer's Stadium.

Castle HillCastle Hill at the center of the city has amazing views both east to Magnetic Island and west to the suburbs and hills. There is a road to the top, but the steep uphill walk is also popular, particularly in the evening when it is cooler.

phone: +61 7-4750-0800

address: 2-68 Flinders St

Reef HQ is an aquarium focusing on Great Barrier Reef fish life. It is built around two large tanks each several metres high, and some twenty meters in length. The larger of the two tanks contain smaller non-predatory reef fish, and the smaller tank contains reef fish and predators including several species of shark.

phone: +61 7-4726-0600

address: 70-102 Flinders St

The Museum of Tropical Queensland's main drawcard is the display of artefacts from the HMS Pandora, the ship that the British sent in pursuit of the HMS Bounty. Other exhibits include the wildlife of the tropical areas of Queensland.

RiverwayIs a riverfront parkland attraction located in the Thuringowa CBD that opened in July 2006. The area is a cultural hub opening up the rivers habitat for residents and tourists, the main attractions are the public art gallery, cultural centre, swimming lagoons and cafe. Riverway runs for 11km of the Ross River, with areas at Pioneer Park, Loam Island, Apex Park and Ross Park at the Ross River Dam where the community, visitors and tourists can enjoy all sorts of activities from sport, swimming, entertainment, dining and shopping in one of Queensland's most spectacular river settings.

Village Boulevard is the name of the Road into Pioneer Park and forms the city/park integration. from the car park it extends through the park as a pedestrian spine that follows the rivers edge and forms the heart of Pioneer Park.
Tony Ireland Stadium is the Second stage of Riverway, and consists of an international standard AFL and Cricket stadium, capable of holding 10'000+ people, and was first used to host the KFC Twenty20 Big Bash cricket match on the 31th of December 2007.
Riverway Arts Centre is a geographical formation with a grass roof that is incorporating the parkland without a decrease in the amount of grassed area. It also lowers the interior temperature by reducing the roof surface temperature.
Lake Ross (at the end of Riverway Drive) is part of the Ross River Dam and stores over 215,000 mega liters of water, water is held by an earth rock embankment 8.35 kilometers in length and 27 metres in height (the longest in the southern hemisphere) and occupies a catchment area of 750km2 with a concrete spillway that flows into the Ross River, Visitors can view the dam from a viewing platform at Ross park. Lake Ross is a Wetland of National Significance. The shallow areas of the lake provide a habitat for a large number of water birds, Over 220 species of bird have been recorded around the lake area. You can book a tour of the lake by contacting one of the following commercial operators: Pop Sullivan Tours or phone 4772 2833 or 0407 167 254. Ross Park in front of the dam wall has picnic and toilet facilities. The Bird Observers Club holds bird-watching walks on the 3rd Sunday of each month, for more info please call 4778 1945
Ross River winds it way thought the city and play part to a large range of sporting and leisure activities. The Riverwalk is a pathway that overlooks Ross River. Loam Island and Pioneer Park are part of the Riverway development and provide locals and visitors with entertainment such as, Skiing and wakeboarding plus some good fishing spots. Other areas along Ross River are Apex Park and Ross Park.
Lake Paluma is a man made lake in the World Heritage Rainforest. The area has weather proof shelters, BBQs, and camp sites but no domestic animals are allowed in this area due to the population of Platypus, Peregrine Falcon or Eastern Water Dragon. Swimming and non motorized vessels are allowed. Lake Paluma's camping area has a limited number of sites available so you will need to pre-book a permit at their website .
Big Crystal Creek is part of Paluma Range National Park (approximately 65km from Thuringowa Central). It features large deep swimming holes that are very popular with locals and visitors. The picnic areas, BBQ's, camping, and toilets are wheelchair accessible. Free bookings for the campsite can be made by phoning Queensland Parks and Wildlife Service on 13 13 04.
Little Crystal Creek(60km from Thuringowa Central) is one of the most popular destinations for locals and tourists where you can swim in the crystal clear water, have a picnic or BBQ and there are toilet facilities here with wheelchair access.
Bushland Beach was one of Thuringowa's most popular residential beachside community (approximately 19km from Thuringowa Central), and is now one of Townsville's fastest growing residential communities. At low tide you can walk to a wooden shipwreck and some fantastic ponds that are full of marine life that the whole family can enjoy. There is a boat ramp for public use at the beach plus BBQs and kids playgrounds, Bushland Beach also has a hotel, resort and a small shopping center.
Ocean Palms Resort is right on the beach. One of the most popular attractions here is the barramundi feeding.
Saunders Beach is a sandy beach which stretches for kilometers, Saunders beach is one of Thuringowa's more popular beaches but you can often have this beach to yourself due to the long length. there is also a boat ramp.
Toolakea Beach is a quiet beach, ideal for birdwatchers and fishing or a quite day on sand. This area has a picnic area as well as public toilets.
Bluewater is a fresh water attraction (approximately 28km north of Thuringowa Central) that is very popular for picnic's and family fun, the area includes BBQ's, play equipment, toilets and showers. The best place to access the creek is near the bridge at the Bluewater Store or Bluewater Park. Bluewater Park has a limited free tent and vehicle camping area .There is also an urban forest that is next to Bluewater Park this is a fitness trail around 800m long with 8 activity's along a pathway. There is also a boat ramp available near Bluewater Drive.
Toomulla Beach is somewhat of an isolated beach, but boasts and a great free camping area, picnic area, public toilets and a boat ramp for public use. This is also another great area for bird watching.
Balgal Beach is a small community 53km north of Thuringowa Central (located a few minutes from Rollingstone) and is the perfect day or overnight destination for locals and tourists that visit the Townsville area. Balgal Beach features clean, white sand, a stinger net that is patrolled from November to May for safe swimming. A boat ramp is available to allow easy access to Palm Islands area. Apart from the beach, the wide creek mouth is a great fishing location. Other activities in here include the ANZAC memorial, a picnic and BBQ at the park, bird watching, golf and lawn bowls at Mystic Sands Golf & Country Club.
The Rollingstone Community Hall holds a fish BBQ on the first Sunday of each month at 5PM.
the Fisherman's Landing Kiosk is a licensed cafe and can supply you with ice, bait and groceries, Plus there is accommodation at any of the following, the Balgal Beach Holiday Units, Balgal Bed & Breakfast Retreat, the Thuringowa city Council's two tent camping and vehicle camping areas .
Rollingstone Park(51km north of Thuringowa Central) is a camping area that is popular due to the freshwater creek swimming area next to the park. Community markets are held on the first Saturday of each month, April to September from 8AM. Rollingstone also has a Museum, Caravan Resort and shop.
Paluma is a township of around 25 permanent residents in the Mount Spec ranges of Thuringowa's heritage listed Wet Tropics.
Piper's Lookout on Hervey Range lets you view over the land below Hervey Range and all the way out to sea. While you in the area you can check out the Hervey's Range Heritage Tea Rooms here they serve refreshments and offer all the info about the local history.
Greenwood Park Sporting Complex was officially opened on February 15, 2007. It features 8 fully lit Touch Football fields as well as carparking and a fully licensed clubhouse which is home to Redskins Touch Club and Thuringowa Touch Association.
The Willows Golf Club is an international-standard golf course with a 72-hectare (180-acre) golf wildlife sanctuary and also home to the Queensland Masters. The area is also home to a residential estate.

phone: +61 4727 8332

address: Gregory St, North Ward

These gardens were established in 1932. There are special collections of Pandanus. They have been called Townsville's finest park.

phone: +61 4727 8332

address: Bruce Hwy, Douglas

The Palmetum is a botanical garden featuring one family of plants, the palms. The collection contain all six subfamilies within the family Arecaceae. Approximately 60 species of palms are native to Australia; most are represented. The collection contains about 300 species; many rare and threatened in their natural habitat.

phone: +61 4773 8669

address: Thuringowa Dr, Kirwan

These gardens were established in 1984

phone: +61 7 47211495

address: 1 Mitchell St

Located at Townsville's beautiful Jezzine Barracks, the Museum collects and exhibits objects and stories relating to the history of the Australian Army in North Queensland from colonial days through to modern day conflicts.
Do
The Strand BeachThe Strand Beach is a sandy beach right in front of the main waterfront area of Townsville. It is generally a calm swimming spot thanks to the shelter of Magnetic Island; don't bother trying to surf. An artificial swimming lagoon called The Rockpool is located at one end.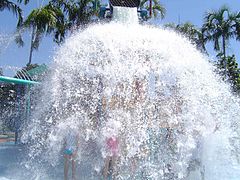 Water PlaygroundThis playground is at the southern end of the Strand, free and more fun than the kids can handle on a hot day.

Great Barrier Reef Trips
Day Trips to Outback or Rainforest.

RiverwayIs a riverfront parkland attraction located in the Thuringowa CBD that opened in July 2006. The area is a cultural hub opening up the rivers habitat for residents and tourists, the main attractions are the public art gallery, cultural centre, swimming lagoons and cafe. Riverway runs for 11km of the Ross River, with areas at Pioneer Park, Loam Island, Apex Park and Ross Park at the Ross River Dam where the community, visitors and tourists can enjoy all sorts of activities from sport, swimming, entertainment, dining and shopping in one of Queensland's most spectacular river settings.

Village Boulevard is the name of the Road into Pioneer Park and forms the city/park integration. from the car park it extends through the park as a pedestrian spine that follows the rivers edge and forms the heart of Pioneer Park.
Diving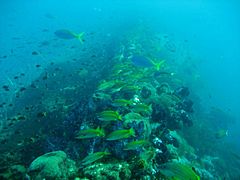 Townsville is further from the reef than the
Cairns
region to the north and does not have as strong a
scuba diving
industry, but is the closest big center to the well known
Yongala Wreck
. The Yongala was a luxury passenger ship sunk in a cyclone on 23rd March 1911. The wreck was found in 1958. The wreck is primarily interesting for the marine life that it attracts and is one of Australia's top dive sites.
Buy
Markets
Strand Night markets conducted on the first Friday of each month at The Strand Park on the foreshore.
Cotters Markets are held on Sunday mornings in the Flinders Street Mall in the city centre, with a variety of offerings including fresh produce, foods, arts and craft and other antiquities, and the
Willows markets are held every Sunday and the Willows shopping centre at Thuringowa central.
Showgrounds Markets (Townsville Showgrounds, Garbutt, Sunday morning Flea market)
Shopping Centres
Annandale Central (Annandale)
Castletown Shoppingworld (Garbutt)
Centro Townsville (Corner Ross River Road and Nathan Street, Cranbrook)
Cotters Market (Flinders Mall, Sunday mornings)
Flinders Mall (Central Business District)
Hermit Park Shopping Centre (Hermit Park)
Kingsvale Shopping Centre (Aitkenvale)
North Ward Shopping Village (two blocks from The Strand, North Ward)
Northtown The City (The Mall, Townsville CBD)
Stockland Townsville (Corner Ross River Road and Nathan Street, Aitkenvale)
Sunvale (Aitkenvale)
Vincent Village (Vincent)
Warrina Shopping Centre (Currajong)
Avenues Plaza (Kirwan)
Canon Park City Centre (Thuringowa Central, Queensland)
Centro Deeragun (Woodlands Village Shopping Centre, Deeragun)
Mount View Plaza (Kirwan)
Parkside Plaza (Kirwan)
Riverway Thuringowa
Sunland Plaza (Kirwan)
Upper Ross Shopping centre (Rasmussen)
Willows Shoppingtown (Corner Thuringowa Drive and Hervey Range Road, Thuringowa Central, Queensland, Kirwan)
Eat
Townsville has two primary restaurant districts. Palmer Street in the city and Cannon Park in the southwest suburbs. It also hosts a nice collection of grills and cafes along the Strand in addition to a wide selection of restaurants scattered throughout the city and its suburbs. It also hosts the normal selection of
fast food restaurant
chains including McDonalds, Eagle Boys Pizza, Dominos, Brodies, Hungry Jacks, Red Rooster and Subway.
Palmer Street

address: Palmer Street. Pedestrian access from Flinders Street via Victoria Bridge

Townsville's upscale dining district with moderate priced dining inbetween.

phone: +61 7-4799 9100

address: Start of Hervey's Range Rd

Townsville's dining precinct for the southwestern suburbs. Budget to moderately upscale dining available.(including Chinese, Indian, burgers and fries, Tex Mex, Italian and Japanese).
phone: +61 435 094 988

address: 143-145 Flinders Street East, Townsville Qld 4810

A modern wine and cocktail bar. $10 all you can eat pizza every Tuesday.
Cactus Jacks and Cactus Saloon This popular destination offering quality Tex Mex cuisine in three locations in Townsville (at 237 Flinders Street near the entrance to Flinders Street East +61 7-4721 5705, at 21 Palmer Street +61 7-4721 1478 and at Cannon Park in Kirwan +61 7-4723 7839).

C Bar Cafe

phone: +61 7-4724-0333

address: Gregory Street Headlands, The Strand, North Ward

The C Bar Cafe is right on the water's edge and you can look out over the bay, which just about makes the wait bearable: despite enormous demand there are few staff and at peak times you could wait up to an hour for a simple cafe meal. Breakfast lunch and dinner.

Dynasty Chinese Seafood Restaurant

phone: +61 7-4772 7099

address: 228 Flinders Street East

For a quality Chinese meal, come to Dynasty. Boasting an excellent selection including a live lobster tank, Dynasty boasts to be Townsville's premium Chinese food service. Prices are expensive so for a cheaper feed, try the Capitol Reagent Chinese Restaurant across the road.

Frank's Pizza Napoli and Vesuviana Restaurant

phone: +61 7-47255181

address: 1-7 Ross River Rd

Come for some pizza! Casual and passionate dining. Take away and eating in are both available.
IMC Steak House 17 Palmer St, South Townsville +61-7-4724 3243 Serving quality steaks in the middle of Palmer Street.
Jewel of India 215 Flinders Street East +61 7-4771 3144 Casual and formal dining options for excellent Indian. Take away is also provided.

phone: +61 7-4724 1460

address: 7 Palmer St

Located in the popular southside of Palmer Street, Townsville, Michel's restaurant is a long time favourite with locals with our relaxed and sophisticated atmosphere and delicious, contemporary Australian and French influence cuisine. Be warned, as with all upscale dining. Prices are expensive. Bookings essential.

phone: +61 7-4771 3428

address: Flinders Street East

For a cheap feed, head down to Molly's. Molly's might be known primarily by the locals for its $8.50 crumbed steak every Tuesday; but it also has daily specials. The food may be fairly average (even for pub grub) and you might have to go and collect it from the counter yourself, but nothing beats cheap!

Reef Thai Restaurant

phone: +61 7-4721 6701

address: 455 Flinders Street West

A Thai eatery with a particular emphasis on the delights of the ocean, this eatery may have diners thinking they've hit the jackpot and landed somewhere in Phuket. Prices are moderate.

phone: +61 7-4771 5005

address: 56 The Strand

Excellent seafood and steak!
Taj Mahal +61 7-4772 3422 235 Flinders Street East next to Cactus Saloon. For spice heads, excellent Pakistani style dishes.
Tony's Pizza, 27 Kennedy Street, North Ward +61 7-4724 1330 for the best pizza in town pick up and deliveries welcome.
Zizzi's Italian Bar and Grill 241 Flinders Street East +61 7-4771 6000 for casual and formal Italian dining
Drink
In line with Queensland state laws, Townsville observes a lockout time of 3AM. This means that alcohol serving establishments have to refuse entry to patrons from 3AM onwards. Most pubs and bars on the Flinders Street nightclub strip will close between 1AM-2AM on the weekends but the nightclubs will stay open til 5AM-6AM. Patrons in clubs open until these early hours are welcome to stay past 3AM until they leave.
When visiting the Flinders Street Nightclub Strip, males are advised to wear long trousers/jeans and closed-in shoes as most venues on this strip disallow entry to those wearing thongs/flip-flops, singlets and shorts. Most other non-Strip venues listed will allow this attire, however.
phone: +61 7-4722 6999

address: 11 Palmer Street, South Townsville

For those visiting the Palmer Street Restaurant District, pop into the Aussie (as known by the locals) for a cheeky beer and a yarn with a typical Townsville local. A smoking garden is located at the very end of the hotel behind the dining area. Located towards the western side of Palmer Street.
Cactus Saloon Flinders Street East +61 7-4721 5705 This popular destination offering a selection of their own custom brewed tap beer and many brands of tequilas.

Commonwealth Hotel

phone: +61 7-4771 4215

address: 46 Allen Street, South Townsville

For a real South Townsville pub experience, the Commonwealth provides amply. Mingle with a vast array of interesting characters, bogans, tradies and blunt South Townsvillians and rock out to real live electric pub rock every Saturday afternoon. For the easily amused, topless raffles (a topless woman walking around the pub selling raffle tickets) are conducted between 12-3PM every Saturday afternoon as well. To top things off, drinks are cheap.

phone: +61 7-4724 0405

address: far end of Palmer St

Townsville's newest drinking establishment! Come down and revel in the new hip spot for young and old alike. Drink's are moderately priced

phone: +61 7-4723 7777

address: 34 High Range Drive, Condon

Bringing together the best of former Thuringowa, Irish Finnegans aims to please with live bands and DJ's every Friday and Saturday. Make sure to come after 9PM to meet the rowdy locals who meet here regularly. Come for Saint Patrick's Day celebrations where everyone is Irish for the day. There is a large smoking area out the side door. Drinks are reasonable

James Cook University Club (The Club)

phone: +61 7 4781 5255

address: Angus Smith Dr

Tear it up with the uni kids at the Uni Club. Drop in for O-Week celebrations in February and July and celebrate like only a drunken university student can. Thursdays, Fridays and Saturdays especially go off with live bands often playing or DJ's spinning all the popular club hits. Drink prices can be a bit steep. Located towards the back of the campus off Angus Smith Drive.

phone: +61 7-4722-2333

address: Sir Leslie Thiess Dr

Just located down from the Townsville Entertainment Centre, Jupiters is a waterfront casino and hotel. It features blackjack, roulette and pontoon among others. Being a casino, naturally it features Townsville's widest selection of pokie machines. It contains five bars, including three in the casino. It also features outdoor two smoking areas. Drinks are surprisingly well-priced. For nightowls, the Casino is the only place that allows entry to patrons after 3AM on weekends where it is usually open til about 5AM.

phone: +61 7-4771 3428

address: Flinders Street East

As one of Townsville's three Irish themed pubs, Molly Malone's (or Molly's for short) makes its reputation with the older crowd, usually stocked with patrons 35 and older (but quite often stocked with plenty of twenty-somethings too!) Live bands play every Friday and Saturday with softer acoustic acts playing during the week.Drinks aren't so cheap though, with basic spirits starting at $7.00 and higher. The aptly named Five Bar featured in Molly's serves cocktails. An open smoking and drinking area with tables and chairs are located out the back in the Shed Nightclub's forcourt as the two are interlinked. Located at the eastern end of the Flinders Street just across the Road from Flynn's Irish Pub. Open til 2AM on Friday and Saturday.

Monsoons

phone: +61 7-4771 3428

address: 194 Flinders Street East

For a relaxing game of pool, or maybe a catch up with friends, Monsoons provides all with a relaxing atmosphere. It features quite decent views of the Ross River mouth from its balcony outside. Drinks are not horribly priced. Drinking specials feature every Tuesday. Located on the western side of Flinders Street East next to Dynasty Chinese restaurant.

Santa Fe Gold

phone: +61 7-4772 3700

address: Level 1, 108 Flinders Street East

For the seediest of us, come to Townsville's premier (I use that word loosely)strip club and get a dance with a fair maiden. Drinks are quite steep. Located to the left of Bullwinkle's Nightclub and across the road from Molly Malones. Up the stairs.

phone: +61 7-4771 5005

address: 56 The Strand

Come for a drink in the beer garden by the sea! Drink prices are moderate. Every Saturday night upstairs features the infamous 'Grab a Granny'; an informal event where the single older ladies/cougars of Townsville come to meet and greet!

phone: +61 7-47712909

address: 807 Flinders Street West

Townsville's premier Gay bar serving the wider LGBT community of North Queensland. The Sovereign Hotel offers a welcoming pub, bar, live entertainment and comfortable, affordable accommodation in one of the most desirable Townsville areas.

phone: +61 7-4774 0377

address: 1209 Ross River Road, Rasmussen

For those in need of an ale, come down to the Upper Ross for a quiet (or sometimes loud) drink with the locals of the west Townsville suburbs of Rasmussen, Kelso and Condon. (The suburbs that are not-quite-bush but are not-quite-suburban either. Free pool and jukebox tunes every Tuesday.

phone: +61 7-47244281

address: 72-74 The Strand

Located on the eastern part of the Strand, the Watermark attracts tourists and locals alike with its calm ocean views and chic design. Drinks are quite expensive but there is a cheap drink happy hour every Friday from 5 - 7PM.
Sleep
phone: +61 7 4772 4255

address: 5 The Strand

Waterfront views.

Hostel Adventurers Backpackers

phone: +61 7-4721-1522

address: 79 Palmer St

An airconditioned backpackers resort with a swimming pool and BBQ area. Paid Wi-Fi.

phone: +61 7 7 4721 1333

address: 66 The Strand

waterfront accommodation on Townsville's Strand. Views over Cleveland Bay to Magnetic Island.

phone: +61 7-4771-5381

address: 262 Walker St

Civic Guest House is a budget hotel. There are internet, barbecue and pool facilities. Air-conditioning available in some rooms.

Holiday Inn Townsville

phone: +61 7-4729 2000

address: 334 Flinders St

Affectionately referred to as the Sugar Shaker by the locals, the Holiday Inn has stood in pride as an iconic part of the Townsville horizon since 1976. The Holiday Inn serves with the usual facilities. In addition, there is a rooftop pool.

phone: +61 7-4753-2000

address: 12-14 Palmer St

Townsville Central Hotel is conveniently located in the heart of the city dining precinct and only a few minutes walk from the main shopping centre of Flinders Mall. Free Wi-Fi and onsite parking.

phone: +61 7-4725-2222

address: Woolcock Street, Hyde Park

The Mercure is located 4.5 kilometers from Townsville's center. Facilities include a pool, a barbecue area, tennis courts and babysitting.

phone: +617 4721 1112

address: 4 Wickham Street

Clean hostel. Free Wi-Fi.

Seagulls Resort on the Seafront

phone: +61 7-4721-3111

address: 74 The Esplanade

Seagulls is located close to the city and Castle Hill. Accommodation is available in the form of resort rooms, family rooms, rooms with kitchenettes, self contained two-bedroom apartments or suite rooms. Two pools, half court tennis, playground, barbeque facilities, bar and award winning restaurant on site. Complimentary off street parking. Rooms start at $110 per night.

phone: +61 7-4721-2122

address: 6-8 Victoria St

The Summit Motel is a 2 minute walk from the city centre and a 5 minute walk to the strand beach. Includes satellite TV, a pool, and airconditioning

phone: +61 7 4721 1777

address: 63 The Strand

Direct access to the beachfront and views that overlook Cleveland Bay. There are 40 self-contained air-conditioned holiday apartments with kitchenette studios and 4 self-contained air conditioned one-bedroom kitchenette apartments
Northern Beaches Area:
Balgal Beach Holiday Units
Balgal Beach Holiday Units - Studio 26
Balgal Station Bed & Breakfast Retreat
Big 4 Woodlands Holiday Village
Black River Stadium Caravan Park
Bluewater Caravan Park
Bohle Barn Motel/Hotel
Forestmist Cottage Bed & Breakfast
Gumburu Environmental Eduction Centre
Hidden Valley Cabins
Ivy Cottage
Jollymosh Retreat House
Lake Paluma Camp & Picnic Ground
Ocean Palms Resort
Paluma Environmental Education Centre
Paluma Misthaven Units
Paluma Rainforest Cottages
Paluma Dreaming
Rainforest Inn
Range Caravan Park
Rollingstone Beach Caravan Resort
Rollingstone Hotel
Saunders Beach Ocean View Units
Upper Ross Hotel
Willows Golf and Tourist Resort
Woodlands Holiday Village

address: 32 Hale St

phone: +61 7-4771512

address: 32 Hale St

Clean, cozy little rooms with shared bath and toilets. Residents have access to a full kitchen as well as bbq area. Internet is very slow but functional. No breakfast provided, despite the "B&B" in the name.

phone: +61747716851

address: 117 The Strand

A tropical beach, the rockpool is among what this hotel offers.
Stay safe

Box jellyfish and other stingers can be in the ocean during the summer months. Read the warning signs, and don't swim at the beach outside of the stinger enclosures. A sting from the box jellyfish can be fatal. There are two stinger enclosures along the Townsville beaches.
Saltwater crocodiles ARE present in Townsville and ALL swimming locations (including the beach) should be approached with extreme caution.

Connect
Internet
Internet on the Mall

address: Shop 1, 313-335 Flinders St

Internet on the Mall is a fully automatic internet cafe with a 1.5Mbit connection. PC access is available via pre-paid cards, and wired and wireless laptops are available via credit card purchase. It is in the CBD (in the mall!).

address: 1/238 Charters Towers Rd, Hermit Park Townsville Qld 4812

The Internet Lounge has access to ADSL2+. There are computer terminals or you can use your own laptop. It is located out along one of the main arterial roads in Townsville, about 10 minutes from the CBD by car (half an hour walk).
The three public libraries all have free wi-fi, available 24/7 in the close vicinity of the library even when the libraries are closed. Thuringowa Drive, Ross River Road and Flinders Street.
http://www.townsville.qld.gov.au/facilities/libraries/Pages/askalibrarian.aspx
Go next