Trøndelag
Trøndelag
, alternative spelling
Tröndelag
, is a region and county of
Norway
, sometimes referred to as
Middle Norway
.
Cities
- not as bad as it sounds, close to Trondheim airport.
- one of the well-preserved wooden towns
- port of Namdalen district, totally destroyed during the war
- small town at the mouth of Orkla river and valley
- old mining town in the uplands, a UNESCO world heritage site
- the hub at the northern end of great fjord
- one of Norway's main cities, lovely location on the river bend, historically important as previous capital and seat of the archbishop, Norway's national cathedral.
Other destinations
(Stjørdalshalsen)
— a mountainous area consisting of two large national parks (comprises also parts of East Norway and West Norway)
Understand
Trondheim
has been a centre of commerce since the Viking Age.
Saint Olaf's Way
has been an important pilgrimage route.
For two brief years, 1658 to 1660, Trøndelag was part of
Sweden
.
Get in
By plane
(
TRD
) serves international and national flights. There are plenty of flights every day to Oslo, and several other main towns including Bergen, Stavanger, Kristiansand, Bodø and Tromsø, as well as the short-field airports of Mosjøen, Sandnessjøen, Brønnøysund, Namsos and Rørvik. International destinations include London Gatwick, Amsterdam, Copenhagen, Stockholm and Riga. There are also flights to many destinations in the Mediterranean and on the Canary Islands, both charter and regular. There is train and bus connection from the airport.
Røros has a local airport with flights from Oslo. Rørvik and Namsos have local airports with flights from Trondheim.

By train
Trøndelag is connected by 4 main lines:

By bus
Long distance buses from Oslo and Bergen to Trondheim, NOR-WAY.

By car
;From Oslo there are two options.
;From Östersund (Sweden)
connects to E6 at Stjørdal

;From Ålesund and Molde
connects to E6 south of Trondheim
Via Sunndal: Road 70 connects to E6 Oppdal

;From Northern Norway

By boat
Hurtigruten sails all the way north to Kirkenes and south to Bergen, stopping at numerous destinations on its way, including Trondheim and Rørvik.

Get around
By train
Trondheim station is the hub for rail as the electrified Dovre line terminates there and the northbound lines operated by diesel trains continue. The coastal areas do not have rail connections. The rail runs through the central interior and along the eastern shores of the Trondheimsfjord, basically along the same route as road E6. There are branches to
Røros
from Støren, and to Meråker and Sweden (
Åre
and
Östersund
) from
Hell
.
Local trains Steinkjer–airport–Trondheim and Trondheim–Røros are operated by NSB on the Røros line.
The Meråkerbanen (Nabotåget) service runs twice daily to the Swedish border at Storlien, continuing to the ski resort Åre and the city of Östersund. There are connections to Stockholm, Gothenburg and Malmö.
Long distance trains Oslo-Dombås-Oppdal-Trondheim on the Dovre line and Trondheim-airport-Steinkjer-Snåsa-Namsskogan on the Nordland line (bound for Bodø).
By bus
For local buses in Nord-Trøndelag, search
rutebok.no
.
And in Sør-Trøndelag including Trondheim, search
atb.no
By boat
There are some local passenger boats. Use the same site as for local buses.
By car
There is an extensive road network, however often fairly curvy and slow. The Norwegian north-south highway E6 passes Trondheim and is partly constructed as motorway or semi-motorway.
To cross fjords, there are several bridges and tunnels, but some car ferries also exist. They have fees, but there is no need for booking. The key ferry connection across the Trondheimsfjord is Flakk-Rørvik, several departures per hour.
Some roads, especially new tunnels, and all entrances to Trondheim have road tolls.
See
Nidaros CathedralThis is the biggest church of Northern Europe, the only major Gothic cathedral in Norway and the pride of the city. Towering over the city centre at its southern edge, the majestic cathedral is the defining feature of Trondheim. Nidarosdomen is also Norway's national cathedral. It was erected over what was believed to be St. Olav's grave and it became a major pilgrimage site in Northern Europe. Next door is the Archbishop's Palace, which was partly burnt down in the 1980s and has been heavily restored.

RørosRøros is a unique place. The town developed around the copper mines and the original town is largely intact. The town with the landmark church is a UNESCO heritage site. The copper mines can also be visited, mining began in 1644 and ended in 1977.

StiklestadSite of the battle in year 1030 where King Olav died.

Bardal rock carvings400 stone age and bronze age paintings/carvings on a 300 m² area.

phone: +47 74-13-80-00

Culture centre and museum on Southern Sámi culture. Guided tours.
Do
Alpine skiing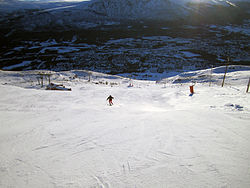 address: Oppdal

One of Norway's major alpine ski resorts. Frequently listed among top 5 or top 10 resorts in Norway. 46 slopes, 3 chair lifts, 14 T-lifts, 1 band lift. Slopes and lifts close to Oppdal village.
Vassfjellet, Klæbu
Meråker skisenter, Meråker
Grong/Bjørgan skisenter
Eat
Go next