Trani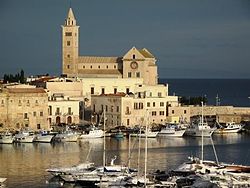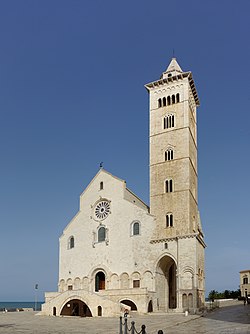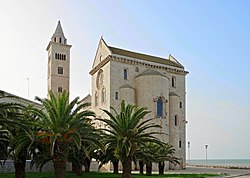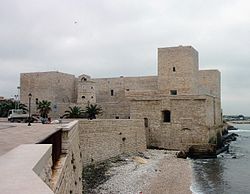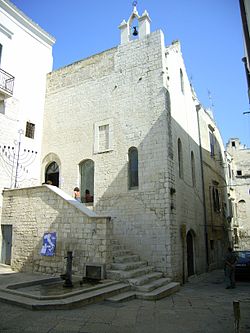 Trani
is a city in the province of
Barletta-Andria-Trani
in the region of
Apulia
(Puglia),
Italy
.
Get in
By train
Trani is well served by trains. The National Train Service (
Ferrovie dello Stato
) has numerous trains reaching Trani on the "Linea Adriatica". You can take the express train (Eurostar) on the Lecce-Milano line. Do not forget to reserve your seat before you get on the train (can be done on line).
By car
Highway - "Autostrada" A14 Bologna-Taranto, exit "Trani"
Freeway - "Strada Statale" 16BIS direction Bari-Foggia, exit Trani Downtown (Trani Centro) or "Strada Statale" 98 direction Bari-Foggia, exit Corato-Trani and follow direction to Trani
By bus
Bus service is offered from Trani to
Naples
by
Autolinee Marino
, Tel +39 080.3112335, Fax: +39 080.3117537. One way €16, round trip €32. No credit cards or electronic payments accepted.
By plane
See
Main attractions
La Cattedrale (The Cathedral), Piazza Duomo - Built between 1150 to 1250, this is one of the most beautiful and well preserved Romanesque churches in Puglia. Especially beautiful are the bronze doors, made of 32 panels, made by Barisano da Trani. The panels are decorated with figures of Christ, the Virgin Mary, the Apostoles and Saints.
Monastero di Colonna, Peninsola di Colonna
Castello Svevo, Piazza Re Manfredi
Il Porto (The Harbor), Via Statuti Marittimi
Il Palazzo della Pretura (Palazzo Candido)
Villa Comunale (Public Gardens)
Museo Diocesiano, Palazzo Lodispoto, Piazza Duomo 8/9
Churches
Sant'Antonio Abate e Fortino, Via Statuti Marittimi
Sant'Anna, Via de la Giudea
Sant'Andrea, Via Mario Pagano
Sant'Agostino, Piazza Gradenigo
Santa Teresa, Piazza Sedile San Marco
Santa Maria Scolanova, Via Scolanova
Santa Chiara, Piazza Regina Elena
San Toma, Piazza San Toma
San Rocco, Via San Giorgio
San Nicola Piccinino, Via Prologo
San Martino, Via San Martino
San Luigi, Piazza Mazzini
San Giovanni, Via Beltrani
San Giacomo (was known as Chiesa del San Russis), Via Romito
San Francesco, Piazza della Libertà
San Donato and Torre Dell'Orologio (Clock Tower), Via Porta Antica
San Domenico, Piazza Plebiscito
Ognissanti (also known as Chiesa dei Templari), Via Ognissanti
Chiesa del Miracolo Eucaristico (also known as Cappella di San Salvatore or Cappella dell'Ebrea), Via Lagalante
Chiesa del Carmine, Piazza Tiepolo
Historical buildings
Casa de Agnete
Palazzo Antonacci Telesio
Palazzo Arcivescovile
Palazzo Cacetta
Palazzo Covelli
Palazzo de Angelis
Palazzo della Pretura
Palazzo Filisio
Palazzo Gadaleda
Palazzo Lambert
Palazzo Quercia
Palazzo Torres
Palazzo Valenzano
Palazzo Vischi
Eat
Pesevenghi

phone: +39 3470303458

address: Via Statuti Marittimi, 80

Great fish restaurant.

Convivio

phone: +39 0883481883

address: Via San Giorgio

La Smorfia napoletana

phone: +39 0883888631

address: Via A. Prologo, 31/35

Great pizza, risotto..

Ristorante il Melograno

phone: +39 0883486966

address: Via G. Bovio - 70059

Portanova

phone: +39 0883-508386

address: Piazza Ferdinando Lambert, 7

phone: +39 0883487255

address: via Statuti Marttimi 48/50

Mari Trattoria-Braceria

phone: +39 3490765939

address: via Ognissanti 84

Cucina Tipica Pugliese

phone: +39 347 48 13 157

address: Via Statuti Marittimi 34

They have gluten free pizza and gluten free beer.
Sleep
Hotel Regia

phone: +39 0883 584444

address: Piazza Duomo, 2

phone: +39 0883 588777

address: Via De Robertis, 29

phone: +39 0883 482949

address: Via Statuti Marittimi, 111

phone: +39 0883 588010

address: Corso Imbriani, 137

phone: +39 0883 587012

address: Via A. Maria di Francia, 137

Hotel Riviera

phone: +39 0883 483222, +39 0883 482725

address: Via Galilei, 6

phone: +39 0883 481022, +39 334 7039635 (mobile)

address: Piazza Plebiscito, 11

phone: +39 0883-486411

address: Piazza Quercia, 8- 70059 Trani

Resort in an old Palazzo near the port